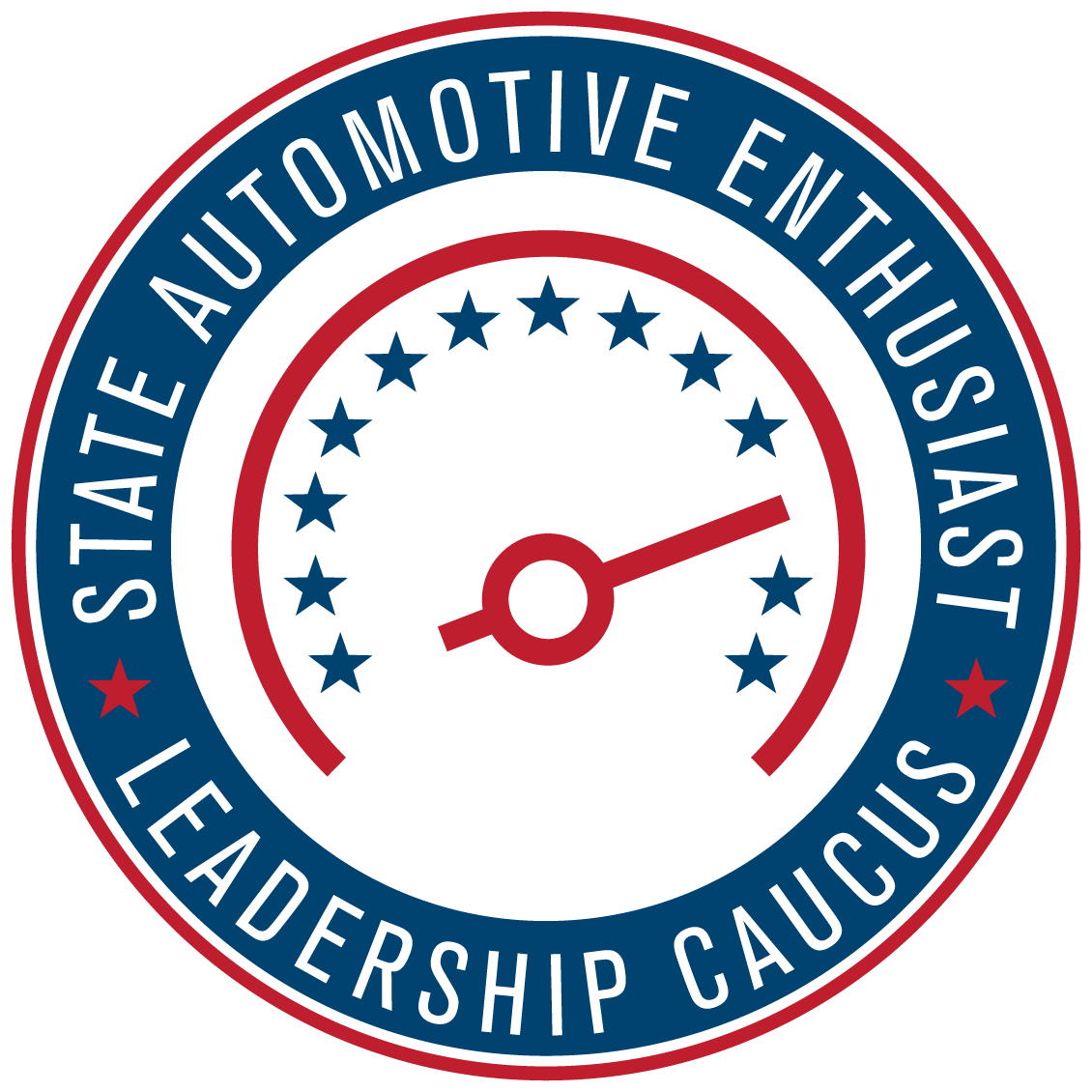 State legislators around the country with a common goal to support the motor vehicle hobby have joined the State Automotive Enthusiast Leadership Caucus. The Caucus is a nonpartisan group of state lawmakers whose common thread is a love and appreciation for automobiles. The Caucus will help raise the motor vehicle hobby's profile in the state legislatures and in the eyes of the public.
Working in state capitals, many of these legislators have sought to preserve and protect the hobby by seeking the amendment of existing motor vehicle statutes and creating new programs to safeguard and expand the hobby. Over the past several years, their work has brought a series of significant legislative accomplishments for the vehicle enthusiast community on issues ranging from equipment standards to registration classifications, and from emissions test exemptions to hobbyist rights.
By joining the Caucus, these legislators have demonstrated their commitment to upholding the rights of vehicle enthusiasts. In addition, hobbyists will be able to quickly identify which state legislators have chosen to be recognized for their support of this great American hobby.
State Automotive Enthusiast Leadership Caucus
Chairman
Delegate Kevin Hornberger (Maryland)
Chairman Emeritus
Delegate Gary Howell (West Virginia)
| | |
| --- | --- |
| Alabama | Rep. Jim Carns (R-AL-48) |
| Alabama | Rep. Laura Hall (D-AL-19) |
| Alabama | Rep. Arnold Mooney II (R-AL-43) |
| Alabama | Rep. Chris Sells (R-AL-90) |
| Alabama | Rep. Margie Wilcox (R-AL-104) |
| Alabama | Rep. Debbie Wood (R-AL-38) |
| Alabama | Rep. Randy Wood (R-AL-36) |
| Alabama | Sen. Steve Livingston (R-AL-8) |
| Alaska | Rep. DeLena Johnson (R-AK-11) |
| Alaska | Rep. Andy Josephson (D-AK-17) |
| Alaska | Sen. Shelley Hughes (R-AK-F) |
| Alaska | Sen. Donny Olson (D-AK-T) |
| Alaska | Sen. David Wilson (R-AK-D) |
| Arizona | Rep. Frank Carroll (R-AZ-22) |
| Arizona | Rep. Steve Kaiser (R-AZ-15) |
| Arizona | Sen. Lela Alston (D-AZ-24) |
| Arizona | Sen. Paul D. Boyer (R-AZ-20) |
| Arizona | Sen. David Livingston (R-AZ-22) |
| Arkansas | Rep. Rick Beck (R-AR-65) |
| Arkansas | Rep. Mary Elizabeth Bentley (R-AR-73) |
| Arkansas | Rep. Karilyn Brown (R-AR-41) |
| Arkansas | Rep. Cameron Cooper (R-AR-44) |
| Arkansas | Rep. Bruce Cozart (R-AR-24) |
| Arkansas | Rep. Les Eaves (R-AR-46) |
| Arkansas | Rep. Charlene Fite (R-AR-80) |
| Arkansas | Rep. Denise Garner (D-AR-84) |
| Arkansas | Rep. Justin Gonzales (R-AR-19) |
| Arkansas | Rep. Ron McNair (R-AR-98) |
| Arkansas | Rep. Danny Watson (R-AR-3) |
| Arkansas | Rep. David Whitaker (D-AR-85) |
| Arkansas | Sen. Alan Clark (R-AR-13) |
| Arkansas | Sen. Jane English (R-AR-34) |
| Arkansas | Sen. Mark Johnson (R-AR-15) |
| California | Assemblymember Tasha Boerner Horvath (D-CA-76) |
| California | Assemblymember Phillip Chen (R-CA-55) |
| California | Assemblymember Vince Fong (R-CA-34) |
| California | Assemblymember Tim Grayson (D-CA-14) |
| California | Assemblymember Reggie Jones-Sawyer Sr. (D-CA-59) |
| California | Assemblymember Al Muratsuchi (D-CA-66) |
| California | Assemblymember Marie Waldron (R-CA-75) |
| California | Sen. Brian Jones (R-CA-38) |
| Colorado | Rep. Daneya Esgar (D-CO-46) |
| Colorado | Rep. Junie Joseph (D-CO-10) |
| Colorado | Rep. Hugh McKean (R-CO-51) |
| Colorado | Rep. Naquetta Ricks (D-CO-40) |
| Colorado | Rep. Kevin Van Winkle (R-CO-43) |
| Colorado | Sen. Rhonda Fields (D-CO-29) |
| Colorado | Sen. Brittany Louise Pettersen (D-CO-22) |
| Colorado | Sen. Cleave Simpson Jr. (R-CO-35) |
| Connecticut | Rep. Mitch Bolinsky (R-CT-106) |
| Connecticut | Rep. Ben McGorty (R-CT-122) |
| Connecticut | Rep. Anthony Nolan (D-CT-39) |
| Connecticut | Rep. Michael Quinn (D-CT-82) |
| Connecticut | Rep. Kevin Ryan (D-CT-139) |
| Connecticut | Rep. Jonathan Steinberg (D-CT-136) |
| Connecticut | Rep. Edwin Vargas Jr. (D-CT-6) |
| Connecticut | Rep. Toni Edmonds Walker (D-CT-93) |
| Connecticut | Rep. Tami Zawistowski (R-CT-61) |
| Connecticut | Sen. Eric C. Berthel (R-CT-32) |
| Connecticut | Sen. John W. Fonfara (D-CT-1) |
| Connecticut | Sen. Robert C. Sampson (R-CT-16) |
| Florida | Rep. Colleen Burton (R-FL-40) |
| Florida | Rep. Kevin Chambliss Sr. (D-FL-117) |
| Florida | Rep. Chuck Clemons Sr. (R-FL-21) |
| Florida | Rep. Chip LaMarca (R-FL-93) |
| Florida | Rep. Toby Overdorf (R-FL-83) |
| Florida | Rep. Bob Rommel (R-FL-106) |
| Florida | Rep. Rita Harris (D-FL-44) |
| Florida | Sen. Joe Gruters (R-FL-23) |
| Florida | Sen. Darryl Ervin Rouson (D-FL-19) |
| Florida | Sen. Tommy Wright (R-FL-14) |
| Georgia | Rep. Victor Anderson (R-GA-10) |
| Georgia | Rep. Patty Bentley (D-GA-139) |
| Georgia | Rep. Roger Bruce (D-GA-61) |
| Georgia | Rep. Rhonda Burnough (D-GA-77) |
| Georgia | Rep. John K. Carson Jr. (R-GA-46) |
| Georgia | Rep. Katie M. Dempsey (R-GA-13) |
| Georgia | Rep. Matthew Gambill (R-GA-15) |
| Georgia | Rep. Joseph Gullett (R-GA-19) |
| Georgia | Rep. El-Mahdi Holly (D-GA-111) |
| Georgia | Rep. Carolyn F. Hugley (D-GA-136) |
| Georgia | Rep. Rick Jasperse (R-GA-11) |
| Georgia | Rep. Mesha Mainor (D-GA-56) |
| Georgia | Rep. Pete Marin (D-GA-96) |
| Georgia | Rep. Billy Mitchell (D-GA-88) |
| Georgia | Rep. Martin Momtahan (R-GA-17) |
| Georgia | Rep. Alan Powell (R-GA-32) |
| Georgia | Rep. Jason Ridley (R-GA-6) |
| Georgia | Rep. Steve Tarvin (R-GA-2) |
| Georgia | Rep. Brad Thomas (R-GA-21) |
| Georgia | Rep. Rick Williams (R-GA-145) |
| Georgia | Sen. John Albers (R-GA-56) |
| Georgia | Sen. Mike Dugan (R-GA-30) |
| Georgia | Sen. Chuck Hufstetler (R-GA-52) |
| Georgia | Sen. Emanuel Jones (D-GA-10) |
| Georgia | Sen. John Kennedy (R-GA-18) |
| Hawaii | Rep. Henry Aquino (D-HI-38) |
| Hawaii | Rep. Angus McKelvey (D-HI-10) |
| Hawaii | Rep. John Mizuno (D-HI-28) |
| Hawaii | Rep. Mark Nakashima (D-HI-1) |
| Hawaii | Sen. Michelle Kidani (D-HI-18) |
| Idaho | Sen. Rick Just (D-ID-15) |
| Idaho | Rep. Joe A. Palmer (R-ID-20) |
| Illinois | Rep. Carol Ammons (D-IL-103) |
| Illinois | Rep. Tim Butler (R-IL-87) |
| Illinois | Rep. David Friess (R-IL-116) |
| Illinois | Rep. Edgar Gonzalez Jr. (D-IL-21) |
| Illinois | Rep. Sonya Harper (D-IL-6) |
| Illinois | Rep. Rita Mayfield (D-IL-60) |
| Illinois | Rep. Michelle Mussman (D-IL-56) |
| Illinois | Rep. Dave Severin (R-IL-117) |
| Illinois | Rep. Joe Sosnowski (R-IL-69) |
| Illinois | Rep. Dan Swanson (R-IL-74) |
| Illinois | Sen. Omar Aquino (D-IL-2) |
| Illinois | Sen. Cristina Castro (D-IL-22) |
| Illinois | Sen. Dale Fowler (R-IL-59) |
| Illinois | Sen. Suzy Glowiak Hilton (D-IL-24) |
| Illinois | Sen. Rob Martwick Jr. (D-IL-10) |
| Illinois | Sen. Craig Wilcox (R-IL-32) |
| Indiana | Rep. John Bartlett (D-IN-95) |
| Indiana | Rep. Doug Miller (R-IN-48) |
| Indiana | Rep. Sharon Negele (R-IN-13) |
| Indiana | Sen. Vaneta Becker (R-IN-50) |
| Indiana | Sen. Mike Bohacek (R-IN-8) |
| Indiana | Sen. Jim Buck (R-IN-21) |
| Indiana | Sen. Stacey Donato (R-IN-18) |
| Indiana | Sen. Aaron Freeman (R-IN-32) |
| Indiana | Sen. Travis Holdman (R-IN-19) |
| Indiana | Sen. Jim Tomes (R-IN-49) |
| Iowa | Rep. Dave Deyoe (R-IA-49) |
| Iowa | Rep. Steven Holt (R-IA-18) |
| Iowa | Rep. Bob M. Kressig (D-IA-59) |
| Iowa | Rep. Henry Stone (R-IA-7) |
| Iowa | Sen. Waylon Brown (R-IA-26) |
| Iowa | Sen. Adrian Dickey (R-IA-41) |
| Iowa | Sen. Amy Sinclair (R-IA-14) |
| Iowa | Sen. Cherielynn Westrich (R-IA-13) |
| Kansas | Rep. Mike Amyx (D-KS-45) |
| Kansas | Rep. John Carmichael (D-KS-92) |
| Kansas | Rep. Leo Delperdang (R-KS-94) |
| Kansas | Rep. Nick Hoheisel (R-KS-97) |
| Kansas | Rep. Steve Howe (R-KS-71) |
| Kansas | Rep. Lance Neelly (R-KS-42) |
| Kansas | Rep. Stephen Owens (R-KS-74) |
| Kansas | Rep. Samantha Poetter (R-KS-6) |
| Kansas | Rep. Mari-Lynn Poskin (D-KS-20) |
| Kansas | Rep. Tom Sawyer (D-KS-95) |
| Kansas | Rep. Joe Seiwert (R-KS-101) |
| Kansas | Rep. Bill Sutton (R-KS-43) |
| Kansas | Rep. Sean Tarwater Sr. (R-KS-27) |
| Kansas | Rep. Troy Waymaster (R-KS-109) |
| Kansas | Sen. Rick Billinger (R-KS-40) |
| Kansas | Sen. Elaine Bowers (R-KS-36) |
| Kansas | Sen. Richard Hilderbrand (R-KS-13) |
| Kansas | Sen. Jeff Longbine (R-KS-17) |
| Kansas | Sen. Robert Olson (R-KS-23) |
| Kansas | Sen. Mike Petersen (R-KS-28) |
| Kentucky | Rep. Chad Aull (D-KY-79) |
| Kentucky | Rep. Kim Banta (R-KY-63) |
| Kentucky | Rep. Randy Bridges (R-KY-3) |
| Kentucky | Rep. Beverly Chester-Burton (D-KY-44) |
| Kentucky | Rep. Al Gentry (D-KY-46) |
| Kentucky | Rep. Matt Lockett (R-KY-39) |
| Kentucky | Rep. Bobby McCool (R-KY-97) |
| Kentucky | Rep. Michael Meredith (R-KY-19) |
| Kentucky | Rep. Ruth Palumbo (D-KY-76) |
| Kentucky | Rep. Rachel Roberts (D-KY-67) |
| Kentucky | Sen. Jared Carpenter (R-KY-34) |
| Kentucky | Sen. Robin L. Webb (D-KY-18) |
| Kentucky | Sen. Mike Wilson (R-KY-32) |
| Louisiana | Rep. Beryl Amedee (R-LA-51) |
| Louisiana | Rep. Jonathan Goudeau Sr. (R-LA-31) |
| Louisiana | Rep. Pete Huval (R-LA-46) |
| Louisiana | Rep. Barry Ivey (R-LA-65) |
| Louisiana | Sen. Barrow Peacock (R-LA-37) |
| Louisiana | Sen. Francis Thompson (D-LA-34) |
| Maine | Rep. Steven D. Foster (R-ME-104) |
| Maine | Rep. Shelley Rudnicki (R-ME-108) |
| Maine | Sen. Joe Baldacci (D-ME-9) |
| Maine | Sen. Matthew G. Pouliot (R-ME-15) |
| Maine | Sen. Jeffrey L. Timberlake (R-ME-22) |
| Maryland | Del. Lauren Arikan (R-MD-7) |
| Maryland | Del. Michele Guyton (D-MD-42B) |
| Maryland | Del. Kevin B. Hornberger (R-MD-35A) |
| Maryland | Del. Ken Kerr (D-MD-3) |
| Maryland | Del. Johnny Mautz (R-MD-37B) |
| Maryland | Del. Mike McKay (R-MD-1C) |
| Maryland | Del. Matt Morgan (R-MD-29A) |
| Maryland | Del. Charles James Otto (R-MD-38A) |
| Maryland | Del. Teresa E. Reilly (R-MD-35B) |
| Maryland | Del. Kirill Reznik (D-MD-39) |
| Maryland | Del. April R. Rose (R-MD-5) |
| Maryland | Del. Kathy Szeliga (R-MD-7) |
| Maryland | Del. Karen Lewis Young (D-MD-3A) |
| Maryland | Sen. Katherine A. Klausmeier (D-MD-8) |
| Maryland | Sen. Ben Kramer (D-MD-19) |
| Maryland | Sen. Justin D. Ready (R-MD-5) |
| Maryland | Sen. Jeff Waldstreicher (D-MD-18) |
| Massachusetts | Rep. Jay Barrows (R-MA-Bristol-3-01) |
| Massachusetts | Rep. Donnie Berthiaume Jr. (R-MA-Worcester-12-05) |
| Massachusetts | Rep. Josh Cutler (D-MA-Plymouth-10-06) |
| Massachusetts | Rep. Angelo D'Emilia (R-MA-Plymouth-10-08) |
| Massachusetts | Rep. Jim Hawkins (D-MA-Bristol-3-02) |
| Massachusetts | Rep. Natalie Higgins (D-MA-Worcester-12-04) |
| Massachusetts | Rep. Steven Howitt (R-MA-Bristol-3-04) |
| Massachusetts | Rep. Paul Mark (D-MA-Berkshire-2-02) |
| Massachusetts | Rep. Matt Muratore (R-MA-Plymouth-10-01) |
| Massachusetts | Rep. James Murphy (D-MA-Norfolk-9-04) |
| Massachusetts | Rep. Norm Orrall (R-MA-Bristol-3-12) |
| Massachusetts | Rep. Susannah Whipps (O-MA-Franklin-5-02) |
| Massachusetts | Sen. Anne Gobi (D-MA-Worcester Hampden Hampshire Middlesex-24-00) |
| Massachusetts | Sen. Mike Moore (D-MA-Worcester-23-02) |
| Michigan | Rep. Kevin Hertel (D-MI-18) |
| Michigan | Rep. Stephanie Young (D-MI-8) |
| Michigan | Sen. Jim Runestad (R-MI-15) |
| Michigan | Sen. Dale Zorn (R-MI-17) |
| Minnesota | Rep. Paul Anderson (R-MN-12B) |
| Minnesota | Rep. Jeff Backer Jr. (R-MN-12A) |
| Minnesota | Rep. Cal Bahr (R-MN-31B) |
| Minnesota | Rep. Kurt Daudt (R-MN-31A) |
| Minnesota | Rep. Pat Garofalo (R-MN-58B) |
| Minnesota | Rep. Rick Hansen (D-MN-52A) |
| Minnesota | Rep. Melissa Hortman (D-MN-36B) |
| Minnesota | Rep. Brian Johnson (R-MN-32A) |
| Minnesota | Rep. Jon Koznick (R-MN-58A) |
| Minnesota | Rep. Joe McDonald (R-MN-29A) |
| Minnesota | Rep. Duane Quam (R-MN-25A) |
| Minnesota | Rep. Ruth Richardson (R-MN-52B) |
| Minnesota | Rep. Nolan West (R-MN-37B) |
| Minnesota | Sen. Jim Abeler Jr. (R-MN-35) |
| Minnesota | Sen. Jim Carlson (D-MN-51) |
| Minnesota | Sen. Justin Eichorn (R-MN-5) |
| Minnesota | Sen. Jeff Howe (R-MN-13) |
| Minnesota | Sen. Carla Jean Nelson (R-MN-26) |
| Mississippi | Rep. Tracy Arnold (R-MS-3) |
| Mississippi | Rep. Manly George Barton (R-MS-109) |
| Mississippi | Rep. Richard B. Bennett (R-MS-120) |
| Mississippi | Rep. Randy P. Boyd (R-MS-19) |
| Mississippi | Rep. Chris Brown (R-MS-20) |
| Mississippi | Rep. Larry Byrd (R-MS-104) |
| Mississippi | Rep. Becky Currie (R-MS-92) |
| Mississippi | Rep. Philip Gunn (R-MS-56) |
| Mississippi | Rep. Lataisha Jackson (D-MS-11) |
| Mississippi | Rep. Vince Mangold (R-MS-53) |
| Mississippi | Rep. Ken Morgan (R-MS-100) |
| Mississippi | Sen. Juan Barnett (D-MS-34) |
| Mississippi | Sen. Kevin Edward Blackwell (R-MS-19) |
| Mississippi | Sen. Scott DeLano (R-MS-50) |
| Mississippi | Sen. Hillman Frazier (D-MS-27) |
| Mississippi | Sen. Rita Potts Parks (R-MS-4) |
| Mississippi | Sen. Chuck Younger (R-MS-17) |
| Missouri | Rep. Gretchen Bangert (D-MO-69) |
| Missouri | Rep. Richard Brown (D-MO-27) |
| Missouri | Rep. Tracy McCreery (D-MO-88) |
| Missouri | Rep. Holly Rehder (R-MO-148) |
| Missouri | Rep. Robert Sauls (D-MO-21) |
| Missouri | Rep. Richard West (R-MO-63) |
| Missouri | Sen. Mike Cierpiot (R-MO-8) |
| Montana | Rep. Fred Anderson (R-MT-20) |
| Montana | Rep. Larry Brewster (R-MT-44) |
| Montana | Rep. Steven Galloway (R-MT-24) |
| Montana | Rep. Steve Gunderson (R-MT-1) |
| Montana | Rep. Casey Knudsen (R-MT-33) |
| Montana | Rep. Ryan Lynch (D-MT-76) |
| Montana | Rep. Wendy McKamey (R-MT-19) |
| Montana | Rep. Barry Usher (R-MT-40) |
| Montana | Rep. Jonathan Windy Boy (D-MT-32) |
| Montana | Rep. Daniel Zolnikov (R-MT-45) |
| Montana | Sen. Jill Cohenour (D-MT-42) |
| Montana | Sen. Mike Cuffe (R-MT-1) |
| Montana | Sen. Jason W. Ellsworth (R-MT-43) |
| Montana | Sen. Frank Smith (D-MT-16) |
| Nebraska | Sen. John Lowe Sr. (N-NE-37) |
| Nevada | Assemblymember Ken Gray (R-NV-39) |
| Nevada | Assemblymember Lisa Krasner (R-NV-26) |
| Nevada | Sen. Pat Spearman (D-NV-1) |
| New Hampshire | Rep. Lino Avellani (R-NH-14 (CA5)) |
| New Hampshire | Rep. Ross Berry (R-NH-101 (HI44)) |
| New Hampshire | Rep. Linda DiSilvestro (D-NH-66 (HI9)) |
| New Hampshire | Rep. Fred Doucette (R-NH-139 (RO8)) |
| New Hampshire | Rep. Daniel Adams Eaton (D-NH-20 (CH3)) |
| New Hampshire | Rep. Carol M. McGuire (R-NH-131 (ME29)) |
| New Hampshire | Rep. Russ Muirhead (D-NH-52 (GR12)) |
| New Hampshire | Rep. Sherman A. Packard (R-NH-136 (RO5)) |
| New Hampshire | Rep. Joseph A. Pitre (R-NH-170 (ST2)) |
| New Hampshire | Rep. Tom Ploszaj (R-NH-1 (BE1)) |
| New Hampshire | Rep. Andrew Prout (R-NH-94 (HI37)) |
| New Hampshire | Rep. Terry Roy (R-NH-163 (RO32)) |
| New Hampshire | Rep. Laurie Sanborn (R-NH-98 (HI41)) |
| New Hampshire | Rep. Steven Smith (R-NH-204 (SU11)) |
| New Hampshire | Rep. Jordan G. Ulery (R-NH-94 (HI37)) |
| New Hampshire | Rep. Scott Wallace (R-NH-143 (RO12)) |
| New Hampshire | Rep. Kenneth L. Weyler (R-NH-144 (RO13)) |
| New Jersey | Assemblymember Tom Giblin (D-NJ-34) |
| New Jersey | Assemblymember Angela V. McKnight (D-NJ-31) |
| New Jersey | Assemblymember Erik Peterson (R-NJ-23) |
| New Jersey | Assemblymember Kevin J. Rooney (R-NJ-40) |
| New Jersey | Assemblymember Holly Schepisi (R-NJ-39) |
| New Jersey | Assemblymember Parker Space (R-NJ-24) |
| New Jersey | Assemblymember Shavonda Sumter (D-NJ-35) |
| New Jersey | Assemblymember Ned Thomson (R-NJ-30) |
| New Jersey | Assemblymember Hal Wirths (R-NJ-24) |
| New Jersey | Sen. Joe Lagana (D-NJ-38) |
| New Mexico | Rep. Gail Armstrong (R-NM-49) |
| New Mexico | Rep. Candy Spence Ezzell (R-NM-58) |
| New Mexico | Rep. Joanne J. Ferrary (D-NM-37) |
| New Mexico | Rep. Dayan Hochman (D-NM-15) |
| New Mexico | Rep. Ryan Lane (R-NM-3) |
| New Mexico | Rep. Bill Rehm (R-NM-31) |
| New Mexico | Rep. Liz Thomson (D-NM-24) |
| New Mexico | Rep. Christine Trujillo (D-NM-25) |
| New Mexico | Sen. Bill Tallman (D-NM-18) |
| New York | Assemblymember Will Barclay (R-NY-120) |
| New York | Assemblymember Joe DeStefano (R-NY-3) |
| New York | Assemblymember Mike Fitzpatrick (R-NY-8) |
| New York | Assemblymember Joe Giglio (R-NY-148) |
| New York | Assemblymember Andy Goodell (R-NY-150) |
| New York | Assemblymember Steve Hawley (R-NY-139) |
| New York | Assemblymember Donna Lupardo (D-NY-123) |
| New York | Assemblymember Brian Manktelow (R-NY-130) |
| New York | Assemblymember Dave McDonough (R-NY-14) |
| New York | Assemblymember Phil Palmesano (R-NY-132) |
| New York | Assemblymember Crystal Peoples-Stokes (D-NY-141) |
| New York | Assemblymember Ed Ra (R-NY-19) |
| New York | Assemblymember Angelo Santabarbara (D-NY-111) |
| New York | Sen. Leroy Comrie Jr. (D-NY-14) |
| New York | Sen. Tom O'Mara (R-NY-58) |
| North Carolina | Rep. Kelly Alexander Jr. (D-NC-107) |
| North Carolina | Rep. Amber Baker (D-NC-72) |
| North Carolina | Rep. Becky Carney (D-NC-102) |
| North Carolina | Rep. George Cleveland (R-NC-14) |
| North Carolina | Rep. Rosa Underwood Gill (D-NC-33) |
| North Carolina | Rep. Kelly Hastings (R-NC-110) |
| North Carolina | Rep. Julia Craven Howard (R-NC-77) |
| North Carolina | Rep. Frank Iler Jr. (R-NC-17) |
| North Carolina | Rep. Tim Moore (R-NC-111) |
| North Carolina | Rep. Jason Ray Saine (R-NC-97) |
| North Carolina | Rep. Mitchell Setzer (R-NC-89) |
| North Carolina | Rep. Donna McDowell White (R-NC-26) |
| North Carolina | Sen. Joyce Krawiec (R-NC-31) |
| North Carolina | Sen. Mike Woodard (D-NC-22) |
| North Dakota | Rep. Dick Anderson (R-ND-6) |
| North Dakota | Rep. Craig Headland (R-ND-29) |
| North Dakota | Rep. Patrick D. Heinert (R-ND-32) |
| North Dakota | Rep. Lawrence R. Klemin (R-ND-47) |
| North Dakota | Rep. David Monson (R-ND-10) |
| North Dakota | Rep. Jon O. Nelson (R-ND-14) |
| North Dakota | Rep. Dan Ruby (R-ND-38) |
| North Dakota | Rep. Matt Ruby (R-ND-40) |
| North Dakota | Rep. Robin Weisz (R-ND-14) |
| North Dakota | Sen. Dick Dever (R-ND-32) |
| North Dakota | Sen. Judy Lee (R-ND-13) |
| North Dakota | Sen. Tim Mathern (D-ND-11) |
| North Dakota | Sen. Shawn A. Vedaa (R-ND-6) |
| Ohio | Sen. Andrew Brenner (R-OH-19) |
| Ohio | Rep. Jessica Miranda (D-OH-28) |
| Oklahoma | Rep. Ross Ford (R-OK-76) |
| Oklahoma | Rep. Chris Kannady (R-OK-91) |
| Oklahoma | Sen. Michael Brooks (D-OK-44) |
| Oklahoma | Sen. Shane Jett (R-OK-17) |
| Oregon | Rep. Ken Helm (D-OR-34) |
| Pennsylvania | Rep. Joe Ciresi (D-PA-146) |
| Pennsylvania | Rep. Scott Conklin (D-PA-77) |
| Pennsylvania | Rep. Bryan Cutler (R-PA-100) |
| Pennsylvania | Rep. Tina Davis (D-PA-141) |
| Pennsylvania | Rep. Pat Harkins (D-PA-1) |
| Pennsylvania | Rep. Doyle Heffley (R-PA-122) |
| Pennsylvania | Rep. John Lawrence (R-PA-13) |
| Pennsylvania | Rep. Ryan Mackenzie (R-PA-134) |
| Pennsylvania | Rep. Ed Neilson (D-PA-174) |
| Pennsylvania | Rep. Eddie Pashinski (D-PA-121) |
| Pennsylvania | Rep. Brian Smith (R-PA-66) |
| Pennsylvania | Rep. Mike Sturla (D-PA-96) |
| Pennsylvania | Sen. Lisa Boscola (D-PA-18) |
| Pennsylvania | Sen. Scott Hutchinson (R-PA-21) |
| Pennsylvania | Sen. Pat Stefano (R-PA-32) |
| Pennsylvania | Sen. Gene Yaw (R-PA-23) |
| Rhode Island | Rep. Stephen M. Casey (D-RI-50) |
| Rhode Island | Rep. Carol Hagan McEntee (D-RI-33) |
| Rhode Island | Rep. Joseph Solomon Jr. (D-RI-22) |
| Rhode Island | Sen. Lou DiPalma (D-RI-12) |
| Rhode Island | Sen. Hanna M. Gallo (D-RI-27) |
| Rhode Island | Sen. Elaine J. Morgan (R-RI-34) |
| South Carolina | Rep. Carl Anderson (D-SC-103) |
| South Carolina | Rep. Mike Burns (R-SC-17) |
| South Carolina | Rep. Bill Chumley (R-SC-35) |
| South Carolina | Rep. Raye Felder (R-SC-26) |
| South Carolina | Rep. Craig A. Gagnon (R-SC-11) |
| South Carolina | Rep. Doug Gilliam (R-SC-42) |
| South Carolina | Rep. Brandon Guffey (R-SC-48) |
| South Carolina | Rep. Kevin J. Hardee (R-SC-105) |
| South Carolina | Rep. John King (D-SC-49) |
| South Carolina | Rep. Dennis Carroll Moss (R-SC-29) |
| South Carolina | Rep. Richie Yow (R-SC-53) |
| South Carolina | Sen. Larry Grooms (R-SC-37) |
| South Carolina | Sen. Greg Hembree (R-SC-28) |
| South Carolina | Sen. Katrina Frye Shealy (R-SC-23) |
| South Dakota | Rep. Oren Lesmeister (D-SD-28A) |
| South Dakota | Rep. Mike Weisgram (R-SD-24) |
| South Dakota | Sen. John J. Wiik (R-SD-4) |
| South Dakota | Sen. Larry Zikmund (R-SD-14) |
| Tennessee | Rep. Rush Bricken (R-TN-47) |
| Tennessee | Rep. Vincent B. Dixie (D-TN-54) |
| Tennessee | Rep. Dan Howell (R-TN-22) |
| Tennessee | Rep. Darren Jernigan (D-TN-60) |
| Tennessee | Rep. Jay D. Reedy (R-TN-74) |
| Tennessee | Rep. Mike Sparks (R-TN-49) |
| Tennessee | Rep. Dwayne Thompson (D-TN-96) |
| Tennessee | Rep. Joe Towns Jr. (D-TN-84) |
| Tennessee | Rep. Mark White (R-TN-83) |
| Tennessee | Sen. Bill Powers (R-TN-22) |
| Texas | Rep. Drew A. Springer (R-TX-68) |
| Texas | Rep. Sam Harless (R-TX-126) |
| Texas | Rep. Ray Lopez (D-TX-125) |
| Texas | Rep. Tom Oliverson (R-TX-130) |
| Texas | Rep. Valoree Swanson (R-TX-150) |
| Texas | Rep. Ed Thompson (R-TX-29) |
| Texas | Rep. Gene Wu (D-TX-137) |
| Utah | Rep. Robert M. Spendlove (R-UT-49) |
| Utah | Rep. Jordan Teuscher (R-UT-44) |
| Utah | Rep. Christine Watkins (R-UT-69) |
| Utah | Sen. Todd Weiler (R-UT-23) |
| Vermont | Rep. Patrick M. Brennan (R-VT-41) |
| Vermont | Rep. Seth Chase (D-VT-40) |
| Vermont | Rep. Kenneth W. Goslant (R-VT-77) |
| Vermont | Rep. Chip Troiano (D-VT-14) |
| Vermont | Sen. Richard A. Westman (R-VT-Lamoille) |
| Virginia | Del. Kaye Kory (D-VA-38) |
| Virginia | Del. David A. LaRock (R-VA-33) |
| Virginia | Del. Jay Leftwich Jr. (R-VA-78) |
| Virginia | Del. Danny Marshall III (R-VA-14) |
| Virginia | Del. Ken Plum (D-VA-36) |
| Virginia | Del. Mark David Sickles (D-VA-43) |
| Virginia | Sen. Jennifer Boysko (D-VA-33) |
| Virginia | Sen. Amanda Chase (R-VA-11) |
| Virginia | Sen. Emmett Hanger Jr. (R-VA-24) |
| Virginia | Sen. L. Louise Lucas (D-VA-18) |
| Washington | Rep. Andrew Barkis (R-WA-2) |
| Washington | Rep. Tom Dent (R-WA-13) |
| Washington | Rep. Paul Harris (R-WA-17) |
| Washington | Rep. Drew MacEwen (R-WA-35) |
| Washington | Rep. Ed Orcutt (R-WA-20) |
| Washington | Rep. Eric Robertson (R-WA-31) |
| Washington | Rep. Joe Schmick (R-WA-9) |
| Washington | Rep. Sharon Wylie (D-WA-49) |
| Washington | Sen. Bob Hasegawa (D-WA-11) |
| Washington | Sen. Jeff Holy Sr. (R-WA-6) |
| Washington | Sen. Ann Rivers (R-WA-18) |
| Washington | Sen. Lynda Wilson (R-WA-17) |
| West Virginia | Del. Flimsy Adkins (R-WV-30) |
| West Virginia | Del. Bill Anderson (R-WV-8) |
| West Virginia | Del. Trenton Barnhart (R-WV-7) |
| West Virginia | Del. Jason Barrett (D-WV-61) |
| West Virginia | Del. Jordan Bridges (R-WV-24) |
| West Virginia | Del. Eric Brooks (R-WV-45) |
| West Virginia | Del. Adam Burkhammer (R-WV-46) |
| West Virginia | Del. Jim Butler (R-WV-18) |
| West Virginia | Del. Jarred Cannon (R-WV-21) |
| West Virginia | Del. Moore Capito (R-WV-35) |
| West Virginia | Del. Geno Chiarelli (R-WV-78) |
| West Virginia | Del. Wayne Clark (R-WV-65) |
| West Virginia | Del. Roy Cooper (R-WV-28) |
| West Virginia | Del. Elias Coop-Gonzalez (R-WV-67) |
| West Virginia | Del. Vernon Criss (R-WV-10) |
| West Virginia | Del. Mark Dean (R-WV-21) |
| West Virginia | Del. Mike DeVault (R-WV-74) |
| West Virginia | Del. Corby Dillon (R-WV-29) |
| West Virginia | Del. Lori Dittman (R-WV-63) |
| West Virginia | Del. Joe Ellington Jr. (R-WV-27) |
| West Virginia | Del. Paul Espinosa (R-WV-66) |
| West Virginia | Del. Tom Fast (R-WV-32) |
| West Virginia | Del. Bob Fehrenbacher (R-WV-11) |
| West Virginia | Del. Dana Ferrell (R-WV-39) |
| West Virginia | Del. Shawn Fluharty (D-WV-3) |
| West Virginia | Del. Dave Foggin (R-WV-14) |
| West Virginia | Del. Don Forsht (R-WV-60) |
| West Virginia | Del. Geoff Foster (R-WV-15) |
| West Virginia | Del. Joey Garcia (D-WV-50) |
| West Virginia | Del. Marty Gearheart (R-WV-27) |
| West Virginia | Del. Ric Griffith (D-WV-19) |
| West Virginia | Del. Anita Hall (R-WV-36) |
| West Virginia | Del. Walter Hall (R-WV-58) |
| West Virginia | Del. Caleb Hanna (R-WV-44) |
| West Virginia | Del. Evan Hansen (D-WV-51) |
| West Virginia | Del. Roger Hanshaw (R-WV-33) |
| West Virginia | Del. John Hardy (R-WV-63) |
| West Virginia | Del. Scot Heckert (R-WV-13) |
| West Virginia | Del. Kathie Hess Crouse (R-WV-19) |
| West Virginia | Del. Rick Hillenbrand (R-WV-88) |
| West Virginia | Del. Mike Hite (R-WV-92) |
| West Virginia | Del. Josh Holstein (R-WV-23) |
| West Virginia | Del. Mike Honaker (R-WV-46) |
| West Virginia | Del. Sean Hornbuckle (D-WV-16) |
| West Virginia | Del. Mike Hornby (R-WV-93) |
| West Virginia | Del. Chuck Horst Sr. (R-WV-62) |
| West Virginia | Del. John Paul Hott II (R-WV-54) |
| West Virginia | Del. Eric L. Householder (R-WV-64) |
| West Virginia | Del. Gary G. Howell (R-WV-56) |
| West Virginia | Del. Dean Jeffries (R-WV-40) |
| West Virginia | Del. Joe Jeffries (R-WV-22) |
| West Virginia | Del. Buck Jennings (R-WV-53) |
| West Virginia | Del. Riley Keaton (R-WV-11) |
| West Virginia | Del. David Kelly (R-WV-6) |
| West Virginia | Del. Laura Kimble (R-WV-48) |
| West Virginia | Del. Todd Kirby (R-WV-44) |
| West Virginia | Del. Larry Kump (R-WV-94) |
| West Virginia | Del. Daniel Linville (R-WV-16) |
| West Virginia | Del. Todd Longanacre (R-WV-42) |
| West Virginia | Del. Patrick Lucas (R-WV-24) |
| West Virginia | Del. Phil Mallow (R-WV-50) |
| West Virginia | Del. John Mandt Jr. (R-WV-16) |
| West Virginia | Del. Keith Marple (R-WV-69) |
| West Virginia | Del. Carl Martin (R-WV-45) |
| West Virginia | Del. Jordan Maynor (R-WV-28) |
| West Virginia | Del. Margitta Mazzocchi (R-WV-24) |
| West Virginia | Del. Pat McGeehan (R-WV-1) |
| West Virginia | Del. George Miller (R-WV-58) |
| West Virginia | Del. Ty Nestor (R-WV-43) |
| West Virginia | Del. Mickey Petitto (R-WV-70) |
| West Virginia | Del. Chris Phillips (R-WV-47) |
| West Virginia | Del. Jonathan Pinson (R-WV-13) |
| West Virginia | Del. Chris Pritt (R-WV-36) |
| West Virginia | Del. Elliott Pritt (R-WV-50) |
| West Virginia | Del. Mike Pushkin (D-WV-37) |
| West Virginia | Del. Ben Queen (R-WV-48) |
| West Virginia | Del. Charlie Reynolds (R-WV-4) |
| West Virginia | Del. Bill Ridenour (R-WV-100) |
| West Virginia | Del. Clay Riley (R-WV-48) |
| West Virginia | Del. Matthew Rohrbach (R-WV-17) |
| West Virginia | Del. Mark Ross (R-WV-28) |
| West Virginia | Del. Larry Rowe (D-WV-36) |
| West Virginia | Del. Andy Shamblin (R-WV-59) |
| West Virginia | Del. Chuck Sheedy Sr. (R-WV-7) |
| West Virginia | Del. Doug Skaff Jr. (D-WV-35) |
| West Virginia | Del. Doug Smith (R-WV-27) |
| West Virginia | Del. Joe Statler (R-WV-51) |
| West Virginia | Del. Brandon Steele (R-WV-29) |
| West Virginia | Del. George Street (R-WV-83) |
| West Virginia | Del. Erikka Storch (R-WV-3) |
| West Virginia | Del. Amy Summers (R-WV-49) |
| West Virginia | Del. Darren Thorne (R-WV-89) |
| West Virginia | Del. Chris Toney (R-WV-31) |
| West Virginia | Del. Heather Tully (R-WV-41) |
| West Virginia | Del. Adam Vance (R-WV-35) |
| West Virginia | Del. Dani Walker (D-WV-51) |
| West Virginia | Del. Bryan Ward (R-WV-55) |
| West Virginia | Del. Debbie Warner (R-WV-82) |
| West Virginia | Del. Steve Westfall (R-WV-12) |
| West Virginia | Del. John Williams (D-WV-51) |
| West Virginia | Del. Jimmy Willis (R-WV-3) |
| West Virginia | Del. Evan Worrell (R-WV-18) |
| West Virginia | Del. Kayla Young (D-WV-35) |
| West Virginia | Del. Mark Zatezalo (R-WV-1) |
| West Virginia | Del. Lisa Bixby Zukoff (D-WV-4) |
| West Virginia | Sen. Craig Blair (R-WV-15) |
| West Virginia | Sen. Robert Karnes (R-WV-11) |
| West Virginia | Sen. Patrick Martin (R-WV-12) |
| West Virginia | Sen. Mark Maynard (R-WV-6) |
| West Virginia | Sen. Eric Nelson Jr. (R-WV-17) |
| West Virginia | Sen. Rupie Phillips Jr. (R-WV-7) |
| West Virginia | Sen. Bob Plymale (D-WV-5) |
| West Virginia | Sen. Patricia Rucker (R-WV-16) |
| West Virginia | Sen. Eric Tarr (R-WV-4) |
| West Virginia | Sen. Jay Taylor Jr. (R-WV-14) |
| West Virginia | Sen. Charles S. Trump IV (R-WV-15) |
| West Virginia | Sen. Ryan Weld (R-WV-1) |
| West Virginia | Sen. Jack Woodrum (R-WV-10) |
| Wisconsin | Rep. James Edming (R-WI-87) |
| Wisconsin | Rep. Clint Moses (R-WI-29) |
| Wisconsin | Rep. Michael Schraa (R-WI-53) |
| Wisconsin | Rep. Rob Swearingen (R-WI-34) |
| Wisconsin | Sen. Andre Jacque (R-WI-1) |
| Wyoming | Rep. Landon Brown (R-WY-9) |
| Wyoming | Rep. Andi LeBeau (D-WY-33) |
| Wyoming | Rep. Lloyd Larsen (R-WY-54) |
| Wyoming | Rep. Sandy Newsome (R-WY-24) |
| Wyoming | Rep. Clark Stith (R-WY-48) |
| Wyoming | Rep. Tom Walters (R-WY-38) |
| Wyoming | Rep. Mike Yin (D-WY-16) |
| Wyoming | Sen. Cale Case (R-WY-25) |
| Wyoming | Sen. Ogden O. Driskill (R-WY-1) |
| Wyoming | Sen. Mike Gierau (D-WY-17) |