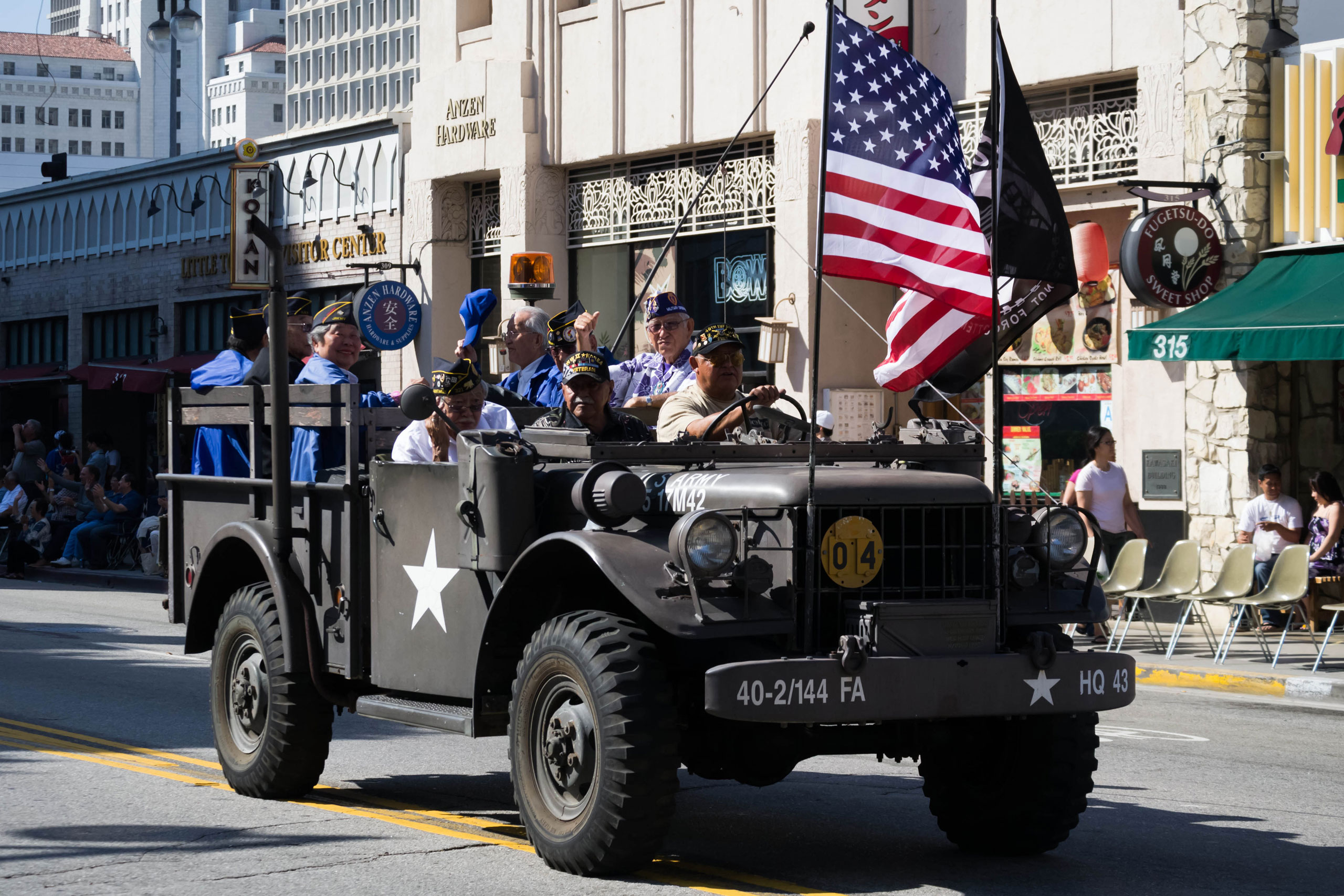 Another Shot at Glory
Bill Reintroductions Offer Pro-Hobby Opportunities Again
Some bills refuse to take a permanent rest—for better and for worse. Thankfully, actions by elected officials are not always aimed at harming our prized cars and trucks. As the state legislative sessions convened in 2021, many familiar automotive bills have returned. Following is an overview of the pro-hobby proposals seeking another chance at becoming law. These beneficial bills, supported by the SEMA Action Network (SAN), were introduced in the previous legislative session but failed to pass prior to the adjournment of the session. For the latest status on each effort and the complete list of this year's Legislative Action Alerts, visit semaSAN.com/Alerts:
Exhaust Noise: The SAN is supporting legislation in Hawaii that would allow the use, sale, alteration, or installation of car mufflers that meet a 95-decibel noise limit. Under the current law, no person can sell, alter, or install a muffler which will noticeably increase a vehicle's noise. This bill provides an opportunity for auto enthusiasts to install and use aftermarket modified exhaust systems that meet an objective decibel limit under a fair and predictable test.
Hawaii isn't the only state considering muffler noise legislation in 2021. In fact, bills aiming to crack down on street racing and illegally modified exhaust systems have been one of the biggest legislative trends of the year. Why? During the height of the COVID-19 quarantines, roadways were largely empty. Unfortunately, this resulted in a significant increase in automotive bad behavior by those that don't represent our hobby as a whole. While the SAN has thus far been successful in preventing any overly onerous measures from gaining traction, everyone must do their part to represent our shared passion in the best way possible.
Single License Plates: The SAN is supporting legislation in Hawaii, New York and Texas to allow the display of only a single, rear-mounted license plate for all passenger vehicles. Under current law vehicles must display two license plates in each state. A Minnesota bill would allow single plates on special interest vehicles, which have not received an exemption from the state's requirement of displaying two plates. In Iowa, a bill would allow single plates on vehicles registered as "antique" or any vehicle that would require modifications including but not limited to adding or mounting hardware, drilling, or adding adhesives in order to secure a front registration plate.
Legacy License Plates: The SAN is supporting legislation in Michigan to create two legacy license plates replicating examples from the state's past to be available for display on all vehicles. Each choice would bring a retro look by resembling plates that were previously available in the state from 1979 to 2007.
Vintage Vehicles: The SAN is supporting legislation in several states that benefit owners of vintage models. Kansas is seeking to re-define vehicles eligible to be registered as "antique" by only requiring the vehicle to be more than 35 years old, regardless of the age of the component parts installed. In Missouri, a bill would allow historic vehicles to be issued license plates without an annual mileage restriction—currently limited to 1,000 miles of driving for personal use per year. Another effort in New York would require a biennial safety inspection for antique, classic, and collector vehicles instead of the current annual inspection.
Military Vehicle Titling: The SAN is supporting legislation in Washington state to allow the registration of former military surplus vehicles. Oklahoma legislation would allow the titling of surplus HUMVEES (High-Mobility Multipurpose Vehicles or HMMWV) while restricting these vehicles from traveling on Interstate Highways. Under current law, former military vehicles are not able to be titled in either state.
Motorsports Complexes: The SAN is supporting legislation in West Virginia to aid and incentivize the construction of motorsports complexes.
Legislative Alerts
SEMA SAN Strike Force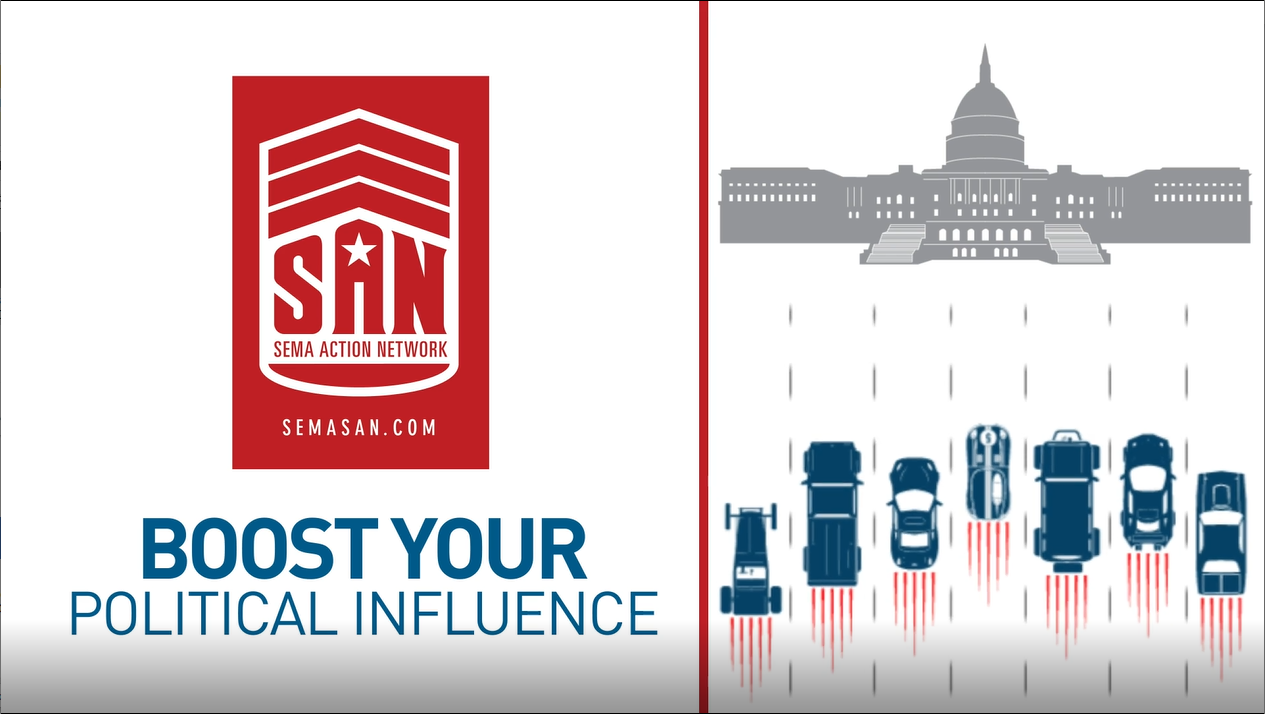 Want elected officials to work for you? Boost your political influence using this digital lobbying guide from the SEMA Action Network (SAN). Whether starting from scratch or seeking the next level, this short video series breaks down common misconceptions about influencing public policy. Take advantage of this resource free of charge and share with others:
PART 6: PRO TIPS FOR REACHING OUT TO A LAWMAKER
Working the system of government constructively begins with getting involved. Plan to take opportunities to remind legislators about the importance of the automotive community.
SUCCESS AWAITS:
When referring to a specific proposal in communication with officials, identify its basic details: bill number, your position on the bill and why, as well as your contact information. While SAN action alerts include sample message points, make sure to personalize messages to lawmakers noting what the topic means to you.

 
Full details about this free resource: semaSAN.com/Lobby.
EDITION 197