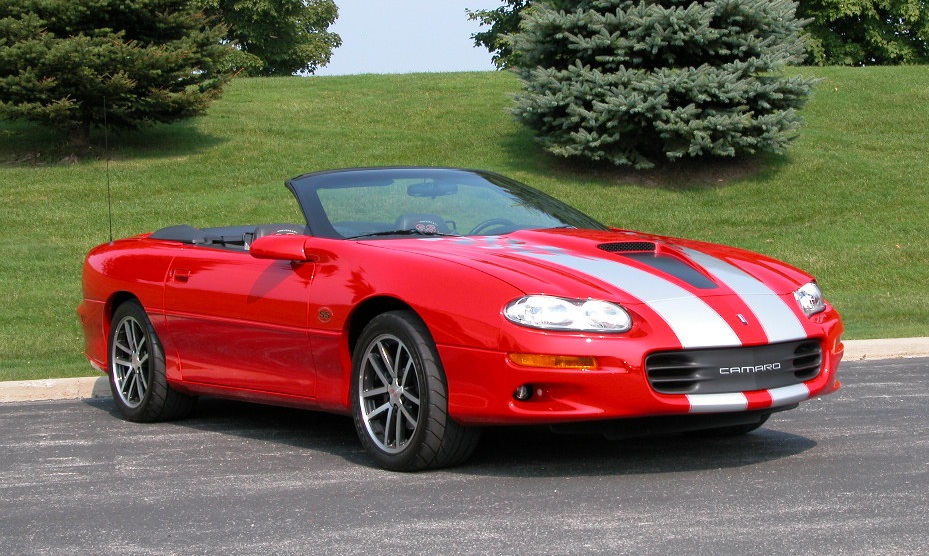 It's safe to say that Gary Kilbride is a fan of the Bowtie brand's offerings. A member of the Ontario Camaro Club, he served as Vice President from 1997 to 2009. In the role, he managed the club's finances, website, quarterly newsletter, apparel and a number of the club's sponsors. He currently owns two vintage Chevrolet Camaros. However, these may not be his last. "I have my eye on a 1967 Camaro Indy Pace Car," explains Gary. "The car is one of only eleven made for export to Canada. The owner, who is the original owner, is not ready to sell yet...but maybe soon." Perhaps luck will run in his favor to obtain this ride.
"I purchased my 2002 35th Anniversary Camaro (pictured here) because I thought that maybe this would be the last year that the car would be made... and I really liked the LS engine," Gary recalls. "This is the first new vehicle that I ever purchased. I had the pleasure of doing the pre-delivery because my son worked at the dealership. It's a fully-loaded SLP-opted car with manual 6-speed trans. It now has just under 8,000 miles because it is driven selectively."
Gary bought his other Camaro—a 1983 Z28—in 1989 as the second owner. "I have driven it 24/7 for 80,000 miles, including in winter and summer," he says. "It never failed to start and it never became stuck in the snow. I had it painted in 1993 and it hasn't seen winter since then. It's very original, although I replaced the factory TH 200C trans with a TH350 because the 200 was starting to slip."
Additional background:
Other automotive projects:
There are a number of projects that I'd like to tackle; however, I am now retired so money is a concern. I do get involved with my son, who has a 1969 Z28 which is very original. We've made a few repairs on it, including the steering box, power steering pump, brake work, exhaust and some carburetor work.
Vehicle that tops my wish list:
This would be a new Camaro SS 1LE. I drove a 2019 edition, which my son had as a demo for a short time and it was amazing. I also drove a ZL1—the horsepower was great but the 1LE was a "nicer" drive.
My fantasy powerplant:
I have always liked the Chev big blocks: 396 and 427. However, I would have to go with an LSX engine—a great design and lots of power.
Favorite automotive memory:
In the early '70s, I bought a 1957 Chev Belair 2-door post without an engine. With the help of friends, I rebuilt a 283 with TRW pistons, 375hp cam, Chevy aluminum hi-rise, Holley 750 carb with Hedman Hedders and Walker chamber pipes. That car sounded and ran so good!!
My automotive hero(es):
I don't have one automotive hero; however, there are a number of folks that I look up to. Among them are Brian Henderson of Supercar Workshop, former Camaro brand manager Scott Settlemire, NHRA drag racer Bill "Grumpy" Jenkins and my son Scott—he is an awesome auto technician and has a great "automotive mind."
Links I visit:
I'm interested in Chevrolet, so that's where I'm generally looking. I visit a number of Chevy-related sites: ThirdGen.Org, Hawks Motor Sports and GM Performance Parts.
Why our legislative voice is important:
Folks in the hobby have to know what's going on in order to be able to respond effectively to the potential laws that will impact what we love. Our hobby is our passion; but, it's more than that. It has driven a huge industry employing thousands. In addition, it has resulted in so much innovation in performance, style and safety. Many clubs support worthwhile charities. All of this is too important to lose.