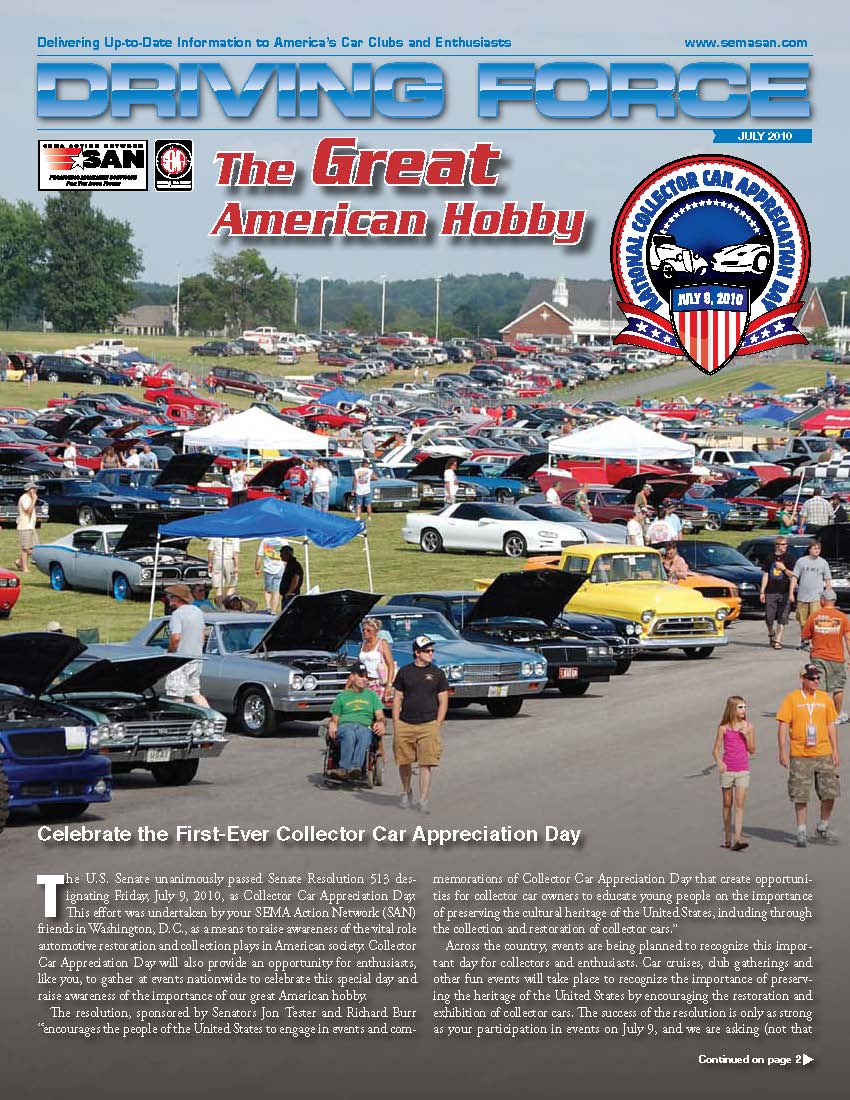 Click on image above to open the newsletter PDF.
Celebrate the First-Ever Collector Car Appreciation Day
The U.S. Senate unanimously passed Senate Resolution 513 designating Friday, July 9, 2010, as Collector Car Appreciation Day. This effort was undertaken by your SEMA Action Network (SAN) friends in Washington, D.C., as a means to raise awareness of the vital role automotive restoration and collection plays in American society. Collector Car Appreciation Day will also provide an opportunity for enthusiasts, like you, to gather at events nationwide to celebrate this special day and raise awareness of the importance of our great American hobby.
The resolution, sponsored by Senators Jon Tester and Richard Burr "encourages the people of the United States to engage in events and commemorations of Collector Car Appreciation Day that create opportunities for collector car owners to educate young people on the importance of preserving the cultural heritage of the United States, including through the collection and restoration of collector cars."
Across the country, events are being planned to recognize this important day for collectors and enthusiasts. Car cruises, club gatherings and other fun events will take place to recognize the importance of preserving the heritage of the United States by encouraging the restoration and exhibition of collector cars. The success of the resolution is only as strong as your participation in events on July 9, and we are asking (not that we have to!) all members of the SAN to get involved and make the first Collector Car Appreciation Day one for the history books.
Here are some ways you can get involved to make July 9 a special day:
• If you own a collector car, drive it to work and show your coworkers!
• If you are a member of a car club, host an event or move an upcoming gathering to July 9 from its original date. 
• If you are a member of another hobbyist organization, think about partnering with clubs in your area to attract more participants and make a big splash on the first Collector Car Appreciation Day.
• Don't forget to invite your friends, neighbors, and even your local elected officials to events in your area to get them involved in the hobby.
If you or your car club are planning to recognize the occasion or would like information on setting up a Collector Car Appreciation Day event, please contact SAN Director Ethan Landesman at ethanl@ sema.org as soon as possible. We will then add your event to the master list available at www.semasan.com and publicize your event to the national enthusiast community.
Celebrate With Us at These Appreciation Day Events!
CALIFORNIA
July 9, Escondido
Cruisin' Grand
Sponsor: Downtown Business Association of Escondido
Info: www.downtownescondido.com/cruisin.html
July 9, Auburn
Auburn Cruise Night
Sponsor: Auburn Downtown Business Association
Info: www.auburncruisenite.com
July 9–August 1, Gualala
Sid Waterman Classic Auto and Art Show
Sponsor: Gualala Arts Center
Info: http://gualalaarts.org/Exhibits/Gallery/2010-07AutoShow.html
July 9, Redondo Beach
Ruby's Cruise at the Beach
Sponsor: Ruby's Diner
Info: www.socalcarculture.com/ Images/CruiseNight_Friday_RubysRedondo.pdf
July 9–11, San Jose
Hot San Jose Nights
Sponsor: Mike Hennessy
Info: www.hotsanjosenights.com
July 9, Sante Fe Springs
Collector Car Appreciation Day
Sponsor: Egge Machine and Speed Shop
Info: www.facebook.com/EggeMachineCompany#!/EggeMachineCompany?v=wall
July 9, Whittier
Ruby's Cruise
Sponsor: American Streetrodders
Info: www.socalcarculture.com/Images/CruiseNight_Friday_ RubysWhittier.pdf
KANSAS
July 9, Wichita
Collector Car Cruise-in Show
Info: Frank Upton at 316/371-3000 or frank@motorntv.com
MARYLAND
July 9, Bel Air
Lowes Cruise
Info: www.lowescruise.com
MICHIGAN
July 9–10, Essexville/Bay City
Be Cool Cruise-in and Car Show
Sponsor: Mustang Club of Mid-Michigan
Info: www.becoolcarshow.net
NEW YORK
July 9–11, Grand Island
Northern Chevelle Gathering
Sponsor: CanAm Chevelle Club
Info: www.angelfire.com/folk/canam
OHIO
July 9–11, Columbus
Goodguys PPG Nationals
Sponsor: Goodguys Rod & Custom Association
Info: www.goodguysnats.com
PENNSYLVANIA
July 9–11, Carlisle
2010 Carlisle All Nationals
Info: www.carlisleevents.com/ce/events/chrysler-nationals
July 9–10, York
York Reunion and Nostalgia Nationals
Info: www.yorknostalgia.com/index.html
TENNESSEE
July 8–11, Nashville
Music City Chevy Show
Sponsor: Chevy Classics Club State Reps.
Info: www.classicchevy.com or Bruce Smith 931/648-1957 or 931/645-2234
UTAH
July 9, Layton
Northern Reality Cruise Night
Info: 801/682-8330
July 9, Cedar City
July Jamboree Car Show
Sponsor: Tink's Superior Auto Parts and the Cedar City Rotary Club
Info: www.julyjamboreecc.com
July 9–10, East Carbon
Bo Huff's Rockabilly Car Show
Sponsor:
Info: bohuffcustoms@gmail.com or www.thanks2frank.com/fliers%202010/bo%20huff%202010.pdf
WASHINGTON
July 9, Olympia
Collector Car Appreciation Day Cruise-In
Info: Larry Johnson at 360/754-7890 or at lwjohnson@corv.hp.com
For a complete schedule, visit www.semasan.com.
Each month Driving Force will feature members of the State Automotive Enthusiast Leadership Caucus. The SEMA-supported caucus is a bipartisan group of state lawmakers, nearly 450 strong, whose common thread is a love and appreciation for automobiles.
Here are its newest members:
Pennsylvania
Representative Eddie Pashinski
Representative Bryan Cutler
Representative Richard Geist
Representative Gary Haluska
Representative Dick Hess
Representative Mark Longietti
Representative John Payne
Representative Curt Sonney
Representative Dom Costa
Texas
Representative Mark Homer
Canada (Prince Edward Island) Nitrous Oxide: The province of Prince Edward Island has enacted a new law to permit the installation of nitrous-oxide systems as long as the feed lines are disconnected or the canisters are removed while the vehicle is being operated on a public road. The law largely mirrors SEMA-model legislation to better protect public road safety while ensuring legitimate off-road uses of nitrous-oxide systems.
California Specially Constructed Vehicles: The California Senate Transportation Committee voted down legislation that would have increased the registration limit for exempted specially constructed vehicle registrations from 500 to 750 vehicles per year. The Assembly had already approved the measure. Current law provides for emissions-system certification and a model-year designation for specially constructed vehicles. Under the law, vehicle owners choose whether a smog-test referee certifies the engine model year or the vehicle model year. To determine model year, inspectors compare the vehicle to those of the era that the vehicle most closely resembles. If there is no close match, it is classified as a '60 vehicle. Only those emissions controls applicable to the model year and that can be reasonably accommodated by the vehicle are required. The Department of Motor Vehicles provides a new registration to the first 500 specially constructed vehicles per year that meet the criteria.
Kansas Specialty Vehicle Fees: The SAN convinced Kansas legislators to delete provisions from a revenue bill that increased the fees on antiques, street rods and special-interest vehicles. The language sought to raise the registration fees on these vehicles, including a $10 increase on January 1, 2013, and another $10 increase on January 1, 2014. The revenue bill, without the increased fees on hobbyist vehicles, was signed into law by Governor Mark Parkinson. 
Ohio Street Rods/Custom Vehicles: The Ohio House Transportation Committee unanimously passed SEMA-model legislation to create a vehicle registration and titling classification for street rods and custom vehicles and provide for special license plates for these vehicles. The bill defines a street rod as an altered vehicle manufactured before 1949 and a custom as an altered vehicle at least 25 years old and manufactured after 1948. The bill allows kit cars and replica vehicles to be assigned a certificate of title bearing the same model-year designation that the body of the vehicle was constructed to resemble. The measure also includes street rods and customs in the historical motor-vehicle definition for the purpose of holding these vehicles only to the equipment standards specified by law during the model year listed on the title of the vehicle. The bill will now be sent to the floor for a vote by the full House.
Vermont Inoperable Vehicles: SAN-supported legislation to provide an exemption to automotive hobbyists from the restrictions on salvage yards was signed into law by Vermont Governor Jim Douglas. The new law increases the regulation of salvage yards and automobile graveyards in the state but includes a provision stipulating that hobbyists are not to be confused with the owners of automobile graveyards. The law defines an "automobile hobbyist" as a person not primarily engaged in the sale of vehicles and parts or dismantling junk vehicles. Further, the definition of "automobile graveyard" does not include an area used by an automobile hobbyist for storage and restoration purposes, provided their activities comply with federal, state and municipal law.
A Cadillac To Die For
1962 Cadillac Hearse
Owner: David Jordan
Donaldsonville, Louisiana
I'm a funeral director with a passion for classic cars. I thought to myself, 'what would be better than combing my love of cars with my profession?' With that goal in mind, I started my own mortuary transport service and named the business Have Hearse Will Travel. I have always loved Cadillacs from the '50s and '60s and with their undeniable style and big wings, it was an easy choice to make when picking out a car for my business.
The classic Caddy Hearse is used for funeral services, and I have a newer one for long-distance transporting. The '62 has less than 30,000 miles and is 90% original, and I'm trying to keep the mileage down as much as possible. A lot of people appreciate the extra style, and I have even been hired to work a wedding. Someone told the groom about my website and after seeing the '62 online, the groom hired me to drive him and his bride from the reception to their hotel for the honeymoon. Yes, their wedding album has plenty of pictures of the wedding party with the '62 Hearse.
The Hearse is fun, and I love driving it. It brings a certain level of class and sophistication that new cars simply lack. It has a new 100-amp alternator, Vintage Air A/C system and wire wheels but almost everything else is stock and original, including the original Cad 390ci/325hp V8. It even has a rare motorized side load table for those times at the cemetery where the back door is not an option.
I know it is a bit morbid, but I love being able to enjoy the auto hobby in an unusual way. The '62 Caddy Hearse is for funeral services for car lovers!
Have your car or truck featured in a future issue of Driving Force.  Submit your high-resolution photos to
san@sema.org
.
THE SAN ON THE HOT ROD POWER TOUR
THOUSANDS LEARN ABOUT THE SAN ON ANNUAL TOUR
With thousands of spectacular vehicles on display, the SEMA Action Network joined with long haulers and local spectators alike in the annual Hot Rod Magazine Power Tour. Starting in Newton, Iowa, and winding its way through the Midwest to Mobile, Alabama, the event brought together car enthusiasts young and old and vehicles of all makes and models.
"I would personally like to thank all of the enthusiasts who signed up for the SAN while on the Power Tour," said SAN Director Ethan Landesman. "Each day of the tour, I had the opportunity to meet with countless individuals who understand the importance of becoming involved in influencing the laws that impact our hobby."
In addition to signing up new SAN members, SAN staff was also on hand to rally support and enthusiasm for the first official Collector Car Appreciation Day on July 9, 2010.
The Hot Rod Power Tour was a great time for all involved!
ALASKA
July 9, Eagle River
25th Annual Bear Paw Festival Car Show
Sponsor: Eagle River Chamber of Commerce
Info: www.49thstatestreetrodders.com/index.html
CALIFORNIA
July 2, Yucaipa
Family Classic Car Cruise Night
Sponsor: Past Pleasures Car Club
Info: http://pastpleasurescarclub.com
July 24, Pasadena
SEMA Show 'N Shine Car Show 
Sponsor: SEMA
Info: www.sema.org/shownshine
COLORADO
July 23–25, Lakewood
Mopar Mile-High NHRA Nationals at Bandimere Speedway
Info: bandimere.com/events/event_detail.php?eventID=357
IDAHO
July 9–11, Boise
Northwest Motorfest: Idaho's Largest Car Show
Sponsor: RPM! Productions
Info: www.rpmprod.com
IOWA
July 2–4, Des Moines
19th Heartland Nationals
Sponsor: Goodguys Rod & Custom Association
Info: www.good-guys.com
ILLINOIS
July 4, Watseka
3rd Annual Car-Truck-Bike Show & Cruz
Sponsor: American Legion Post 23 and VACIC
Info: 815/432-2721
July 17, Chicago Ridge
S.A.L. 2nd Annual Car Show
Sponsor: American Legion Glenn Maker Post #1160
Info: 708/423-3772 or murphy.j4623@comcast.net
July 25, Oakbrook Terrace
Car Show – Classics
Sponsor: Oak Brook Promenade
Info: www.oakbrookpromenade.com/WhatsHappening.html
INDIANA
July 31, Lafayette
Hot Summer Nights Car Show 
Sponsor: Lafayette Kroozers
Info: www.lafayettekroozers.com
KENTUCKY
June 30–July 3, Louisville
Special AACA 75th Anniversary Meet: Diamond Jubilee
Sponsor: Antique Automobile Club of America
Info: www.aaca75.org
MARYLAND
July 17, Aberdeen
1st Annual Mid-Summer Show-Off
Sponsor: Hellbound Customs Car & Truck Club and Mid-Atlantic Lambos
Info: hellboundcustomsctc@gmail.com
MASSACHUSETTS
July 21–25, Sturbridge
2010 OCA National Meet
Sponsor: New England Oldsmobile Club
Info: www.neolds.com
MICHIGAN
July 24, Hickory Corners
22nd Annual Mopars at the Red Barns
Sponsor: West Michigan Mopar Club
Info: 269/664-5595 or http://gilmorecarmuseum.org
MISSOURI
July 9–11, Branson
23rd Annual Ozarks Run
Sponsor: Show-Me F100's Club
Info: http://showmef100.bravepages.com/ozarksrun.html
NEW HAMPSHIRE
July 11, Salem
34th Annual Fun Day Rod Run at Canobie Lake Park
Sponsor: Massachusetts Street Rod Association
Info: www.massstreetrods.com or 781/662-7943
NEW YORK
July 7–11, Greenwich
38th National Truck-In
Sponsor: VAN NY
Info: http://38thvannats.com
July 16–18, Syracuse
Syracuse Nationals
Sponsor: Right Coast Association
Info: www.rightcoastcars.com
July 27–31, Albany
34th Annual International Meet
Sponsor: Upstate and New England Chapters of the Professional Car Society
Info: 518/392-2807 or dkherrick@juno.com
OHIO
June 30–July 4, Dayton
41st National Meet
Sponsor: WPC Club, Inc.
Info: www.chryslerclub.org/meetinfo.htm
July 9–10, Dublin
28th Annual Classic Auto Show and Cruise-In
Sponsor: Arthritis Foundation
Info: www.arthritisautoshow.com/index.php
July 9–11, Columbus
13th Goodguys PPG Nationals
Sponsor: Goodguys Rod & Custom Association
Info: www.good-guys.com
OREGON
July 7–11, Roseburg
Graffiti Weekend: The Northwest's Best Classic Car Cruise
Info: jacksv8s@rosenet.net or www.graffitiweekend.com
July 30–31, Grants Pass
Back to the 50s Classic Car Show & Cruise
Sponsor: Rogue Valley Classic Chevys Club
Info: 541/592-6009 or www.rvclassicchevys.com
SOUTH DAKOTA
July 9–11, Black Hills
Black Hills Rod Run
Sponsor: Counts of the Cobblestone Car Club
Info: 605/391-1931 or www.countscarclub.com
July 11–16, Rapid City
22nd Annual Chevrolet Nomad Association Convention
Sponsor: Chevrolet Nomad Association
Info: www.chevynomadclub.com/cnaconvention.html
UTAH
July 10, Vernal
9th Annual Car Show
Sponsor: Dinaland Car Club
Info: 435/789-6740
July 16, Ogden
5th Annual Classic Car Show
Sponsor: Truly Classics
Info: 801/866-7213
July 17, Brighton
Keep on Rollin' Classic Car Show
Sponsor: Christopher and Dana Reeve Foundation 
Info: http://keep-on-rollin.com
VIRGINIA
July 9, Manassas
Manassas Applebee's Cruise
Sponsor: Bull Rub Street Rods
Info: 540/878-8261 or www.bullrunstreetrods.com
NEW BRUNSWICK, CANADA
July 8–11, Moncton
10th Annual Atlantic Nationals 
Sponsor: The Greater Moncton Street Rods
Info: www.atlanticnationals.com
ALBERTA, CANADA
July 1–4, Calgary
49th Annual International Old Car Meet
Sponsor: Alberta Pioneer Auto Club
Info: 403/248-6716 or www.apaccalgary.ca
July 17, Calgary
VSCCC European Car Show
Sponsor: Vintage Sports Car Club of Calgary
Info: www.vsccc.ca
Early August 2010 Events
KENTUCKY
August 5-8, Louisville
41st Annual Street Rod Nationals Plus
Sponsor: National Street Rod Association (NSRA)
www.NSRA-USA.org