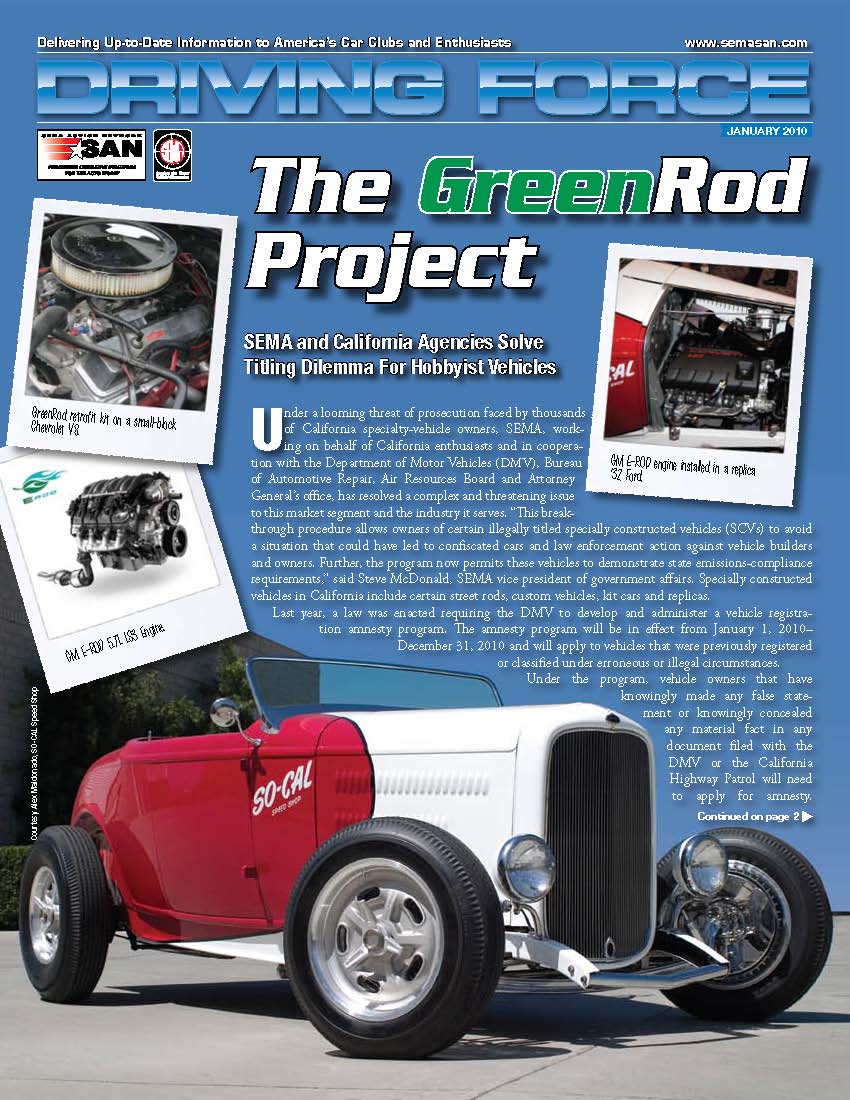 Click on image above to open the newsletter PDF.
SEMA and California Agencies Solve Titling Dilemma For Hobbyist Vehicles
Under a looming threat of prosecution faced by thousands of California specialty-vehicle owners, SEMA, working on behalf of California enthusiasts and in cooperation with the Department of Motor Vehicles (DMV), Bureau of Automotive Repair, Air Resources Board and Attorney General's office, has resolved a complex and threatening issue to this market segment and the industry it serves. "This breakthrough procedure allows owners of certain illegally titled specially constructed vehicles (SCVs) to avoid a situation that could have led to confiscated cars and law enforcement action against vehicle builders and owners. Further, the program now permits these vehicles to demonstrate state emissions-compliance requirements," said Steve McDonald, SEMA vice president of government affairs. Specially constructed vehicles in California include certain street rods, custom vehicles, kit cars and replicas.
Last year, a law was enacted requiring the DMV to develop and administer a vehicle registration amnesty program. The amnesty program will be in effect from January 1, 2010–December 31, 2010 and will apply to vehicles that were previously registered or classified under erroneous or illegal circumstances.
Under the program, vehicle owners that have knowingly made any false statement or knowingly concealed any material fact in any document filed with the DMV or the California Highway Patrol will need to apply for amnesty. Examples of this would be failing to report the actual value of the vehicle; failure to pay the correct sales tax when the vehicle was first titled/registered in California; or incorrectly stating the actual age of the vehicle.
The consequences of not applying for amnesty and paying back taxes and penalties could be severe. If an owner understated the value of the vehicle to the extent that the state lost more than $1,000 in revenue, the owner could be charged with a felony. If the amount is less or the owner incorrectly stated the age of the vehicle, the owner could be charged with a variety of misdemeanors. Recent prosecutions for this type of offense required owners to pay back-taxes and fees averaging $4,000 per vehicle. In some cases, owners will be forced to surrender the title to their car. To receive amnesty from future prosecution, any and all back-taxes must be paid in full and the vehicle's title must be factually corrected.
Recently a process was established to allow specially constructed vehicle owners that have been granted amnesty to avail themselves of emissions requirements that recognize the unique nature of these vehicles. While there are still details to be concluded, SEMA has reached a tentative agreement with the state to provide for three methods to achieve compliance.
The owner can pay all back taxes and penalties and apply for one of 500 (per year) smog-check exemptions. Under California law, these 500 exemptions for specially constructed vehicles are available each year on a first-come, first-served basis. For vehicles with an exemption, a smog-test referee compares the vehicle to production cars of the era that the specially constructed vehicle most closely resembles to determine the model year. The vehicle owner can then choose whether the inspector will certify the vehicle model year by body type or by the engine model year. Only those emissions controls applicable to the chosen model year are required.
 
The owner can pay all back taxes and penalties and then choose to install one of several OEM engines and related powertrain components (including specifications for the construction of a fuel tank and delivery system) that are intended to meet California emissions compliance requirements.
 
The owner can pay all back taxes and penalties and a SEMA-engineered "retrofit kit" of parts can be installed. Major components in the kit include an aftermarket electronic fuel injection (EFI) system, an EFI controller, exhaust headers, a camshaft, mufflers and catalytic converters.
While the engine SEMA used to develop the retrofit kit was considered a worst-case configuration, it still passed smog-check requirements. Variables, such as engine condition, accumulated mileage, and related factors affecting emissions from these parts, may, in some cases, cause similar engines not to meet acceptable emissions levels.
Nonetheless, transitioning from a carbureted environment to a fuel-injected environment while utilizing the latest controller technology and emissions parts upgrades available from the specialty-equipment industry resulted in dramatic and unprecedented reductions in tailpipe and evaporative emissions on the test vehicle. The retrofit kit actually improved performance and efficiency while not limiting power in a full acceleration mode, compared to a carbureted engine.
FREQUENTLY ASKED QUESTIONS
What documentation should I take to the DMV office when applying for amnesty?
Applying for amnesty will re-start the titling and registration process for your specially constructed vehicle. You will need to submit a new DMV 343 Application for Title and Registration form. You will also be required to file a DMV 5063 Statement of Construction form, listing the origin of the vehicle's parts and their purchase price. It would be helpful to have a bill of sale for the vehicle or any appropriate receipts for parts/labor that can be used to establish the actual value of the vehicle. If it is likely that your car had a fraudulent title and will need to pass a smog check, it is advisable to apply for one of the 500 smog-check exemptions granted per year by the DMV.
How much should I expect to pay for the "retrofit" kit? How much should I expect to pay for the GM engine and powertrain?
The retrofit kit is a collection of emissions-related parts with specifications developed by SEMA for which a variety of aftermarket manufacturers will be able to supply components. On average, the kit should cost approximately $6,000. The labor to install the package will likely cost an additional $5,000. If you choose to use a new engine and powertrain package from GM, the current LS3 package will retail at an estimated $7,900. GM will also offer a number of other emissions-approved engine packages with a variety of performance options and price levels. Estimated installation cost for the GM system is approximately $6,000.
If I use a GM engine, how will I know if I've used the correct parts and properly installed them?
GM will include comprehensive instructions that leave little room for error. If you feel that you do not have the mechanical experience to install the package, there are local hot-rod shops, independent repair facilities and dealerships capable of installing the parts. Even when parts are correctly installed, there are variables involved when attempting to meet certain compliance requirements, such as engine condition, other modifications and related factors that can affect emissions.
If I choose to retrofit my current engine, how will I know that the parts kit will actually enable my car to pass the smog test?
The retrofit kit that SEMA developed consists of emissions-related parts intended for a range of engine displacements. It was designed to work with engines typically used in specially constructed vehicles. In general, these would be carbureted V8 engines manufactured by GM, Ford and Chrysler. Although these parts enabled SEMA's project engine to meet emissions requirements, there is no guarantee that they will allow any engine to meet smog-check requirements, depending on variables that include, but are not limited to the following: mechanical compression ratio limits, improperly installed catalytic converters, excessive wear (valve guides, piston rings and cylinder bores), piston displacement limits and a malfunctioning exhaust gas recirculation (EGR) system.
Is there a way I can get a pre-certification test check to see if my vehicle will pass the smog test?
Yes. California law allows any licensed smog-check station to conduct a pre-test on your vehicle to determine whether it can pass a loaded-mode smog test before you submit the car for inspection at a BAR Referee station. The average price for a pre-certification smog test in California is approximately $49. If your vehicle fails the pre-certification smog check, it may be possible to make adjustments that will bring it into compliance. As with any vehicle maintenance, it's best to use a mechanic you know and trust.
What if I have questions about the technical aspects of this program?
SEMA and GM will be available to provide some immediate technical assistance for enthusiasts who apply for amnesty to help them navigate through the process. SEMA has begun communicating with builders of SCVs and engines, enabling them to respond to the most common questions from enthusiasts. Additional guidance information is also available at www.sema.org/greenrod. Information at this site includes a summary of who should participate in the amnesty program, retrofit kit components and specifications, a current OEM crate engine, test procedures, a photo gallery and background information on this project and actions SEMA has taken to create a path for registering improper or illegally titled SCVs.
Custom Vehicles, Custom Plates
Wyoming Delivers Designer Tags for Street Rods and Custom Vehicles
Working with a coalition of enthusiasts and lawmakers, last year the SAN achieved victory in Wyoming by enacting into law SEMA-model legislation to allow for the proper titling and registration of street rods and custom vehicles.
The new law defines a "street rod as an altered vehicle manufactured before 1949 and a custom vehicle as an altered vehicle manufactured after 1948." Additionally, the law provides that replica and kit cars will be assigned the same model-year designations as the production vehicles they most closely resemble and exempts them from periodic inspections. Importantly, the law also provides specific registration and license plates for street rods and custom vehicles.
Never a state to do things halfway, Wyoming has delivered designer license plates for street rods and custom vehicles that are as custom as the cars themselves. Instrumental in not only passing the bill, but also making these custom plates a reality are Fred Williams, Division Director for the National Street Rod Association (NSRA), and Stan Goodwin, President of the Wyoming Street Rod Association (WSRA). Their allies in the state legislature who made the achievement possible are Representative Pat Childers, who sponsored the bill, and key supporters Representatives Stan Blake and Mike Gilmore.
"It took us three years to get the legislation passed that created the street rod and custom plates," said Fred Williams. "When the plates become available, we can display with pride the license plates on our vehicles and show that we drive cars that are special and different than your daily driver."
The plates become available in July 2010, cost $100 for either the street rod plate or the custom plate and do not have to be renewed until 2017. The only restriction with using the new plates is that the vehicle they are registered to cannot be used for daily transportation.
SEMA Show 2009
Every year at the SEMA Show in Las Vegas, the SAN hosts a dinner for legislators that are members of the State Automotive Enthusiast Leadership Caucus. The dinner provides SAN representatives and legislators an opportunity to get together and discuss legislative successes and our mutual love of the auto hobby. We would like to thank the following legislators and legislative staff who gathered with us this year in Las Vegas for taking time out of their busy schedules.
Arizona
Representative Jerry Weiers
California
Assemblymember Tony Mendoza
Sergio Contreras, District Director for Assemblymember Mendoza
Montana
Senator John Brueggeman
Nevada
Assemblymember Mark Manendo
Nevada
Assemblymember Mo Denis
New York
Assemblymember Bill Reilich (Caucus Chairman)
Michelle Marini, Chief of Staff for Assemblymember Reilich
Wyoming
Representative Stan Blake
State Legislatures Have a New Tracker on Their Trail
The SAN Welcomes Its New Research Manager
Ashley Ailsworth
My name is Ashley Ailsworth, and I will be filling the role of research manager in SEMA's Washington, D.C., Government Affairs office, armed with a desire to help protect the auto hobby. My father is an auto enthusiast, which I discovered at a young age while rummaging through old photographs. Among the smiling faces of my relatives appeared an image of his first car, a '67 Chevy Camaro with a 350ci small-block V8—the ultimate musclecar to my eye.
The photo ignited my imagination, lending itself to the idyllic concept I had developed of the '60s and freedom.
My personal choice in cars has been pretty unique so far. I have driven a Jeep that has gotten me into, and out of, many muddy situations; a Chrysler Crossfire that produced enough power through its V6 to be exciting for a Virginia Tech History major; and, currently, a Kia Sportage. Despite my automobile choices, I have vicariously developed a reverence for speed through my friends and family.
I graduated from Virginia Tech in 2007, having studied abroad at the American University of Bulgaria in Blagoevgrad during my last semester. Since returning home, I have completed Georgetown University's Paralegal Studies Program, earning a paralegal certificate this past summer. I have been fortunate enough to now find a position in which I am able to play a part in protecting personal freedoms and the automotive hobby at SEMA. In addition to researching state legislation, I hope to play a role in the production of Driving Force. Please feel free to contact me to introduce yourself, ask questions or submit events to be included in our monthly supplement, "SAN Club Events." I can be reached by phone at 202/783-6007, ext. 38, and by e-mail at ashleya@sema.org.
Does your club host an annual car show? Do you want to help get others involved in working to protect this hobby? If you answered "yes" to both of these questions, then you can help by letting your fellow enthusiasts know about the SEMA Action Network (SAN) and include information about SAN in your show goodie bags.
The SAN has produced a brochure, which provides valuable information on some of the ongoing opportunities and threats that the auto hobby faces. The brochure also highlights the importance of developing an ongoing positive relationship with your state and local officials.
It's quite simple. The more people that get their hands on this information and the more people that actively participate, the more successful we will be in protecting this hobby.
For more information or to request free brochures for your club's upcoming show, contact us at
san@sema.org
by phone at 202/783-6007, ext. 38. Please contact the SAN at least six weeks prior to the show to ensure timely delivery of the brochures.
A New Congressional Affairs Manager Joins The Team
Dan Sadowski
My name is Dan Sadowski and I have joined SEMA's Washington, D.C., office as the new congressional affairs manager. I am responsible for ensuring that the concerns of the SAN are heard by members of the United States House of Representatives and Senate. My first priority is to ensure that the interests of our hobby are protected from harmful or restrictive legislation. By meeting regularly with lawmakers and tracking important legislation, I am on the front lines in the effort to advocate for hobbyists nationwide. In addition, I am responsible for managing the SEMA Political Action Commitee (PAC), which is designed to assist federal lawmakers who are supportive of our passion. Before joining the SEMA Washington team, I served in the Intergovernmental Affairs office at the United States Department of Labor for Secretary Elaine L. Chao. Prior to moving to Washington in 2007, I worked for New York Governor George Pataki and Lieutenant Governor Mary Donohue in Albany, New York.
I am a native New Yorker and graduate of Stonehill College in North Easton, Massachusetts, and I remain a diehard supporter of the New York Yankees and New York Giants. If you have any questions, I can be reached at 202/783-6007, ext. 19 or dans@sema.org. 
Saskatchewan Postpones Raised-Vehicle Regulation
The province of Saskatchewan is postponing the adoption of a raised-vehicle policy and will instead participate in the Canadian Council of Motor Transport Administrators (CCMTA) Excessively Raised Vehicle Working Group. The CCMTA convened the working group with a mandate to develop a national best practice for the regulation of raised vehicles. In August 2009, SEMA submitted technical comments to a regulatory proposal issued by Saskatchewan Government Insurance (SGI) to regulate raised vehicles in the province. SGI operates the province's driver's licensing and vehicle registration system.
SGI regulators claimed that the number of raised vehicles imported into and operating in Saskatchewan has increased, prompting inquiries from the general public, raised-vehicle owners, off-road enthusiasts, vehicle-inspection stations and law enforcement with requests to clarify the existing regulations and standards for raised vehicles. Under the proposed policy, all aftermarket raised vehicles operated on Saskatchewan highways would be subject to a raised-vehicle inspection after January 1, 2011. The policy would be rolled-out in two phases to mitigate the impact on existing raised-vehicle owners and provide time to train and inform the public, inspection stations and law enforcement. Regulators were considering requiring owners to carry a "Letter of Authorization" issued by the province in order to operate a raised vehicle. The letter would signify that the vehicle has passed inspection and would be shown to law enforcement during roadside stops to demonstrate compliance with the applicable frame-height limit.
Sister Tested, Wife Approved
1966 Chevrolet Chevelle Super Sport
Owner: Dan Rachlin
Lexington, Virginia
I found my current car when my wife's (then girlfriend) six-year-old sister saw it at a show and said "Hey, that looks like Dan's car!" I sold my small-block Malibu for this Super Sport soon after. I did a little work on it here and there and was planning a full frame-off restoration on it. 
Fast-forward five years, my fiancée and I were getting married and I asked her if we could use the Chevelle for the wedding instead of a typical stretch limo. To my surprise, she said yes, and we embarked on a week-long search for a bodyshop to paint the car. We found a shop and asked if he could just throw some Bondo on it and paint it in two weeks, which he said they could.
After they got the paint stripped, it turned out that it needed two new quarter-panels along with inner and outer wheelhouses because of rust. I purchased all the parts and had them delivered by next-day air. Thankfully, they were able to paint the car the day before we got married. We used the Chevelle for the wedding and, naturally, I did a burnout leaving the church.
Since then, I located an original '66 396ci big-block, had it built to 440 hp and dropped it in. We have won a couple trophies and future plans for the car include a full interior restoration, airbag suspension and a disc-brake conversion.
Have your car or truck featured in a future issue of Driving Force.  Submit your high-resolution photos at
san@sema.org
.
Happiness Is a Rod Run
The Vintage Times Car Club of Duluth, Minnesota, has a long tradition of mixing family fun with their passion for street rods, hot rods and classic cars of all types. The club began on the banks of Lake Superior in 1968 by a small group of individuals from Duluth, Minnesota, and Superior, Wisconsin.
The club's premier event is the yearly North Shore Rod Run, held every July. The event has been a tradition in the Duluth area since the first run took place in 1972. The Rod Run is a great family gathering and starts on Friday night with a bonfire and wiener roast at Conner's Point in Superior, Wisconsin. Activities for the kids include a sand castle competition.
The Rod Run's Saturday activities begin with a run throughout the Duluth area, which includes five game stops where the participants take part in car related contests. After the run, the points are calculated and prizes awarded at the club dance. The North Shore Rod Run wraps up on Sunday with a beef and pork picnic dinner on the Chub Lake grounds. While not what many would consider a traditional car cruise, fun is had by young and old alike and people return for the run year after year.
The 2010 38th Annual North Shore Rod Run is scheduled for the second weekend in July. 
ARIZONA
January 2, Tucson
SAMC 1st Saturday Cruise
Sponsor: Southern Arizona Mustang Club (SAMC) 
Information: www.southernarizonamustangclub.org/events.html
January 16, Tucson
Run to the Vines III
Sponsor: Southern Arizona Mustang Club (SAMC) 
Information: www.southernarizonamustangclub.org/events.html
January 16, Tucson
Little Anthony's Diner Car Show
Sponsor: Southern Arizona Region of Contemporary Historical Vehicle Association (SARCHVA) 
Information: 520/296-0456
January 23, Tubac
16th Annual SCVCN Car Show
Sponsor: Santa Cruz Valley Car Nuts (SCVCN) 
Information: www.carnuts.org/assets/10_carshow_info.pdf
CALIFORNIA
January 9, Vista
23rd Annual Burger Run
Sponsor: National Street Rod Association (NSRA) 
Information: 760/744-3340 or www.burgerrun.info
January 10, Torrance
LACCC Club Meeting
Sponsor: LA Classic Chevy Club
Information: 310/371-0168
January 15–17, Grass Valley 
Winter Fun Festival 
Sponsor: California 4 Wheel Drive Club (CA4WDC) 
Information: www.cal4wheel.com/store
January 23, Lodi 
Crab & Tri-Tip Feed 
Sponsor: Joaquin Jeepers 
Information: Rod, 209/529-9359; Mario, 209/938-0135; Fred, 209/472-1069
January 29–31, Pomona 
61st Grand National Roadster Show 
Information: www.rodshows.com/gnrs/index.html
CONNECTICUT 
January 3, Enfield
Great Little Indoor Swap Meet
Sponsor: Model A Club of Connecticut
Information: 860/749-6965
January 13, Hawleyville
HVR Club Meeting 
Sponsor: Housatonic Valley Region Antique Automobile Club of America 
Information: dcoe@snet.net
FLORIDA
January 9, Lake Worth
10th Annual Fords and Friends Meet
Sponsor: Early Ford V-8 Club
Information: Dan or Stacy, 561/712-9252 or horizon5@bellsouth.net
January 23, Palatka 
Woody's Cruise In
Sponsor: Azalea City Cruisers 
Information: Charlie, 386/328-4904
January 29–30, Lake Wales
21st Annual River Ranch Rod Run
Sponsor: National Street Rod Association (NSRA) 
Information: Rich or Linda, 954/587-5485
January 30, Palatka
McDonalds Cruise In 
Sponsor: Azalea City Cruisers
Information: Charlie, 386/328-4904
GEORGIA
January 29–31, Atlanta 
35th Annual O'Reilly Auto Parts World of Wheels
Information: www.worldofwheels.com
January 23–25, Atlanta 
16th Annual Great American Motorcycle Show
Information: www.northatlantatradecenter.com
January 30, Marietta 
1st Annual Heart of Georgia VCCA Swap Meet & Car Corral at J.R. Miller Park
Information: Jim, 770/992-8801
INDIANA
January 3, Indianapolis 
Super Sunday Indy Automotive Swap Meet & Car Sale
Sponsor: Mid-America Promotions
Information: 708/563-4300 or www.midamericapromotions.com
IOWA
January 8, Robins 
ACE Monthly Meeting
Sponsor: The Hawkeye Area Chapter of the Association of Chevrolet Enthusiasts (ACE) 
Information: 708/563-4300
NEW MEXICO
January 29–31, Albuquerque 
19th Annual Supernationals Custom Car Show
Lujan Complex, EXPO, NM
Information: 800/300-9381 or www.thesupernationals.com/index
NEW YORK
January 16, East Rochester 
Year End Party
Sponsor: Genesee Valley Antique Car Society (GVACS) 
Information: Bill or Ellie Lesio, 585/381-9630
OREGON
January 7, Roseburg 
Pete's Drive In 1st Thursday Get-together
Sponsor: Stray Angels Car Club
Information: www.strayangelscarclub.com/joinus.html
January 10, Roseburg 
Stray Angels Car Club meeting, Don's Powder Coating
Sponsor: Stray Angels Car Club
Information: www.strayangelscarclub.com/joinus.html
PENNSYLVANIA
January 15–17, Allentown 
20th Annual Auto Mania
"Pennsylvania's Largest Heated Indoor Swap Meet & Memorabilia Show"
Information: www.automaniashows.com/automania/index.html or 717/215-0700
WASHINGTON
January 1, Tacoma
New Year's Day Tour
Sponsor: Tacoma Model T Club
Information: Coleen Campbell, Secretary 253/584-3418
WISCONSIN
January 8–10, West Allis
World of Wheels Indoor Car Show 
Sponsor: Rods-N-Relics Car Club Ltd. 
Information: www.rodsnrelics.org
EARLY FEBRUARY 2010 EVENTS
ARIZONA
February 21, Tucson
Fords on Fourth
Sponsor: Southern Arizona Mustang Club (SAMC)
Information: www.southernarizonamustangclub.org/carshowregform.html