Will You Help SEMA Further Combat Attacks to Our Hobby?
New SEMA Individual Membership Takes Advocacy to the Next Level
Dear SEMA Action Network (SAN):
Thank you for your dedication to our cause as automotive advocates. Your efforts help safeguard our hobby from serious threats. As you're likely aware, enthusiasts are being hit by unjust, unfair, and unnecessary government actions across the nation. To strengthen our fight together and win the battles ahead, our collective influence must become unmatched. And, to make the amount of noise required for those in elected positions to listen more intently, deeper involvement must come from everyone.
For nearly 60 years, the Specialty Equipment Market Association (SEMA) has been a trade-based, business-to-business (or "B2B") organization focused on those companies that make up the industry's supply chain – this model has been rather effective over the years. But the world around us is changing fast and so too must SEMA.
SEMA's leadership is as committed as ever to our hobby's future, and advocating for our right to preserve, restore, and modify is their top priority. Finally, a new Individual Membership has been created as a first-ever opportunity for passionate enthusiasts like you to become a part of the association in a far stronger way. This unique effort goes beyond the SAN's long-standing mission with crucial reinforcement.
Additional means will now allow further contribution to the cause. As part of this new membership, SEMA will seek to:
Build a unique SEMA Individual Membership network of supporters of the automotive lifestyle.
Expand SEMA Political Action Committee (PAC) fundraising opportunities within the enthusiast community.
Grow our voice with elected officials on relevant legislation and regulations critical to enthusiasts.
Full details of the program's current scope are posted under the "FREQUENTLY ASKED QUESTIONS" menu at the following link: SEMA Individual Membership
The good fight for our cause must be won. Please help our entire community conquer the battles ahead by stepping up as an official SEMA Individual Member today. Many thanks for your consideration and ongoing support!
Legislative Alerts
SEMA SAN Strike Force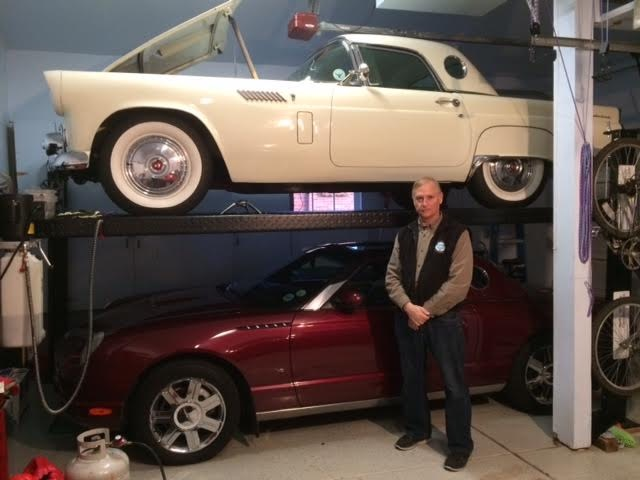 Ford's legendary Thunderbird model has a dedicated fan in Jim Merritt. "I currently own a 1956 Thunderbird that I've restored, plus a 2004 Thunderbird that my wife has claimed," he says. "In the past, I've salvaged, restored, and driven several cars I wish were still mine." Hailing from Highlands Ranch, Colorado, Jim is a member of the Collector Car Council of Colorado (CCCC). "I'm currently finishing up a frame-off restoration on a 1957 Thunderbird while helping others with their restorations and searching for parts. Lately, I'm spending days at older junkyards to find salvageable parts."
Top fantasy powerplant?
My fantasy powerplants are Ford's factory-supercharged 312 c.i. engines, which were often found in Thunderbirds.
What recent developments have you found interesting?
All-electric compact air conditioning (A/C) units. Electric dash and gauge conversion kits, specialty door and dash panel replacement kits. Robotics taking over body panel replacement, preparation and painting tasks. Complete new unibody sheet metal replacements for vintage trucks, SUVs and cars—especially those produced in the '60s – '80s.
Who is your automotive hero?
Lee Iacocca, whom I wish was still alive to shake his hand. Why? Many years ago, Lee allowed me to shadow him for a couple of days at Chrysler during my college graduate studies.
Favorite automotive destinations?
The top item on my bucket list was to attend the SEMA Show in Las Vegas. You have to see it to realize just how big the specialty automotive industry is. SEMA provides a current reality check as to what the industry has developed to meet new business challenges and demands. I also recommend visiting the Detroit Auto Show, another "must see." It offers a possible look into the future and beyond.
Found a helpful website recently?
Aside from the SEMA Action Network (SAN), I strongly recommend checking out the SEMA Education programs at sites.SEMA.org/Education. For those in the specialty automotive industry, these valuable educational programs encompass professional development and training resources.
EDITION 213