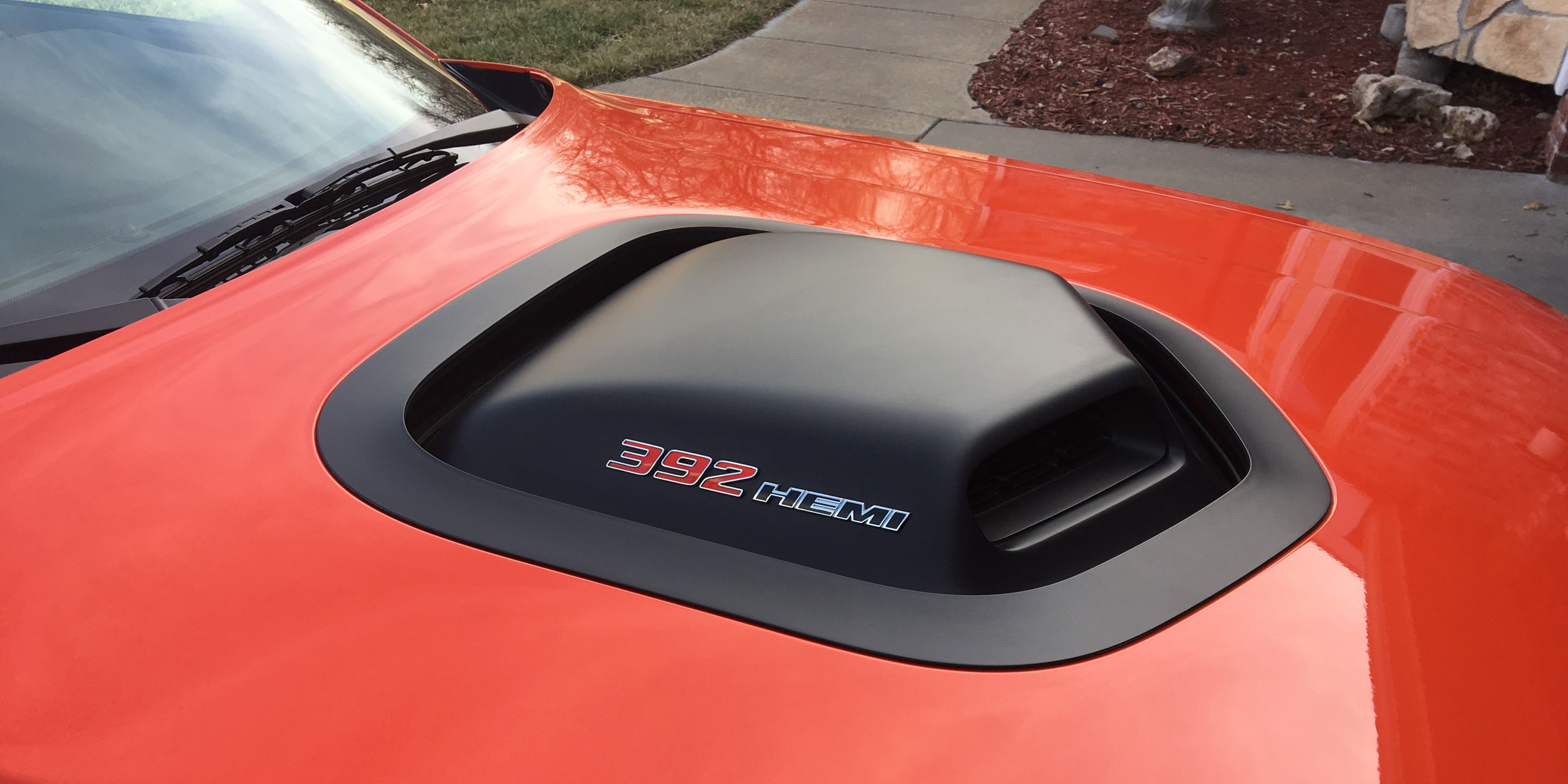 A long-time fan of the Mopar brand, Kansas state Representative Leo Delperdang special-ordered his '19 Dodge Challenger ScatPack 392 Hemi.
Flexing Mopar Muscle in the Jayhawk State
"I remember the very first 'Hemi Orange' '08 Dodge SRT8 Challenger I saw—I knew I had to have one!" exclaims Kansas State Representative Leo Delperdang. "The musclecar era seemed to be a thing of the past by the '80s and '90s." Still, he'd always wished the Challengers and 'Cudas would return to production—even after the Plymouth brand was discontinued. Hope remained when other legends Oldsmobile and Pontiac subsequently fell. Rep. Delperdang will never forget the announcement in the early '00s that the Chrysler Corp. was bringing back the Challenger. "I had little faith it would be any more than the second-generation Challenger 'econo car.' I was hooked when I purchased my Challenger R/T with the 5.7 Hemi in 2014. Then came a special order for a '19 Dodge Challenger ScatPack 392 Hemi, which I hope to have for many years to come."
"I have been a car buff since before I was old enough to drive." Rep. Delperdang credits his interest in the Mopar brand to his older brother. "Back in the late '60s, I helped him work on his cars whenever I could." Fittingly, his first car was a '69 Dodge Super Bee 440 Magnum with a 727 automatic while in high school. A '69 Dodge Coronet 500 came next, followed by a '70 Plymouth 'Cuda. "I am actually looking for a '70 'Cuda currently—hopefully I will have one in my garage soon!" Rep. Delperdang is a member of the Wichita Area Mopar Club and enjoys many friendships through the club.
Holding a public office was an aspiration of Rep. Delperdang for many years. Specifically, in 1976, he remembers taking a school trip to the Iowa state capitol in Des Moines. "As an eighth-grade student, I sat in the House chamber and listened intently to the debate over a 5¢ refund for aluminum soda cans. While the others in the group lost interest and moved on with the tour guide, I remained in the House to hear the full debate. From that day on, I knew that I would someday serve in a public office." With a bounty of life experience behind, Rep. Delperdang got involved in politics when he had an opportunity to run for the state house in 2016. A successful bid enabled his involvement in the SEMA-supported State Automotive Enthusiast Leadership Caucus with fellow automotive-loving lawmakers.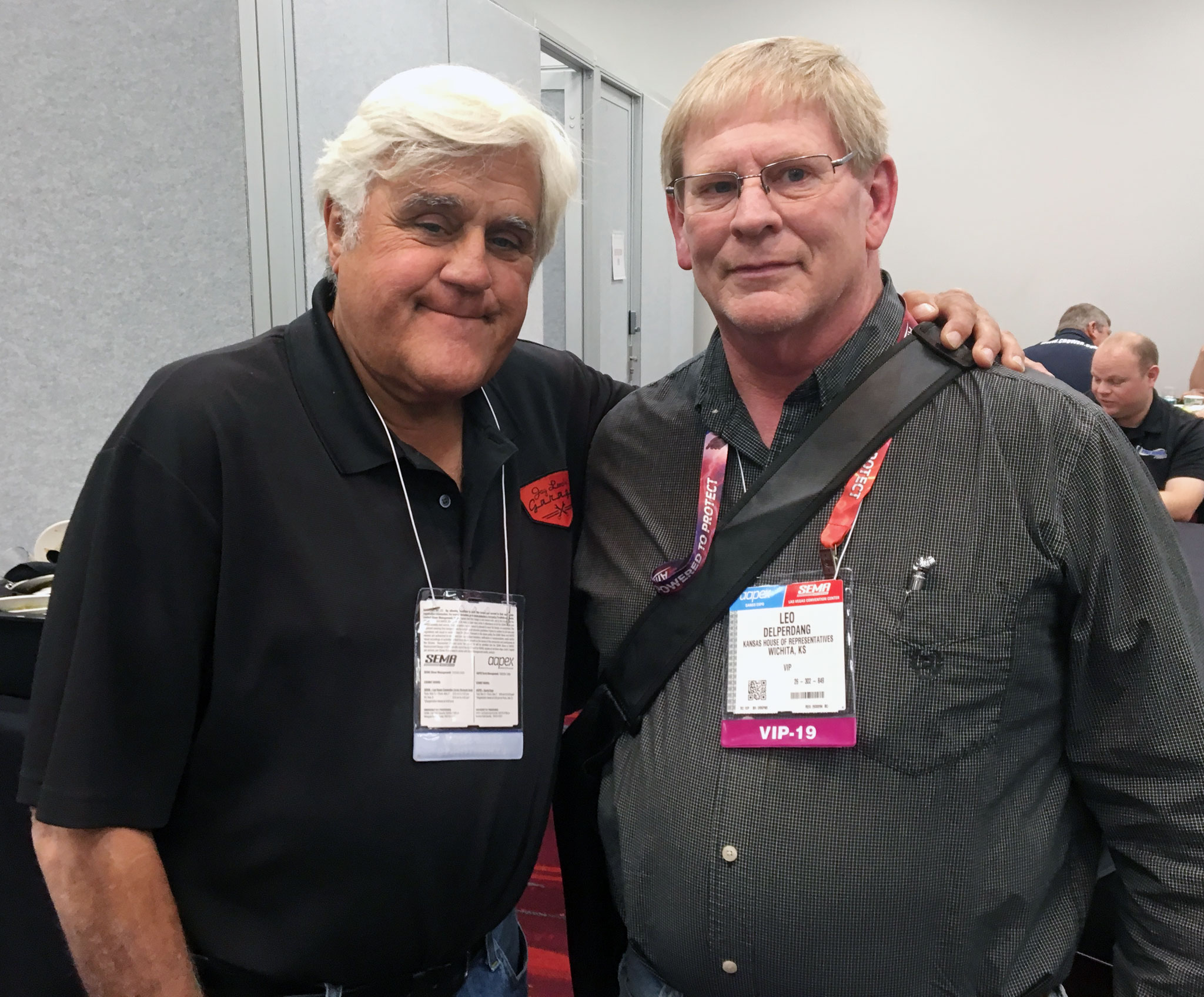 Entertainer Jay Leno was among the many notable personalities Rep. Delperdang met during his first SEMA Show last year.
During his time in the Kansas legislature, Rep. Delperdang has pushed for numerous laws that benefit car enthusiasts, motorcyclists and ATV off-road vehicle riders. Earlier this year, he co-sponsored SAN-supported legislation introduced to ease restrictions on antique vehicles by re-defining those eligible to be registered. "When I carried the bill to the House floor, I was met with much debate over loss of tax revenues and why we should treat owners of older vehicles any differently from owners of newer vehicles," he explains. At press time, the bill had passed the House and awaited consideration by the Senate Committee on Transportation.
Last year marked a dream-come-true for Rep. Delperdang by attending his first SEMA Show. "The people I met at SEMA made it a lifetime event!" He lists an impressive number of notables, several with significant ties to Mopar: Ed "Isky" Iskenderian and family, "Big Daddy" Don Garlits, Chip Foose, Christi Lee, as well as Mark Worman and the crew from "Graveyard Carz." "But the highlight of my trip was when I ran into Jay Leno. I asked him a couple questions about his Chrysler Turbine Car and he hit me back with a couple questions about it. When he realized I was knowledgeable on the vehicle, he joined me for lunch to have a 30-minute conversation on what else? Cars!"
Our hobby appreciates your enthusiasm and representation in Topeka, Rep. Delperdang! Let us know when you obtain that elusive '70 'Cuda.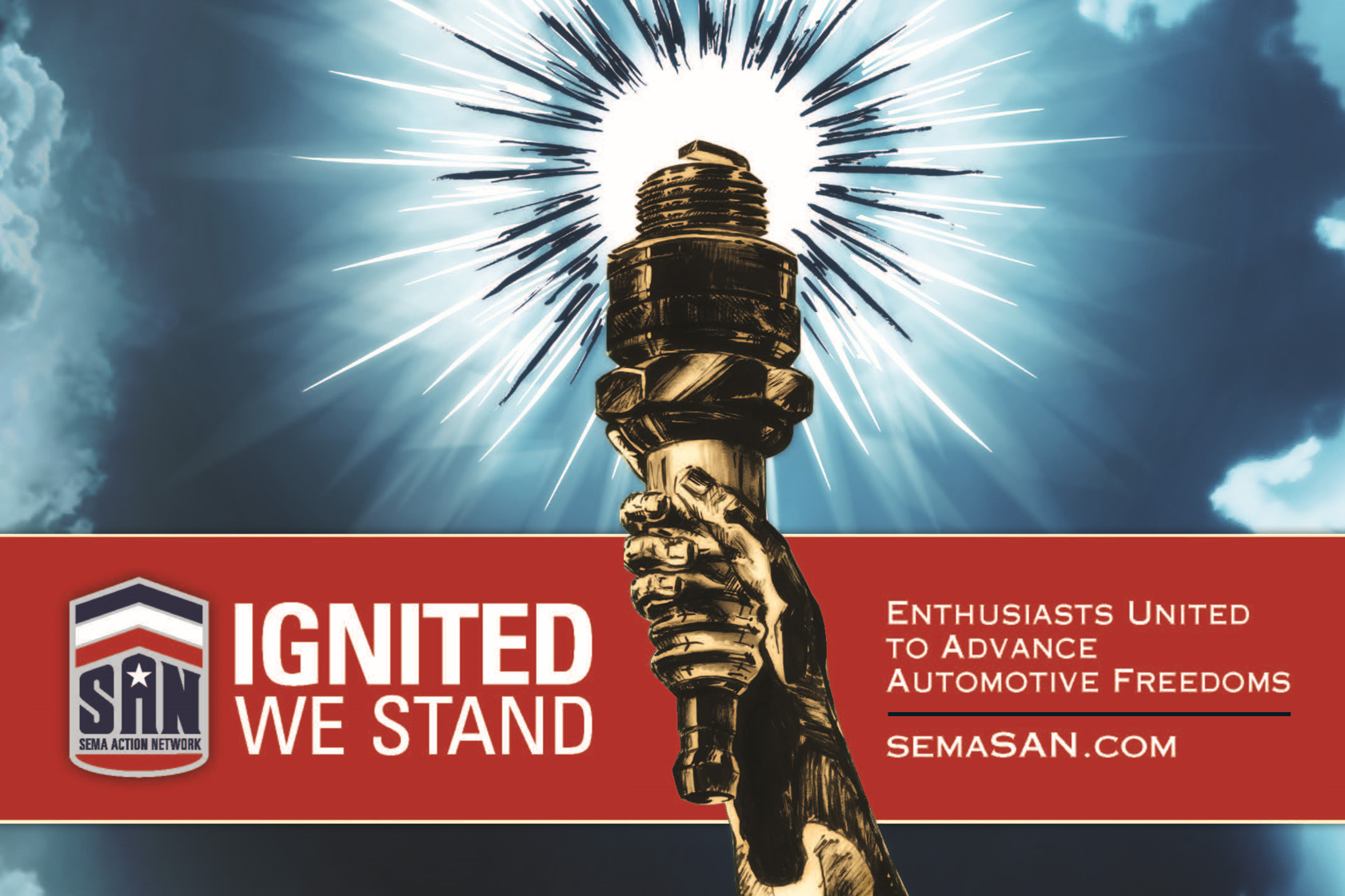 Dear SEMA Action Network (SAN):
 
Recent world events have impacted us all.  Rest assured, the SAN will continue to be the voice of auto enthusiasts in state capitols and Washington, DC.  With your help, we've already achieved several triumphs this year—thank you! Meantime, SEMA is working to safeguard our hobby so we can continue to pursue our passion.  For updates, news and resources, please visit SEMA.org/coronavirus. 
 
Ignited We Stand!
 
Sincerely,
Colby Martin
SAN Director
 
Legislative Alerts
SEMA SAN Strike Force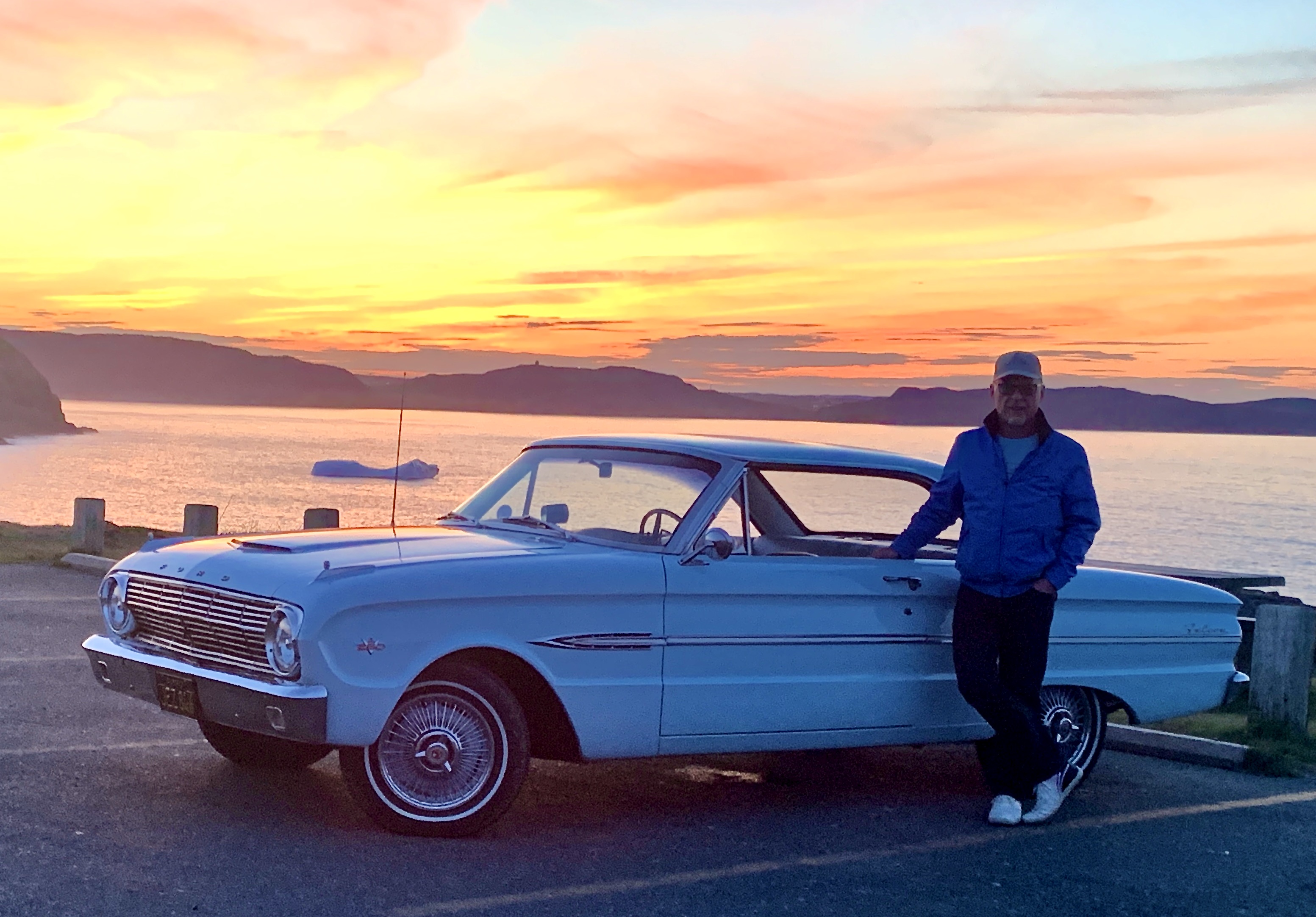 "It has been a lifetime of cars for me," explains Bob Ford, Jr.  The family's name is all too fitting given their deep affinity for vintage Ford products.  "I have a long history in the automotive field, going back at least to the age of eight years old, to my family's 1956 Mercury Monterey.  The car was sold when my dad found the car he really wanted—a 1958 Edsel.  It would be the first of four which also remain in the family.  Dad towed my convertible home in 1981 from Ontario, Canada, and we restored it together.  The first drive was the day I turned 17, got my license and drove it to school!"
Bob's four-wheeled bona-fides developed through further hands-on experience with several frame-off chassis restorations of cars in his family.  "My specialty is doing interiors and detail items, including engine compartments."  He strives to restore his own vehicles to 100-point show quality, with a personal collection made up of classics and muscle cars.  These rides have won numerous awards at shows in his Canadian homeland as well as the United States.  Bob's skills have allowed him to become a national judge for the National Association of Automobile Clubs of Canada (NAACC) and a concours event judge for the last five years thanks to NAACC's John Carlson.
Hailing from St. John's, Newfoundland—the most easterly city in North America—Bob has become highly active in the automotive community.  For more than 30 years, he has been a member of the Newfoundland Antique & Classic Car Club (NACCC) and the Falcon Club of America (FCA).  He has also been a member of the Edsel Owners Club and the International Edsel Club for many years as well as the Henry Ford Heritage Association more recently.  His work as membership director for the NAACC has led to involvement in promoting our hobby's annual summer holiday.  He and the NAACC annually secure proclamations issued by the provincial governments to officially declare July as "Automotive Heritage Month."  This special occasion is held concurrently with the SEMA-supported "Collector Car Appreciation Day" (CCAD) each year.
Edition 179