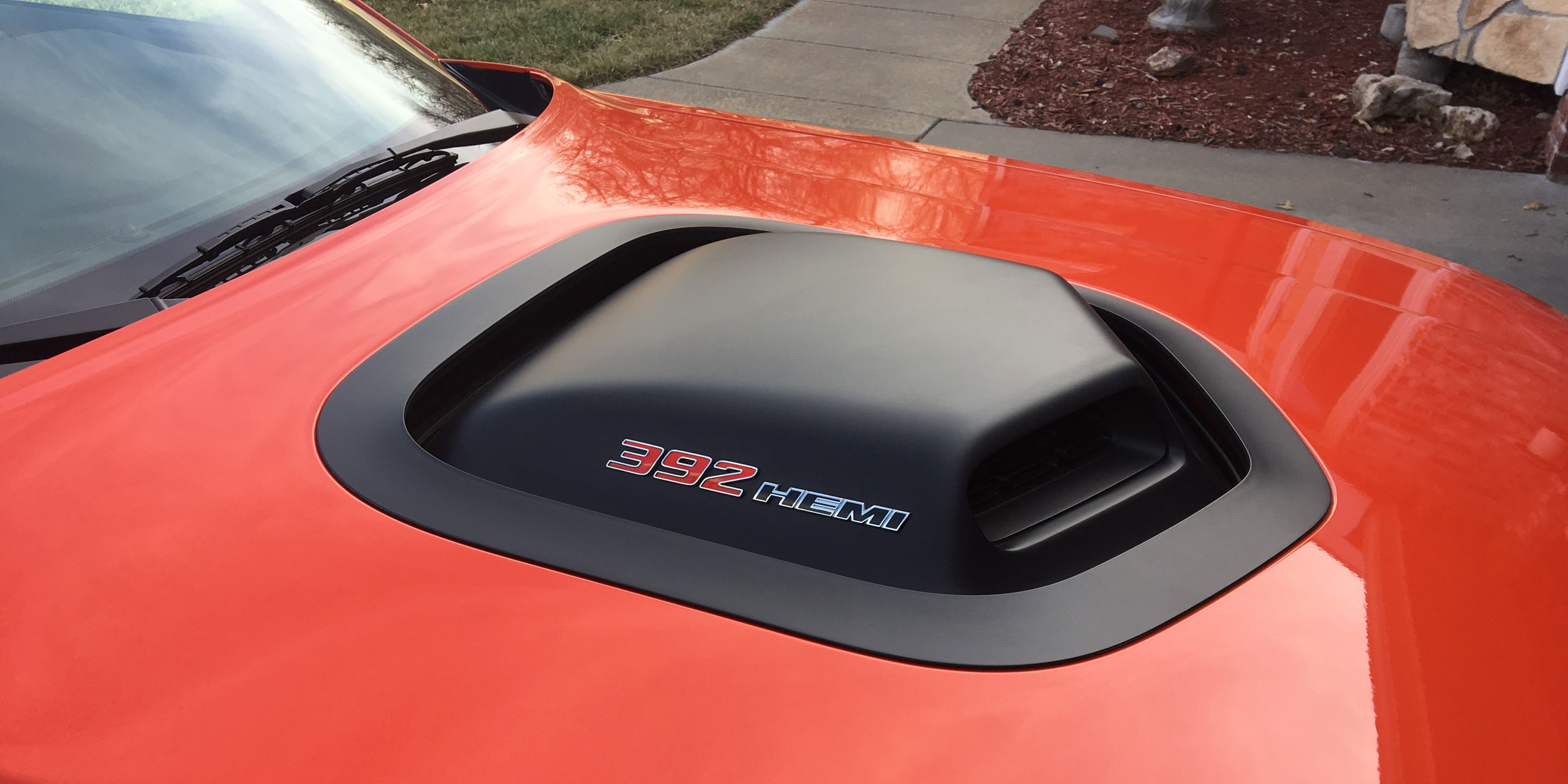 A long-time fan of the Mopar brand, Kansas state Representative Leo Delperdang special-ordered his '19 Dodge Challenger ScatPack 392 Hemi.
Flexing Mopar Muscle in the Jayhawk State
"I remember the very first 'Hemi Orange' '08 Dodge SRT8 Challenger I saw—I knew I had to have one!" exclaims Kansas State Representative Leo Delperdang. "The musclecar era seemed to be a thing of the past by the '80s and '90s." Still, he'd always wished the Challengers and 'Cudas would return to production—even after the Plymouth brand was discontinued. Hope remained when other legends Oldsmobile and Pontiac subsequently fell. Rep. Delperdang will never forget the announcement in the early '00s that the Chrysler Corp. was bringing back the Challenger. "I had little faith it would be any more than the second-generation Challenger 'econo car.' I was hooked when I purchased my Challenger R/T with the 5.7 Hemi in 2014. Then came a special order for a '19 Dodge Challenger ScatPack 392 Hemi, which I hope to have for many years to come."
"I have been a car buff since before I was old enough to drive." Rep. Delperdang credits his interest in the Mopar brand to his older brother. "Back in the late '60s, I helped him work on his cars whenever I could." Fittingly, his first car was a '69 Dodge Super Bee 440 Magnum with a 727 automatic while in high school. A '69 Dodge Coronet 500 came next, followed by a '70 Plymouth 'Cuda. "I am actually looking for a '70 'Cuda currently—hopefully I will have one in my garage soon!" Rep. Delperdang is a member of the Wichita Area Mopar Club and enjoys many friendships through the club.
Holding a public office was an aspiration of Rep. Delperdang for many years. Specifically, in 1976, he remembers taking a school trip to the Iowa state capitol in Des Moines. "As an eighth-grade student, I sat in the House chamber and listened intently to the debate over a 5¢ refund for aluminum soda cans. While the others in the group lost interest and moved on with the tour guide, I remained in the House to hear the full debate. From that day on, I knew that I would someday serve in a public office." With a bounty of life experience behind, Rep. Delperdang got involved in politics when he had an opportunity to run for the state house in 2016. A successful bid enabled his involvement in the SEMA-supported State Automotive Enthusiast Leadership Caucus with fellow automotive-loving lawmakers.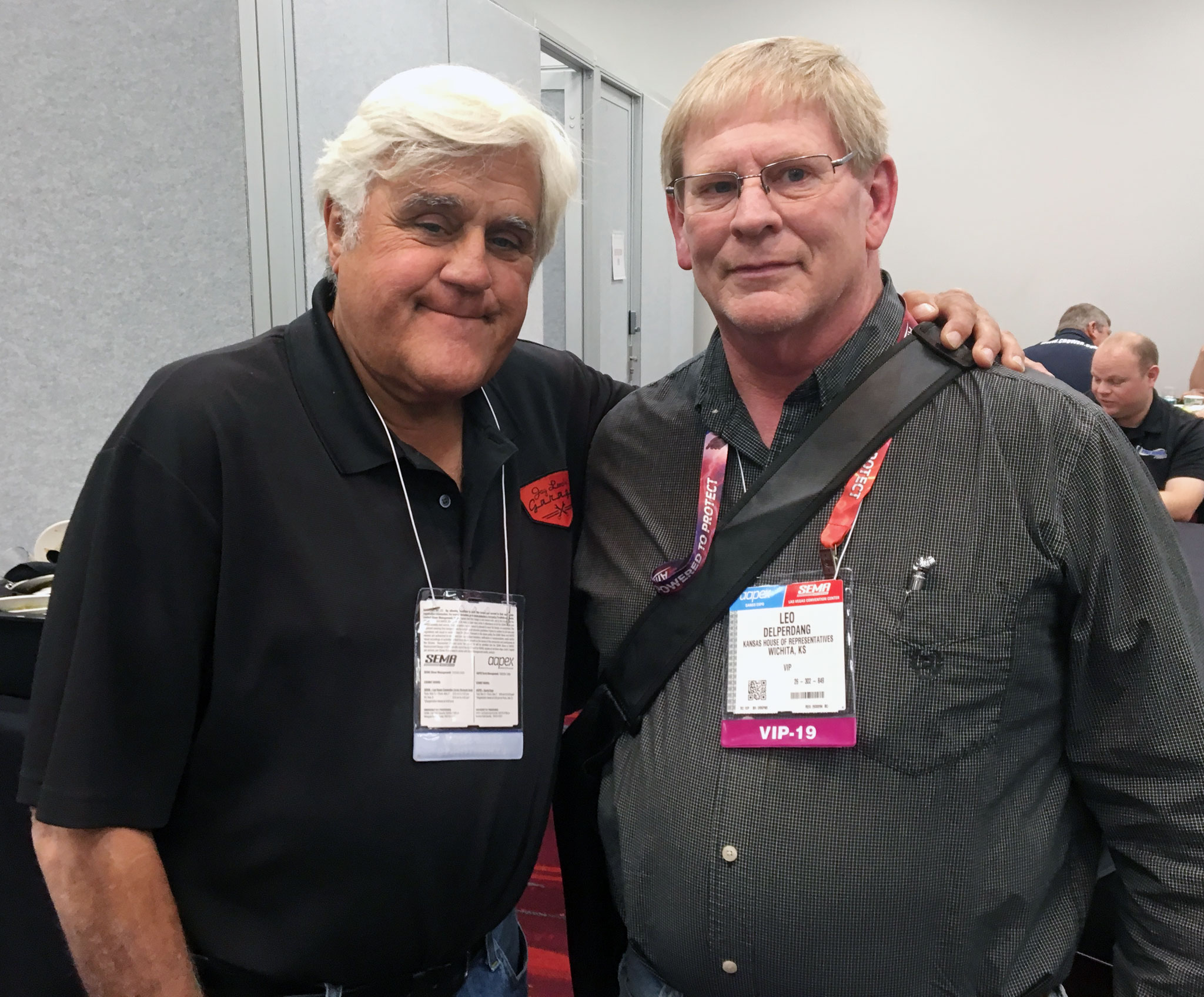 Entertainer Jay Leno was among the many notable personalities Rep. Delperdang met during his first SEMA Show last year.
During his time in the Kansas legislature, Rep. Delperdang has pushed for numerous laws that benefit car enthusiasts, motorcyclists and ATV off-road vehicle riders. Earlier this year, he co-sponsored SAN-supported legislation introduced to ease restrictions on antique vehicles by re-defining those eligible to be registered. "When I carried the bill to the House floor, I was met with much debate over loss of tax revenues and why we should treat owners of older vehicles any differently from owners of newer vehicles," he explains. At press time, the bill had passed the House and awaited consideration by the Senate Committee on Transportation.
Last year marked a dream-come-true for Rep. Delperdang by attending his first SEMA Show. "The people I met at SEMA made it a lifetime event!" He lists an impressive number of notables, several with significant ties to Mopar: Ed "Isky" Iskenderian and family, "Big Daddy" Don Garlits, Chip Foose, Christi Lee, as well as Mark Worman and the crew from "Graveyard Carz." "But the highlight of my trip was when I ran into Jay Leno. I asked him a couple questions about his Chrysler Turbine Car and he hit me back with a couple questions about it. When he realized I was knowledgeable on the vehicle, he joined me for lunch to have a 30-minute conversation on what else? Cars!"
Our hobby appreciates your enthusiasm and representation in Topeka, Rep. Delperdang! Let us know when you obtain that elusive '70 'Cuda.