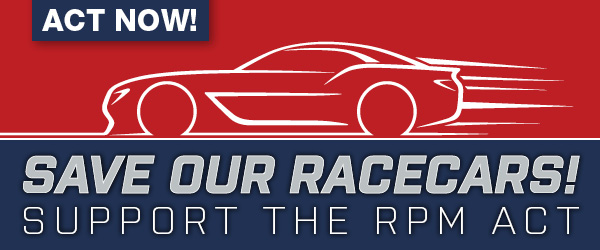 ACT NOW—Tell Congress to Pass the RPM Act!
Protect your right to race!  Tell Congress to pass the RPM Act now and stop the EPA from destroying motorsports in 2020.  Your member of Congress needs to hear from you before the end of the year!
Even if you are one of the hundreds of thousands of enthusiasts who contacted Congress in the past, we need your support now!  The RPM Act was reintroduced in both houses of Congress for the current session.
It only takes a minute. Every letter counts!
Legislative Front Lines
U.S. Representative Bill Posey (R-FL) is co-chair of the SEMA-supported Congressional Automotive Performance and Motorsports Caucus in the U.S. House. He is also a House co-sponsor of resolutions recognizing the annual Collector Car Appreciation Day (CCAD) celebration held in July. Growing up near Los Angeles, Rep. Posey spent his early days attending races with his father. It was not long until he found himself behind the wheel, racing Midgets at age 5. Over the years, he's counted between 20 and 30 race cars among his collection, however, he's recently focused his attention on collector cars. In 2011, he participated in the first leg of the Hot Rod Power Tour behind the wheel of his '66 Chevrolet Chevelle Malibu. Learn more: www.semasan.com/collector-car-appreciation-day
EDITION 164