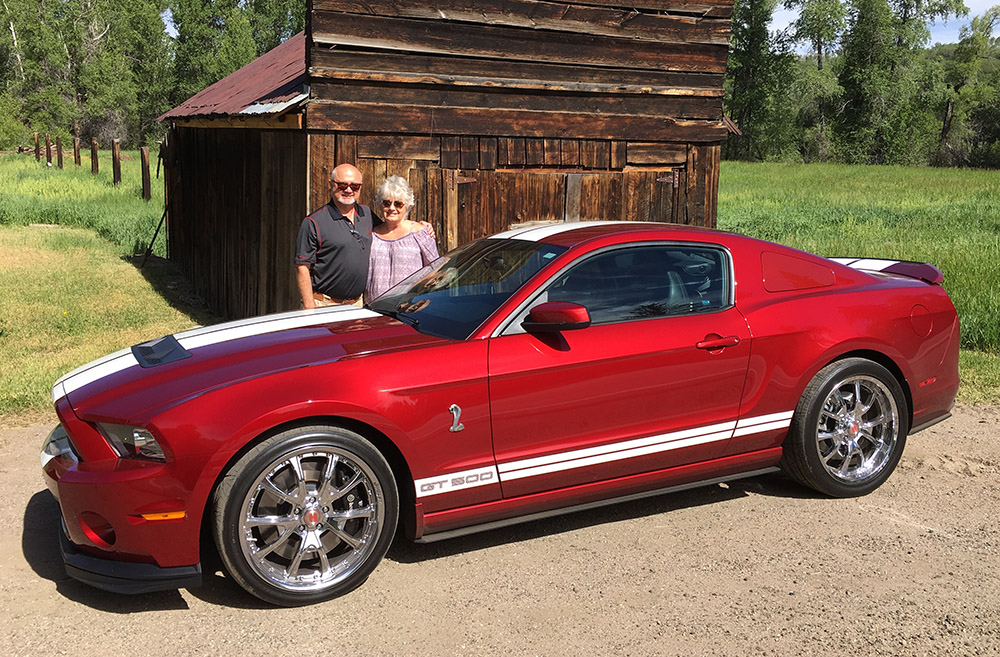 "I have always had vehicles modified from their stock form," says Wayne Mininger. "If it has an engine, I'd increase the performance—whether it is cars, trucks, tractors, harvest equipment or whatever. For years and years, I lusted after a Cobra and finally got my replica. I really, really enjoyed that 427 SC!" He says it is one of about 275 replicas built by Mid-States Classic Cars & Parts in Hooper, Nebraska. "After I sold it in 2013, I had to have something fast and modified—right? Well, a 2014 Mustang Shelby GT500 fits the bill very well these days. It is a modification-friendly brute with which anyone can substantially step up the factory's high-horsepower with a few well-chosen parts and a tune." Pictured above, Wayne and his wife Ardith stopped for a photo with the car on a mountain ranch country road north of Steamboat Springs, Colorado, during the Rocky Mountain Mustang Round-up.
 
The seeds of Wayne's fondness for the 'Blue Oval' were planted long ago. "I'll always remember chatting with A.J. Foyt as a kid in 1961 after he won a stock car race on a dirt track driving a 1960 Ford Starliner. Even though my dad drove Oldsmobiles and Chryslers during my formative years, that moment sealed it for me. I've been a Ford Performance fan ever since!" Henry Ford and Jack Roush are named among the many automotive personalities that have intrigued and inspired him. His favorite destination is also fitting. "For me—being an automobile fan first and a Ford fan second—nothing compares to The Henry Ford Museum and Greenfield Village in Dearborn, Michigan."
 
"Automobile enthusiasts are passionate—we take our wheels seriously!" Wayne adds. "I've found some of the friendliest and best people ever participate in enthusiast clubs." His car club memberships include the Mile Hi Cobra Club, Mustang Club of America, SVT Owners Club, Team Shelby and North Colorado Mustang Club. "In the arena of legislation and regulation, my message is pure and simple: 'be silent; be forgotten!' Politics is the art of compromise—we must be present at the table. Our community needs voices at every decision-making level to reduce—and hopefully eliminate—any negative impact on our collective interests. I tell others messaging to any authority needs to be logical, reasonable and fastidiously on point, of course. But above all, messaging must be respectfully, continuously, and passionately presented."
 
Solid advice for anyone looking to make a positive impact, Wayne—thanks for helping the cause!