2012 COLLECTOR CAR APPRECIATION DAY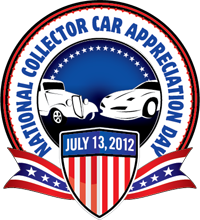 Thousands Celebrate Collector Car Appreciation Day
On July 13, 2012, automotive enthusiasts, car clubs, organizations and affiliated businesses participated in celebrations to honor the third annual Collector Car Appreciation Day (CCAD).  Nearly 200 official events were held in the United States, Canada and Australia to commemorate the day throughout the month of July.   
A gallery of images from these gatherings is now available in an online album at this link from the CCAD homepage on the SAN website.  The photos from sent in by this year's event hosts are greatly appreciated.  Event organizers who have not yet submitted their images to us for publication may e-mail them to SEMA Action Network (SAN) Director Colby Martin at san@sema.org with "2012 Collector Car Event Photos" as the subject line. Include your event details (name, date, city, state and host) in the message as well. 
This special day was designated by U.S. Senate Resolution 452 sponsored by Sen. Jon Tester (D-MT) and Sen. Richard Burr (R-NC) at the request of the SAN.  The U.S. Senate Resolution recognizes "that the collection and restoration of historic and classic cars is an important part of preserving the technological achievements and cultural heritage of the United States." Lawmakers in several states and Canada followed the Senate's lead. New York, New Mexico, Idaho, West Virginia and Hawaii, along with the Canadian Province of Manitoba adopted their own resolution commemorating the day.
The SAN would like to thank everyone who supported our hobby's "holiday" this year.  Stay tuned for the announcement of next year's celebration!