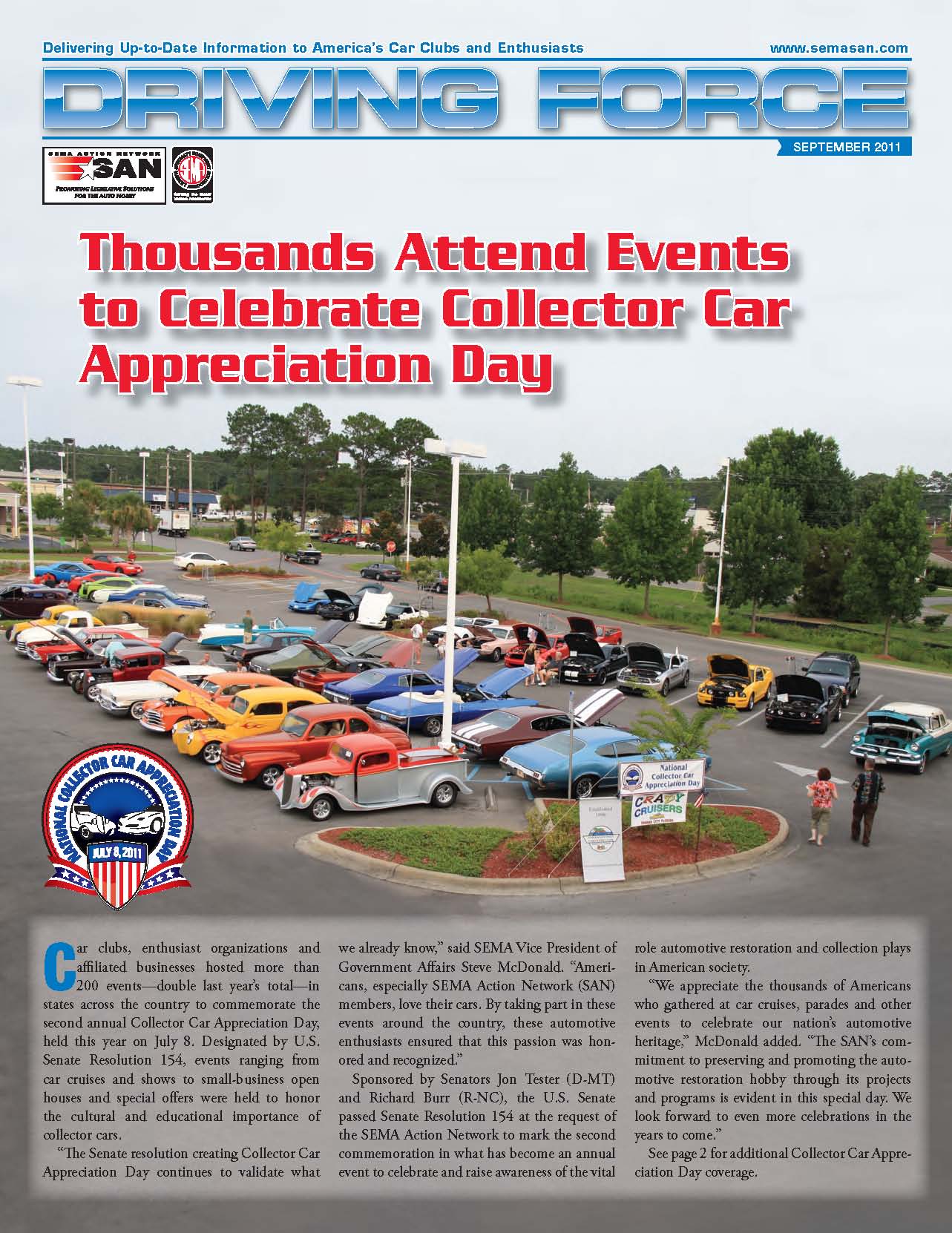 Click on image above to open the newsletter PDF.
Thousands Attend Events to Celebrate Collector Car Appreciation Day
Car clubs, enthusiast organizations and affiliated businesses hosted more than 200 events double last year's total in states across the country to commemorate the second annual Collector Car Appreciation Day, held this year on July 8. Designated by U.S. Senate Resolution 154, events ranging from car cruises and shows to small-business open houses and special offers were held to honor the cultural and educational importance of collector cars. 
"The Senate resolution creating Collector Car Appreciation Day continues to validate what we already know," said SEMA Vice President of Government Affairs Steve McDonald. "Americans, especially SEMA Action Network (SAN) members, love their cars. By taking part in these events around the country, these automotive enthusiasts ensured that this passion was honored and recognized." 
Sponsored by Senators Jon Tester (D-MT) and Richard Burr (R-NC), the U.S. Senate passed Senate Resolution 154 at the request of the SEMA Action Network to mark the second commemoration in what has become an annual event to celebrate and raise awareness of the vital role automotive restoration and collection plays in American society.
"We appreciate the thousands of Americans who gathered at car cruises, parades and other events to celebrate our nation¹s automotive heritage," McDonald added. "The SAN¹s commitment to preserving and promoting the automotive restoration hobby through its projects and programs is evident in this special day. We look forward to even more celebrations in the years to come." 
Local governments participated in Collector Car Appreciation Day as well, with Las Vegas; Madera County, California; Albuquerque, New Mexico; and the City of Troy, New York, issuing official proclamations. At the request of Assemblyman Bill Reilich, New York passed its own resolution designating July 8, 2011, as Collector Car Appreciation Day. California State Senator Tom Berryhill also approved a member resolution recognizing the day, and Governor Susana Martinez issued an official proclamation recognizing Collector Car Appreciation Day in the state of New Mexico. The Canadian provinces of Prince Edward Island and Manitoba followed suit, extending the celebration to National Automotive Heritage Week (Prince Edward Island) and Automotive Heritage Month (Manitoba).
Restomod on Steroids:

Austin-Healey Reborn as Elliott-Healey
1962 Austin Healey 6000
Owner: Jim Elliott
Forest Hills, New York
My fascination with cars from an early age has resulted in my 41st project vehicle‹the Elliott-Healey 6000. The original concept began in late 2001 as a therapeutic project following 9/11 to remind me of earlier and happier times. The cars that I have enjoyed the most have been Austin-Healeys: a '56 100M and a '62 3000, both treated to small-block Chevrolet transplants. I pursued a number of leads through the Internet and Hemmings in order to locate the ideal candidate that would benefit from a transplant. In 2002, I was lucky enough to find a BJ7 that had been raced at Bridgehampton and had been sitting in various Long Island garages since 1972 awaiting restoration. I had already planned chassis upgrades, which gradually solidified into custom framerails and a conversion to a narrowed Chrysler rear axle to replace the original underslung layout with a modern four-link coil-over shock design.
The engine installed is a GM LS3, and the body is stainless steel and aluminum. On the interior, the instrumentation was refinished and adapted, and total modern rewiring of the car took place to include air conditioning and accommodate power windows and door locks. Connolly leather seats were installed as well as a dash in Bermuda blue. The net result is that only 15% of the original donor car remains, including the front crossmember, steering and suspension and windshield. The car weighs in at 2,620 lbs., light enough to achieve 60 mph in 4 seconds.
Although consolidating many styling cues of the Healey factory rally cars, it has been described as inspired by the modified sports cars of the ¹60s to a restomod on steroids. When I found out that Donald Healey¹s second effort at making cars resulted in the Healey-Elliott in 1946 (the year of my birth), I felt it only fitting to christen this the Elliott-Healey, especially as there is nothing Austin left in it! I felt that if Donald Healey could make a Healey Elliott, then Jim Elliott could make an Elliott-Healey!
Arkansas Bonded Titles: SAN-supported legislation to create a less expensive bonded title procedure for titling assembled vehicles was signed into law by Arkansas Governor Mike Beebe. The new procedure calculates the amount of the bond as equal to the value of the vehicle. Prior to the enactment of the bill, all vehicle owners applying for a bonded title had to post a bond of 1.5 times the value of the vehicle. The bill also permits assembled vehicles to be bought and sold in inoperable condition.  Arkansas defines an assembled vehicle as a vehicle constructed by a collector from parts obtained from a variety of different sources on various occasions. 
Colorado Collector Vehicles: A SAN-supported bill to reorganize and simplify the various laws dealing with collector cars was approved by the Colorado legislature and signed into law by Governor John Hickenlooper.  The consolidation was supported by the Collector Car Council of Colorado, a long-time SAN member that works to promote pro-hobby legislation in the state. Reorganizing the statutes into one location in the code will help the Department of Revenue, law enforcement, county clerks and enthusiasts more easily locate and apply state law governing the titling and registration of collector vehicles.
Iowa Ethanol-Blended Gasoline: SAN-opposed legislation to change labeling requirements on gas pumps across the state to only require labeling for unblended gasoline and E85 was defeated. Current law in Iowa requires labeling when gasoline is blended with any amount of ethanol. If the bill had been enacted, it would have removed labeling requirements for ethanol-blended gasoline containing 15% or less ethanol, thereby increasing the risk of misfueling and potential engine damage. Unblended gas is required to be labeled, but no guarantee was made that unblended gas would be available.
Maine Custom Vehicles: A SAN-supported bill to include a wider-range of vehicles in the state¹s definition of a custom vehicle by changing the eligibility requirement from 30 to 25 years old and older was signed into law by Maine Governor Paul LePage. The new law also expands the weight limit for custom vehicles, from 6,000 to 10,000 lbs. and clarifies that custom vehicles are held only to special inspection criteria promulgated by the chief of the state police.
Missouri Inoperable Vehicles: Legislation opposed by the SAN that would permit certain counties in Missouri to remove inoperable motor vehicles from private property died. The bill would have allowed these counties to carry out nuisance-abatement ordinances, including the removal of cars deemed to be derelict. The SAN continues to support efforts to protect owners of inoperable vehicles from unreasonable seizures, provided these cars are concealed from ordinary public view.
ALASKA
September 11, Palmer
10th Annual Freedom Flag Run
Sponsor: North Star Motor Speedway
and 49th State Street Rodders
Information: akstreetrodders.com or 907/745-2652
September 18, Anchorage
Looky Here Cruz
Sponsor: Midnight Sun Street Rod Association
Information: 907/337-7345 or 907/440-7014
or www.midnightsunsra.org
ARIZONA
September 24–25, Surprise
Lucas Oil Off Road Racing Series Rounds 11–12
Information: www.lucasoiloffroadracing.com
CALIFORNIA
September 17, Palo Alto
10th Annual Car Show
Sponsor: Carlsen Volvo
Information: www.carlsenvolvo.com 
September 24, Costa Mesa
12th Annual Cruisin' for a Cure
Information: www.cruisinforacure.com
ILLINOIS
September 10, Springfield
62nd Illinois Secretary of State Car Show
Information: www.cyberdriveillinois.com 
or 217/557-7220
INDIANA
September 1–4, Auburn
Auburn Fall Collector Car Auction, Swap Meet
& Car Corral
Sponsor: Carlisle Events
Information: www.carlisleevents.com/ce/events/auburn-fall 
September 16–18, Indianapolis
1st Wix Filters Speedway Nationals
Sponsor: Goodguys Rod and Custom Association
Information: www.good-guys.com 
September 23–25, Fairmount
32nd Annual James Dean Run
Sponsor: O'Reilly Auto Parts
Information: 765/948-3853 or jamesdeanrun@aol.com
KANSAS
September 2–4, Kansas City
10th Annual Mid-Western Nationals
Sponsor: Goodguys Rod and Custom Association
Information: www.good-guys.com
KENTUCKY
September 29–October 2, Bowling Green
13th Annual Nitto Tire NMRA All Ford World Finals
Sponsor: NMRA
Information: www.nmradigital.com
MARYLAND
September 10, Glen Burnie
Lost in the 50's "Patriotic Show"
Information: 410/255-6978
September 11, Urbana
AACA Car Show & Flea Market
Sponsor: Heart of Maryland Classic Chevy Club
Information: robburchill@comcast.net or 307/829-2784
September 18–19, Frederick
19th Annual Alzheimers Benefit Car and Truck Show
Sponsor: Heart of Maryland Classic Chevy Club
Information: www.hmccc.50G.com or 567hmccc@comcast.net
MASSACHUSETTS
September 5, Attleboro
30th Annual Bristol County Labor Day Cruise
Sponsor: Bristol County Street Roads
Information: 508/222-7518
September 11, Lancaster
39th Annual Ty-Rods Old Timers Car Show
Sponsor: Ty-Rods
Information: www.ty-rods.org
MICHIGAN
September 16–18, Kalamazoo
NSRA Street Road Nationals North
Sponsor: National Street Rod Association
Information: www.nsra-usa.com
NEVADA
September 18, Primm
Off Road Swap Meet
Information: www.rgcshows.com
NEW HAMPSHIRE
September 18, Epping
Old Fashioned Sunday!
Sponsor: Cam Snapper Club
Information: 603/679-8001 or www.newenglanddragway.com
NEW JERSEY
September 22–25, Wildwood
18th Annual Boardwalk Classic Car Show
Information: 609/523-8051
NEW MEXICO
September 9–10, Clovis
15th Annual Run to Hillcrest
Sponsor: Desert Cruzers Car Club
Information: 575/763-7893 or 575/693-2511
NEW YORK
September 4, Lancaster
28th Annual Autumn Sports Classic Car Show
Sponsor: The Buffalo Octagon Association
Information: buffalomg.com 
September 8–11, Lake George
23rd Annual Adirondack Car Show
Sponsor: Albany Street Rods
Information: 503/926-4346
OHIO
September 2–4, Columbus
33rd Annual NMRA Ford Expo
Sponsor: NMRA
Information: www.nmradigital.com
PENNSYLVANIA
September 28–October 2, Carlisle
Fall Carlisle Collector Car Swap Meet & Corral
Sponsor: Carlisle Events
Information: www.carlisleevents.com/ce/events/fall-carlisle
TENNESSEE
September 30–October 2, East Ridge
Buick Street Rod Nationals
Sponsor: Buick Street Rod Association
Information: www.buickrods.org
TEXAS
September 30–October 2, Fort Worth
19th Annual Lone Star Nationals
Sponsor: Goodguys Rod and Custom Association
Information: www.good-guys.com
VERMONT
September 23–25, Burlington
NSRA Northeast Nationals
Sponsor: National Street Rod Association
Information: www.nsra-usa.com 
September 30–October 2, West Dover
Speckled Hen Tour
Information: 860/535-1002 or
glegare@sbcglobal.net
WASHINGTON
September 1–5, Spokane
32nd International Mustang Meet
Sponsor: Inland Empire Mustang Club
Information: www.inlandempiremustangclub.com
WISCONSIN
September 18, Beloit
35th Annual Beloit Lions Autorama
Sponsor: Beloit Evening Lions Club, Coachmen Street
Rod Club and Blue Ribbon Classic Chevy Club
Information: www.beloitautorama.com or 608/290-3628
September 24, Green Bay
Second Annual MMM Car Show
Sponsor: Models, Monsters and Motors
Information: http://modelsmonstersandmotors.com/Home.html 
Hot Rodders With Heart: The Street-Tiques Give Back to the Community
In existence since 1972, the Street-Tiques of Asheville North Carolina Car Club celebrated Collector Car Appreciation Day on Sunday, July 10, at the home of its presidents, Kenny and Sandra Buckner. The Buckners hosted a BBQ dinner on their lawn, which was complemented by club members' colorful street rods. "A club meeting followed, and everyone was reminded to appreciate the efforts of our SAN representatives in Washington, D.C., who have made improvements nationwide in the statues that govern our hobby," said club member Ann Buckner. The club took advantage of the meeting to plan its event to improve the lives of children with illnesses. On August 13, the Street-Tiques of Asheville hosted its 7th annual car show to benefit the Shriners Hospitals for Children. The e event was held at the Land of the Sky Shrine Club in Swannanoa, North Carolina. According to the Buckners, the day was filled with cash giveaways, door prizes, a raffle for a midsize ATV, games, an indoor yard sale, silent and regular auctions and a BBQ dinner, in addition to music and activities led by DJ Malcolm Ingle. For more information on the Street-Tiques of Asheville, contact Ann Buckner at 828/648-7461 or lilorfann@bellsouth.net.