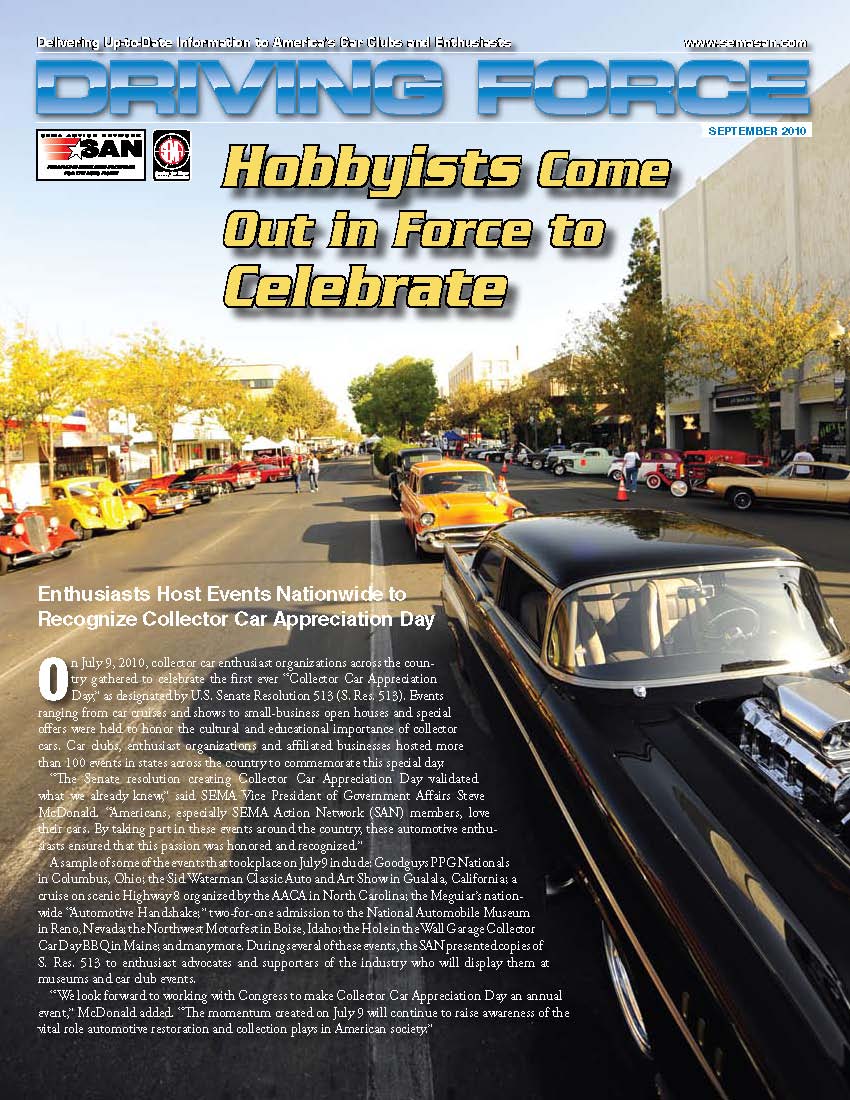 Click on image above to open the newsletter PDF.
Enthusiasts Host Events Nationwide to Recognize Collector Car Appreciation Day
On July 9, 2010, collector car enthusiast organizations across the country gathered to celebrate the first ever "Collector Car Appreciation Day," as designated by U.S. Senate Resolution 513 (S. Res. 513). Events ranging from car cruises and shows to small-business open houses and special offers were held to honor the cultural and educational importance of collector cars. Car clubs, enthusiast organizations and affiliated businesses hosted more than 100 events in states across the country to commemorate this special day.
"The Senate resolution creating Collector Car Appreciation Day validated what we already knew," said SEMA Vice President of Government Affairs Steve McDonald. "Americans, especially SEMA Action Network (SAN) members, love their cars. By taking part in these events around the country, these automotive enthusiasts ensured that this passion was honored and recognized."
A sample of some of the events that took place on July 9 include: Goodguys PPG Nationals in Columbus, Ohio; the Sid Waterman Classic Auto and Art Show in Gualala, California; a cruise on scenic Highway 8 organized by the AACA in North Carolina; the Meguiar's nationwide "Automotive Handshake;" two-for-one admission to the National Automobile Museum in Reno, Nevada; the Northwest Motorfest in Boise, Idaho; the Hole in the Wall Garage Collector Car Day BBQ in Maine; and many more. During several of these events, the SAN presented copies of S. Res. 513 to enthusiast advocates and supporters of the industry who will display them at museums and car club events.
"We look forward to working with Congress to make Collector Car Appreciation Day an annual event," McDonald added. "The momentum created on July 9 will continue to raise awareness of the vital role automotive restoration and collection plays in American society."
Massachusetts Street Rods/Customs: A version of SEMA-model legislation (H.B. 4871) to create a vehicle registration classification for street rods, custom vehicles, replicas and specially constructed vehicles was passed by the Massachusetts General Court. The bill has been sent to the governor for his signature and enactment into law. H.B. 4871 defines a street rod as an altered vehicle manufactured before 1949 and a custom as an altered vehicle at least 25 years old and manufactured after 1948. Replica vehicles are defined as being assembled by a non-manufacturer from new or used parts that replicate an earlier year, make and model vehicle. Specially constructed vehicles are those reconstructed or assembled by a non-manufacturer from new or used parts that have an exterior that does not replicate or resemble any other manufactured vehicle. The bill allows replica vehicles to be assigned a certificate of title bearing both the year in which the vehicle was built and the make, model and year of the vehicle intended to be replicated.
California Car Scrap: In July, the California Office of Administrative Law (OAL) approved a proposal to allow all vehicles under 10,000 lbs. (previously 8,500 lbs.) to be scrapped through the Bureau of Automotive Repair's (BAR) vehicle retirement program. This proposal was approved as an "emergency action" that will become operative if and when the proposed rule is approved and would expire on January 27, 2011. The current proposed rule, if approved, would take effect in early 2011 and increase the number of vehicles eligible for retirement. The proposal expands the current program, which only allows for the retirement of on-cycle vehicles that have failed their biennial required smog check in the year they are seeking to participate. The new rule would provide an exception to the current prohibition on participation by unregistered vehicles, permitting their retirement if they can prove that they have been driven primarily in California for the previous two years. This provision would allow vehicles not paying registration fees, which fund the program, to be permitted to benefit from the program.
A new voucher program to be operated in the San Joaquin Air Pollution Control District and the South Coast Air Quality Management District was included in the proposal as well. The voucher program would provide additional incentives for vehicle owners to scrap their older vehicles by providing them with funds for the purchase of a new vehicle. The OAL has until September 13, 2010 to approve or disapprove BAR's proposed rule.
Driving the Drive
Southwestern Virginia Car Council Goes the Extra Mile
Providing a network for regional councils, the Virginia Association of Car Councils (VAACC) aids in communication amongst enthusiasts and car clubs throughout the state to encourage participation in the legislative process and provide information on state legislation that would impact the hobby. Regional councils include the Car Club Council of Hampton Roads, the Car Club Council of Central Virginia, the Virginia Peninsula Car Club Council, the Northern Virginia Car Club Council, and the Southwest Car Council.
Each year, the Southwestern Virginia Car Council goes above and beyond the legislative call of duty in an effort to give back to the motoring community. Bringing forth the concept of Star City Motor Madness nine years ago, the council has fostered the growth of this annual cruise and car show in Roanoke, Virginia, to benefit nonprofit organizations such as the Virginia Museum of Transportation.
The SAN was in attendance at this year's Star City Motor Madness, which drew enthusiasts eager to show off their rods and performance machines on the spectator-lined Williamson Road, meander down the show's Corvette Alley and chat with "My Classic Car" host Dennis Gage, who chose to feature this year's Motor Madness in an episode of his show.
Council President and Vice President of Strategic Planning for the Antique Automobile Club of America Tom Cox is a long-time friend of the hobby and the SAN. Many successes can be attributed to the hard work of the council as well as the entire group of councils in the VAACC. "We have lines of communication set up between our regions, area car club councils and the SAN. E-mail lists, phone banks and contact information for legislators get circulated among the groups and our voices get heard," explains Cox. It's comforting to know that the SAN has an organization that walks the walk (or, rather, drives the drive) on our side!
For more information on VAACC visit: www.vaacc.org. 
CALIFORNIA
September 11, Dana Point
Trip to Dana Point Tall Ships
Sponsor: Buick Club of America-Orange County Chapter 
Info: Larry Minery at 714/639-1137
September 11, Dublin 
Tri Valley Classic Chevy Club Rock & Bowl Car Show
Info: www.tvccc.net
September 16–19, San Bernardino
Route 66 Rendezvous
Sponsor: ATHS Southern CA Chapter
Info: Kenneth Lund at 909/838-6718 or www.aths.org
September 25, Costa Mesa
11th Annual Cruisin' for a Cure
Sponsor: Hot Rods Unlimited
Info: www.cruisinforacure.com
September 26, Coronado
17th Annual Fall Classic Car Show, Tidelands Park
Sponsor: Camaro Club of San Diego
Info: 760/741-6058 or motherroad66@cox.net
COLORADO
September 18, Denver
Colfax Avenue Cruise
Sponsor: Old Car Council of Colorado
Info: www.oldcarcouncil.org/CruiseColfax.html
ILLINOIS
September 17–19, Joliet
4th Peak Chicagoland Nationals
Sponsor: Goodguys Rod & Custom Association
Info: www.good-guys.com
INDIANA
September 6, Cicero
Red Bridge Rod Run
Sponsor: Vintage Rollers
Info: http://vintagerollers.homestead.com
IOWA
September 14, Anamosa
J&P Cycle Cruise Night
Sponsor: J&P Cycle
Info: www.jpcycles.com
KANSAS
September 3–5, Kansas City
9th Mid-Western Nationals
Sponsor: Goodguys Rod & Custom Association
Info: www.good-guys.com
MAINE
September 17–18, Old Orchard
17th Annual Old Orchard Beach Car Show & Parade
Info: 207/934-2500 or www.oldorchardbeachmaine.com
MARYLAND
September 19, Frederick
18th Annual Alzheimer's Association Benefit Car & Truck Show
Sponsor: Heart of Maryland Classic Chevy Club
Info: www.HMCCC.50G.com or 301/865-5270
September 24–26, McHenry
Strut Your Stuff Shine and Show 2010 Car Show
Sponsor: Shine & Show Promotions
Info: www.strutyourstuffpromotions.com/show.htm
September 25–26, Ocean City
4x4 and Offroad Show & Shine
Sponsor: Big Dogs Offroad
Info: http://bigdogsoffroad.com
MASSACHUSETTS
September 5, Marshfield
29th Annual Spindles Auto Club Car Show & Swap Meet
Sponsor: Spindles Auto Club
Info: 781/335-9754
September 9 & 23, Foxboro
Bass Pro Shows Cruise at Patriot Place
Sponsor: Mass Cruisers Auto Club 
Info: http://clubs.hemmings.com/frameset.cfm?club=masscruisers
MICHIGAN
September 10–12, Kalamazoo
31st Street Rod Nationals North
Sponsor: NSRA Street Rod Nationals North
Info: 303/776-7841 or http://nsra-usa.com
September 12, Hickory Corners 
16th Annual West Michigan Muscle Car "Plus" Show and Swap Meet
Sponsor: West Michigan Muscle Car Club
Info: Gary at 269/345-2202 or www.gilmorecarmuseum.org
MISSOURI
September 12, St. Louis 
14th Annual Walter F. Philips Memorial Old Cars Against Cancer "Wheels in Motion Day"
Info: Elliott at 314/878-0534 or Al at 314/650-7639
September 18, Elm
Jazz & Snazz Car Show
Sponsor: Rotary Club of Webster Groves
Info: 314/963-7505 or www.webstergrovesrotary.org
NEVADA
September 4, Sparks
ATHS Sierra Nevada Chapter Fall Truck Show
Info: Jim Miller at 775/747-1063 or www.aths.org
September 23–26, Laughlin
Roddin' on the River
Sponsor: The River Cruizers
Info: www.rivercruizers.com/roddin_on_the_river
NEW MEXICO
September 10–11, Clovis
14th Annual Run to Hillcrest Rod Run
Sponsor: Desert Cruzers Car Club 
Info: www.desertcruzers.com
NEW YORK
September 10–12, Lake George
20th Annual Adirondack Nationals at Fort Williams
Sponsor: Albany Rods and Kustoms Inc.
Info: 207/442-9065 or www.adirondacknationals.com
September 19, Pearl River
Pearl River Auto Show
Sponsor: Rockland Rodders
Info: www.rocklandrodders.com
NORTH CAROLINA
September 3–5, Asheville
Mustangs at the Mansion
Sponsor: Blue Ridge Mustang Club of Asheville
Info: http://brmcoa.org
September 18, Hendersonville
12th Annual Autorama Car Show
Sponsor: AACA Great Smoky Mountain Region
Info: Ray Robertson at 828/683-7701, 727/599-6949 or jerobertson38@me.com
September 25, Denver
Steele Open House
Sponsor: Steele Rubber Products
Info: www.steelerubber.com/?section=32
OREGON
September 5, Port Orford
12th Annual Show and Shine
Sponsor: Port Orford Rotary Club
Info: Sonja Mason at 541/332-8630 or www.portorfordrotary.org/gallery/showshineflyer2010.pdf
September 17–19, Coos Bay
Cruz the Coos
Sponsor: Sunset Classic Chevys
Info: www.sunsetclassicchevys.com
PENNSYLVANIA
September 3–4, Washingtonville
ATCA 4th Annual Shortway Chapter Show
Sponsor: Antique Truck Club of America
Info: www.antiquetruckclubofamerica.org
September 19, Seven Springs (Champion) 
All-Oldsmobile Show
Sponsor: Allegheny Rockets
Info: 724/266-5527 or www.alleghenyrockets.org
September 24–26, Pocono
6th Great American Nationals
Sponsor: Goodguys Rod & Custom Association
Info: www.good-guys.com
September 25, Morrisville
ECRT Car Show
Sponsor: East Coast Rolling Thunder Car Club
Info: www.eastcoastrollingthunder.com
SOUTH DAKOTA
September 11, Rapid City
Black Hills Mopar Club Liberty Fall Fling Car Show
Info: www.blackhillsmopars.org
September 18, Bear Country
Wild Wheels Car Show
Info: 605/343-2290 ext. 115 or www.bearcountryusa.com/news/event_detail.php?id=10
TENNESSEE
September 25, Pulaski
27th Anniversary Antique Car Show
Sponsor: P.A.C.E. Car Club
Info: Lee Kelly at 931/424-6559 or www.fnbforyou.com/pdf/PACE_proof.pdf
UTAH
September 8, Sandy City
Club 90 Cruise Night
Info: www.club90slc.com
September 10–11, Brigham City
Peach Days Poker Run & Car Show
Sponsor: Bonnevills Rods & Customs Car Club
Info: www.bonnevillscarclub.org
VERMONT
September 17–19, Burlington
17th Northeast Nationals
Sponsor: NSRA Northeast Nationals
Info: 209/474-0103 or http://nsra-usa.com
VIRGINIA
September 10–12, Winchester
Big Dogs Main Jambo
Sponsor: Big Dogs OffRoad
Info: http://bigdogsoffroad.com
September 18, Manassas
35th Annual Edgar Rohr Memorial Antique Car Meet
Sponsor: AACA Bull Run Region
Info: Jon Battle at 703/392-6870 or terraplane@verizon.net
WISCONSIN
September 19, Beloit
34th Annual Beloit Lions Autorama Car Show, Parts Swap, Car Corral and Arts & Crafts
Sponsor: Beloit Evening Lions Club, Coachmen Street Rob Club and Blue Ribbon Classic Chevy Club
Info: Todd Nelson at 608/290-3628 or www.beloitautorama.com
September 25, Jefferson
Fall Jefferson Show & Swap Meet
Info: www.madisonclassics.com
WYOMING
September 2–4, Cheyenne
Western Fall Meet
Sponsor: AACA High Plains Region
Info: www.aaca.org/hvpr
September 4, Hulett
7th Annual Devils Tower Car Show
Sponsor: Texas Trail Cruisers Car Club
Info: 307/756-9526 or www.texastrailcruisers.com
ALBERTA, CANADA
September 3–5, Red Deer
31st International Mustang Meet
Sponsor: Ford Central Car Club
Info: www.fordcentral.ca
ONTARIO, CANADA
September 19, Toronto
British Car Day
Sponsor: Toronto Triumph Club
Info: http://www.torontotriumph.com/BCD
Early October 2010 Events
NEW MEXICO
October 8–9, Artesia
Swap Meet & Car Corral 
Sponsor: Artesia Car Enthusiasts
Info: Dorothy at 575/746-9477
PENNSYLVANIA
October 2, Morrisville
Car Show at 31 E. Cleveland Ave., all makes and models
Info: Pat at 215/295-0567
SOUTH CAROLINA
October 8–9, North Myrtle Beach
16th Annual Pow Wow at the Beach
Sponsor: SC Chapter of the Pontiac Oakland Club International
Info: www.palmettopontiacs.org