◄ Back to Driving Force, Spring 2015
State Houses Heat Up
by Colby Martin
---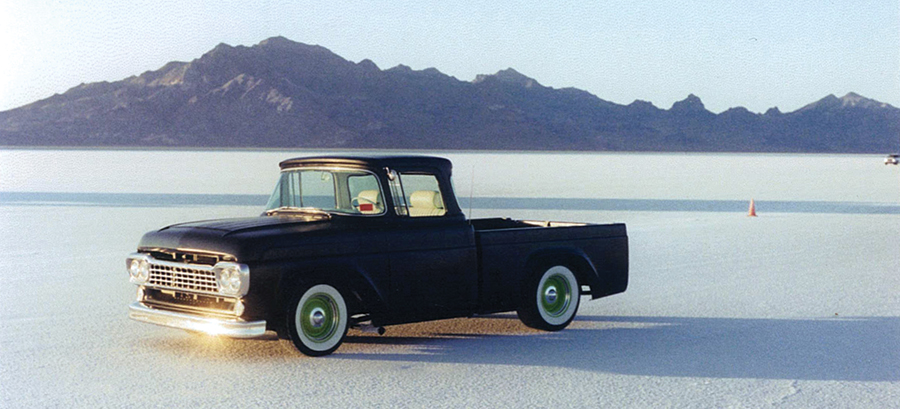 The stock front bumper of my own '58 Ford F-100 pickup, shown here on the Bonneville Salt Flats in 2002, was not designed to accommodate any registration plate—just the way I like it!
---
2015 is here and with the new year come new legislative sessions and new proposals. Automotive bills are quickly mounting in number from state houses nationwide. Let's check out the lay of the land together!

The notion that multiple states are considering a move to a single, rear-mounted plate requirement is incredibly inspiring. As you'll read in the cover story of this issue, there have been a slew of legislatures proposing such a shift. Like most gearheads, I'm a huge fan of these bills. After all, my own '58 Ford F-100 pickup's smooth front bumper was produced without a front mounting bracket, resulting in a much cleaner design. As always, it will take a mass of encouragement from our community to propel these bills into law.

As Driving Force readers will recognize, emissions and exhaust systems continue to be debated among the states. On the positive side, Pennsylvania is seeking to extend the new-car emissions-inspection exemption for five years after the model year. A new Virginia bill would remedy the enforcement policy currently used by police officers in which nearly all exhaust systems on antique vehicles not of a type installed as standard factory equipment are considered illegal. West Virginia is proposing to remove subjective provisions in the law and force compliance with an objectively measured standard. However, the state is also threatening to make it a criminal offense to "disturb the peace" using certain exhaust systems without including a similar standard. Similarly, the SEMA Action Network (SAN) is opposing legislation in Hawaii that would prohibit the use, sale or installation of an exhaust system "that has been changed or modified from the factory design so as to increase the volume or audibility of the explosions within the vehicle's motor."

Revenue collection is also a hot topic that includes both pro- and anti-hobby legislation. Two Minnesota bills are seeking to penalize national efforts to create a more fuel efficient vehicle fleet by taxing drivers based on actual miles traveled. Oregon, which already has a voluntary vehicle miles traveled tax in place is now looking to convert its current program to a mandatory one. Fear not, for there is also good news. Hawaii has proposed to reduce annual registration fees and the state vehicle weight tax. Under a new bill, vehicle registrations in Virginia would become permanent unless the vehicle ownership or the address where the vehicle is principally garaged changes. And in New Hampshire, the definition of eligible Antique Motor Vehicles could be expanded to include trucks more than 25 years old (regardless of weight). This bill provides the option for older trucks to take advantage of the many accommodations available to antique motor vehicles.

For up-to-date news on each of these topics, visit semaSAN.com/Alerts and to be prepared for upcoming battles in your state. Please ask your friends and car club members to get involved with our growing force. They can sign up to stay informed free of charge at semaSAN.com/Join. As you know, they will receive legislative updates as they happen in their jurisdiction by being a fellow SAN member—no cost, SPAM or "catch." After all, great strength comes with great numbers. —IGNITED WE STAND!