◄ Back to Driving Force, Spring 2015
Single Plate Bills are Easy to Get Behind
---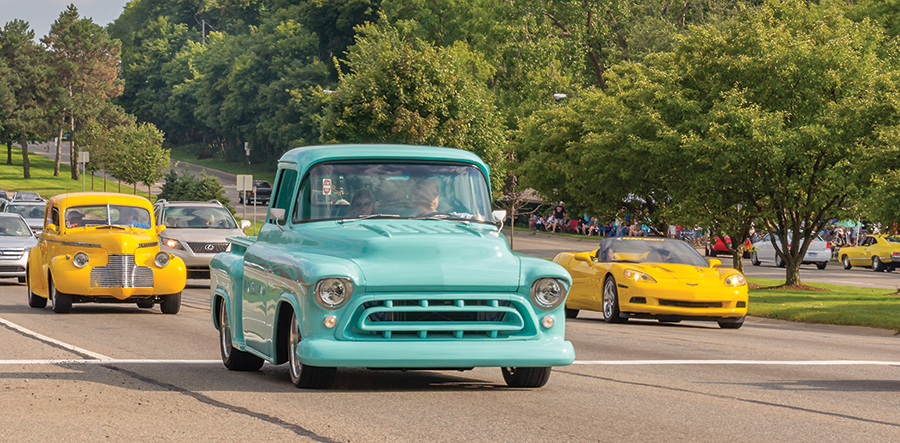 Fans of cars and trucks—regardless of style or vintage—can appreciate the beauty of an absent front license tag.
---
Let's face it: license plates are a necessary evil. In the earliest days of motoring, law enforcement used them to uniquely identify the growing number of horseless carriages sharing the nation's roads. In 1903, Massachusetts became the first state in the United States to introduce government-produced registration tags. By the end of World War I, nearly every other state had its own program in place. Throughout their history, plates have come in a wide array of shapes, colors and styles. Various materials have also been used to create these tags, including leather, rubber, porcelain, iron and other metals. Today's standardized size (6 inches by 12 inches) for most passenger vehicles in North America was implemented in 1956.

Loyal readers will know that the SEMA Action Network (SAN) supports legislation that provides special license plates for a host of hobby cars, including street rods, customs and antiques. The SAN also actively promotes the use of "year of manufacture" plates on classics. However, no plate bills issued by the states receive greater enthusiasm from our forces than single plate proposals. After all, these measures requiring only a single rear-mounted tag are easy to get behind. A total of 19 states currently enjoy this privilege. These vehicle owners are spared the burden of having to create mounting holes on some original and fabricated bumpers. In fact, the original factory design of many motor vehicles were not equipped for the display of a front plate. A great number of older cars and several late models as well—including the recent Camaros, Mustangs, Corvettes, Teslas and certain imports—have been offered sans mounting brackets. Thus, the aesthetic contours of collector cars of all ages are preserved in these states.
| | |
| --- | --- |
| |   |
| This Porsche belongs to Virginia's Jeffrey Elmore, who recently wrote his lawmakers in support of the state's front plate proposal. In his message, he included the poignant slogan "Front tags ruin faces." |   |
As the 2015 legislative sessions ramp up, a series of single license plate bills have once again been introduced by legislatures nationwide, including in Iowa, Maryland, Nebraska, New York, Virginia, Washington and Wyoming. Much like in years past, this legislation is often an attempt by states to save money and conserve resources. Fortunately, several lawmakers that sponsor these bills, in states that do not yet allow the single plate, have contacted SAN staff asking for the group's support. They include Wyoming Representative and fellow gearhead Stan Blake, whom you can read more about in the "Caucus Connection" portion of this newsletter.

To further assist interested car enthusiasts, the SAN recently developed a compilation of the specialty license plates available by state. Designed to be a quick reference guide, this resource includes a map that illustrates the number of license plates required. This material can be accessed at this link: semaSAN.com/LicensePlates.

Ultimately, a concerted effort must be made by SAN members statewide for these single-plate bills to have a chance of being enacted into law. As you may have guessed, law enforcement agencies aggressively fight these bills based on the claim that front plates allow officers to quickly identify vehicles involved in violations of the law. For that reason, these proposals rarely emerge from the Legislature. However, by working together with local law enforcement officials, attending hearings and sharing the responsibility in finding mutual solutions, we have the opportunity to impact the future of these laws.