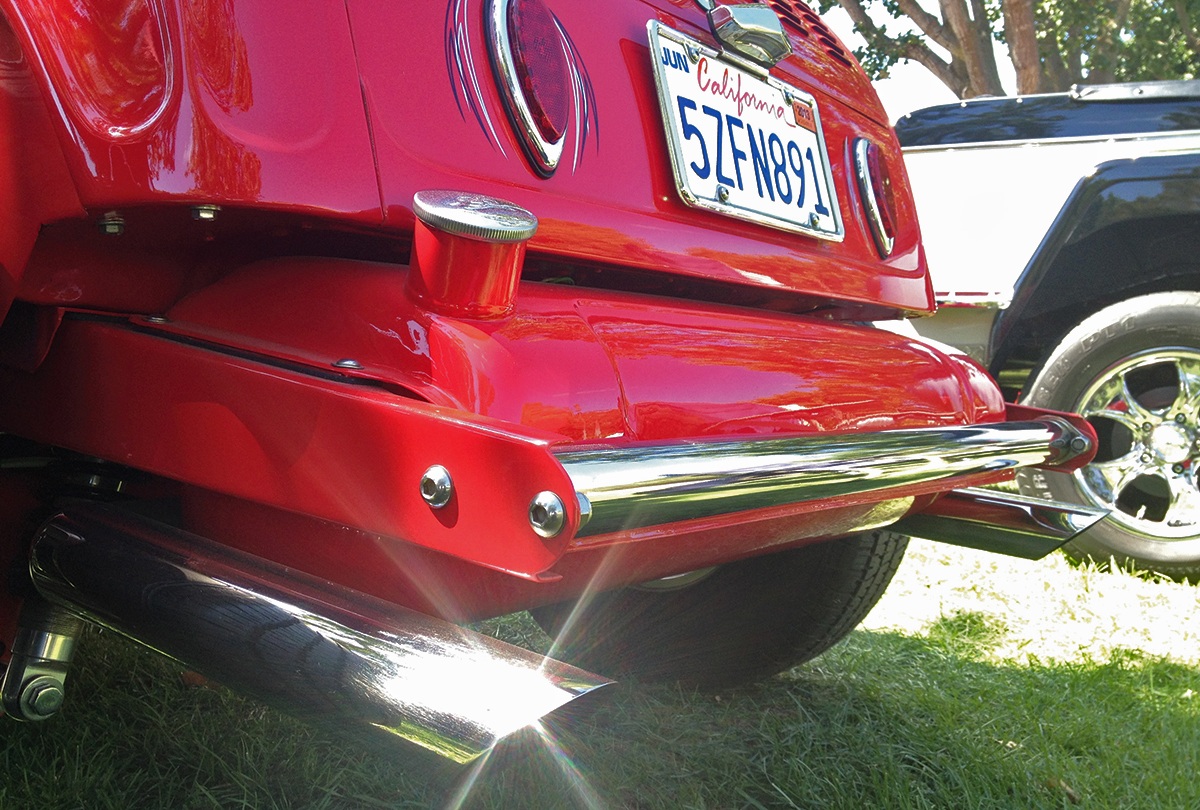 California's community of auto enthusiasts became the target of a new law that amended how violations for exhaust noise are treated by law enforcement officers. The SAN is advocating for a fair solution by repealing the law.
---
Vague Statutes Lead to Unfair Restrictions and Fines
A "short list" of initial upgrades made to a car or truck of any age usually includes an exhaust component or two. The automotive community's desire to personalize their ride's tone dates to the hobby's earliest days. Creating a distinct exhaust pitch can be as unique as ever with the available resources. Simple changes to the stock system will alter factory-designed sound, performance and appearance—dramatically in some cases. As such, an unfavorable stigma took root many decades ago and has not let up: custom exhaust components are associated with illegal street racing. Unfair violations continue to be issued to vehicle owners over modified systems.
Measures applied to exhaust noise have long been subjective in nature. Enforcement policies often deemed exhaust-system modifications illegal, even where the noise levels were not excessive or unusual. While the SEMA Action Network (SAN) believes that exhaust systems should not be used in a way that causes overly loud or objectionable noise, vague provisions fail to provide a clear and objective standard and make it difficult to know the parameters of acceptable modification. In fact, unfair assumptions about modified exhaust systems have led some states to prohibit the use of this equipment, other than "factory-installed mufflers" or "mufflers meeting factory specifications." Others have banned systems that create "excessive or unusual noise." Such descriptions are nearly impossible to quantify, particularly on the vintage side where OEM parts may not be readily available.
The state of California's thriving four-wheeled culture became the latest target when a new law (A.B. 1824) went into effect this year. Signed by then-Governor Jerry Brown in June of 2018, A.B. 1824 amended how excess exhaust-noise violations are treated by law enforcement. Pursuant to the law, a vehicle cited for violating exhaust-noise laws no longer receives what is known as a "fix-it" ticket. Instead, violations now result in an immediate fine. The topic went viral online, causing rapid concern and fake news to be spread.
The SAN immediately began identifying means to re-institute law enforcement's discretion to issue fix-it tickets. After assembling a "Fact vs. Fiction" webpage seeking to clarify the matter, Sacramento was tapped directly. California Assemblymembers Jim Frazier and Tim Grayson introduced pro-hobby legislation (A.B. 390) to repeal the law. Both Assemblymember Frazier and Assemblymember Grayson are members of the SEMA-supported State Automotive Enthusiast Leadership Caucus and have previously attended the SEMA Show.
Incidentally, the Golden State was the first state to approve model exhaust-noise legislation developed by the SAN. The growing problem of subjective policies being enforced nationwide had reached critical mass in the early '00s. At the time, the import tuner craze was the latest trend to underscore the need for a fair and reasonable exhaust-noise standard—in California and elsewhere. The SAN was young but growing; staff worked with the state legislature and California Highway Patrol to draft and pass the new proposal template in 2002. The law features fair, standardized testing that can be accurately measured. Results from the test settle whether a vehicle's modified exhaust system meets the state's exhaust-noise standards. Ultimately, the program showed that approximately 90% of tested vehicles were in compliance with the law.
In California, exhaust systems installed on motor vehicles with a manufacturer's gross vehicle weight rating of less than 6,000 lbs., other than motorcycles, may not exceed a sound level of 95 decibels when tested under Society of Automotive Engineers (SAE) test procedure J1492 (formerly J1169). This would be unchanged by A.B. 390. Under the SAE standard, a sound meter is placed 20 in. from the exhaust outlet at a 45-degree angle and the engine is revved to three-quarters of maximum-rated horsepower. The highest decibel reading is then recorded. If a smog-check station's referee determines that the exhaust system emits no more than 95 decibels, a certificate of compliance is issued. Fighting noise citations issued by law-enforcement officers became possible by proving that a vehicle complies with applicable state standards.
While proposals like A.B. 390 apply clarity to the law for motorists and the companies that manufacture and install exhaust products, not all bills share the same common-sense approach. Several jurisdictions have introduced bills attempting to resolve the confusion in recent years. Maine enacted the SEMA model into law in 2003, followed by Montana in 2007. A Virginia law exempting some antique vehicles from exhaust-system restrictions was approved in 2015. However, several states have still sought to penalize or even ban certain aftermarket systems. Such threats have been thwarted repeatedly in Hawaii, Massachusetts, West Virginia and Vermont. These challenges have given enthusiast constituents the opportunity to educate lawmakers on how to govern this issue fairly.
At the time of publication, A.B. 390 is awaiting further consideration in the California Assembly. The bill passed the Transportation Committee without opposition but still needs a hearing in the Appropriations Committee. For more detail on this and all current legislation, visit www.semaSAN.com/Alerts. The SAN's exhaust-noise model bill can be accessed at www.semaSAN.com/Noise.
The next attempt to restrict pipes could happen without warning too close to home. No matter where you live, make sure to help spread the word to build greater support for the cause. As you know, supporters can stay informed on this and other issues by signing up for the SAN at www.semaSAN.com/Join. There is no cost or obligation to receive updates on a bill's progress and how to shape its future.