America's Outdoor Recreation Act: Expanding Opportunities for Motorized Recreation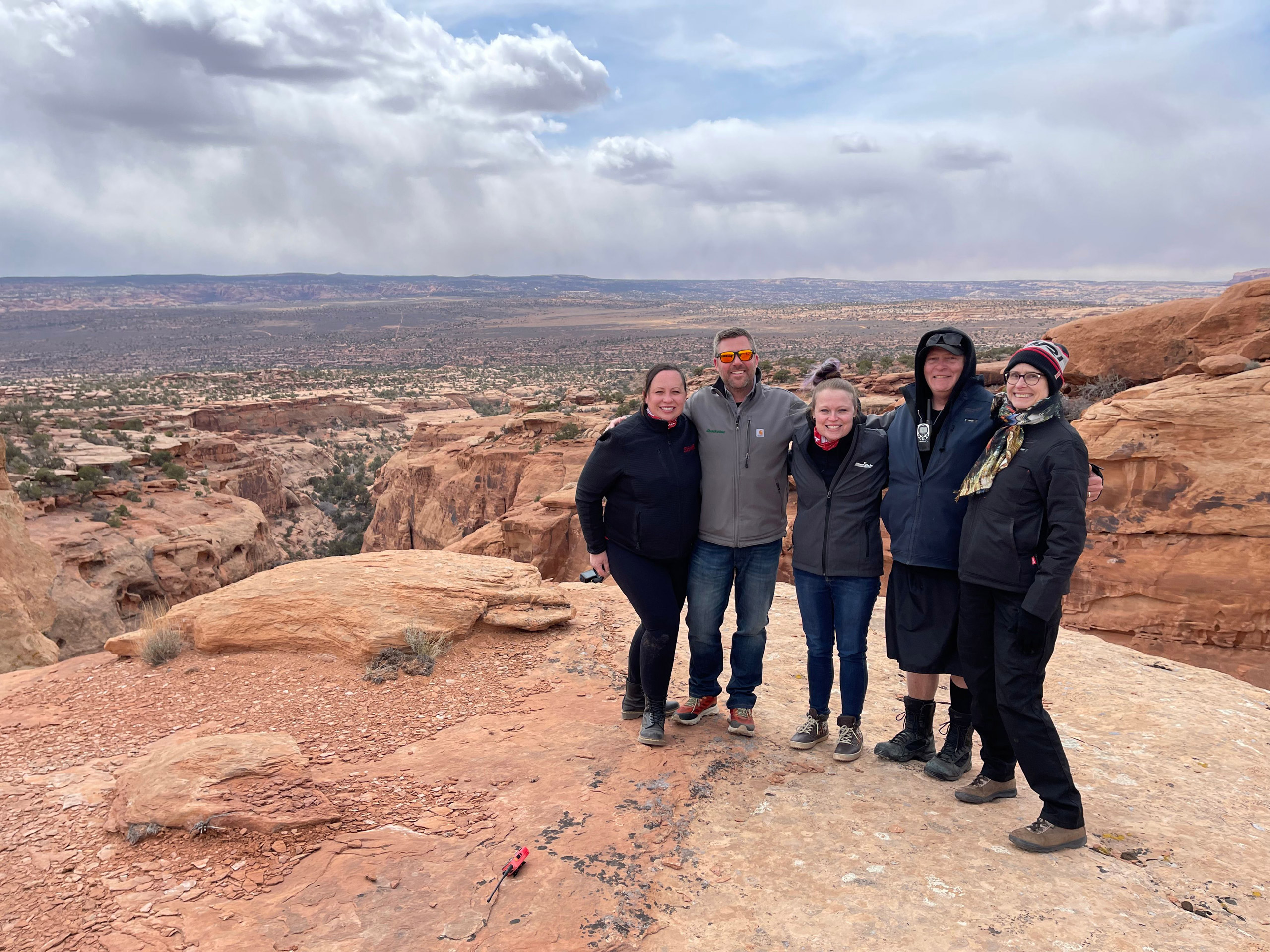 One of off-roading's special features is the camaraderie that's shared among fellow enthusiasts. Here, SEMA's Karen Bailey-Chapman, left, celebrates a day on the trail at Easter Jeep Safari with (left to right) Rob Jarrell from Quadratec, Rachel Preston from Blueprint Engines, Gregg Henderson from Unofficial Use Only and Kim Pendergast from Magnuson Superchargers and the SEMA Board of Directors.
By Douglas McColloch
The onset of the COVID-19 pandemic posed many unique challenges to the United States, not least of which being the surge in visitation to public lands as outdoor enthusiasts sought refuge from the virus. According to the U.S. Bureau of Land Management (BLM), properties managed by that agency alone attracted more than 37 million visitors in 2020. Close to 1 million off-highway travelers visited BLM sites in that year, and with the continued expansion of the UTV and overlanding automotive sectors, that number should only increase in the coming years.
This increase in attendance represents the continuation of a long-term trend. A recent survey by Montana-based think tank Headwaters Economics estimated that visitations to lands managed by the U.S. Forest Service (USFS) and the BLM increased roughly 15% during the 2010–2019 time period—before COVID. On the flip side, the BLM and USFS have both experienced budget rollbacks of roughly the same percentage during the decade (much of the funds having been diverted to fire mitigation efforts in the Western United States).
For this and other reasons, problems persist on and around public lands. Many popular areas have suffered from a lack of funding and have substandard or nonexistent amenities. Broadband internet access is often very limited. Other areas are surrounded by small rural communities that often lack the basic civic infrastructure to accommodate thousands of visitors a day. Many visitors are often kept in the dark about seasonal and temporary trail closures, particularly those involving motorized vehicle access. And many of the most popular sites, particularly in the West, have been forced to close for days or weeks at a time to minimize the risks of overcrowding and wildfires.
All of these concerns are taken into consideration by America's Outdoor Recreation Act, a new piece of federal legislation that aims to substantially upgrade federal lands and to enhance the visitor experience on and around them. Originally introduced in the 117th Congress and sponsored by Senators Joe Manchin (D-WV) and John Barrasso (R-WY), the Act would increase and improve outdoor recreation opportunities across the nation while improving infrastructure and driving economic growth in rural communities. (As of this writing, the Act has passed out of the Senate Committee on Energy and Natural Resources on a voice vote and is currently awaiting deliberation by the full Senate.)
Among other initiatives, the Outdoor Recreation Act:
Directs the Interior Department and the USFS to establish a pilot program for public-private partnership agreements to modernize campgrounds, cabins and visitor centers on federal lands. 
 
Ensures that outdoor recreation is considered by land managers alongside other uses of federal land by directing the USFS and BLM to consider ways to improve recreation when developing and revising land management plans.
 
Supports rural communities adjacent to recreation areas by providing technical and financial assistance to local businesses such as hotels, campgrounds and restaurants.
 
Directs the BLM and USFS to have maps available to the public depicting where motorized vehicles are allowed and where they are prohibited, as well as to update them periodically to ensure the maps do not become outdated.
 
Requires land management agencies to increase opportunities for motorized and non-motorized access and experiences on federal lands.
 
Requires the Forest Service and BLM to designate new shooting ranges in National Forests and on BLM land.
 
Aims to modernize recreation sites by directing agencies to work with the Department of Commerce to construct broadband internet infrastructure at designated recreation sites.
 
Directs federal land management agencies to identify opportunities to extend the periods of time that areas on federal lands are open to seasonal recreation.
The legislation enjoys support across a broad spectrum of industry stakeholders, including the Outdoor Recreation Roundtable, RV Industry Association, the National Shooting Sports Foundation, the Motorcycle Industry Council, the National Recreation and Park Association, and the Outdoor Alliance as well as SEMA.
Expanding Access & Recreation Options
"SEMA thanks Senators Manchin and Barrasso for reintroducing the America's Outdoor Recreation Act," said Karen Bailey-Chapman, SEMA senior vice president of public and government affairs. "This bipartisan bill would streamline the process and expenses associated with obtaining special recreation permits, require federal land management agencies to increase opportunities for motorized and non-motorized access on public lands, and direct the BLM and Forest Service to make maps available to the public depicting where vehicles are allowed to recreate."
Among its many provisions, the Act requires the USFS to make available a motor-vehicle use map for each district it administers. Likewise, the BLM is directed to provide a ground transportation "linear feature" to each of its properties, which includes all roads and trails that fall within its boundaries. Additionally, both the USFS and BLM are required to make available winter maps for over-snow vehicle use when adequate snowfall occurs.
"Outdoor recreation is vitally important to boosting the health of all people, and access to public lands and trails is crucial for the millions of ATV, dirt bike, and side-by-side riders and drivers," said Eric Pritchard, president and CEO of the Motorcycle Industry Council (MIC). "The powersports industry applauds Congress for reintroducing America's Outdoor Recreation Act, which would help create additional opportunities for motorized access, improve recreation infrastructure, support local communities, and bolster the nation's economy."
Bailey-Chapman got to experience the enjoyment of motorized travel on public lands at this year's Easter Jeep Safari, held last April on the red-rock trails around Moab, Utah. Bailey-Chapman, an experienced Jeeper in her home state of West Virginia, was awestruck by the beauty and vastness of Moab's trail system. 'It's the Mecca of the Western lands," she said.
Bailey-Chapman also got to experience first-hand the spirit of cooperation that comes along with larger organized trail rides such as one finds at EJS. "We were riding in a big group—maybe 20–25 Jeeps got together and went off. That was my first time participating in one of those large rides. The whole experience was amazing. I don't think I've had that great of an experience in a long time. The camaraderie of the event was just incredible."
Public-Private Partnerships
One of the aims to the Act is to improve access to public lands in typically underserved areas such as Bailey-Chapman's home state. There, private landowners and government agencies have worked together to form the Hatfield-McCoy trail system, which aims to promote tourism to the area via an extensive network of OHV trails, many of which were old mining roads that had fallen into disuse. Developed by the West Virginia legislature in 1996 and first opened to the public in 2000, the 1,000-mi., 10-trail system is open for ATVs, UTVs and dirt bikes and is governed by a multi-county management agency. Once completed, the network will comprise some 2,000 mi. of trails.
"The ATV and UTV trails cut across private lands," Bailey-Chapman notes. This is often a roadblock to further development, "but the government gave limited liability protections to those landowners so that they could allow for vehicular access to all this unused land. With those protections in place, it provided the opportunity to repurpose those lands without fear of opening themselves up to legal liability."
This adaptive reuse of underutilized resources also provides an economic multiplier effect since many of those new visitors to the Hatfield-McCoy trail network are going to need food, fuel and accommodations. "You now have an economy that's building up around the trail system," Bailey-Chapman notes, "like hotels and campgrounds and restaurants, and all sorts of stuff that didn't exist there before."
To empower those local economies, the Outdoor Recreation Act provides economic assistance to primarily rural "gateway" communities and to their local businesses that may need additional resources to better manage, and better serve, a steady stream of tourists. Jeffrey Lusk, executive director of Hatfield-McCoy Trails, explains that "entrepreneurs will get a much-needed boost from the establishment of new vocational training programs, technical assistance programs, low-interest business loan programs and loan guarantee programs."
Bailey-Chapman emphasizes the importance of maintaining and expanding off-road access on public lands by noting off-roading's ability to attract new and entry-level enthusiasts. "Off-roading is a great entry point into motorized recreation. It's a lot more affordable to buy a Jeep that you can drive to work every day and take off-road on the weekend, so I think that the off-road community is a kind of gateway into the larger industry—which includes drag racing, autocross and all the rest."