Caroline Fletcher Steps Up to Help Our Cause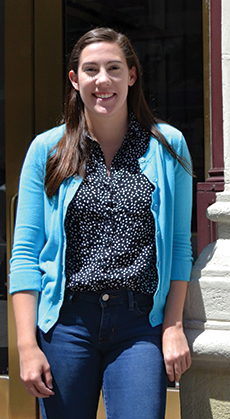 My name is Caroline Fletcher, and I have recently joined the SEMA Government Affairs team in Washington, D.C., as a legislative analyst. In this role, I will work to identify, analyze and monitor state legislation and regulations that could have an impact on the automotive hobby and industry it supports. I will be helping to advance the SAN's legislative interests across all 50 states. As you probably know, thousands of bills are introduced and debated in statehouses each year across the country. Not all legislation impacts cars and trucks; I will work to sort through all proposals to pinpoint which pieces do.
I grew up not far from the nation's capital in Owings, Maryland, and recently received a B.A. in American politics and mathematics from Washington and Lee University in Lexington, Virginia. Last summer, I worked as an intern on Capitol Hill in Congressman Steny Hoyer's office, and during my four years at college worked in the student affairs office. I am an avid dog lover (especially my 12-year-old beagle, Jackson), and love being outside, whether it be hiking in the mountains or kayaking on the Chesapeake Bay.
The only car I have owned is my hand-me-down '10 Honda Odyssey minivan, and although it is certainly not the flashiest, I have come to appreciate its functionality. Whether it be to move out of my college dorm or to drive all my friends to the movies, my Honda hasn't failed to get everything or everyone where it needs to go. While my dream car is a vintage Volkswagen Beetle, I know I will always look fondly on my years driving my minivan.
I am so excited to join the SEMA team and help protect the automotive hobby. If I can help you negotiate the legislative process in your state, don't hesitate to contact me at carolinef@sema.org.