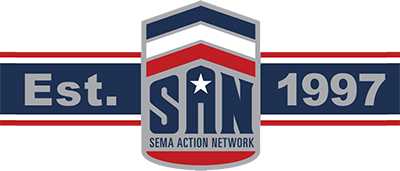 Dear Automotive Advocate,
Thank you for more than two decades of supporting the SEMA Action Network's (SAN) mission to defend our beloved hobby from government overreach.  With your involvement, our automotive community has built an effective advocacy effort in capitals from coast-to-coast.  The SAN owes its many successes to the thousands of enthusiasts who have taken part in our cause throughout the years.
Continuing to fight together has never been more important.  Laws and regulations are becoming more burdensome.  New vehicles are getting more complicated while vintage offerings are becoming scarcer.  We're going to need to be more active and vigilant than ever before.  
After careful consideration, the SAN has made the decision to discontinue publication of a printed edition of the official SAN newsletter, Driving Force, and instead focus on delivering a fully digital experience online.  
Changing demands have meant innovating our approach over time.  In recent years, those in our hobby have been steadily embracing mobile technologies.  Quick and convenient access to the latest automotive happenings have become the orders of the day.  Thus, newsstands have largely made way for the Internet to deliver such material on the spot. 
Be assured that SEMA remains proudly committed to you and fellow enthusiasts in the pursuit to protect our automotive passions—for the present and the future.  You will continue receiving the Driving Force Online to your inbox with your current email address.  Print-only subscribers and others not receiving updates online may submit their email address for free ongoing delivery.  As a reminder, the SAN website contains a full archive of articles appearing in the newsletter as well as access to additional no-cost tools—the platform is fully-searchable and mobile-friendly.
Thank you again for your dedication and ongoing support.  We look forward to the road ahead!
Sincerely,
SEMA Action Network