Hoosier State Confidential
Driving Force Sits Down with U.S. Rep. Greg Pence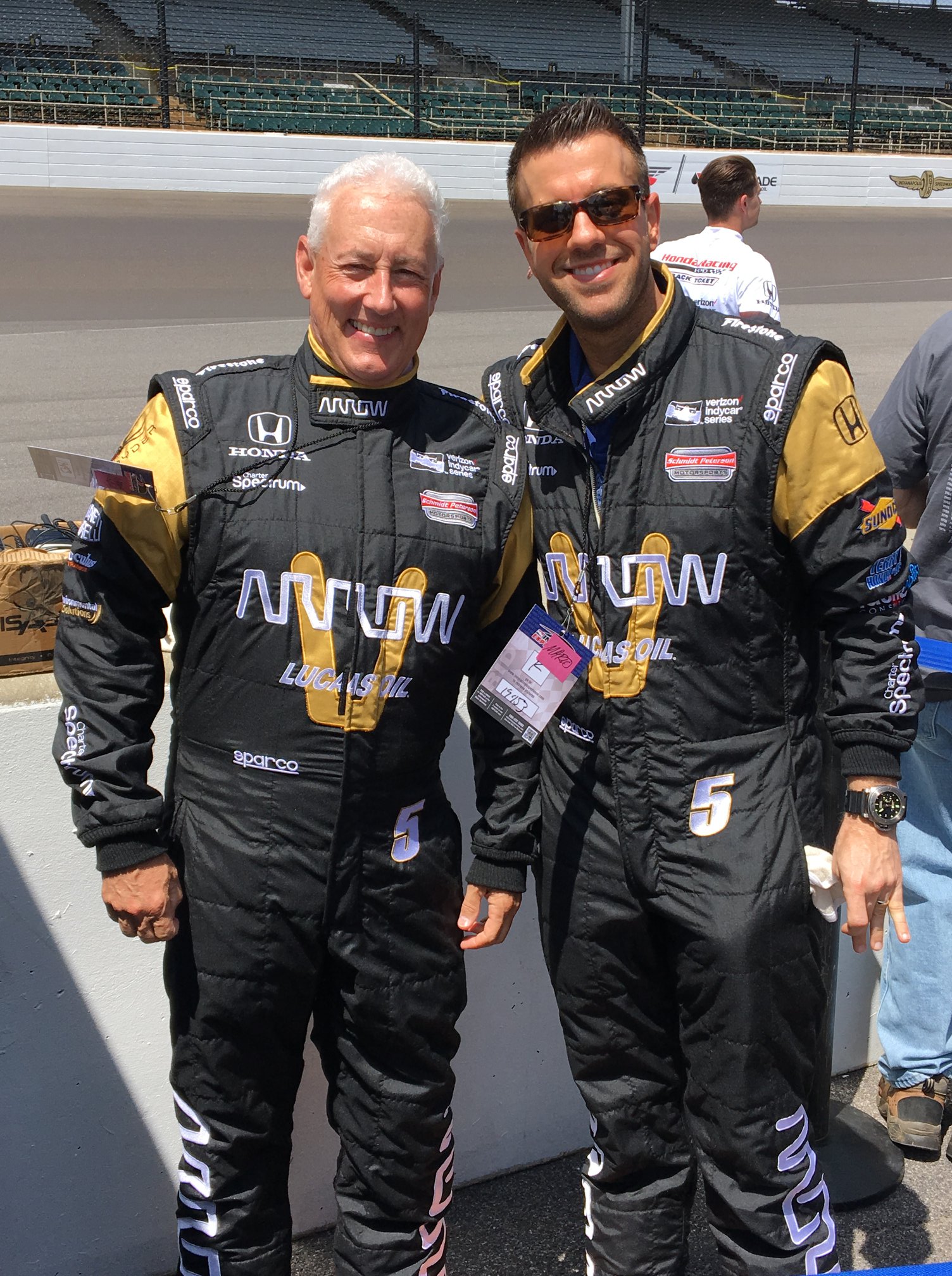 By Eric Snyder
Are you concerned that politicians make decisions that impact the automotive hobby's marketplace, yet they do not understand what it is like to work in the private sector? If so, I have a feeling you will enjoy getting to know U.S. Representative Greg Pence (R-IN), who started working at a local service station in high school and enjoyed a successful career in oil and convenience store businesses before running for office in 2018. With a seat in his home congressional district open, Rep. Pence decided that it was time to join his brother, Vice President Mike Pence, to help our federal government chart a better path in Washington, D.C.
Rep. Pence is a native of Columbus, Indiana, which is about an hour south of Indianapolis. After graduating from high school, he earned a bachelor's degree in theology and philosophy from Loyola University of Chicago. Congressman Pence served four years in the Marine Corps before returning to Loyola, where he earned his master's in business affairs. He also pursued postgraduate studies in environmental affairs at Indiana University before starting a career in the oil business as a sales representative for Union Oil Company. He went on to work as a territory manager with Marathon Oil Corporation before serving as vice president and then president of Kiel Bros. Oil Company, which operates a chain of over 200 gas stations and convenience stores in the Midwest.
Rep. Pence is currently serving in his second term in Congress, representing Indiana's 6th District, which is in the eastern part of the state and spans from Muncie all the way down to the Kentucky border. The Congressman is a member of the House Energy & Commerce Committee, where he uses his private sector experience and common sense to shape automotive, energy, environment and healthcare policy.
Rep. Pence is proud of Indiana's racing pedigree and the role the Hoosier state plays in motorsports today. The Congressman could not be more excited to be representing Speedway, Indiana, which will be in his district starting in 2023. Rep. Pence has spent many years around racing, as the oil companies he worked for sponsored race teams, enabling him to travel to races all around the country. He brings his passion for racing to the policy-making arena, serving as an original cosponsor of H.R. 3281, the Recognizing the Protection of Motorsports (RPM) Act. Rep. Pence has been a strong advocate for protecting motorsports from government overreach.
Rep. Pence and his wife, Denise, live in Columbus, Indiana, and have four children and eight grandchildren. When he is not in Washington or spending time with family, there's a good chance he's out meeting with his constituents to find out about the issues that impact them and to see how he can help.
Now let's go behind the scenes and hear directly from Rep. Pence.
Driving Force: What was your first car?
Rep. Greg Pence: My first car was a used 1964 Mustang that I bought from my neighbors. I had just turned 16 when I bought the car. It was seven or eight years old. It had three on the floor. What I couldn't stand about it was the neighborhood kid who owned it previously painted it with a can of baby blue spray. It was very uneven. Rubber blue tape across the top and the trunk. He thought that was cool.
DF: What was your favorite vehicle you have owned?
GP: My 1999 Jeep Wrangler that I still have. It has a black hard top and a soft top.
DF: What was your first job?
GP: I worked in garages from the age of 14 to when I went off to college, including after school and in the summer. I did mechanical work. Not the heavy stuff. But I could time a car and do brakes. I mostly assisted them until I got proficient in a particular vehicle or a specific thing.
DF: You worked in the oil business for a long time. Tell us more about your private sector experience.
GP: I've only been a politician for three and a half years. I'm 65 years old. I ran because my predecessor was going to run for Senate, and I was his finance chair for the state. And people said to me, "Why don't you run? You're semi-retired." I said, "Okay."
I grew up in the oil industry and working in gas stations as well. I worked for Marathon Corporation in Illinois, and then I joined a distributorship in southern Indiana in 1988. After that, I worked at Circle K as their national director of fuels.
I've got a lot of other little business experiences. I started trucking companies. I've got a real estate company and did some consulting for manufacturing after the oil industry. My wife and I also own antique malls.
My wife said to me many years ago, "You know what? I'd like to get in the rental business." I said, "Yeah, that's a good idea." We live near a university, so we purchased some university housing. We were over there looking at some properties when we noticed that an antique mall came up for sale. It was 72,000 square feet, with all the renters under one roof. Then we started another one and another commercial property as years went by. I think it's now been 17 years since we bought that antique market.
Antiques are more popular now than they have ever been since we've been in the business. I believe people are sick and tired of shopping online. People want to get out and look at stuff. We're getting lots of young people who are going to antique stores. It's kind of cool.
DF: House Energy & Commerce Committee Republicans have taken a neutral position on the technology that powers motor vehicles, allowing individuals to determine whether they would prefer an internal-combustion engine vs. an electric vehicle. Our readers would be interested to know more about the debate going on in the committee, since E&C has jurisdiction over automotive and environmental policy.
GP: Well, having been in the energy distribution industry for many decades, I can say that it's now become more and more apparent that we can't get the energy where it needs to be. As we expand the EV market, right? I can't get it to an apartment building where everybody's parking their car. It's very costly. Many houses have to be converted. When you talk to the generation line companies, they say "No, we can never get that much energy to that area." This is particularly true if you start closing coal plants and not allowing natural gas lines to run. I call it a catastrophic plan.
The combustion engine is a lot cleaner than it ever was before. Gasoline is much cleaner than it ever was before. So is diesel. Let's keep making improvements to that and not say, "Let's get rid of internal-combustion engines."
DF: Racing plays a key part within the automotive community. Tell us a bit about the motorsports culture in Indiana.
GP: I live in the racing capital of the world. Now, some people would dispute that. There are other areas that think they are, but they're wrong.
I love going to carburation day, which takes place at the Indianapolis Motor Speedway. It's always fun. There's live music, bands and flyovers. You know, the fun stuff. I go to the Indy 500 each year, where I've got 16 tickets right across from the pits.
We have the drag racing capital of the world. IndyCar, of course, is right there. Down in the city of Speedway, the number of manufacturers in the technology that is happening is incredible.
DF: Tony Stewart's from Columbus, Indiana, as well. Is the motorsports legend a constituent of yours?
GP: Tony Stewart is a southern Indiana boy. Smart guy. I believe he's the biggest dirt track owner in the United States. We sponsored him back when he was in high school. To put our logo on his car, we gave him a 55-gallon barrel of 10- octane oil for the season. Back then, it probably cost $100. He was only in high school then.
Special thanks to Rep. Pence for sharing such enthusiasm to fight for our automotive community! View the full list of his fellow members of the SEMA-supported Congressional Automotive Performance and Motorsports Caucus on the SEMA Action Network (SAN) website at semaSAN.com/FederalCaucus.