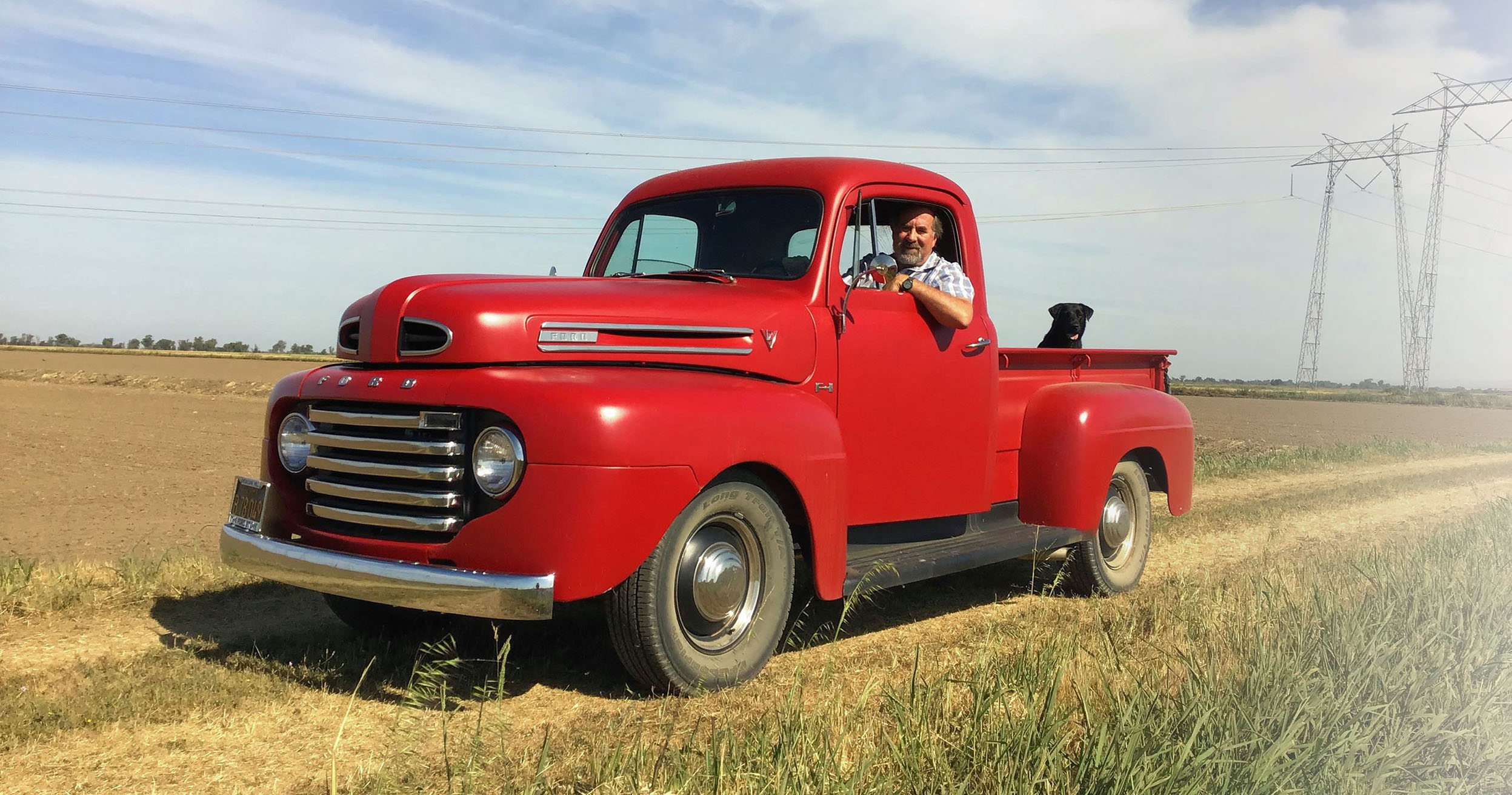 This '51 Ford F1 pickup was on the LaMalfa family's original South Bay ranch. The truck originally had an inline six-cylinder Flathead engine. Rep. LaMalfa removed the rust from the exterior, put some primer on it and painted it a satin red. He sourced a '40s Lincoln V12 Flathead engine with electric fans and dual exhaust pipes. In place of the original three-speed is a T5 transmission from Speedway Motors using a bell housing adapter.
---
California's "Blue Oval" Congressman
U.S. Representative Doug LaMalfa Keeps a Stable of Prized Fords
By Eric Snyder
While there are more than a few automotive enthusiasts in Congress, U.S. Representative Doug LaMalfa's (R-CA) enthusiasm for the hobby and collection of classic vehicles puts him in a class by himself. LaMalfa started wrenching on cars during his formative years and his passion for buying and personalizing vehicles continued to grow during the ensuing decades. His fleet includes Ford trucks from '34 and '50, Mustangs ('65, '68, '03 and '13), a '69 Torino Talladega, a '72 Pantera, and '55 and '56 Thunderbirds he maintains for his parents. SEMA and its members are fortunate to have a strong ally in Rep. LaMalfa, who has led the charge on pro-automotive hobby policies during his time as a California state legislator and member of the U.S. House of Representatives.
Rep. LaMalfa grew up working on his family's rice farm, which is located not far from Sacramento, California, and dates to 1931. When he wasn't working or studying, you could find LaMalfa tinkering with vehicles. He credits his father and especially his grandfather's influence for shaping him into a gearhead. By the age of 16, he took out a loan from the bank and purchased a pickup, which he tinkered with and drove for a few years. While in junior college, he took a job at a local mill and saved up to buy a Competition Orange '69 Mercury Cougar Eliminator, which has a 351 engine and a ram air hood. LaMalfa also put a four-speed top-loader in place of the car's automatic transmission.
LaMalfa went on to study agriculture and business at California Polytechnic State University in San Luis Obispo, graduating with a bachelor's degree. He put his education to work managing the family farm, which he and his family still call home. Rep. LaMalfa is a fourth-generation owner of the LaMalfa Family Partnership, which owns and operates the farm.
As a result of his experience running the farm in a state that is not known for being friendly to farmers or business, LaMalfa ran for public office for the first time in 2002, winning a seat in the California State Assembly. He went on to serve in the Assembly until 2008, then in 2010 he was elected to the California State Senate.
During his time in Sacramento, LaMalfa proved himself an ally of automotive enthusiasts, private property owners and taxpayers. As a member of the State Automotive Enthusiast Leadership Caucus, LaMalfa was a frequent collaborator with SEMA on issues of importance to automotive enthusiasts. Most notably, he attempted to expand the smog-check testing exemption to include vehicles produced from 1976–1980.
When U.S. Rep. Wally Herger (R-CA) decided to retire from Congress after representing inland Northern California for more than 25 years, he endorsed LaMalfa to be his successor. LaMalfa handily won the primary election against six other candidates and went on to win the general election by a margin of 57%–42% during an otherwise difficult 2012 election cycle for Republicans. Rep. LaMalfa's relationship with SEMA has continued to flourish during his time in Congress, where he is a member of the House Committees on Transportation and Infrastructure and Agriculture.
Fresh off his first re-election to Congress, Rep. LaMalfa attended the 2014 SEMA Show the following day. While it wasn't his first time at the Show, it was a memorable one as Rep. LaMalfa had the opportunity to meet Richard Petty. His conversation with "The King" was particularly special for LaMalfa, who owns a "Petty Blue" '69 Ford Torino Talladega with a #43 on the roof. The vehicle has a 428 big-block Ford engine and was one of only 745 originally built.
Rep. LaMalfa has also been a staunch supporter of the RPM Act, serving as a leading voice on Capitol Hill for protecting racing and the motorsports parts industry. Shortly after the U.S. Environmental Protection Agency (EPA) issued a 2015 draft regulation stating that it is illegal to modify a street-legal vehicle into a race car, Rep. LaMalfa led the charge to stop the agency in its tracks. The Congressman questioned then-EPA Administrator Gina McCarthy about why the EPA was trying to shut down racing during a January 2016 House Agriculture Committee hearing. Rep. LaMalfa's aggressive questioning led the administrator to backtrack and confirm that it is legal to convert a motor vehicle into a race car, which ultimately led to the agency removing the provision from the final regulation.
Special thanks to Congressman LaMalfa for his dedication to our hobby and sharing insight into his collection of beloved "Blue Ovals!" View the full list of his fellow members of the SEMA-supported Congressional Automotive Performance and Motorsports Caucus on the SAN website at semaSAN. com/FederalCaucus.