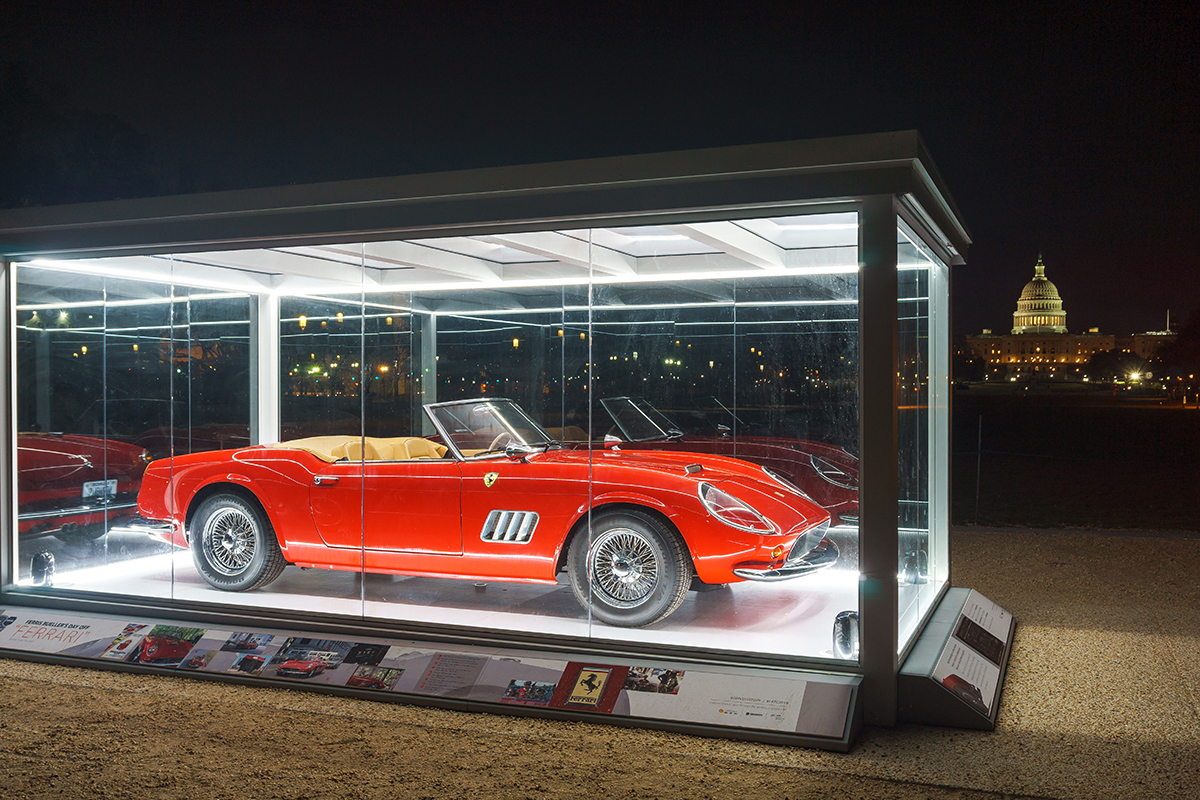 A replica '61 Ferrari 250 GT California Spyder featured in the 1986 film Ferris Bueller's Day Off was displayed on the National Mall of Washington, D.C., in March 2018, courtesy of the Historic Vehicle Register. If federal regulators can finish the job, movie fans may one day be able to buy fully functional editions of this iconic machine and reproductions of other rarities like it.
---
Stop us if you've heard this one before, but the federal government missed a deadline. Highly anticipated consumer sales of turnkey replica cars was supposed to have started nearly two years ago, but are on hold as the National Highway Traffic Safety Administration (NHTSA) procrastinates over a regulation to implement the 2015 replica car law. Enacted three-years ago, the law allows low-volume car manufacturers to each produce and sell up to 325 turnkey replica vehicles in the United States and a total of 5,000 worldwide under a simplified regulatory system. In theory, consumers will be able to purchase turnkey cars that resemble production vehicles manufactured at least 25 years ago, including '30s-era hot rods, '60s-era Cobras and '80s-era DeLoreans. However, manufacturers and consumers are ready and waiting for NHTSA to produce regulations implementing the law.
Passing bills into law in Washington, DC is a challenging process and usually takes time.  Four years in this case.  In 2011, the SEMA Action Network (SAN) worked with former U.S. Rep. John Campbell (R-CA), a car dealer by trade, to introduce the "Low Volume Motor Vehicle Manufacturers Act."  After he retired, U.S. Reps. Markwayne Mullin (R-OK) and Gene Green (D-TX) championed the bill in 2015, along with U.S. Senators Jon Tester (D-MT) and Dean Heller (R-NV).  The legislation was ultimately included in the "FAST Act" highway bill, which became law in December 2015.
The FAST Act directed NHTSA to issue any necessary regulation within one year—a deadline that has long since passed. This is particularly frustrating since the law was already very detailed. The only requirement was for NHTSA to develop a way for companies to register with the agency and file annual reports. NHTSA officials have indicated that they won't likely issue a final rule until at least 2019. The SAN is pressing for October 1, 2018, a start date for the '19 model year.
The replica car isn't a new idea. These vehicles have been marketed for decades as "kit cars" where a manufacturer sells car parts, frequently assembled, and the buyer installs the engine/transmission. While states have often regulated kit cars built by the model year they resemble, until now the federal government viewed a manufacturer-completed replica car to be a current model year vehicle. That means NHTSA would regulate a '33 replica by 2018 standards—a virtual impossibility to achieve, especially for smaller manufacturers.
The new law recognizes the inherent differences between mass-produced and custom-built cars, and directs NHTSA to lift the regulatory and paperwork burdens. As a result, small companies will be able to produce a limited number of replicas that will be subject to NHTSA equipment standards (tires, lighting, glass, etc.), but not vehicle-based standards.
The replica cars will also be clean cars—meeting current model-year emissions standards. The replica car law provides manufacturers two options. They can install a current model-year engine system already installed in a vehicle certified by the U.S. Environmental Protection Agency (EPA) or an engine package approved by the California Air Resources Board (CARB). By October, the EPA will be issuing SAN-supported guidelines on demonstrating compliance. CARB is issuing an Executive Order (EO) regulation covering engine packages produced or sold in California. The CARB regulation be an expansion of an existing EO engine-package rule for individuals that want to complete kit cars or specially constructed vehicles. It is expected to be finalized by October.
It should be noted that the new law complements the existing kit-car industry. Hobbyists will still have the freedom to assemble their own vehicle with the engine package of their choice. The law simply provides consumers the opportunity to buy completed replica cars.
The law was intended to create sales opportunities for companies throughout the supply chain, increase jobs and open new markets. It is time to start those engine of commerce…and replica cars. The SAN continues to work closely with rulemakers and will keep you informed on any progress made—stay tuned to your inbox. For more information on the law, visit the page on the SAN website at www.semaSAN.com/Replica.