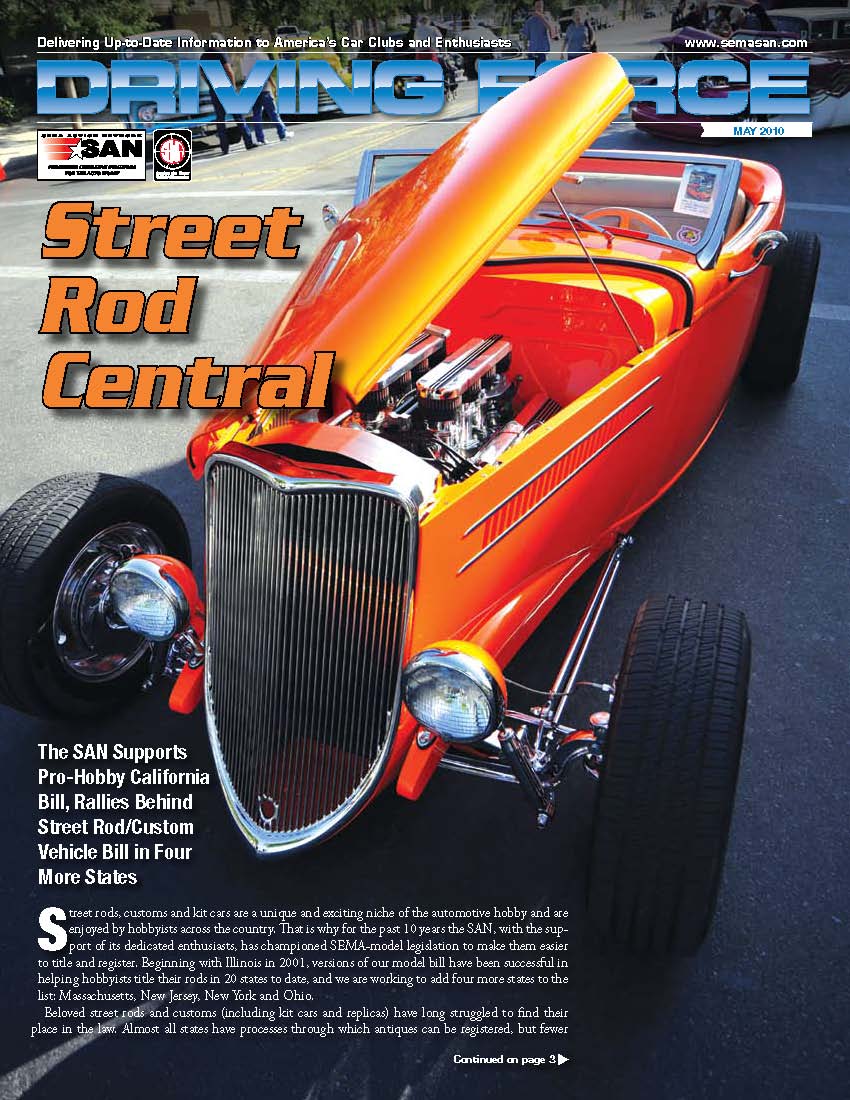 Click on image above to open the newsletter PDF.
The SAN Supports Pro-Hobby California Bill, Rallies Behind Street Rod/Custom Vehicle Bill in Four More States
Street rods, customs and kit cars are a unique and exciting niche of the automotive hobby and are enjoyed by hobbyists across the country. That is why for the past 10 years the SAN, with the support of its dedicated enthusiasts, has championed SEMA-model legislation to make them easier to title and register. Beginning with Illinois in 2001, versions of our model bill have been successful in helping hobbyists title their rods in 20 states to date, and we are working to add four more states to the list: Massachusetts, New Jersey, New York and Ohio.
Beloved street rods and customs (including kit cars and replicas) have long struggled to find their place in the law. Almost all states have processes through which antiques can be registered, but fewer provide adequately for modified cars. Hobbyists attempting to title and register vehicles that they have built from the ground up must often find loopholes in their state's code to get it out on the road. The steps can be so time-consuming and confusing that many throw in the towel.
Then there is California. Every year, only 500 vehicles are eligible to be registered with the California DMV as an exempted specially constructed vehicle. If you are lucky enough to get one of these 500 registration slots (and they are hard to come by), you are then able to get a special smog-check designation. The registrant gets the choice of having their vehicle tested based on the model year of the body or the model year of the engine. If the body does not closely match any particular model year, then it is deemed to be a '60 model-year vehicle. California exempts from smog check all vehicles manufactured prior to the '76 model year.
Under current California policy, specially constructed vehicles that do not receive one of the 500 sequence numbers are subject to a "muddied" titling, registration and smog-check process. SEMA is currently working with lawmakers and the hobbyist community in California (most prominently, the Association of California Car Clubs) on a bill (A.B. 1740) to expand the program, raising the number of available registrations to 750 per year. In addition, A.B. 1740 will help allow vehicle owners to confidently take advantage of a newly enacted vehicle registration amnesty program for specially constructed vehicles that were previously registered or classified incorrectly. Under the new law, the DMV will grant amnesty from prosecution to vehicle owners if certain conditions are met, including the owner filing a completed application with the department.
In Ohio, a variation of the SEMA-model legislation (H.B. 199) was introduced by Representative Kenny Yuko, a long time ally of the SAN and member of the State Automotive Enthusiast Leadership Caucus. H.B. 199 currently awaits a vote by the House Transportation Committee before moving to the floor for a vote by all House members. The SAN is indebted to the enthusiasts who have been instrumental in promoting the legislation. SAN members Jim Wirth, Charles McCoy and Brad Hudson all traveled to the Capitol to testify on behalf of the bill, despite the inconvenience of several delays.
The enthusiast community in Ohio is not alone. Passionate SAN members in three other states are currently in the process of working with legislators to pass a version of our model. New York Assemblyman Bill Reilich, the chairman of the State Caucus and long-time car guy, has introduced A.B. 2429, which seeks to create a titling and registration classification for street rods and custom vehicles. The bill defines a street rod as an altered vehicle manufactured before 1949 and a custom as an altered vehicle at least 25 years old and manufactured after 1948. Under the bill, kit cars and replica vehicles will be assigned a certificate of title bearing the same model-year designation as the production vehicle they most closely resemble.
Head south and you will find yourself in the company of yet more auto enthusiasts. Caucus members in the New Jersey Assembly, including Charlotte Vandervalk , Gary Chiusano and Alison Littell McHose, introduced model legislation (A.B. 448) similar to New York's earlier this year.
To round out the four, there is Massachusetts, which has made significant progress with its street-rod bill, H.B. 4557. SAN is working with state legislators, regulators and vehicle hobbyists (including the Massachusetts Association of Automobile Clubs) on a compromise to SEMA-model legislation to create comprehensive registration classifications for street rods, customs, replicas and specially constructed vehicles.
Without the support of enthusiasts like you, these bills won't be going anywhere. So make sure to get involved, show support for the legislators who are supporting the hobby and take action! Visit www.semasan.com for all the latest updates on these and many other issues.
Summary of the SEMA Street Rod Custom Vehicle Bill
Defines a street rod as an altered vehicle manufactured before 1949 and a custom vehicle as an altered vehicle manufactured after 1948.
 
Provides specific registration classes and license plates for street rods and custom vehicles.
 
Provides that replica vehicles and kit cars will be assigned the same model-year designations as the production vehicles they most closely resemble and allows the use of non- original materials.
 
Exempts street rods and custom vehicles from periodic vehicle inspections and emissions inspections.
 
Provides that vehicles titled and registered as street rods and custom vehicles may only be used for occasional transportation, exhibitions, club activities, parades, tours, etc. and not for general daily transportation.
 
Exempts street rods and custom vehicles from a range of standard equipment requirements. 
 
Allows the use of blue-DOT taillights on street rods and custom vehicles.
Each month Driving Force will feature members of the State Automotive Enthusiast Leadership Caucus. The SEMA-supported caucus is a bipartisan group of state lawmakers, nearly 400 strong, whose common thread is a love and appreciation for automobiles.
Here are its newest members:
Alabama
Senator Roger Bedford
Arizona
Senator Robert Burns
Senator Jack Harper
Senator Linda Lopez
Representative Lynne Pancrazi
Representative Vic Williams
Connecticut
Senator Rob Kane
Idaho
Representative Richard Wills
Illinois
Senator Brad Burzynski
Representative Kay Hatcher
Kansas
Representative Joe Seiwert
Kentucky
Senator Tom Buford
Michigan
Representative Larry DeShazor
Representative Kenneth Horn
Representative Eileen Kowall
Minnesota
Representative Phil Sterner
Missouri
Representative Curt Dougherty
Representative Tim Jones
Montana
Senator Ryan Zinke
Representative Mike Miller
Representative Penny Morgan
New Hampshire
Representative Ronald Boisvert
Representative Gene Charron
Representative Philip Harvey
Representative Paul Ingersoll
Representative Robert Introne
Representative Michael McCarthy
Representative Carol McGuire
Representative Lawrence Perkins
Representative Ken Weyler
New York
Assemblymember Robert Castelli
North Carolina
Representative Marilyn Avila
Representative Rosa Gill
Representative Frank Iler
Representative Shirley Randleman
North Dakota
Senator Elroy Lindaas
Representative Louis Pinkerton
South Carolina
Representative Dan Hamilton
Representative Tommy Stringer
South Dakota
Representative Charles Hoffman
Tennessee 
Representative Mark White
Texas
Representative Wayne Christian
Vermont
Senator Kevin Mullin
Wisconsin
Representative Ed Brooks
Representative John Nygren
California Specially Constructed Vehicles: SAN-supported legislation to increase the allowable number of exempted specially constructed vehicle registrations from 500 to 750 vehicles per year was approved by the Assembly Transportation Committee. Current law provides for emissions-system certification and a model-year designation for specially constructed vehicles, including kit cars. Under the law, vehicle owners choose whether a smog-test referee certifies the engine model year or the vehicle model year. To determine model year, inspectors compare the vehicle to those of the era that the vehicle most closely resembles. If there is no close match, it is classified as a '60 vehicle. Only those emissions controls applicable to the model year and that can be reasonably accommodated by the vehicle are required. The Department of Motor Vehicles provides a new registration to the first 500 specially constructed vehicles per year that meet the criteria.
Kansas Specialty-Vehicle Fees: The SAN is opposing legislation to raise the registration fee on antiques, street rods and special-interest vehicles. The bill has already passed the House. The Senate substituted the House bill with all-new language to increase the state's revenue. One section of the substituted bill increases the registration fee for all passenger vehicles, while two separate sections were inserted to specifically target antiques and street rods/special-interest vehicles. Under the substituted bill, each of the registration fees would increase by $10 on January 1, 2013, and by another $10 on January 1, 2014.
Mississippi Nitrous Oxide: The SAN was successful in negotiating a compromise on legislation that originally threatened to prohibit public road use of all motor vehicles equipped to supply the engine with nitrous oxide. The bill was signed into law by Governor Haley Barbour. Originally written as an outright ban, the new law allows for the installation of nitrous-oxide systems as long as the feed lines are disconnected or the canisters are removed while the vehicle is being operated on a public road. The SAN amendment better protects public road safety while ensuring legitimate off-road uses of nitrous-oxide systems.
Massachusetts Exhaust Noise: A bill targeted for defeat by the SAN to ban the "use and sale of any exhaust pipe that increases the sound emissions of any vehicle, including motorcycles," was set aside for study by the legislature. This action means that the measure is unlikely to be considered by the legislature this year. Among other things, the measure ignored the fact that aftermarket exhaust systems are designed to make vehicles run more efficiently without increasing emissions and did not supply law enforcement with a clear standard to enforce, allowing officers to make subjective judgments on whether or not a modified exhaust system is in violation. Legislation to require the incorporation of noise-level testing into the vehicle inspection process was also set aside. The bill did not define a noise-level limit but allowed it to be determined by the regulators.
West Virginia Exhaust Noise: A SAN-opposed bill to provide that the noise from a motor-vehicle exhaust system that has been deemed "disturbing or unreasonably loud" constitutes the crime of disturbing the peace is dead for the year. Under the bill, violators could have been fined up to $1,000 per occurrence, jailed for six months or both. Among other things, the bill did not supply law enforcement with an enforcement standard, allowing officers to make subjective judgments on whether an exhaust system is "disturbing or unreasonably loud;" failed to recognize that a better way to address this issue is by establishing a fair and reasonable exhaust-noise decibel limit; ignored the fact that aftermarket exhaust systems are designed to make vehicles run more efficiently without increasing emissions; and would make it difficult for hobbyists to replace factory exhaust systems with more durable, better-performing options.
Get Yours Today!
The SEMA Action Network is pleased to announce the introduction of the new official SAN membership card! The card is being rolled out in phases and an initial run of 5,000 cards are being sent out to SAN members for whom we have up-to-date mailing addresses.
If you are not one of those first 5,000, fear not, we have a process available so that you can request a great looking card of your own! If you don't see a card in your mailbox within a few weeks, just follow these simple steps:
2) Click on the "Join Now" button on the center left of the screen. 
3) Select the "Member Update Form" from the list of options.
4) Fill out the form with your current mailing address and e-mail address and click "Submit."
You will be added to the list of SAN members who will receive a membership card!
Newly Introduced Legislation
Note: The following state bills are not laws. They were recently introduced and are currently under consideration by the respective state legislatures:
LICENSE PLATES
Maryland H.B. 1533: Requires the Motor Vehicle Administration to issue a single license plate, instead of two plates, for all vehicles, including historic and antique vehicles.
Missouri H.B. 2269: Provides for the issuance of one license plate to be affixed to the rear of a vehicle, instead of two plates to be affixed to the front and rear of a vehicle; would not apply to personalized plates.
RESTORATION
Georgia H.B. 852: Creates penalties for the nondisclosure of known defects by a seller of a used car, including any damage whether or not it has been repaired, but provides that these penalties will not apply to assembled vehicles, kit cars or used vehicles that are more than 10 model years old.
Georgia H.B. 1344: Changes the duty to inspect salvaged or rebuilt motor vehicles from the state revenue commissioner to the commissioner on public safety.
Maryland H.B. 1199: Establishes additional title brands for salvaged vehicles, including "rebuilt salvage" and "flood damage."
WINDOW OBSTRUCTION
New Hampshire S.B. 413: Permits a sticker or other nontransparent material to be on a rear window if it protrudes no more than 12 inches from the perimeter of the window and the vehicle is equipped with exterior rearview mirrors on the right and left side of the vehicle that provide the driver with a clear and unobstructed view of the way to the rear of the vehicle.
TAXES AND FEES
Louisiana H.B. 724: Increases the motor-vehicle inspection fee by $3.25.
Louisiana H.B. 832: Changes the law to clarify that I/M program inspections for vehicles in non-attainment zone areas shall be as frequently as required by federal law and that all other inspections shall be conducted every other year for a biennial fee of $20, instead of annually for an annual fee of $10, and prohibits local ordinances from requiring vehicles to be inspected more frequently than the state requires.
Louisiana H.B. 938: Increases emissions inspection fee from $8 to $15.
Louisiana H.B. 1177: Increases the waste tire fee to be paid on new tires from $2 to $2.50 for passenger tires and from $5 to $7.50 for medium truck tires.
Rhode Island S.B. 2737/SB 2744: Imposes a $40 surcharge on passenger-car and light truck registrations to fund highway maintenance and commuter rail operations.
VEHICLE MAINTENANCE
California S.B. 2111: Allows for promises to repair a vehicle under a motor-vehicle service contract to be conditioned on the vehicle owner's use of a specific brand or brands of lubricant, treatment, fluid or additive.
Massachusetts H.B. 4538: Provides that all motor-vehicle glass repair shall be performed at a registered motor-vehicle glass repair shop and prohibits an insurer from requiring any person to use a particular glass repair shop.
New York S.B. 7302: Creates a Right to Repair Act in New York, mandating that automobile manufacturers release vehicle repair information to vehicle owners and repair shops.
One Fabulous Fairlane
1964 Ford Fairlane 500
Owner: Don and Cheryn Wilson
Sonoma, California
I've been a car enthusiast my whole life, but went through a stage where I wasn't able to participate in the hobby the way I would have liked. If you'd talked with me six years ago I'd never have thought I'd be back into cars, but luckily I met the gal of my dreams and we were married five years ago. Thankfully, she not only humored my passion for cars but wanted to participate with me in attending as many car shows and swap meets as possible. After so many years of not being involved, I knew it was the right time to jump back in, and that meant looking for the car of my dreams.
Three years ago, after a long search, we found a Ford Fairlane for sale right here in Sonoma. It was in decent shape, but it needed some work. Fortunately, it was in good enough shape that it could still get us into car shows, which led us to join the Cruisin' North Car Club of Sonoma. We set about working on the car as time allowed, and the first year we put seat covers in with the help of a friend who did upholstery. He does not do cars but was still able to give us some help with the springs and framework.
Last winter, with the help of Jeff, the owner of Sonoma County Street Rodz, we had his company install a remanufactured engine from Marshall Engines. Between our lack of garage space and my age, I can't do the big stuff anymore. But with the help of others, we still got our new engine and it runs great! The tax man willing, we'll start on redoing the suspension next winter. For now, though, we are going to enjoy the Fairlane all this summer and our dream is to cover parts of Route 66 in the near future. Happy motoring to all!
Have your car or truck featured in a future issue of Driving Force. Submit your high-resolution photos online to
san@sema.org
.
Car Club Gifts Set of Tools to Local High School
The Rods-N-Relics Car Club (RNR) of Cedarburg, Wisconsin, hosts a variety of car shows and events throughout the year, catering to all manner of old and classic cars. While their shows are great and everyone has a good time, what they are best known for is their charitable giving and desire to give back to the community.
Each year, Rods-N-Relics raises money at their events and uses it to donate badly needed tools to local high schools to help them maintain their auto tech classes. This year, Mequon's Homestead High School Automotive Tech classes have received a gift of more than $2,000 worth of tools, including hand wrenches, pliers, a floor jack, floor stands, flaring and bending items and frontend and wheel service sets. RNR members met with the class instructor and the NAPA stores sales representative from whom the tools were purchased in making the presentation.
Gregg Goetz, president of Rods-N-Relics, explains why the club feels so strongly about giving the gift of tools: "As a nation, we're losing our base of old-time mechanical arts. Today, mechanics learn to fix computer-related problems. Fewer people know how to rebuild an old carburetor or adjust a car's timing just by listening to how it runs."
ALABAMA
May 22, Tuscaloosa
Spring Bash 2010
Sponsor: No Limits Kustoms
Information: www.nolimitskustoms.com/news.php
ALASKA
April 30–May 2, Eagle River
Harry J McDonald Eagle River Car Show
Sponsor: Performance Productions
Information: 907/566-2346 or www.49thstatestreetrodders.com/id70.html
April 31, Anchorage
Memorial Day Car Show 
Sponsor: Corvette Club
Information: 907/333-6933 or 907/563-7682
ARIZONA
April 30–May 2, Tucson
36th Annual Rodders Days
Sponsor: Tucson Street Rod Association
Information: 520/425-0251 or www.tucsonstreetrodassociation.com
ARKANSAS
May 15, Harrison
20th Annual Crawdad Days Festival Car Show
Information: www.crawdaddays.com/carshow.htm
CALIFORNIA
May 1, Redwood City 
12th Annual All American Truck Show at Sequoia High School
Sponsor: NorCal Chevy-GMC Truck Club
Information: www.norcalchevygmctruckclub.com
May 2, Stanislaus Fairgrounds in Turlock
Spring Turlock Swap Meet
Information: www.oldride.com/events/9693795.html
May 7, Yucaipa
Family Cruise Night
Sponsor: Past Pleasures Car Club of Yucaipa
Information: www.pastpleasurescarclub.com
May 7–8, Corning
14th Annual Corning Classic Car Show: May Madness Show, Shine & Cruise
Sponsor: Corning Chamber of Commerce
Information: www.snowcrest.net/dlharter/MayMadness
May 7–9, San Diego
"Steak 37" Car Show
Sponsor: Over The Hill Gang
Information: 619/258-9912 or www.overthehillgang.com/streakform.pdf
May 8, Lorenzo
Annual Arroyo Classic and Custom Car & Motorcycle Show at Arroyo High School
Sponsor: The Arroyo Athletic Boosters
Information: http://arroyocarshow.com
May 15–16, OC Fair and Event Center in Costa Mesa
4th Meguiar's Orange County Get-Together
Sponsor: Goodguys Rod & Custom Association
Information: www.ocgettogether.com
May 16, Sacramento Raceway
8th Fordlovers West Coast Nationals
Sponsors: JT's Mustang and Performance, Harrold Ford, Sac Mustang and O'Reilly Auto Parts
Information: 916/348-FORD (3673) or http://www.newsreview.com/binary/4d8e/fordlovers_flyer_2010.pdf
May 26, Folsom
Wagons, Woodies, Panels & Sedan Deliveries Night
Sponsor: The Cappuccino Cruisers
Information: 916/988-6376 or www.capcruz.com/2010_flyers/events/2010%20Calendar.pdf
May 29, Escondido
American Heritage Car Show
Sponsor: Escondido History Center
Information: 760/743-8207 or www.escondidohistory.org
COLORADO
May 23, Lakewood
Mopar at Thunder Mountain
Information: www.bandimere.com/events/displayevent_detail.php?eventID=339
CONNECTICUT
May 2, Lake Compounce Amusement Park in Bristol
41st Annual CSRA Show and Swap Meet
Sponsor: Connecticut Street Rod Association
Information: 203/741-0413 or www.csra.org
DELAWARE
May 24, Millsboro
OC Cruzers Annual Car Show
Sponsor: Ocean City Cruzers Car Club
Information: 302/849-8494 or www.oceancitycruzers.com
FLORIDA
May 1, Palm Harbor
Old Palm Harbor Car Show
Information: http://palmharborcarshow.com
GEORGIA
May 22, Ellijay
Apple Blossom Car Show 
Sponsor: Apple Country Auto Club Inc., North Georgia Region AACA 
Information: 706/635-2221
May 29, Hartwell
Cars & Guitars, Under the Stars–Classic Car & Classic Motorcycle Show
Information: 706/376-8590 or http://carsguitarsunderthestars.blogspot.com
KANSAS
May 23, Wichita
Arc Car Show at The Old Cowtown Museum
Information: 316/755-2198 or www.arccarshow.com
IDAHO
May 22, Malad
Malad City Car Show
Information: 208/757-1184
May 8, Wallace
25th Annual Depot Days Car Show
Information: 208-752-0111 or northernpacificdepot@cebridge.net
May 13–16, Sandpoint
25th Annual Lost in the 50's
Information: 208/265-5678
ILLINOIS
May 5, Chicago
Chicago Gearheads Meeting at Paul's Pizza on 31st & Wolf
Information: www.chicagogearheads.com/page3.html
May 16, St. Louis/O'Fallon
O'Fallon D-A-R-E Auto Fest/Swap Meet
Sponsor: Party Tyme Kruzers
Information: 314/496-4491 or www.oldride.com/events/7743273.html
May 22, Northlake/O'Hare
If It Has Wheels 9th Annual Car Show
Sponsor: If It Has Wheels Car Club of West Leyden High School
Information: sciguy6@yahoo.com
INDIANA
May 2, Raub
6th Annual Spring Fling Car-Motorcycle-Tractor Show
Sponsor: Raub United Methodist Church
Information: 815/383-3824
May 8, Williamsport
2nd Annual Senior Center Car Show
Sponsor: Lafayette Kroozers
Information: 765/762-6779 or www.lafayettekroozers.com/index.htm
May 21, Lafayette
Cruise In at Culver's Restaurant
Sponsor: Lafayette Kroozers
Information: jandmlucas@yahoo.com
IOWA
May 1, Farley
Vintage Torque Fest
Information: www.vintagetorquefest.com
MAINE
May 2, Waldoboro
9th Annual "Cruisin' to Graduation" Car & Motorcycle Show
Sponsor: Medomak Valley High School
Information: 207/542-0848