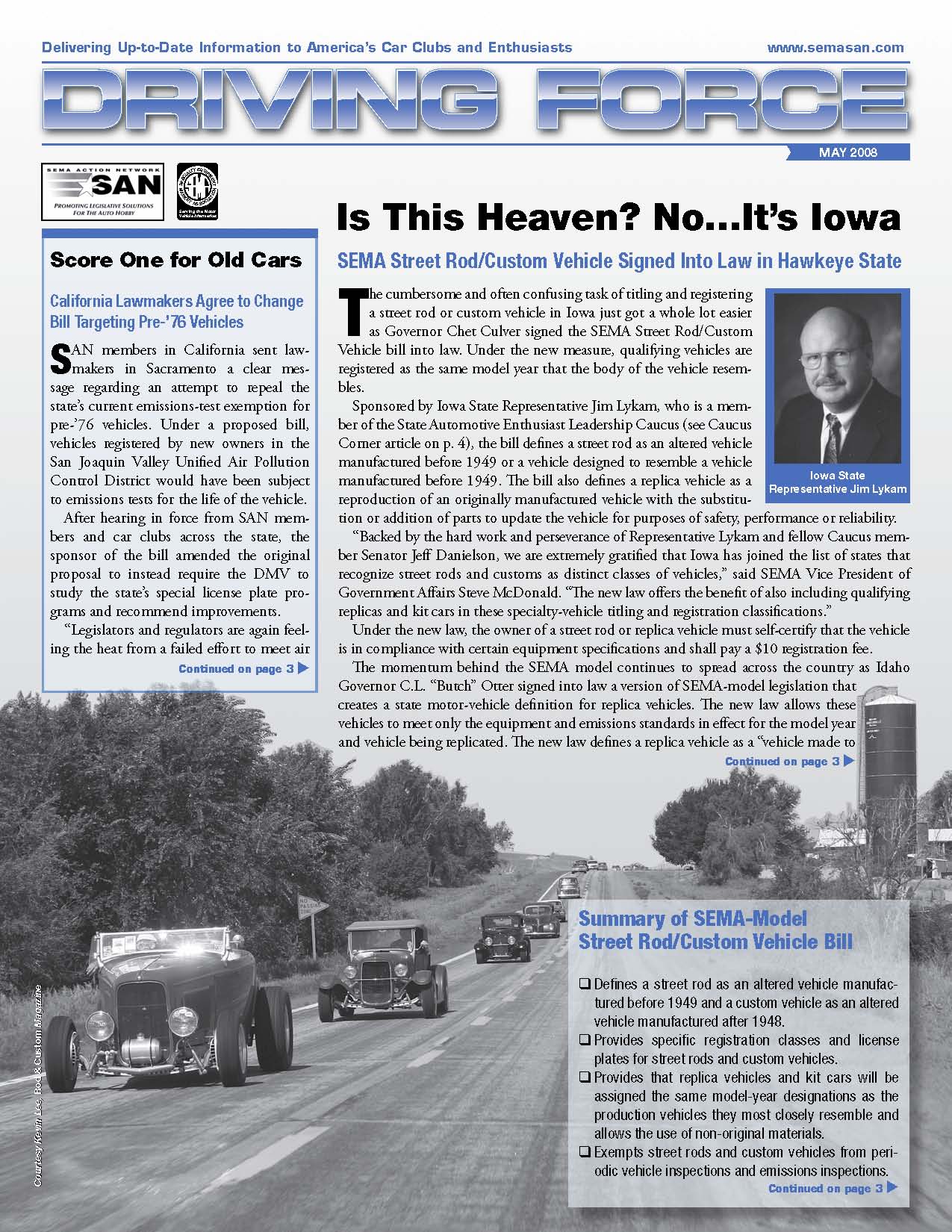 Click on image above to open the newsletter PDF.
Is This Heaven? No…It's Iowa
SEMA Street Rod/Custom Vehicle Signed Into Law in Hawkeye State
The cumbersome and often confusing task of titling and registering a street rod or custom vehicle in Iowa just got a whole lot easier as Governor Chet Culver signed the SEMA Street Rod/Custom Vehicle bill into law. Under the new measure, qualifying vehicles are registered as the same model year that the body of the vehicle resembles.
Sponsored by Iowa State Representative Jim Lykam (pictured left), who is a member of the State Automotive Enthusiast Leadership Caucus (see Caucus Corner article on p. 4), the bill defines a street rod as an altered vehicle manufactured before 1949 or a vehicle designed to resemble a vehicle manufactured before 1949. The bill also defines a replica vehicle as a reproduction of an originally manufactured vehicle with the substitution or addition of parts to update the vehicle for purposes of safety, performance or reliability.
"Backed by the hard work and perseverance of Representative Lykam and fellow Caucus member Senator Jeff Danielson, we are extremely gratified that Iowa has joined the list of states that recognize street rods and customs as distinct classes of vehicles," said SEMA Vice President of Government Affairs Steve McDonald. "The new law offers the benefit of also including qualifying replicas and kit cars in these specialty-vehicle titling and registration classifications."                                                             
Under the new law, the owner of a street rod or replica vehicle must self-certify that the vehicle is in compliance with certain equipment specifications and shall pay a $10 registration fee.
The momentum behind the SEMA model continues to spread across the country as Idaho Governor C.L. "Butch" Otter signed into law a version of SEMA-model legislation that creates a state motor-vehicle definition for replica vehicles. The new law allows these vehicles to meet only the equipment and emissions standards in effect for the model year and vehicle being replicated. The new law defines a replica vehicle as a "vehicle made to replicate any passenger car or truck previously manufactured, using metal, fiberglass or other composite materials. Replica vehicles must look like the original vehicle being replicated but may use a more modern drive train."
State Caucus members in Tennessee were instrumental in having the custom vehicle portion of the bill approved by the legislature and signed into law by Governor Phil Bredesen. Sponsored by Senator Tim Burchett and Representative Mike Williams, the legislation defines a custom-built car as a vehicle that is built for private use and is not constructed by a licensed manufacturer or remanufacturer. Under the bill, kit cars and replica vehicles will be assigned a certificate of title bearing the same model-year designation as the production vehicle it most closely resembles.
"The efforts by these lawmakers clearly demonstrate the benefit of creating relationships between enthusiasts and legislators in enacting hobby-friendly legislation," added McDonald. "For enthusiasts across the country, building, maintaining and enjoying these vehicles is a favorite pastime. This law represents an opportunity to acknowledge their commitment to the hobby and to protect it for future generations."
To date the SEMA-model bill has been enacted in various forms in Arkansas, California, Colorado, Florida, Hawaii, Illinois, Maine, Missouri, Montana, Nevada, Oregon, Rhode Island, Virginia and Washington. The bill is currently pending in Delaware, Kansas, Massachusetts, Michigan, New Hampshire, New York, Ohio and Pennsylvania. The measure was also introduced and approved by the Wyoming House of Representatives last year. However, given the short legislative session, there was not enough time for the measure to be considered by the Senate. The bill will be reintroduced in 2009.
For more information or to download a copy of the SEMA Street Rod/Custom Vehicle bill, visit www.semasan.com.
Summary of SEMA-Model Street Rod/Custom Vehicle Bill
Defines a street rod as an altered vehicle manufactured before 1949 and a custom vehicle as an altered vehicle manufactured after 1948.
 
Provides specific registration classes and license plates for street rods and custom vehicles.
 
Provides that replica vehicles and kit cars will be assigned the same model-year designations as the production vehicles they most closely resemble and allows the use of non-original materials.
 
Exempts street rods and custom vehicles from periodic vehicle inspections and emissions inspections.
 
Provides that vehicles titled and registered as street rods and custom vehicles may only be used for occasional transportation, exhibitions, club activities, parades, tours, etc. and not for general daily transportation.
 
Exempts street rods and custom vehicles from a range of standard equipment requirements.
 
Allows the use of blue-dot taillights on street rods and custom vehicles.
California Lawmakers Agree to Change Bill Targeting Pre-'76 Vehicles
SAN members in California sent lawmakers in Sacramento a clear message regarding an attempt to repeal the state's current emissions-test exemption for pre-'76 vehicles. Under a proposed bill, vehicles registered by new owners in the San Joaquin Valley Unified Air Pollution Control District would have been subject to emissions tests for the life of the vehicle.
After hearing in force from SAN members and car clubs across the state, the sponsor of the bill amended the original proposal to instead require the DMV to study the state's special license plate programs and recommend improvements.
"Legislators and regulators are again feeling the heat from a failed effort to meet air quality goals and are looking for a convenient scapegoat," said SEMA Vice President of Government Affairs Steve McDonald. "The old-car hobby should not carry the burden of their mistakes, as it has in previous amendments to the old-car exemption."
California's current emissions testing exemption recognizes that pre-'76 vehicles constitute a small and shrinking portion of the overall vehicle population in the state and are a poor source from which to look for further emissions reductions.
"While the amended bill no longer targets pre-'76 vehicles in the San Joaquin Valley, we are extremely concerned that this study could lead the Legislature to target other vehicles that may not meet a yet-to-be-determined criteria for a special license plate," added McDonald.  "We will remain vigilant in our effort to maintain the exemption for all pre-'76 vehicles in California."
Special thanks to Fred Evenson, Bob Stearns and the other officers of the Association of California Car Clubs for their efforts in mobilizing their membership against this bill.
Kentucky Project Titles: Legislation to create classic motor- vehicle project titles for vehicles at least 25 years old, not road- worthy, and currently without a title or with a title from another state was approved by the Kentucky State Legislature. Under the SAN-supported bill, a classic motor-vehicle project title would prohibit the use of vehicles bearing these titles on the highway but, once restored, a regular title could be issued. The measure will now be sent to Governor Steve Beshear for his signature and enactment into law.
West Virginia Antique Vehicles: SAN-supported legislation that would amend state law governing antique motor vehicles to expand their permissible use was approved by the West Virginia state Legislature and signed into law by Governor Joe Manchin. Under previous law, use of antique vehicles is strictly limited to club activities, exhibits, tours, parades, testing, obtaining repairs and for recreational purposes. This bill would increase weekend use to begin on Fridays at 12:00 p.m. and extend through Monday at 12:00 p.m. 
Custom '57 Chevy Auctioned to Benefit Armed Forces Foundation
Project American Heroes began last summer when CARS Inc. of Rochester Hills, Michigan, and the Roadster Shop of Elgin, Illinois, united with the editors of Super Chevy to recreate a classic '57 Chevrolet convertible. The project was created to financially assist families of fallen or disabled Veterans through the Armed Forces Foundation.
Armed Forces personnel were invited to select the ultimate design for this dream vehicle, including the color scheme, interior design and exterior trim via the Project American Heroes website (www.projectamericanheroes.net). The one-of-a-kind '57 Chevy sold at the Barrett-Jackson Auction in Palm Beach, Florida. When the bidding was over and the gavel sounded, the car garnished a stunning $130,000. The money was promptly handed over to the Armed Forces Foundation President Patricia Driscoll who was present at the auction along with 10 wounded servicemen from the West Palm Beach VA Medical Center.
"This is truly a magnificent piece of work where supporters of our military community came together for a good cause," said Driscoll. "The money raised will be used to assist families of the wounded with bills, travel, funeral expenses (if necessary) and any other hardships they are facing during these stressful times."
It is worth noting that the new owner is a Florida resident and will be able to title and register the vehicle as a '57 replica under the SEMA Street Rod/Custom Vehicle that was enacted in Florida last year. The new owner will also be able to use the SEMA-designed "Custom Vehicle" license plate.
The Ultimate Recycler
1940 Ford Woodie
Owner: Jeff "Sawzall" Yeagle
Phoenixville, PA
I have always felt that hot rodders and restorers are the world's ultimate recyclers.  My newest project is the epitome of that philosophy.
Ironically this project started in 1998 when I bought my first '40 Ford sedan. Since the completion of that car in 2000, it has provided thousands of miles of enjoyable trouble-free driving.  Since then I have purchased enough "spare parts" that by the summer of 2007 I had enough stuff to build another one.  However, the ultimate "spare parts deal" came last fall at the AACA national meet in Hershey, Pennsylvania, where I was able to purchase all the wood components from a '40 Ford Woodie Wagon.
I've dubbed the car "Recycled" because I intend to use ONLY recycled parts in its resurrection, with a few important exceptions, of course.
I have even started a blog to chronicle the restoration progress.  Fellow SAN members can check it out at http://recycled40fordwoodie.blogspot.com.
Each month Driving Force will feature a member of the State Automotive Enthusiast Leadership Caucus. The SEMA-supported caucus is a bipartisan group of state lawmakers whose common thread is a love and appreciation for automobiles.
Here are its current members:
Chairman:
Assemblymember Bill Reilich (New York)
Immediate Past Chairman:
Senator John Brueggeman (Montana)
Alabama
Representative Randy Wood
Alaska
Representative David Guttenberg
Arizona
Senator Ron Gould
Representative Tom Boone
Representative Bill Konopnicki
Representative Nancy McLain
Representative Jerry Weiers
Arkansas
Senator Denny Altes
Representative Johnny Key
Representative Mark Martin
California
Senator Dick Ackerman
Senator Ron Calderon
Senator Dennis Hollingsworth
Senator Tom McClintock 
Senator Gloria Negrete-McLeod
Assemblymember Mike Duvall
Assemblymember Bonnie Garcia
Assemblymember Martin Garrick
Assemblymember Bob Huff
Assemblymember Kevin Jeffries
Assemblymember Doug La Malfa
Assemblymember Nicole Parra 
Assemblymember Alberto Torrico
Assemblymember Michael Villines
Colorado
Senator Ken Kester 
Representative Debbie Benefield
Representative Larry Liston
Representative Nancy Todd
Connecticut 
Representative Toni Walker
Delaware 
Senator Steven Amick
Representative William Oberle Jr.
Florida
Senator Bill Posey
Representative Pat Patterson
Georgia 
Senator Chip Rogers 
Representative Calvin Hill
Representative Howard Mosby 
Representative Alan Powell
Representative Tony Sellier
Hawaii
Senator Suzanne Chun Oakland
Idaho
Representative Bill Killen
Illinois
Representative Robert Pritchard
Representative Jim Sacia
Indiana
Representative Tom Knollman
Iowa
Senator Jeff Danielson
Representative Dwayne Alons
Representative Dave Deyoe
Representative Jim Lykam
Kansas
Senator Chris Steineger
Representative Bob Bethell
Representative Doug Gatewood
Representative Mario Goico
Representative Harold Lane
Representative Judith Loganbill
Representative Peggy Mast
Representative Terry McLachlan
Representative Shirley Palmer
Representative Michael Peterson
Representative Don Schroeder
Representative Bill Wolf
Kentucky
Representative Charlie Hoffman
Representative Reginald Meeks
Louisiana
Representative Jeffery Arnold
Maine
Senator Douglas Smith
Representative Richard Cebra
Representative Carol Grose
Representative Lawrence Jacobsen
Representative Everett McLeod, Sr.
Representative Peter Rines
Representative Nancy Smith
Maryland
Senator J. Robert Hooper
Delegate Don Dwyer, Jr.
Delegate Barbara Frush
Delegate Cheryl Glenn
Delegate Barry Glassman
Delegate Benjamin Kramer
Delegate Warren Miller
Delegate Richard Weldon
Massachusetts
Representative Robert Hargraves
Michigan
Senator Glenn Anderson
Senator Ron Jelinek
Representative David Agema
Representative Fran Amos
Representative Bill Caul
Representative Joe Hune
Representative Rick Jones
Representative Kathleen Law
Representative Richard LeBlanc
Representative John Pastor
Representative Tom Pearce
Representative John Proos
Representative Bettie Cook Scott
Representative Joel Sheltrown
Representative John Stahl
Representative Lorence Wenke
Minnesota
Representative Jim Abeler
Representative Pat Garofalo
Representative Rick Hansen
Representative Melissa Hortman
Representative Carol McFarlane
Representative Ron Shimanski
Mississippi
Senator Hillman Frazier
Representative Dannie Reed
Missouri
Representative Bruce Darrough
Representative James Whorton
Montana
Senator John Brueggeman
Senator Jeff Essmann
Representative Jill Cohenour
Representative Gordon Hendrick
Representative Bill Nooney
Representative Wayne Stahl
Nebraska
Senator Don Preister
Nevada
Senator Bob Beers
Senator Bob Coffin
Assemblymember Chad Christensen
Assemblymember Moises (Mo) Denis
Assemblymember Ellen Marie Koivisto
Assemblymember Mark Manendo
Assemblymember John Oceguera
Assemblymember David Parks
New Hampshire
Representative Michael Reuschel
Representative Kevin Waterhouse
New Jersey
Assemblymember Gary Chiusano
Assemblymember Richard Merkt
Assemblymember Charlotte Vandervalk
New Mexico
Representative Nathan Cote
New York
Senator Jeff Klein
Senator Thomas Libous
Assemblymember Jim Bacalles
Assemblymember Greg Ball
Assemblymember William Barclay
Assemblymember Philip Boyle
Assemblymember Daniel Burling
Assemblymember Marc Butler
Assemblymember Nancy Calhoun
Assemblymember Mike Cole
Assemblymember James Conte
Assemblymember Janet Duprey
Assemblymember Steve Englebright
Assemblymember Joseph Errigo
Assemblymember Ginny Fields
Assemblymember Gary Finch
Assemblymember Mike Fitzpatrick
Assemblymember Dennis Gabryszak
Assemblymember Joseph Giglio
Assemblymember Steve Hawley
Assemblymember Janele Hyer-Spencer
Assemblymember Brian Kolb
Assemblymember Peter Lopez
Assemblymember Donna Lupardo
Assemblymember David McDonough
Assemblymember Marcus Molinaro
Assemblymember Bob Oaks
Assemblymember Thomas O'Mara
Assemblymember Jack Quinn
Assemblymember Andrew Raia
Assemblymember Bill Reilich
Assemblymember Joseph Saladino
Assemblymember Teresa Sayward
Assemblymember Mark Schroeder
Assemblymember James Tedisco
Assemblymember David Townsend, Jr.
Assemblymember Rob Walker
North Carolina
Senator Julia Boseman
Representative Cary Allred
Representative Larry Brown
Representative George Cleveland
Representative Nelson Cole
Representative William Current
Representative Bill Faison
Representative Phillip Frye
Representative Mitchell Setzer
Representative Fred Steen, II
North Dakota
Senator Tom Fischer
Representative Robin Weisz
Representative Alon Wieland
Ohio
Senator Lance Mason
Senator Robert Spada
Representative John Hagan
Representative Lynn Wachtmann
Representative Kenny Yuko
Oklahoma
Representative Wallace Collins
Representative Scott Inman
Oregon
Senator Gary George
Representative Jeff Barker
Pennsylvania
Senator Michael Waugh
Representative Scott Conklin
Representative Patrick Harkins
Representative Scott Perry
Rhode Island
Senator William Walaska
Representative John J. Loughlin II
South Carolina
Senator Larry Martin
Representative J. Gary Simrill
South Dakota
Senator Jim Hundstad
Representative Burt Elliott
Representative Richard Engels
Representative Mark Kirkeby
Representative Mark Willadsen
Tennessee
Senator Tim Burchett
Senator Mike Williams
Representative Robert Bibb
Representative Chris Crider
Representative Jim Hackworth
Representative John Tidwell
Representative Joe Towns
Texas
Representative Patricia Harless
Representative Charlie Howard
Representative Solomon Ortiz, Jr.
Representative Joe Pickett
Representative Allen Vaught
Utah
Senator Howard Stephenson
Representative Gage Froerer
Representative Neal Hendrickson
Representative Patrick Painter
Representative Stephen Sandstrom
Vermont
Representative Joseph Baker
Virginia
Delegate William Fralin
Delegate Morgan Griffith
Delegate Dave Nutter
Delegate Tom Rust
Delegate Terrie Suit
Delegate Onzlee Ware
Washington
Senator Mike Carrell
Senator Jerome Delvin
Representative Cary Condotta
Representative Bob Hasegawa
Representative Deb Wallace
West Virginia
Delegate Robert Beach
Delegate Cliff Moore
Wisconsin
Representative Sheryl Albers
Representative Steve Kestell
Wyoming
Representative Stan Blake
Representative Pat Childers
We invite you to make plans to stop by and meet with Jason Tolleson, director of the SEMA Action Network, on the Hot Rod Power Tour in early June.
Hot Rod Magazine Power Tour
Saturday, 6/7/08
Arkansas State Fairgrounds
Little Rock, AR
Sunday, 6/8/08
Missouri Entertainment and Event Center
Springfield, MO
Monday, 6/9/08
Heartland Park
Topeka, KS
Tuesday, 6/10/08
Nebraska State Fair Park
Lincoln, NE
Wednesday, 6/11/08
Iowa State Center
Ames, IA
Thursday, 6/12/08
Rochester Community & Technical College
Rochester, MN
Friday, 6/13/08
The Alliant Energy Center
Madison, WI
Sixty-Three Years Strong
The Capitol Auto Club was started in 1945 by a small group of Sacramento "hot rodders." The first official club meeting was held in a chicken coop in the outskirts of the town and was attended by people who had a common interest in racing their Model Ts & As at local dirt tracks in Northern California. It would be the first of their regular biweekly meetings that have continued non-stop for the last 63 years.
It was during this first meeting that the club decided on "Thunderbolts" as their nickname. While there are different stories about how they decided on that name, current club members believe that the most logical explanation is from Chrysler Corporation "Thunderbolt" concept car that was liked by the early club members.
Over the past six-plus decades, the club has been involved in many different automotive events. An argument between two club members resulted in their first indoor car show called the "Capitol Auto Show" which would later become known as the Sacramento Autorama. The club has also sponsored the Grass Valley Rod Run for 26 years, hosted the Galt Car Show for 20 years and has held the Thunder in Depot Park Car Show for the past seven years.
The club is limited to 40 members who own pre-'58 hot rods. Remarkably there are four members who have been in the club for over 30 years and another 12 members that have been in the club over 20 years. The membership donates their time and money to help other groups organize their own automotive events as well as supports many charities throughout the Sacramento Valley area.
The "Thunderbolts" are members of the NSRA, the Association of California Car Clubs and the Rio Linda Chamber of Commerce. For more information, visit www.capitolautoclub.com.
California
May 10, Ontario
12th Annual Support Your Car Club Council Show & Shine
Sponsor: Inland Empire Car Club Council
Information: 760/835-5564
May 18, Red Bluff
34th CHVA River Park Car Show
Sponsor: Contemporary Historical Vehicle Association
Information: 530/378-1812 or 530/547-5774
May 24, Sacramento
7th Annual Thunder in Depot Park
Sponsor: Thunderbolts Capitol Auto Club
Information: www.capitolautoclub.com/images/08_Flyer.pdf or 916/726-5088
May 31–June 1, Pleasanton
15th Summer Get-Together
Information: http://good-guys.com/events/eventDetails.aspx?eventid=08-803 or 925/838-9876
Colorado
May 16–18, Pagosa Springs
Tri-State Meet
Sponsor: Rocky Mountain CORSA
Information: http://www.corvairs.org/tristate_corvair_meet.htm or 303/828-4203
May 30–June 1, Loveland
11th Dupont Colorado Nationals
Information: http://good-guys.com/events/eventDetails.aspx?eventid=08-627