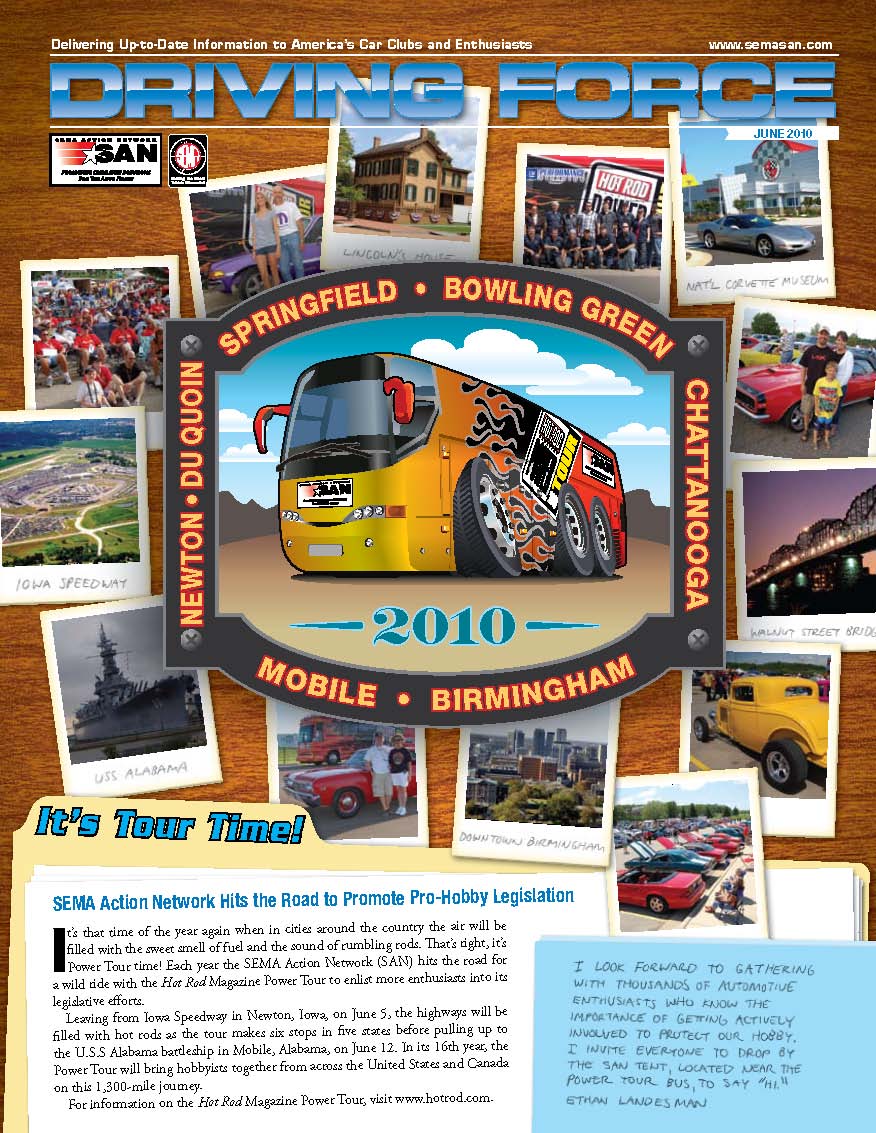 Click on image above to open the newsletter PDF.
SEMA Action Network Hits the Road to Promote Pro-Hobby Legislation
It's that time of the year again when in cities around the country the air will be filled with the sweet smell of fuel and the sound of rumbling rods. That's right, it's Power Tour time! Each year the SEMA Action Network (SAN) hits the road for a wild ride with the Hot Rod Magazine Power Tour to enlist more enthusiasts into its legislative efforts.
Leaving from Iowa Speedway in Newton, Iowa, on June 5, the highways will be filled with hot rods as the tour makes six stops in five states before pulling up to the U.S.S Alabama battleship in Mobile, Alabama, on June 12. In its 16th year, the Power Tour will bring hobbyists together from across the United States and Canada on this 1,300-mile journey.
"I look forward to gathering with thousands of automotive enthusiasts who know the importance of actively getting involved to protect our hobby," said SAN Director Ethan Landesman. "I invite everyone to drop by the SAN tent, located near the Power Tour bus, to say 'hi.'"
Each month Driving Force will feature members of the State Automotive Enthusiast Leadership Caucus. The SEMA-supported caucus is a bipartisan group of state lawmakers, nearly 450 strong, whose common thread is a love and appreciation for automobiles.
Here are its newest members:
Alabama
Senator Roger Bedford
Senator Jack Harper
Senator Linda Lopez
Representative Lynne Pancrazi
Arizona
Senator Robert Burns
Representative Vic Williams
Connecticut
Senator Rob Kane
Idaho
Representative Richard Wills
Illinois
Senator Brad Burzynski 
Representative Kay Hatcher
Kansas
Representative Joe Seiwert
Kentucky
Senator Tom Buford
Pennsylvania
Representative Tom Houghton
Representative John Siptroth
Representative Tim Solobay
Michigan
Representative Larry DeShazor
Representative Martin Griffin
Representative Kenneth Horn
Representative Eileen Kowall
Representative John Walsh
Minnesota
Representative Phil Sterner
Missouri
Representative Curt Dougherty
Representative Tim Jones
Montana
Senator Ryan Zinke
Representative Mike Miller
Representative Penny Morgan
Representative Josh Peck
New Hampshire
Representative Ron Boisvert
Representative Gene Charron
Representative Philip Harvey
Representative Paul Ingersoll
Representative Robert Introne
Representative Michael McCarthy
Representative Carol McGuire
Representative Lawrence Perkins
Representative Ken Weyler
New Mexico
Representative Rudy Martinez
New York
Assemblyman Robert Castelli
Assemblywoman RoAnn Destito
North Carolina
Representative Marilyn Avila
Representative Rosa Gill
Representative Frank Iler
Representative Shirley Randleman
North Dakota
Senator Elroy Lindaas
Representative Louis Pinkerton
South Carolina
Representative Dan Hamilton
Representative Tommy Stringer
South Dakota
Representative Charles Hoffman
Texas
Representative Wayne Christian
Representative Ellen Cohen
Tennessee
Representative Mark White
Vermont
Senator Kevin Mullin
Wisconsin
Representative Ed Brooks
Representative John Nygren
Canada (Prince Edward Island) Nitrous Oxide: The province of Prince Edward Island has introduced a bill to permit the installation of nitrous-oxide systems as long as the feed lines are disconnected or the canisters are removed while the vehicle is being operated on a public road. The bill largely mirrors SEMA-model legislation to better protect public road safety while ensuring legitimate off-road uses of nitrous-oxide systems.
California Specially Constructed Vehicles: The California State Assembly approved SAN-supported legislation to increase the registration limit for exempted specially constructed vehicle registrations from 500 to 750 vehicles per year. The Senate will now consider the bill, where it is likely to have a much tougher journey. Current law provides for emissions-system certification and a model-year designation for specially constructed vehicles. Under the law, vehicle owners choose whether a smog-test referee certifies the engine model year or the vehicle model year. To determine model year, inspectors compare the vehicle to those of the era that the vehicle most closely resembles. If there is no close match, it is classified as a '60 vehicle. Only those emissions controls applicable to the model year and that can be reasonably accommodated by the vehicle are required. The Department of Motor Vehicles provides a new registration to the first 500 specially constructed vehicles per year that meet the criteria.
Louisiana Inspection Exemption: A SAN-supported bill to exempt antique vehicles 25 years old and older from the motor-vehicle inspection requirements was passed by the Louisiana House. The bill now moves to the Senate for consideration. Current law only exempts vehicles 40 years old and older. The bill makes the inspection exemption consistent with current state law defining an antique vehicle as a vehicle that is 25 years old or older and used primarily for shows, parades, tours and other special uses and not for general transportation. Vehicles in Louisiana are subject to an annual vehicle inspection, including a safety-equipment inspection and, for vehicles registered in selected parishes, an additional emissions inspection. The emissions inspection consists of a visual anti-tampering check and a gas-cap-integrity check. Vehicles manufactured in 1995 and later are also subject to an on-board diagnostic (OBD-II) emissions check.
New York Historic Vehicles: The SAN is backing legislation in the New York Assembly to provide that historical vehicle owners only pay a one-time registration fee of $100 upon initial registration. The bill has been referred to the New York Assembly Transportation Committee for consideration. The reduced registration fee would be available to owners of historical vehicles owned and operated as an exhibition piece or collector's item and used for club activities, exhibits, tours, parades, occasional transportation and similar uses. Under current New York law, a historical motor vehicle is either a vehicle manufactured more than 25 years ago or one which has unique characteristics and which is determined to be of historical, classic or exhibition value. The $100 one-time fee would replace the current annual fee of $28.75.
Vermont Inoperable Vehicles: Legislation, supported by the SAN, to provide an exemption to automotive hobbyists from the restrictions on salvage yards has been approved by the Vermont Legislature. The bill seeks to increase the regulation of salvage yards and automobile graveyards in the state but includes a provision stipulating that hobbyists are not to be confused with the owners of automobile graveyards. The bill defines an "automobile hobbyist" as a person not primarily engaged in the sale of vehicles and parts or dismantling junk vehicles. Further, the definition of "automobile graveyard" does not include an area used by an automobile hobbyist for storage and restoration purposes, provided their activities comply with federal, state and municipal law. The bill now goes to the governor for his signature and enactment into law.
Collector Car Appreciation Day Slated for July 9
Lawmakers Acknowledge Importance of Collection and Restoration of Historic and Classic Cars
The United States Senate passed Senate Resolution 513 (S. Res. 513) at the request of the SAN, designating July 9, 2010, as "Collector Car Appreciation Day" nationwide. The Resolution recognizes that the collection and restoration of historic and classic cars is an important part of preserving the technological achievements and cultural heritage of the United States.
The resolution was sponsored by Congressional Automotive Performance and Motorsports Caucus members Senator Jon Tester (D-MT) and Senator Richard Burr (R-NC). Senator Tester and Senator Burr have been strong advocates for the automotive hobby in Washington, D.C., and their sponsorship of S. Res. 513 reaffirms their understanding of the cultural importance of collector cars. The caucus is an informal, non-partisan group of federal lawmakers that pays tribute to America's ever-growing love affair with the car and motorsports. The caucus recognizes the integral role collector cars have played in fostering our nation's appreciation for motorsports.  
The resolution was the result of an effort undertaken as a means to raise awareness of the vital role automotive restoration and collection plays in American society. SEMA Vice President of Government Affairs Steve McDonald said, "We greatly appreciate the United States Senate's recognition of the important role classic car restoration serves in our country. As Americans gather at car cruises and other events in conjunction with 'Collector Car Appreciation Day' on July 9, these vital contributions will be honored and preserved."
"At a time when governmental intrusion, intentional or otherwise, is often negatively affecting the hobby, this is a positive move," added Tom Cox, president of Southwest Virginia Car Council. "The automotive hobby has many tentacles that support jobs, manufacturing, small business and families. It's nice to see some official recognition of the beneficial impact automobiles and our hobby have made to America and the world."
Show 'Em What You've Got!
Whether it has been handed down through the family, an ultimate barn find or a vehicle that just needed your own personal touch, the SAN would like to give you an opportunity to share your passion for your car and truck with the rest of the automotive hobby. Each month, a vehicle is selected to be featured in Driving Force as well as on the SEMA Action Network website, www.semasan.com.
California Car Clubs Rally for the Cause
Annual Legislative Conference Convened In Sacramento
In working with the SEMA Action Network to ensure that California enthusiasts have a voice in Sacramento, the Association of California Car Clubs (ACCC) consists of thousands of hobbyists throughout the state who advocate on California laws and policies regarding collector and classic automobiles.
Formed in 1972, the ACCC is a volunteer organization of regional representatives who keep member clubs, individuals and business members across the state informed of issues that impact the hobby.
This past May 5–6, the ACCC held their annual legislative conference in Sacramento to ensure that state officials are responsive to the concerns of hobbyists. The conference allowed automotive hobbyists to discuss mutual issues and challenges directly with legislators, the Air Resources Board, the Bureau of Automotive Repair, the California Highway Patrol, the Department of Motor Vehicles and other government officials.
The SAN thanks the ACCC for taking a leadership role in protecting this great American hobby in California. For more information on the ACCC, visit
www.acccdefender.org.
JUNE 2010 SAN CLUB EVENTS
CALIFORNIA
June 5, Pleasanton
Summer Get Together
Sponsor: Goodguys Rod & Custom Association
Info: www.good-guys.com
June 5, Chino
3rd Annual Steve McQueen Car Show
Sponsor: 356 Club of Southern California
Info: www.porsche356club.org
June 6, Van Nuys
Eleventh Annual All General Motors Car Show at Woodley Park
Sponsor: Los Angeles Chapter of the Buick Club of America
Info: www.buickclub.org/losangeles
June 6, Freemont
20th Annual Mopar Rally
Sponsor: Mopar Alley
Info: www.moparalley.org
June 26, Rancho Cordova
Mopar Day in the Park 17: All Mopar Car Show and Swap
Sponsor: Capital City Mopars
Info: www.capitalcitymopars.com or 916/962-2655
June 26, Lodi
Picnic at the Grove: Street Rod Car Show
Sponsor: Franklin Syndicate Auto Club
Info: www.franklinsyndicate.com
COLORADO
June 4–6, Loveland
13th Colorado Nationals
Sponsor: Goodguys Rod & Custom Association
Info: www.good-guys.com
June 19, Aurora
Third Annual Cruzin' Havana Car Show & Poker Run
Sponsor: Stevinson Toyota East & Scion
Info: www.onhavanastreet.com
CONNECTICUT
June 4, Waterford
23rd Annual British by the Sea
Sponsor: Connecticut MG Club
Info: http://mgclub.homestead.com
IDAHO
June 18–19, Coeur d'Alene
Car d'Alene Cruise and Car Show
Info: 208/667-5986
ILLINOIS
June 5, Homer Glen
9th Annual Spring Fling Car Show
Sponsor: Lemont Classic Car Club
Info: 708/301-8899 or smoscato167@cs.com
June 19–20, South Barrington
6th Annual Dadfest Car and Bike Show
Info: www.willowcreek.org/dadfest
INDIANA
June 11–13, Indianapolis
22nd Hot Rod Nationals
Sponsor: Goodguys Rod & Custom Association
Info: www.good-guys.com
June 19, Flora
2010 Hog-Jog Cruise In
Sponsor: Idlers Car Club
Info: 574/967-4666 or idlerscc@yahoo.com
KANSAS
June 12, Garnett
16th Annual Lake Garnett Cruisers Auto & Motorcycle Show
Info: www.lakegarnettcruisers.com
MASSACHUSETTS
June 6, Danvers
17th Annual Marque Antique Auto Show
Info: Ron at 978/979-1422 or www.hubcapcafe.com/calendar/2010/99224.htm
June 13, Maynard
Autofest 2010
Sponsor: Maynard Area Auto Club
Info: 978/897-3445 or http://clubs.hemmings.com/frameset.cfm?club=maynardaac
June 19, Woburn
3rd Annual Open House
Sponsor: Chop Shop Customs
Info: www.chop-shopcustoms.com
June 26–27, Topsfield
Car Show, Kruse Car Auction, Flea Market and Auto Corral
Sponsor: North Shore Old Car Club
Info: www.nsocc.com
MISSOURI
June 18–20, Branson
38th Annual Rods and Relics Rod Run
Sponsor: Rods and Relics Car Club
Info: www.rodsnrelics.com
NEBRASKA
June 5, Omaha
Under the Stars Car Show
Sponsor: American Lung Association
Info: 402/344-6122 or dbp628@aol.com
NEW MEXICO
June 19, Rio Rancho
15th Annual Mopar Fest Car Show
Sponsor: Mopar Muscle Club of New Mexico
Info: www.moparclub.com
NEW YORK
June 3–5, Canandaigua
AACA Eastern Spring Meet
Sponsor: Genesee Valley Region AACA
Info: www.aaca.org
June 25–27, Rhinebeck
19th East Coast Nationals
Sponsor: Goodguys Rod & Custom Association
Info: www.good-guys.com
PENNSYLVANIA
June 4–6, Carlisle
Third Annual National Meet and Car Show at the All FORD Nationals
Sponsor: Lincoln Mark VII Club
Info: 267/825-3017 or http://TheLincolnMarkVIIClub.org
June 15, Harrisburg 
5th Annual Motorsports Day at the Capitol
Sponsor: PA House Motorsports Caucus
Info: www.aacamuseum.org/events/event.aspx?id=290
June 18–20, Prospect Pittsburgh Parts-A-Rama
Info: www.pittsburghparts-a-rama.com
UTAH
June 11–12, Bountiful
Cruisin' the Boulevard Coats for Kids
Sponsor: Bountiful Rotary Club
Info: 801/557-8572 or thompsonterry7@comcast.net
June 26, Salt Lake City
8th Annual Cruisin' for a Cure Classic Car Show
Sponsor: Utah's Cruisin' for a Cure Inc. & Stampede for Men's Health
Info: www.utahcruisinforacure.org
VIRGINIA
June 11–12, Newport News
15th Annual National Truck Show and Club
Sponsor: The Li'l Red Express & Warlock Owners Club
Info: 757/875-5270 or skipgibbs@cox.net
ALBERTA, CANADA
June 12–13, Wetaskiwin
History Road: The Ultimate Car Show
Sponsor: Reynolds-Alberta Museum
Info: 780/361-1351 or melissa.daoust@gov.ab.ca
Early July 2010 EVENTS
IOWA
July 2–4, Des Moines
19th Heartland Nationals
Sponsor: Goodguys Rod & Custom Association
Info: www.heartlandnats.com
UTAH
July 1–3, Logan
Cache Valley Cruise-In
Sponsor: Cache Valley Cruising Association
Info: www.cachevalleycruisein.net
Attention Car Clubs, Event Organizers and Enthusiasts!
Put SAN on Your Mailing List!
We'd like to know what's going on with SEMA Action Network clubs and enthusiasts across the country; what charity events you're involved in; when and where the rod runs, car shows, trail rides, rallies and tech meetings are held; and what legislative and regulatory issues concern club members and individual enthusiasts. 
One of the best ways to keep us abreast of what's going on and what's important to the vehicle hobbies nationwide is for us to receive your club newsletters and updates. Please consider placing SEMA on your mailing list. Send correspondence to: SEMA Action Network, 1317 F Street, N.W., Suite 500, Washington, D.C. 20004-1105. Or by e-mail at
san@sema.org
.