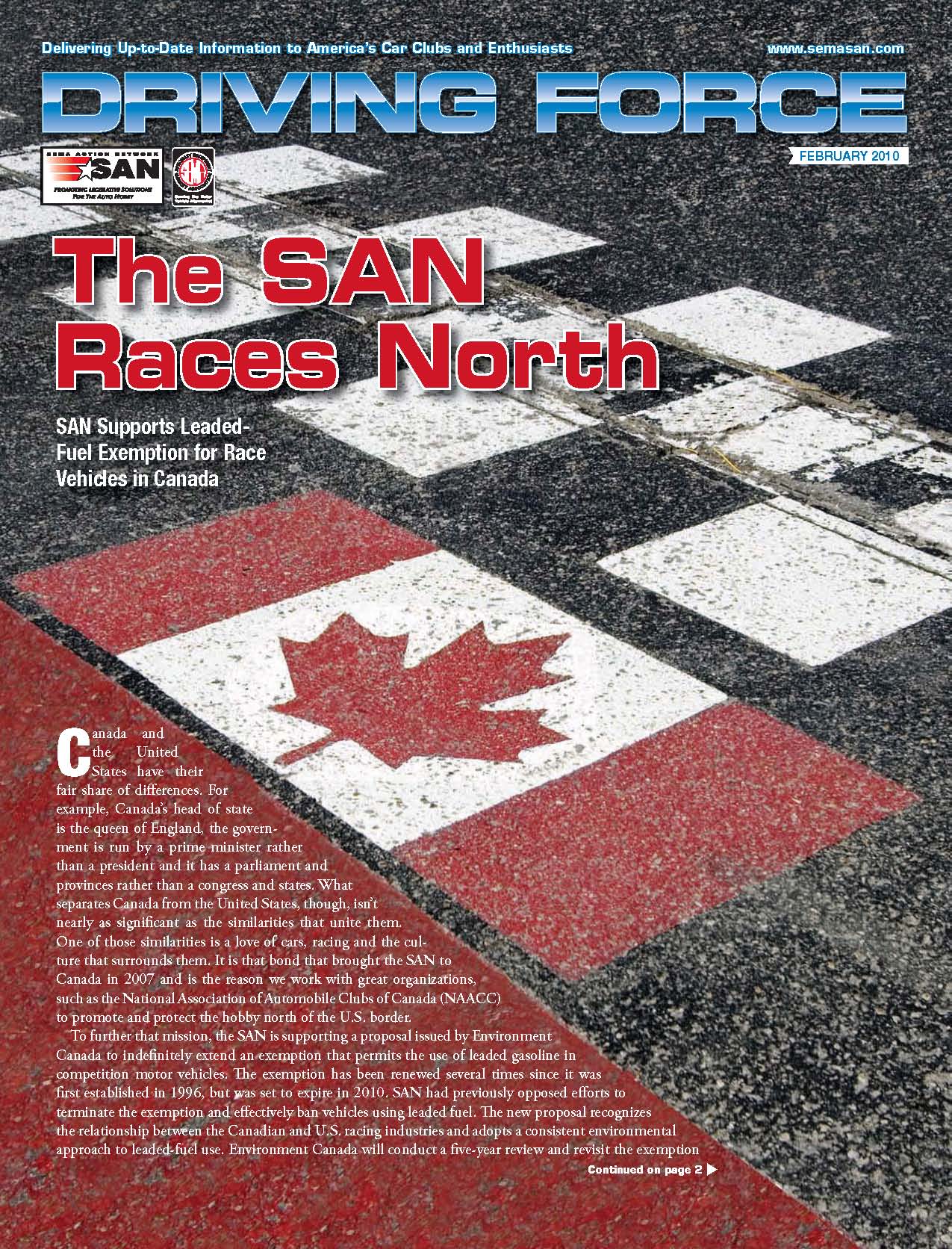 Click on image above to open the newsletter PDF.
The SAN Races North
SAN Supports Leaded-Fuel Exemption for Race Vehicles in Canada
Canada and the United States have their fair share of differences. For example, Canada's head of state is the queen of England, the government is run by a prime minister rather than a president and it has a parliament and provinces rather than a congress and states. What separates Canada from the United States, though, isn't nearly as significant as the similarities that unite them.

One of those similarities is a love of cars, racing and the culture that surrounds them. It is that bond that brought the SAN to Canada in 2007 and is the reason we work with great organizations, such as the National Association of Automobile Clubs of Canada (NAACC) to promote and protect the hobby north of the U.S. border.  

To further that mission, the SAN is supporting a proposal issued by Environment Canada to indefinitely extend an exemption that permits the use of leaded gasoline in competition motor vehicles. The exemption has been renewed several times since it was first established in 1996, but was set to expire in 2010. SAN had previously opposed efforts to terminate the exemption and effectively ban vehicles using leaded fuel. The new proposal recognizes the relationship between the Canadian and U.S. racing industries and adopts a consistent environmental approach to leaded-fuel use. Environment Canada will conduct a five-year review and revisit the exemption issue, if necessary, based on science, technology and fuel replacement developments. Meanwhile, the agency will work with the racing industry to encourage a voluntary reduction or phase out of leaded racing fuel.

Environment Canada's proposal identifies a number of reasons for providing an indefinite lead-fuel exemption. The reasons include the fact that:
In the United States, the Clean Air Act specifically exempts fuels for competition-use vehicles;
 
The North American racing industry is fully integrated, with both competitors and spectators crossing country borders to participate in and attend events;
 
There are an estimated 165 racing facilities operating in Canada which support thousands of jobs and generate millions of dollars of economic benefit for local businesses and communities;
 
Although there are fuel alternatives for some racing vehicles, the drag-racing industry still requires leaded gasoline;
 
While the racing industry continues to move towards long-term independence from leaded fuel, the amount used in Canada is miniscule when compared to total leaded fuel use: 2% by competition vehicles versus 98% by piston-engine aircraft.  To put the issue in perspective, 99.8% of gasoline used in Canada is already lead-free.
LEGISLATIVE QUICK HITS
Maine Exhaust Noise: The SAN is opposing legislation introduced in Maine that seeks to prohibit exhaust noise in excess of 62 decibels at 50 feet in areas designated as a "quiet zone." The new bill conflicts with a SEMA-model law enacted in 2003 to create an enforceable statewide motor-vehicle exhaust noise standard. Under the SEMA law, an exhaust system modification is legal if it results in a sound level of 95 decibels or less as measured by the Society of Automotive Engineers (SAE) test standard J1169.
Wisconsin Military Vehicles: SAN-supported legislation has been introduced in Wisconsin to provide for the registration of former military vehicles. The bills are the result of the negative response by enthusiast groups to a Wisconsin Department of Transportation proposal to restrict the registration of these vehicles. Collectors emphasize that these historic vehicles are used, in part, to educate the general public about military history and heritage and are, therefore, valuable treasures that should be maintained and protected. The legislation defines a former military vehicle to include vehicles that were manufactured for use in any country's military force, so long as they are maintained to accurately represent their military design and markings. The designation would include military vehicles designed both for off- and on-road use, including trailers. The bills would allow former military vehicles to be registered and operated in a manner similar to antique vehicles registered in the state, (i.e. driven only on special occasions and for the purpose of necessary testing, maintenance and storage).
Montana Wilderness: The SAN is opposing a proposed bill to designate more than 600,000 acres of land in Montana as wilderness. The legislation threatens to close several popular trails and recreation areas since no motorized activity is permitted in wilderness. The bill's sponsor is willing to reevaluate the measure in order to address off-road community concerns. Provisions in the bill to establish special motorized recreation areas in Montana would be beneficial to off-road enthusiasts. The SAN will keep you updated as events develop.
California Deserts: The California Desert Protection Act of 2010 has been introduced in Congress. The bill represents a mixed bag of legislation for off-highway vehicle (OHV) enthusiasts and off-road fans. In addition to creating two national monuments in the California deserts and closing more than 1 million acres of land, the bill will add more than 250,000 acres of wilderness in five Bureau of Land Management (BLM) Study Areas to the current wilderness inventory. A positive is that it will also release 126,000 acres of land in the Cady and Soda Mountains that was previously a Wilderness Study Area, thereby allowing OHV access. Importantly, the bill also creates five "Off-Highway Vehicle Recreation Areas," totaling 344,480 acres of land, including approximately 180,000 acres in Johnson Valley. However, this is a compromise measure which will turn over much of Johnson Valley, including many popular current OHV areas, to the Department of the Navy for the study of an expansion of the Twenty-Nine Palms Marine base.
The Facebook group will provide a great way for SAN members to get the latest news and information from the SAN and connect with other like-minded enthusiasts about current issues in the hobby. Get online and join today!
Supra Power
1997 Toyota Supra
Owner: John Sterling
McLean, Virginia
I got my '97 Toyota Supra in 2001, with only 4,231 miles on the odometer. Since then, it has been constantly changing. I started with a simple turbo timer for safety's sake, but once a friend showed me a free way of raising the boost by inserting an uncapped vacuum T-valve before the wastegate, I was hooked making changes and tweaking it.
I decided to start my modifications from the ground up, with lightweight HRE wheels wrapped in performance tires, 275/35/17 in front and 315/30/17 in the rear. Next were Eibach Progressive springs over KYB AGX gas shocks. To adjust the attitude of the car more finely after that, limited-run TRD sway bars and a front strut tower bar were added.
While the stock turbo system was intelligent and powerful, I wanted more out of the engine. The aftermarket setup on the car includes a Garrett T67 dual ball-bearing turbo and a Blitz intercooler with an HKS blow-off valve. This setup generated 679 rwhp at 27-psi on 109-octane race fuel and 540 rwhp on pump 93 octane.
One of the best parts about my Supra is that I can run all this boost through the completely stock valves, head, bottom end and transmission. But even at power levels like these, the car is mild enough to be driven daily. In the less than three years that I have had this power available, more than 25,000 miles have been put on it.
The next step is going to be an e85 conversion. E85 has excellent potential as a fuel for modified and, especially, turbocharged cars. The first reason is that it makes emissions testing a non-issue; it burns cleaner than gasoline. E85 has less energy per volume, which means that your gas mileage will decrease. However, in terms of performance, it means more volume flow for the turbine, which translates into earlier torque, offsetting the dreaded turbo lag. Lastly, it has an octane of about 105, allowing for significantly higher levels of boost to be run at insignificant prices compared to the price of race gas.
Have your car or truck featured in a future issue of Driving Force.  Submit your high-resolution photos online to
san@sema.org
.
The No-Bull Car Club From Bull Run
Bull Run Street Rods is a family-friendly street-rod club located in Manassas, Virginia, that is focused on promoting the street-rod hobby and supporting local charitable activities. The club, active for more than 28 years, has about 50 members from the northern Virginia area.
They sponsor the largest weekly Northern Virginia cruise-in every Saturday from 4:00 p.m.–9:00 p.m. (weather permitting), one of the area's largest street-rod, car and truck shows in the spring; a Toys for Tots program around Halloween; and an annual fall rod run to the mountains of Virginia. Bull Run Street Rods has a long tradition of helping the community by supporting charitable activities, such as ACT, SERVE, Prince William County Sheriff's "Sharing with Families," Joe Gibb's "Youth for Tomorrow," The Potomac News Christmas Basket program and others.
Arizona
February 6, Phoenix
Motoring Thru Time Car Show
Sponsor: City of Phoenix Parks and Recreation Department
Information: http://phoenix.gov/PARKS/herievnt.html
February 21, Tucson
Fords on Forth Car Show
Sponsor: The Southern Arizona Mustang Club
Information: www.southernarizonamustangclub.org or 520/622-6118
California
February 17–21, Sacramento 
Sacramento Auto Rama Show
Sponsor: Rod Shows
Information: www.rodshows.com
February 19–21, Sacramento
4 Wheel Drive Expo & Trade Show
Sponsor: California Association of 4WD Clubs, Inc.
Information: jonel4x4@comcast.net or 916/216-2226 (Nellie Malloy)
February 26–28, San Diego
Big 3 Parts Exchange and Car Corral
Qualcomm Stadium
Information: www.big3partsexchange.com or 619/276-7135
Florida
February 27, Naples
The West Coast Muscle Car Club Annual Show
Goodlette Rd., between 4th and 5th Ave. S
Information: www.westcoastmusclecarclub.com
Georgia
February 7, Winder
Annual Chili Challenge 
Sponsor: Ford Owners Association
Information: 770/806-1341 (Joy Guiney)
Kentucky
February 6–7, Morehead
Performance Swap Meet & Trade Show
Morehead Flea Market Building
Information: 606/776-5526 (Chris)
February 19–21, Louisville
37th Carl Casper Custom Auto Show
Sponsor: Carl Casper
Information: www.carlcasper.com or 502/689-2034
Michigan
February 19–20, Flint
Sixth Annual PCS Mid-Michigan Chapter Micro-Meet 
Sponsor: PCS Mid-Michigan Chapter
Information: plumbsmith@ameritech.net or 810/691-6352 (Brady Smith)
Nebraska
February 27–28, Norfolk
Annual Indoor Winter Car Show
Sponsor: Norfolk Area Rod & Custom Inc.
Information: www.norfolkrodandcustom.com
New York
February 21, Greece Canal Park
GVACS 2010 Winter Picnic
Sponsor: Genesee Valley Antique Car Society Inc.
Information: www.GVACS.com
Oregon
February 6, Salem
Salem Collector Car Auction
Sponsor: Petersen Collector Car Auction
Information: http://petersencollectorcars.com
February 14, Roseburg
Stray Angels Car Club Meeting
Sponsor: Stray Angels Car Club
Information: www.strayangelscarclub.com
February 20–21, Central Point
Southern Oregon Rod & Custom Show
Sponsor: Rogue Valley Street Rods
Information: www.roguevalleystreetrods.com
Pennsylvania
February 11–13, Philadelphia
AACA Annual Meeting 
Sponsor: Antique Automobile Club of America Ltd.
Information: www.aaca.org
Wisconsin
February 28, West Bend
Greater Milwaukee Area Swap
Sponsor: Model A Club
Information: rolsen@milwpc.com or 262/554-7058 (Roger Olsen)
Washington
February 6–7, Puyallup
36th Annual Corvette & High Performance Meet
Sponsor: Corvette & High Performance
Information: www.corvhp.com or 360/786-8844
February 7, Puyallup
Next Generation Automotive Exhibition
Sponsor: Corvette & High Performance 
Information: www.corvhp.com or 360/786-8844
Early March 2010 Events
Iowa
March 6, Sioux City
30th Annual Racers Swap Meet
Sponsor: Lloyd Schweigert
Information: 712/239-6199
New York
March 5–7, Hamburg
17th Annual Cavalcade of Cars
Sponsor: Show and Cruise News
Information: 716/656-9734 (Andy)
March 14, East Rochester
MG Car Club Steak Roast
Sponsor: MG Car Club Western New York Centre
Information: www.mgcarclub.com/wny
Attention Car Clubs, Event Organizers and Enthusiasts!
Put SAN on Your Mailing List!
We'd like to know what's going on with SEMA Action Network clubs and enthusiasts across the country; what charity events you're involved in; when and where the rod runs, car shows, trail rides, rallies and tech meetings are held; and what legislative and regulatory issues concern club members and individual enthusiasts. 
One of the best ways to keep us abreast of what's going on and what's important to the vehicle hobbies nationwide is for us to receive your club newsletters and updates. Please consider placing SEMA on your mailing list. Send correspondence to: SEMA Action Network, 1317 F Street, N.W., Suite 500, Washington, D.C. 20004-1105. Or by e-mail at
san@sema.org
.