<< Back to Driving Force, February 2012
DREAM IT. BUILD IT. DRIVE IT.
SEMA Action Network Braces for New Challenges. Are You In?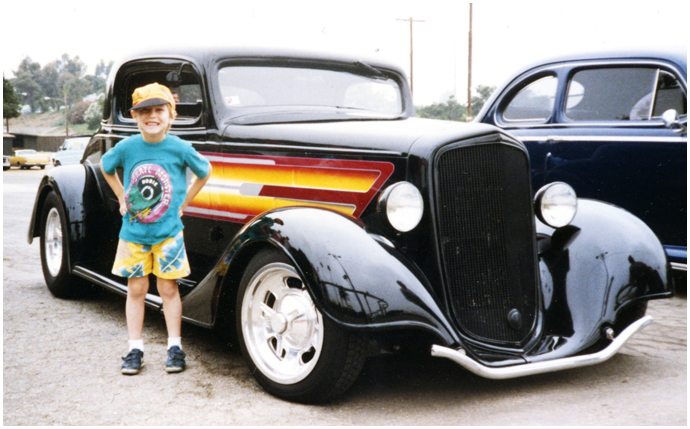 After several years serving my apprenticeship in the SEMA headquarters in California, I've just been handed the keys to the SEMA Action Network (SAN), a slick 15-year-old machine with a history of producing wide-ranging results. Its string of legislative victories makes the SAN the premier organization defending the rights of vehicle enthusiasts. So, how did I, Colby Martin, get so lucky?
A little bit about me first. For many of us, a passion developed from early exposure to the auto hobby. As a toddler, I was a regular at the drag races at Pomona, sprint races at Ascot and sand races on the dunes of Pismo Beach. As a California kid born and raised, these and other automotive experiences permanently etched an admiration for the hobby inside me.  This automotive passion eventually propels involvement into one or many vehicle purchases. After witnessing the hot-rod antics in the film American Graffiti, classic cars have commanded my attention. I decided early on that obtaining the right chopped coupe would become one of my life's quests. The parts collection that would become my '31 Ford Model A coupe began at age 18 with an original Ford axle that features dropped ends formed by hand. Each subsequent piece was acquired one-by-one to create a complete car. Countless hours of planning, buying, restoring, modifying and assembling have been spent on the coupe over the last decade. Although refinishing and final assembly are yet to come, it now resembles a functional vehicle.
The process of building a cohesive, effective network is much like the process of building a vehicle from scratch. First, dream it. Then build it. Finally, drive it.
Dream It
In 1997, the SAN was created as a nationwide partnership between enthusiasts, vehicle clubs and members of the automotive specialty parts industry who have joined forces to promote hobby-friendly legislation and oppose unfair laws. Folks into building, rebuilding and/or modifying vehicles are not always understood by the masses. Many government officials have shared the public's misunderstanding and have reacted to the hobby accordingly. Such challenges are why groups such as the SAN are formed and continue to thrive. The goal, the dream really, was protect every niche of the automotive hobby against unfair laws and regulations.
Build It
Over the years, each member of the SAN leadership has contributed to the growth of this formidable network. We now have more than 60,000 North American members, car clubs, associations and media outlets with an estimated reach of 36 million enthusiasts. Victories have included new laws to enable street-rod and custom vehicle registration and titling, laws to protect inoperable vehicles awaiting restoration, laws to provide objective noise standards for aftermarket exhaust systems, laws to create responsible off-road recreation opportunities on public lands and laws to allow a range of vehicle equipment modifications.
Drive It
Where are we going to take this network now? First, we still need to gather more voices and continue to form a united message. A number of key states would benefit from a larger representation in our network. Our Canadian members need reinforcements also. Regardless of the automotive niche you're into, every SAN member is counting on your voice. Help your fellow members out by responding to all legislation in your state. We can all pass along this great pastime to the generations that will follow us. You can also teach younger enthusiasts the importance of being aware and involved in the  legislative process. Encourage them to join the SAN as it will ultimately help impact their hobby. Based on the current economic and legislative environment, the road ahead will continue to be challenging. It is clear that our hobby needs the SAN now more than ever. All car clubs, automotive associations, media, museums, event promoters, businesses and other groups should contact us to help continue fighting the good fight. We can arm you with legislative updates, brochures, decals, articles and other deliverables for your mailings, website and other applications. Let's drive this network together!