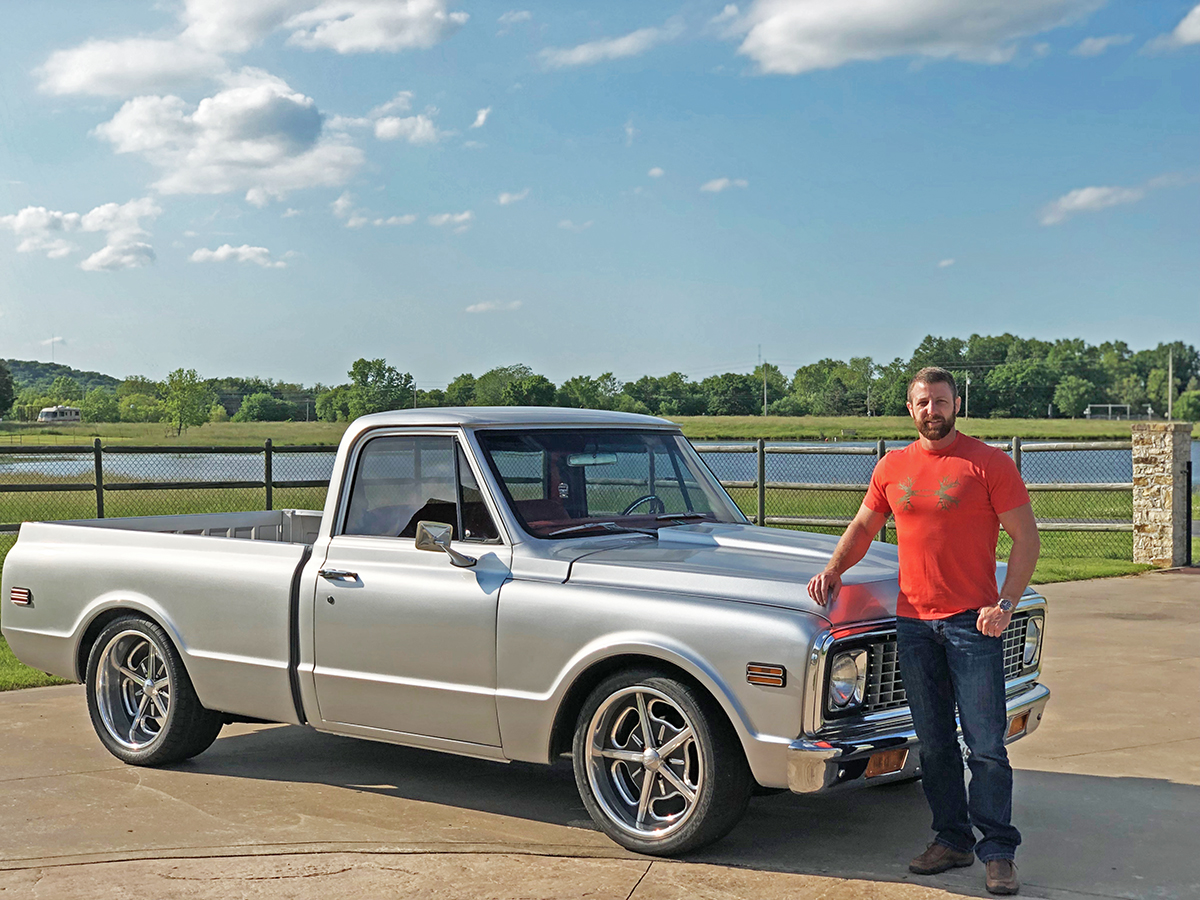 In Rep. Mullin's own words, "everything is modified" on his dropped '72 Chevy C10. Custom wheels and tires, a cowl induction hood, window tinting and other personal touches give this pickup a distinct attitude.
---
The Fighter
Behind the Scenes With U.S. Representative Markwayne Mullin
By Eric Snyder
Many politicians grow up dreaming of the day they will run for office. Their young adult lives are a series of tactical steps designed to build a narrative they can use as a springboard to get elected. U.S. Representative Markwayne Mullin (R-OK) took a different path, growing a family business while competing in action-packed pursuits ranging from rock crawling to mixed martial arts. It's no coincidence that he's one of the most genuine and effective members of Congress, using his platform to make government a bit friendlier to small businesses and automotive enthusiasts.
Growing up the youngest of seven children on his family's farm in Westville, Oklahoma, Mullin learned the value of hard work from a young age. He attended Missouri Valley College on a wrestling scholarship, although he left school at the age of 20 to run his family's plumbing business when his father became ill.
At the time, Mullin Plumbing was $500,000 in debt and employed six people. Rep. Mullin and his wife Christie worked tirelessly over the next three years to turn the business around before he returned to college and graduated from Oklahoma State University's Institute of Technology in 2010.
Today, Mullin Plumbing is one of the largest service companies in the region, employing more than 150 workers. Rep. Mullin went on to open and operate several other businesses, including Mullin Environmental, Mullin Plumbing West Division, Mullin Services, Mullin Properties and Mullin Plumbing New Construction.
Despite his successful career in the private sector, Mullin changed his focus to a run for Congress in 2011 due to burdensome government regulations that threatened one of his businesses. Mullin was elected to the U.S. House of Representatives in 2012, and he has been driving the national debate on issues that directly impact the business community ever since.
In 2015, SEMA worked with Rep. Mullin on legislation to allow the purchase of brand-new, turnkey replica vehicles that resemble cars from at least 25 years ago from small-volume automobile manufacturers in the United States. Rep. Mullin championed the Low-Volume Motor Vehicle Manufacturers Act because he understood the unique challenges that small businesses faced in trying to comply with old and outdated requirements that were designed for corporations' mass-producing daily drivers. It also didn't hurt that Rep. Mullin has his sights set on buying a completed replica Cobra after the U.S. Department of Transportation implements the law. Most recently, Mullin has worked with congressional leadership in support of passing the Recognizing the Protection of Motorsports (RPM) Act.
When he's not meeting with his constituents in Oklahoma's 2nd Congressional District or advocating for their interests in our nation's capital, Rep. Mullin is either spending time with his wife and five children or engaged in one of his many hobbies. Mullin is an avid snake hunter, fitness enthusiast and mixed martial arts fighter.
Below are more highlights from the Sooner State Congressman:
Driving Force: What was your first car or truck?
Rep. Markwayne Mullin: My first vehicle was a '82 GMC 1-ton with a 454 motor and 4WD. It was a white single cab with a blue interior, and I still have it. It's been retired for ranch use only, but it's had a good life.
DF: Do any of your vehicles have aftermarket modifications?
RM: Yes. My family's vehicles are modified. My wife has a Ford Expedition with a suspension lift, oversize tires and modifications to power. My Ford F-250 is red with 4WD and a crew cab. It has an aftermarket exhaust system and is reprogrammed. I also have a '72 Chevy C10, but the only thing that's original on it is probably the cab. It's just
for show.
DF: We understand that the first time you went to a political event was the day you announced that you were running for Congress back in 2011. What motivated you to run?
RM: I was completely fed up watching elected officials with no real-world experience tell me how to run my company. I didn't even own a suit when I was elected
to Congress.
DF: When you're back in Oklahoma, what do you do for fun?
RM: Coach my kids in wrestling and work cattle. Working cattle is an extremely good stress reliever and something I've always found to be cathartic. It's also great family time and a good way for all of us to spend time together.
DF: What advice do you have for automotive enthusiasts who want to make their voices heard in the public-policy arena?
RM: You're never going to change anything you're willing to tolerate, so if you're fed up, get involved.
The entire SAN offers its appreciation to Rep. Mullin for his ongoing efforts to enrich the automotive hobby! View the full list of his fellow members of the SEMA-supported Congressional Automotive Performance and Motorsports Caucus on the SAN website at www.semaSAN.com/FederalCaucus.

Legislative Alerts
SEMA SAN Strike Force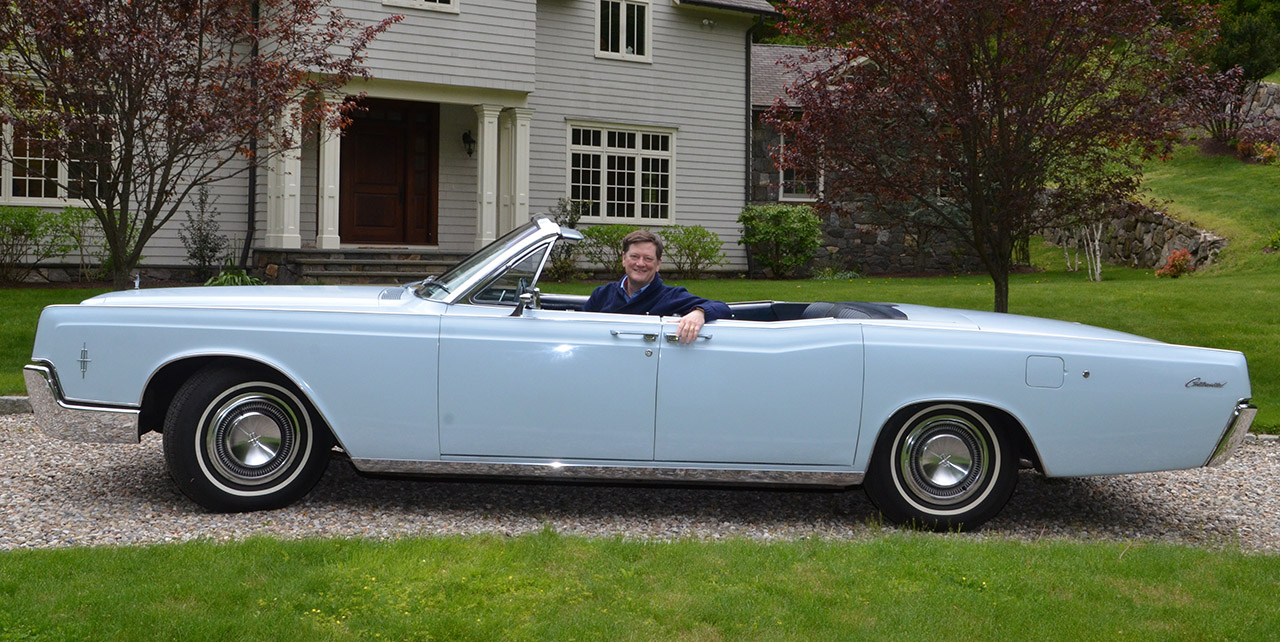 "When I bought my collector car—a 1966 Lincoln Continental convertible—the automobile was my objective," explains Connecticut's David Moyer. "But the community of new people in my life turned out to be the reward. When I got more involved with government, passing a bill was my objective. Similarly, building personal relationships with legislators turned out to be the real reward."
David credits the Legislative Updates page in the Lincoln & Continental Owners Club's Lincoln & Continental Comments for sparking an interest in changes to license plate laws, titling requirements and ethanol limitation. He says discovering the SEMA Action Network (SAN) provided him with more up-to-date information and led him to reach out to his local legislators to support hobby-friendly legislation. "Learning the quirks of the Constitution State's two-year legislative cycle was a byproduct, as was in-person contact with his state representative, who sponsored a license plate bill in the current session," he adds.
David started visiting the SAN website regularly because he wanted to stay current on possible laws that would help or hurt classic cars. "Anything I read in the general press or monthly car magazines was likely too out-of-date. When I saw a bill on titling in Connecticut, I contacted my state representative and state senator. I thought it would end there – 'writing my congressman' and a bill passing into law or being voted down. Instead, I learned the far more complex path of legislation in Connecticut."
EDITION 155