1 PL8 OR 2?
State-By-State Guide to License Plate Requirements Newly Updated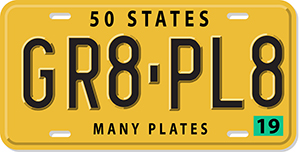 Bolting a license plate onto one's prized vehicle is a necessary task that can be unpleasant. Thankfully, available options have made contending with the visual identifier increasingly less painful, yet legal. Governments have recognized the public's desire for choices and have attempted to adapt their rules over time. In fact, each state offers an alternative plate that varies from the standard issue. Personalized versions continue to be more and more common. Given the choice, the car and truck community would prefer to run only a single, rear-mounted plate. These proposals are overwhelmingly favored by enthusiasts when considered. Such laws save states money, conserve resources and protect the aesthetic contours of collector vehicles.
After tracking and influencing license plate legislation nationwide, the SEMA Action Network (SAN) fulfilled the need for a comprehensive resource. The SAN has made it easy to look up each state's requirements online. Designed as a quick reference guide, the compilation includes specialty plates available in a given state. A map at the top of the page illustrates the number of plates required in each. The webpage has been fully updated for 2019 and is posted live. Those looking to purchase or apply for a specialty plate are advised to check with their local DMV for guidance and paperwork. Details can be found at www.semaSAN.com/licenseplates.
While many single-plate bills are not given serious consideration, their introduction is a great sign and significant first step. At the time of publication, Connecticut, Illinois, Iowa, Nebraska, New Hampshire and Texas each introduced such legislation for all motor vehicles during the 2019 legislative sessions. Other jurisdictions are likely to propose their own measures before the current year ends. Illinois, Maryland and Wisconsin all made attempts in 2018, while Iowa looked to expand usage for certain vehicles. Surprisingly, New Mexico is once again pursuing legislation to reverse their current single-plate requirement in favor of two—on the heels of a similar proposal's defeat last year.
It's true that while individual support for single-plate bills is important, and mass organization by enthusiasts is vital. Otherwise, bills of this nature rarely have a chance of becoming law. Unfortunately, law-enforcement agencies generally oppose such measures on the claim that front plates allow officers to quickly identify vehicles involved in violations of the law. There is hope in working together with local law-enforcement officials, attending hearings and sharing the responsibility in finding mutual solutions. We have the opportunity to impact the future of these laws, so please spread the word! Encourage those you know to become informed and ready when a critical moment arises; have them enlist now at www.semaSAN.com. Everyone can help the cause and get involved without cost or commitment.
Legislative Alerts
SEMA SAN Strike Force
"I have a sixth-generation Ford Mustang GT and an old Dodge Dakota," explains Jeff M.  "The Dakota is there to haul supplies and the Mustang is used to haul..."  His picture above was taken at the Shelby Automotive Museum during a trip he made last summer to Las Vegas.  "Ironically, this was before I bought my Mustang GT.  Many car enthusiasts know of Shelby, but it was great to be able to visit the factory established in his name, where modern metal gets modified in only a way that we can appreciate.  Each crew builds one car; it is not an assembly line, which gives each Shelby a nice hand-crafted touch.  There's nothing better than visiting this museum and production facility with a bunch of car-crazies!"  He's currently working on plans to add a supercharger to the Mustang.  However, he admits to being a Mopar fan as of late.
 
When the SEMA Action Network (SAN) alerts him to a legislative issue, he weighs in.  "Our hobby is heavily regulated and is often the target of legislation that removes current freedoms—in many cases unintentionally," he says.  "We live in a great country with direct access to our legislators.  Never has it been easier to voice our concern or compliment the fine individuals that represent us.  They are charged with making the best decisions for all of us.  But without us knowing and voicing our opinion, they have no choice but to assume that a proposed bill is a non-issue."  
 
Additional background:
 
What vehicle tops your wish list?
 
I honestly can't even decide.  I am a big fan of the original Shelby Cobra (or any of the fine replicas), as well as the modern interpretations, the former Dodge Viper.  I also greatly appreciate the Saleen S7 being that it is perhaps the most recent example of an American supercar.  I am addicted to the exhaust sound of Lamborghini engines, and who cannot love the engine in the Lexus LFA?  I love Koenigseggs simply because they are on the cutting edge of automotive technology.  I have a triangle-shaped hole in my heart than can only be filled with a Wankel engine from the RX7.  I love the McLarens because they tend to focus on improving performance by weight, instead of adding more power.  And while not a fan of hybrid supercars, the engine and rear-vertical exit exhaust of the Porsche 918 is pristine.  Anything with a mid-engine is welcome, adding the Audi R8 and its delightful interior to the club.  The Flat-plane Shelby GT350 for the great accomplishment of being a new domestic flat-plane engine (and the melodic symphony at 8200 RPM).
 
Your #1 fantasy powerplant?
 
If I designed one, the block, crank, and rods would all be made from titanium.  There is nothing that a forged piece of billet titanium cannot solve.  I am a fan of flat-plane engines, and individual throttle bodies per cylinder to achieve the amazing throttle response that the Lexus LFA has.
 
Many years ago, I would have chosen anything with a Coates valvetrain—simply because of the beauty in the design.  However, Koenigsegg has now taken the crown with their Freevalve pneumatic valves.  From an engineering perspective, one could go from a "muscle car" virtual-cam (lots of idle chop/overlap) to an Atkinson Cycle during around-town low-load cruising, and everything in-between.  Variable valve technology gets us as close to this as possible, but we are still limited by the cam, and the limits of valve float; pneumatic valves remove this completely.
  
Who is your automotive hero?
 
Besides Bob Lutz, I would have to say Jay Leno.  Although I have never met him, I know he is down to earth and loves cars to the fullest.  His collections bring tears to one's eyes and he is an equal-opportunity-collector.  If there is something quirky or unusual, he probably has it.  Chip Foose is also an amazing person for custom projects.  I have not met him either.  He seems to be a very humble person and has an amazing eye for detail.
 
EDITION 148