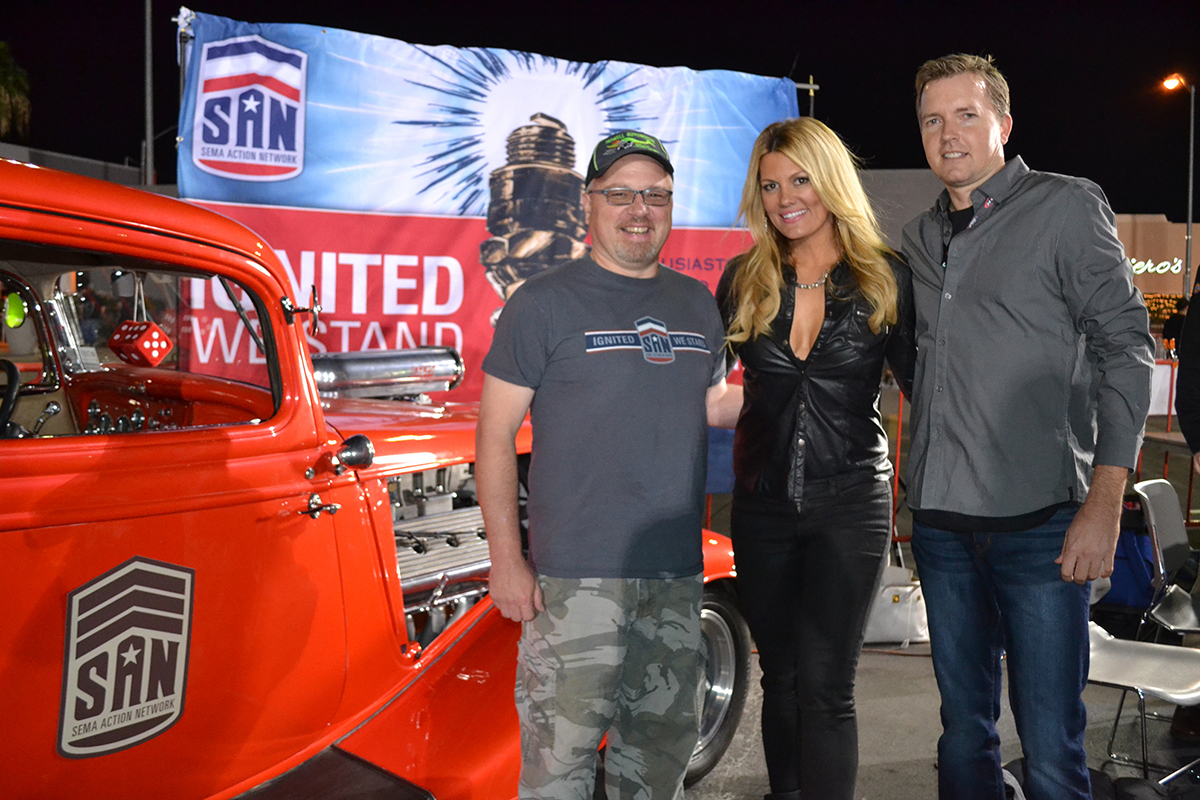 West Virginia lawmakers, Senator Mark Maynard (right) and Delegate Gary Howell (left), met automotive media personality Courtney Hansen at the 2015 SEMA Show in Las Vegas.
---
By Colby Martin
At the 2018 SEMA Show, West Virginia State Senator Mark Maynard was introduced as the first-ever winner of the Stephen B. McDonald Legislator of the Year award. Representing the Sixth District, Senator Maynard was recognized for his efforts in the West Virginia Senate to promote policies and legislation that support the automotive hobby.
Senator Maynard is proudly counted among the hundreds of pro-hobby lawmakers comprising the SEMA-supported State Automotive Enthusiast Leadership Caucus and embodies the award's spirit. The new award is bestowed to the state lawmaker who has gone above and beyond to support the hobby in their home state and was named for SEMA's late Vice President of Government Affairs Stephen B. McDonald, who was the driving force behind the founding and growth of the Caucus.
"I'm so honored to have been chosen to receive this award," Senator Maynard said. "I'm a car guy through and through, and to me, working to share that passion and creating unique opportunities for our state to benefit through new visitors and new business is a dream come true. West Virginia is a paradise for people who love both the outdoors and the automotive hobby. I'm proud of the work we've done in just a short time, and I look forward to growing this industry even more in the future."
The caucus' national chairman, West Virginia Delegate Gary Howell, has been instrumental in both the award's creation and attracting Senator Maynard's involvement in the group. "As West Virginia expands tourism, Mark has put forth and passed legislation that will allow our state to be at the forefront in automotive tourism," Delegate Howell said. "This billion-dollar industry is continuing to expand, creating high-paying jobs, and because of the efforts of our members like Mark, West Virginia will be a part of it."
Senator Maynard is not only an industry champion, but also a true enthusiast. His collection of vehicles is impressive. The stable includes a Dodge Charger "General Lee," a Pontiac Trans Am "Bandit," a new Dodge Challenger Scat Pack and a trail-only Jeep, among others. His love for all things auto doesn't stop there. Before he heard the call to public service, he also served as a pit crew member in professional NHRA drag-racing teams.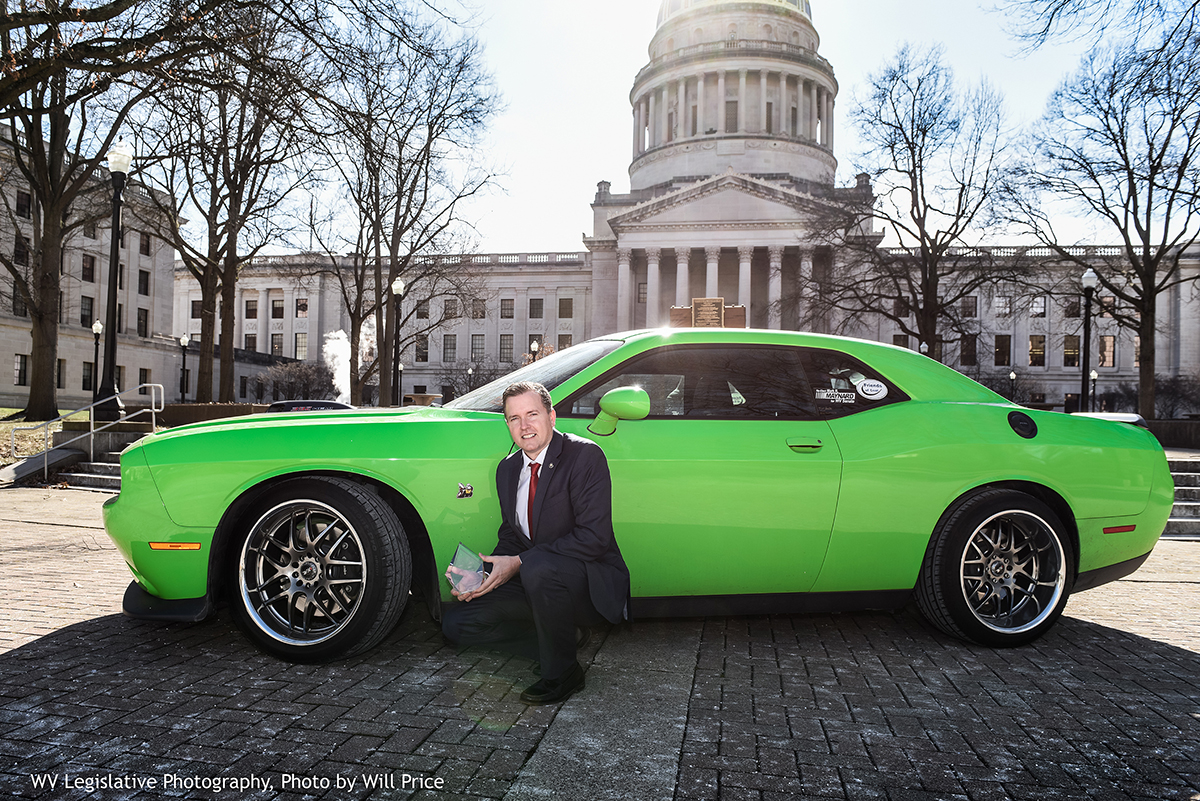 Senator Mark Maynard poses with his new Dodge Challenger Scat Pack at the West Virginia state capitol in Charleston.
---
"Automobiles are truly a passion that probably started before l could crawl," explained Senator Maynard. "Growing up in my dad's full-service Union 76 station, l watched him turn wrenches and build and campaign his sand-drag Chevy truck. I immersed myself in everything automobile and internal combustion I could find. I took over the family automotive business in 2001. For a fun—and serious—job in 2006, I joined Jim Head's NHRA Nitro Funny Car crew. It lasted until the end of the 2010 season. I joined John Bojec's team for a three-race run at the end of the 2014 season. At the same time, l was running for the Senate. I flew the redeye home from the Las Vegas race, campaigned one more day, and I beat the longest-serving senator in the history of West Virginia. Then my legislative career began."
Since his election to the West Virginia Senate, Senator Maynard has cemented himself as a consummate defender of the hobby and a familiar face at the SEMA Show in Las Vegas. During his state's most recent legislative session, he was a busy man. He authored several pro-hobby bills, many of which focused on expanding access to off-highway vehicle (OHV) trails.
His most recent victories include passing legislation that creates a digital map of public roads and trails available to OHV riders and a bill that creates a two-year pilot program allowing for ATV and RV access to West Virginia's Cabwaylingo State Forest. While these proposals didn't ultimately become law, he also spearheaded legislation that would have created a new State Trail Authority for West Virginia dedicated to overseeing all the state's trails and led the charge to create license plates for off-road, self-assembled or modified vehicles that would have afforded them the same limited access to roads as ATVs.
"I want to thank Gary Howell for recruiting me and allowing me to join his caucus and spurring me along to attend the SEMA Show for three years in a row," he adds. I look forward to continuing to fight for the hobby and industry that I love. Thank you."
The entire SEMA Action Network (SAN) is appreciative of Senator Maynard's persistence—we congratulate him on his achievement as Legislator of the Year!
Legislative Alerts
SEMA SAN Strike Force
"I am a life-long automotive enthusiast," Derrick Porter recently wrote to Delaware lawmakers.  He expressed his support of
pro-hobby legislation
that would ease the process of registering a street rod in the state by changing age and equipment requirements.  "I want legislators to know that their decisions will affect the voters and their chosen hobby."  Having already passed the House, the bill is awaiting consideration by the Senate Committee on Transportation.   
Pictured here, Derrick's '55 Chevy meets the definition of a "street rod" in his home state.  The car played a major role in his favorite automotive memory: cruising in a parade with his family at the Endless Summer Cruise on the boardwalk of Ocean City, Maryland.  He highly regards the event for those in the hobby.  Derrick's collection also includes a 2003 Hummer H2, 1999 Honda Valkyrie 1500, 2008 Mercedes C300, 2013 Nissan Sentra and 2002 Honda Civic.  Like the '55, he counts the Hummer as a project still in the works.  
Additional background:  
Who is your automotive hero?
Drag racing legend Don Garlits  
Top fantasy powerplant?
572 Big Block Chevy  
Most valuable automotive resource?
Catalogs from Summit and Jegs  
Where do you go for troubleshooting projects?
Videos posted on YouTube  
EDITION 147