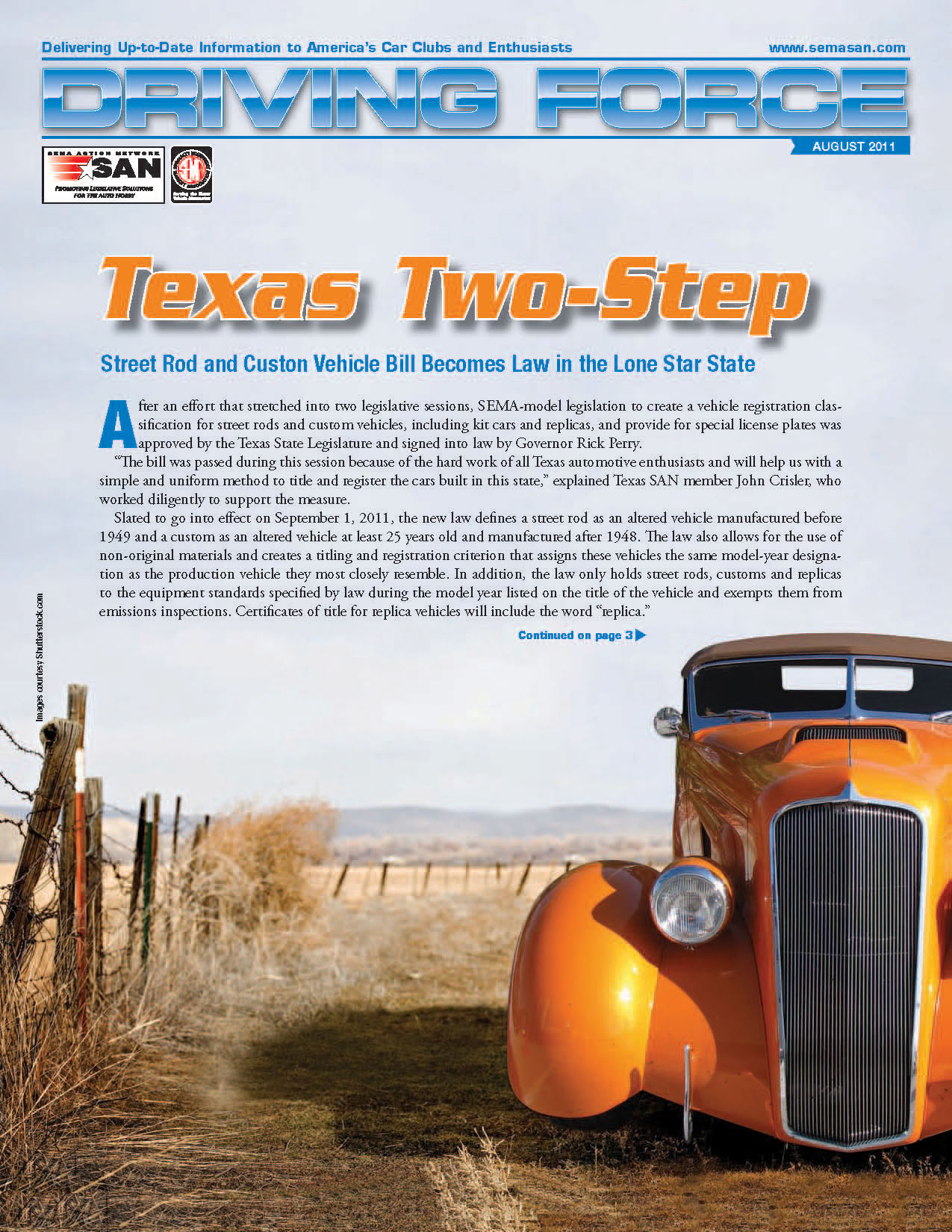 Click on image above to open the newsletter PDF.
Street Rod and Custom Vehicle Bill Becomes Law in the Lone Star State
After an effort that stretched into two legislative sessions, SEMA-model legislation to create a vehicle registration classification for street rods and custom vehicles, including kit cars and replicas, and provide for special license plates was approved by the Texas State Legislature and signed into law by Governor Rick Perry.
Slated to go into effect on September 1, 2011, the new law defines a street rod as an altered vehicle manufactured before 1949 and a custom as an altered vehicle at least 25 years old and manufactured after 1948. The law also allows for the use of non-original materials and creates a titling and registration criterion that assigns these vehicles the same model-year designation as the production vehicle they most closely resemble. In addition, the law only holds street rods, customs and replicas to the equipment standards specified by law during the model year listed on the title of the vehicle and exempts them from emissions inspections. Certificates of title for replica vehicles will include the word 'replica'. "The bill was passed during this session because of the hard work of all Texas automotive enthusiasts and will help us with a simple and uniform method to title and register the cars built in this state," explained Texas SAN member John Crisler, who worked diligently to support the measure.
Texas joins California (2001), Illinois (2002), Missouri (2004), Rhode Island (2004), Hawaii (2004), Montana (2005), Maine (2005), Colorado (2006), Arkansas (2007), Virginia (2007), Nevada (2007) Florida (2007), Idaho (2008), Iowa (2008), Tennessee (2008), Wyoming (2009), Utah (2009), North Carolina (2009), Massachusetts (2010) and Washington state (2011) as states that have enacted similar bills into law.
The new law is the product of two legislative sessions. In 2009, identical legislation that was approved in committee did not receive a vote by the full Texas House of Representatives before the legislators adjourned for the year.
"After the disappointment we experienced in 2009, it is extremely gratifying that the Texas legislature was ultimately persuaded to enact legislation recognizing the unique nature of these vehicles as hobbyist cars," said SEMA Vice President of Government Affairs Steve McDonald. "For the hundreds of vehicle enthusiasts in Texas that supported this bill, building, maintaining and enjoying these unique creations is a favorite pastime. This law represents an opportunity to acknowledge their commitment to the hobby and to protect it for future generations." The model bill will continue to be pursued by SEMA in states that either don't have registration classifications for these vehicles or have laws that are lacking in some way. SEMA efforts are ongoing this year to work with the state legislatures in New York and New Jersey on this initiative and to add others to that list in the coming legislative sessions.
The State Automotive Enthusiast Leadership Caucus is a bipartisan group of state lawmakers whose common thread is a love and appreciation for automobiles. The caucus has grown by 173 new members (listed below) in the 2011 legislative session, bringing the total to an impressive 516 members in all 50 states. While cruising through our new member list, you will come across a few photos of legislators showing off their rides, which goes to show: lawmakers can be car guys, too!
ALABAMA
Representative Daniel Boman
Representative Allen Farley
Representative Jimmie Hall
ALASKA
Representative Bob Herron
Representative Kyle Johansen
ARKANSAS
Senator Mary-Anne Salmon
Representative Nate Bell
Representative Charlie Collins
Representative Linda Collins-Smith
Representative Homer Lenderman
CALIFORNIA
California State Senator Doug LaMalfa
COLORADO
Representative Mark Barker
Representative Millie Hamner
Representative Chris Holbert
Representative Pete Lee
Representative Marsha Looper
DELAWARE
Representative Harvey Kenton
GEORGIA
Senator John Albers
Representative Alex Atwood
Representative Josh Clark
Representative Terry England
Representative Michele Henson
Representative Pedro "Pete" Marin
HAWAII
Representative Angus McKelvey
Representative John Mizuno
Representative Jessica Wooley
IDAHO
Senator Lee Heider
Senator Steve Vick
Representative Adam Brown
Representative Frank Henderson
Representative Kathy Sims
ILLINOIS
Senator John Mulroe
Senator Suzi Schmidt
Representative Donald Moffitt
Representative Michelle Mussman
Representative Dennis Rosa
Representative Ron Stephens
INDIANA
Senator Jim Banks
Senator Jim Tomes
Representative Bill Davis
IOWA
Senator Dr. Joe Seng
Representative Cecil Dolecheck
Representative Jared Klein
KANSAS
Representative Tom Arpke
Representative Tom Burroughs
Representative Terry Calloway
Representative Jim Denning
Representative Gail Finney
Representative Jana Goodman
Representative Jim Howell
KENTUCKY
Senator Joe Bowen
Senator Jared Carpenter
Representative Mike Cherry
Representative Mike Harmon
Representative Dennis Horlander
Representative Michael Meredith
MAINE
Senator Andy Sanborn
Senator Lois Snowe-Mello
Representative Les Fossel
Representative Thomas Longstaff
Representative Kerri L. Prescott
Representative Wes Richardson
Representative Jeffrey Timberlake
MARYLAND
Delegate Michael Hough
Delegate Steven Schuh
Delegate Jeffrey Waldstreicher
MASSACHUSETTS
Representative Steven Howitt
Representative James Murphy
MICHIGAN
Senator Hoon-Yung Hopgood
Senator Joe Hune
Senator Mike Kowall
Representative Charles Brunner
Representative Brad Jacobsen
Representative Dale Zorn
MINNESOTA
Senator Jim Metzen
Senator Carla Nelson
Senator Katie Sieben
Representative Paul Anderson
Representative Joe Atkins
Representative Bob Barrett
Representative Mike Benson
Representative Kurt Bills
Representative Bob Dettmer
Representative Sondra Erickson
Representative Patti Fritz
Representative Kelby Woodard
MISSISSIPPI
Representative Richard Bennett
Representative Roger Ishee
MISSOURI
Senator Brian Nieves
Senator Mike Parson
Representative T.J. Berry
Representative Mike Kelley
Representative Brent Lasater
Representative Thomas Long
Representative Tom McDonald
Representative Eileen McGeoghegan
Representative Jay Swearingen
Representative Paul Wieland
Representative Billy Pat Wright
MONTANA
Senator Tom Facey
Senator Jon Sonju
Representative Christy Clark
Representative Doug Kary
Representative Steve Lavin
NEVADA
Assemblymember Richard Carrillo
Representative Ed Goedhart
NEW HAMPSHIRE
Representative Gary Azarian
Representative Gail Barry
Representative Paul Brown
Representative Jack Flanagan
Representative Frank Holden
Representative Robert Introne
Representative Kenneth Kreis
Representative Keith Murphy
Representative Jeffrey Oligny
Representative Joe Pitre
Representative Mark Proulx
Representative Steven Smith
Representative James Webb
NEW JERSEY
Assemblymember Erik Peterson
NEW MEXICO
Representative Bob Wooley
NEW YORK
Assemblymember George Amedore
Assemblymember John Ceretto
Assemblymember Andy Goodell
Assemblymember Sean Hanna
Assemblymember Mark Johns
Assemblymember Daniel Losquadro
Assemblymember Steven F. McLaughlin
Assemblymember Mike Montesano
Assemblymember Edward Ra
Assemblymember Kevin Smardz
Assemblymember Lou Tobacco
NORTH CAROLINA
Representative Kelly Alexander
Representative Becky Carney
Representative Kelly Hastings
NORTH DAKOTA
Senator James Dotzenrod
Representative Craig Headland
Representative Dick Anderson
Representative Mark Owens
OKLAHOMA
Senator Mark Allen
Senator Kim David
Representative Dennis Casey
Representative Colby Schwartz
Representative Cory Williams
PENNSYLVANIA
Representative John Bear
Representative Stephen Bloom
Representative Marcia Hahn
Representative Michael Hanna
Representative Nick Kotik
Representative John Lawrence
SOUTH DAKOTA
Senator Jim Putnam
Representative Steve Hickey
Representative Tona Rozum
Representative Mark Willadsen
TENNESSEE
Representative Harry Brooks
Representative Charles
Michael Sargent
Representative Mike Sparks
TEXAS
Representative Larry Gonzales
Representative Sid Miller
Representative Van Taylor
Representative James White
UTAH
Senator Scott Jenkins
VERMONT
Senator Joe Benning
Senator Richard Westman
WASHINGTON
Representative Larry Crouse
Representative Troy Kelley
WEST VIRGINIA
Delegate John Ellem
Delegate Gary Howell
WISCONSIN
Senator Glenn Grothman
Senator Van Wanggaard
Representative Roger Rivard
WYOMING
Senator Ogden Driskill
Representative Bunky Loucks
Driving Force Recognized in International Competition
SEMA Action Network's own Driving Force took home the gold medallion in the "Best Single Issue: Newsletter" category during the 20th International Automotive Media Awards, which took place on June 20 at the Automotive Hall of Fame in Dearborn, Michigan. The International Automotive Media Competition, a function of the International Society for Vehicle Preservation, is an awards program. The purpose of this peer-judged program is to recognize excellence in all forms of automotive media.
"As the leader in legislative advocacy on behalf of the automotive hobby, the SAN relies upon Driving Force to reach thousands of enthusiasts regarding government activity in the states and in Washington, D.C.," said Steve McDonald, SEMA vice president of government affairs. "This recognition is a testament to its continued effectiveness in providing enthusiasts with the information they need to help affect pro-hobby governmental policies."
New York One-Time Fee: SAN-supported legislation to provide historical vehicle owners a one-time registration fee of $100 upon initial registration was passed by the New York Senate. The bill will now be considered by the Assembly Transportation Committee. The reduced registration fee would be available to owners of historical vehicles owned and operated as an exhibition piece or collector's item and used for club activities, exhibits, tours, parades, occasional transportation and similar uses. Under current New York law, a historical motor vehicle is either a vehicle manufactured more than 25 years ago or one which has unique characteristics and which is determined to be of historical, classic or exhibition value. The $100 one-time fee would replace the current annual fee of $28.75.
New York Assembly Passes Resolution Proclaiming July 8 as Collector Car Appreciation Day in the State: The New York State Assembly approved a resolution to memorialize July 8, 2011, as Collector Car Appreciation Day in the state of New York, in conjunction with National Collector Car Appreciation Day. The effort was sponsored by New York Assemblymember Bill Reilich, who has served the automotive hobbyist community for the past four years as national chairman of the State Automotive Enthusiast Leadership Caucus. Earlier this year, at SEMA's request, U.S. Senators John Tester (D-MT) and Richard Burr (R-NC) introduced and the Senate approved Resolution 154 (S. Res. 154), officially designating July 8, 2011, as 'National Collector Car Appreciation Day.'
Pennsylvania Year-of-Manufacture Plates: A Pennsylvania bill that would provide vehicle owners the option to use vintage, original model-year license plates on antique and classic vehicles was passed by the Pennsylvania House of Representatives and is now awaiting consideration in the Senate Transportation Committee. An application fee of $75 would be charged for a request to use year-of-manufacture plates. Under the measure, vintage plates must have been issued by the state of Pennsylvania between the years 1906 and 1975, must be provided by the vehicle owner and legible from a reasonable distance. Under current law, antique vehicle owners may only apply for special antique, classic or collectible plates that bear the designation 'antique vehicle.' These plates would still be available to state hobbyists if the bill is enacted into law.
U.S. House of Representatives Panel Considers the Benefits of Off-Highway Vehicle Recreation: A House Natural Resources Subcommittee held a hearing entitled "Opportunities for Outdoor Recreation on Public Lands." The main topics of discussion were protecting recreational access to federal lands and recognizing the economic benefits derived from such activities. Witnesses included representatives from the BlueRibbon Coalition (BRC), National Off-Highway Vehicle Conservation Council (NOHVCC), Colorado Off-Highway Vehicle Coalition and other OHV organizations. The hearing included testimony in support of multiple-use federal lands and responsible OHV recreation. Don Amador, Western Representative for the BlueRibbon Coalition, spoke on the need to reopen the Clear Creek Management Area (CCMA) in California. Currently closed due to an ³emergency closure² in 2008, the CCMA consists of more than 75,000 acres of land containing off-road trails. Amador testified that the decision was based on inaccurate data and false assumptions and that the land should be designated as a National Recreation Area with prescribed OHV uses. The SAN promotes the responsible use of federal lands for recreation and continues to oppose land use policies that are unnecessarily restrictive. "Wilderness designations" are of particular concern since no motorized activity is permitted on such land. In 2009, lawmakers passed 160 separate measures as one omnibus bill, thereby designating 2.2 million acres of new wilderness in nine states. Lawmakers are now discussing the possibility of designating millions more acres in the same fashion.
When Your Truck Breaks, Rod It!  Mopar Owner Leaves Nothing for the Junk Man
1950 Dodge B2B
Owner: Donald Giglio
Saratoga Springs, New York
I bought this truck in New Hampshire 26 years ago for $200 as a knock-around truck to help keep the miles off my new Dodge pickup. I never dreamed it would ever turn out to look like this. I drove it with the Flathead 6 for 14 years until the motor stopped running. I couldn't find a replacement at that time, but I sure wasn't going to give it to the junk man! So, I decided to street rod it.
Under the hood, I put in a '74 Cuda 318 with 340 heads, a 904 torqueflite, two chamber Flowmasters, 83/4-in. sure-grip rear 3:23 gears, a Ron Francis wiring kit, Lokar linkages, Cool-flex hoses and a fan, an Edelbrock 2176 performer aluminum manifold, an Edelbrock 600-cfm four- barrel carb and a Walker aluminum radiator. I covered the stock seats, updated the shifter with a Hurst V-Matic and installed VDO gauges and a JVC sound system with Bose speakers. Lastly, I coated the body with ¹01 Napa Rod & Custom bright blue paint.
The truck is all Mopar. It's been in two magazines and I've won more than 400 trophies with it over the years. My motto is, "Old Mopars never die! They just change drivers!"
SAN Spreads the Word This Summer
The SAN has spent its summer participating in enthusiast events around the country and spreading the word about the need to be involved in the protection of the auto hobby. Kicking off the start of the car show season in Cocoa Beach, Florida, as part of the Hot Rod Power Tour, SAN staff had the opportunity to sign up new members and speak to enthusiasts about current government efforts impacting hobbyist rights. With the SAN aboard, the tour continued to Valdosta, Georgia; Montgomery, Alabama; Nashville, Tennessee; Indianapolis, Indiana; and Muskegon, Michigan, before concluding in Detroit. An extra four days were spent in Nashville, Tennessee, at the 2011 Country Music Association Festival where SAN staff mixed and mingled with car-crazy country music fans, warning them of government threats to the hobby and bringing them into the SAN family.
ALASKA
August 7-­9, Anchorage
32nd Annual Jay Ofsthun Memorial Show & Shine
Sponsor: Midnight Sun Street Rod Association
Info: www.midnightsunsra.org/events08_aug.html
August 27, Palmer
State Fair Parade
Sponsor: Palmer Chamber of Commerce
Info: 907/745-2880 or 907/745-2652
CALIFORNIA
August 3-­6, Long Beach
25th Anniversary of Hot August Nights
"America's Greatest Classic Car Show"
Info: 562/513-1972
August 6, Anaheim
SpoCom
Info: http://spocomusa.com
August 6, Palo Alto
Carlsen Volvo¹s 10th Annual Car Show
Sponsor: Volvo Club of America-
Golden Gate Chapter
Info: www.carlsenvolvo.com
August 7, Sacramento
In Rust We Trust at the Arco Arena:
Annual Reno Swap Meet
Info: 916/955-8777
August 11­-14, Truckee
Sierra Trek, runs for all vehicles and drivers
Sponsor: CAL 4 Wheel
Info: www.cal4wheel.com
August 13, Crescent City
8th Annual Cool Northern Nights on the Coast
Sponsor: The Northern Knights Car Club
Info: northernknight@charter.net
August 18­-20, Niles
Hot August Niles Car Show
Info: www.nilesmerchants.com or 510/792-8023 
August 20, Markleeville Gambler¹s Poker Run
Sponsor: Lake Tahoe Hi-Lo's
Info: 530/545-1132 or talltara@aol.com
August 20­-21, Turlock
Summer Swap Meet
Info: 209/777-8107
August 21, Chatsworth
46th Annual Classic Cars Parts Exchange
Sponsor: Model T and Model A Clubs
of the San Fernando Valley
Info: 818/400-5418
August 24-­28, Santa Rosa
AACA Annual Grand National and
Western Fall Dual Meets
Sponsor: AACA­Redwood Empire Region
Info: www.aaca.org/calendar/default.aspx
August 26-­28, Pleasanton
25th West Coast Nationals
Sponsor: Goodguys Rod & Custom Association
Info: www.ggwestcoastnats.com
COLORADO
August 19-­21, Denver
Super Chevy Show at Bandimere Speedway
Sponsor: Super Chevy
Info: 800/692-6230 or www.superchevyshow.com
August 20, Front Range
7th Annual Classic Aircraft & Car Show
Info: www.ftg-airport.com/events.php
CONNECTICUT
August 27, Gales Ferry
MG Meandering Madness III Road Rally
Sponsor: The Connecticut MG Club,
New London County Group
Info: 860/464-6647 or MGB72dave@aol.com
or http://ctmg2005.homestead.com/files/pages/mgrallye2011flyer.pdf
GEORGIA
August 11­-13, Hiawassee
Georgia Mountain Moonshine Cruize-In
at the Georgia Mountain Fairgrounds
Info: 662/587-9572 or
www.gammoonshinecruizin.com
August 13, Griffin
Cruise Night at Wise Guys Wings
Sponsor: The Southern Cruisers of Griffin
Info: 770/412-0559 or 770/473-9587
IDAHO
August 12­-15, Eagle
40th Annual Pepsi Nightfire Nationals,
Firebird's largest drag-racing weekend
Sponsor: Firebird Raceway
Info: race@firebirdonline.com
ILLINOIS
August 6-­7, St. Charles
21st Annual All-Pontiac Indian Uprising
Sponsor: Cruisin' Tigers GTO Club
Info: www.cruisintigersgto.com
August 7, Bourbonnais
21st Annual Mustang and Ford Show at Perry Farm
Sponsor: Northern Mustang Corral
Info: 708/932-6746 or
www.northernmustangcorral.com/car_show.html
August 12-­14, Joliet
5th PEAK Chicagoland Nationals
Sponsor: Goodguys Rod & Custom Association
Info: www.chicagolandnats.com
INDIANA
August 26­-28, Evansville
37th Annual Frog Follies
Sponsor: Evansville Iron Street Rodders Ltd.
Info: 812/248-FROG or www.frogfollies.org 
IOWA
August 13, Davenport 8th Heartland Fiero Show at 1100 Christie Street
Sponsor: Heartland Fieros
Info: 563/386-8336
KANSAS
August 21, Pomona Lake Dam
Club Picnic
Sponsor: Classic Cruisers Car Club
Info: 913/557-5083 or 913/294-2712
KENTUCKY
August 4-­7, Louisville
NSRA 38th Annual Street Rod Nationals
Sponsor: National Street Rod Association (NSRA)
Info: http://nsra-usa.com/index.php/site/evsum/C2
August 14, Elizabethtown
4th Kentucky Motorsports Hall of Fame
Inductions and Car Show
Sponsor: Kentucky Motorsports Hall of Fame
Info: 502/741-1229 or
kymotorsportshalloffame@yahoo.com
MICHIGAN
August 6, Marion Fairgrounds
7th Annual Car, Truck and Bike Show
in Memory of Orris and Nancy Brackett
Sponsor: Marion Fraternal Order of Eagles
Info: 231/679-1265 or marioncarshow@
yahoo.com or www.4087.foe.com
August 7, Greenville
5th Annual Apple Peel In Car Show
at Klackle Orchard
Info: www.klackleorchards.com/orchard/
August 20, Detroit
Woodward Dream Cruise
Info: www.woodwarddreamcruise.com
August 20, Ferndale
Dream Cruise Parking
Sponsor: Royal Pontiac Club of America
Info: http://clubs.hemmings.com/clubsites/
August 21, Livonia
All-Family AMC Meet
Sponsor: The Great Lakes Classic AMC Club
Info: www.glasscityamc.com/wp-content/uploads/2010/10/Greenmead-2011-Flyer-ver2.pdf
August 26­-27, Wyoming
28th Street Metro Cruise
Info: www.28thstreetmetrocruise.com
MINNESOTA
August 12­-13, Park Rapids
28th Annual "Run to the Rapids"
Back on Main Street
Sponsor: Northern Knights Car Club
Info: 218/732-0020 or
www.parkrapids.com/cms/files/Run%20to%20the%20Rapids%202011.pdf
MONTANA
August 4-­7, West Yellowstone
41st Yellowstone Rod Run
Info: 406/646-9759 or rodrun@3riverdbs.net
NEBRASKA
August 20­-21, 
Omaha 29th Annual Pontiac, GMC, Oakland Show, Swap Meet & Car Corral
Info: www.omahapontiacshow.com
NEW HAMPSHIRE
August 20-­21, Center Sandwich
9th Annual Granite State Nationals
Sponsor: Right Coast Association
Info: 603/520-5994
August 21, Barrington
ATCA Granite State Chapter Show
Sponsor: Antique Truck Club of America
Info: www.antiquetruckclubofamerica.org/news.html
NEW YORK
August 6-­7, Corning/Watkins Glen
Corning Watkins Glen Overnight Tour
Sponsor: Genesee Valley Antique Car Society
Info: 585/872-4141 or 585/621-4312
August 7, Lakeville
Annual Car Show at Ninnehans Fun Center at Corner of RT 20A & 256
Info: 585/346-9847 or 585/781-8275
August 21, Montgomery
ATCA Mid Hudson Chapter Show
Sponsor: Antique Truck Club of America
Info: www.antiquetruckclubofamerica.org/news.html
August 27,