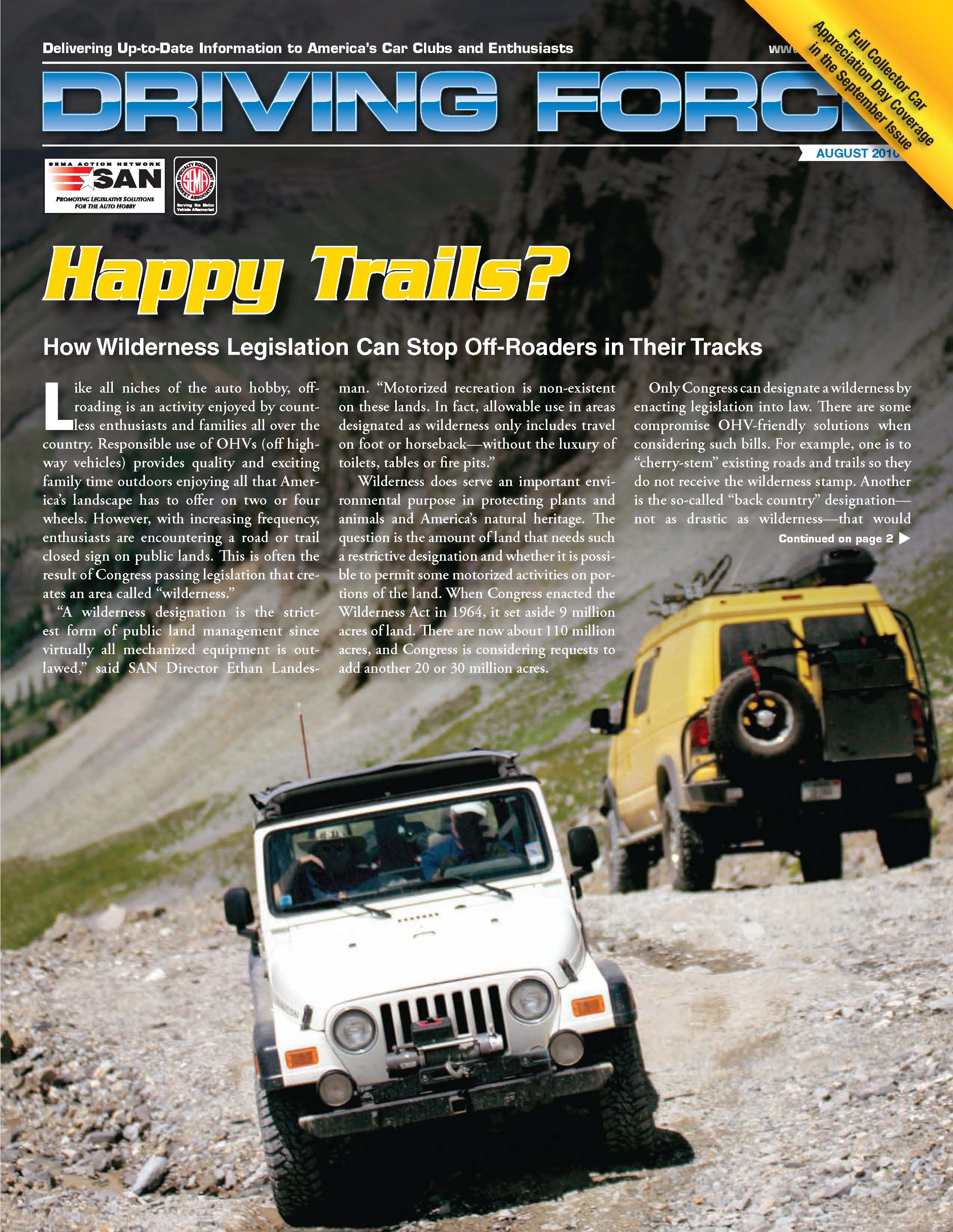 Click on image above to open the newsletter PDF.
How Wilderness Legislation Can Stop Off-Roaders in Their Tracks
Like all niches of the auto hobby, off-roading is an activity enjoyed by countless enthusiasts and families all over the country. Responsible use of OHVs (off highway vehicles) provides quality and exciting family time outdoors enjoying all that America's landscape has to offer on two or four wheels. However, with increasing frequency, enthusiasts are encountering a road or trail closed sign on public lands. This is often the result of Congress passing legislation that creates an area called "wilderness." 
"A wilderness designation is the strictest form of public land management since virtually all mechanized equipment is outlawed," said SAN Director Ethan Landesman. "Motorized recreation is non-existent on these lands. In fact, allowable use in areas designated as wilderness only includes travel on foot or horseback—without the luxury of toilets, tables or fire pits."
Wilderness does serve an important environmental purpose in protecting plants and animals and America's natural heritage. The question is the amount of land that needs such a restrictive designation and whether it is possible to permit some motorized activities on portions of the land. When Congress enacted the Wilderness Act in 1964, it set aside 9 million acres of land. There are now about 110 million acres, and Congress is considering requests to add another 20 or 30 million acres.
Only Congress can designate a wilderness by enacting legislation into law. There are some compromise OHV-friendly solutions when considering such bills. For example, one is to "cherry-stem" existing roads and trails so they do not receive the wilderness stamp. Another is the so-called "back country" designation— not as drastic as wilderness—that would permit motorized activity on certain lands while simultaneously protecting the environment.
"In recent years, anti-OHV activists have pushed dozens of wilderness bills in an organized effort to lock-up as much land as possible," said Steve McDonald, SEMA's vice president of government affairs. "When these bills are rushed through Congress, however, there is little opportunity to cherry-stem existing roads and trails. In fact, the wilderness designation may be an intentional means to force responsible OHV enthusiasts off public land. This hurts local economies that depend upon off-road activities and deprives enthusiasts of legitimate recreational opportunities."
This happened in 2009, when Congress combined more than 160 separate wilderness measures into one gigantic bill called the Omnibus Public Land Management Act. The law created nearly 2.2 million acres of new wilderness in nine states, including areas in and around Joshua Tree National Park and the Eastern Sierras in California, Owyhee-Bruneau Canyonlands in Idaho, Mt. Hood in Oregon, Zion National Park in Utah, Sabinoso Wilderness in New Mexico and Monongahela National Forest in West Virginia. The OHV community is still identifying roads and trails that were swept-up in the closures. Two examples include Mt. Canaan Trail in Utah and Dickshooter Ridge Road in Idaho.
There are many more threats on the horizon. The current Congress is considering dozens more wilderness measures which, if combined into a single bill, could encompass as much as 30 million acres of land across the country! Scores of popular OHV trails could be closed. It is more important than ever to get involved and make your voice heard by government.
The SAN maintains that it is possible to balance environmental protection and promote responsible recreational opportunities. The SAN advocates a number of basic principles including:
Implementing OHV policies that recognize the importance of vehicle-oriented recreation. 
 
Conducting case-by-case reviews of lands subject to a wilderness designation to ensure widespread local community support, and releasing any lands that do not meet the wilderness criteria since they have been developed with roads, trails, buildings, etc. 
 
Cherry-stemming existing roads/trails, a process that excludes them from the wilderness area and, thereby, can remain open to recreation.
 
Creating a new designation called "back country" to supplement the wilderness designation. Back country would facilitate motorized recreation while still protecting the land. The designation would expand access and recreation opportunities to a large percentage of Americans who do not visit wilderness areas, including the very young, elderly and physically challenged.
For more information on land-use issues and ways you can help protect roads and trails from closure, visit the SAN's Guide to Land Use Policies and Off Road Equipment at www.semasan.com.
Wilderness Bills Pending in Congress
Wilderness bills can vary in size and impact on the hobby. To follow are wilderness bills currently in Congress that could dramatically reshape the face of OHV recreation.
Northern Rockies: The "Northern Rockies Ecosystem Protection Act" (H.R. 980) invents the term "Northern Rockies Bioregion" and then uses it as the reason to outlaw any motorized activity on nearly 24 million acres of land in five states (Idaho, Montana, Oregon, Utah, Wyoming) using the wilderness designation.
Utah: More than one-sixth of Utah would be off-limits to any form of motorized recreation if Congress approves H.R. 1925, "America's Red Rock Wilderness Act of 2009." The bill would designate 9.4 million acres of land in Utah as "wilderness." Most of the 168 co-sponsors of the legislation represent areas east of the Rockies.
Highlighted Other Bills: Central Idaho Economic Development and Recreation Act (S. 3294)—330,000 acres of land in Idaho.
Colorado Wilderness Act (H.R. 4289)—34 areas totaling 850,000 acres in Colorado
San Juan Mountains Wilderness Act (H.R. 3914; S. 2762)—44,000 acres in southwestern Colorado Organ Mountains-Desert Peaks Wilderness Act (S. 1689)—272,000 acres in New Mexico
Cerro Del Yuta Wilderness and Rio San Antonio Wilderness (S. 874)—236,000 acres near Taos, New Mexico
Forest Jobs and Recreation Act (S. 1470)—set aside 600,000 acres while protecting timber harvesting in Montana
Devil's Staircase Wilderness Act (S. 1272; H.R. 2888)—30,000 acres in Oregon
Tony Dean Cheyenne River Valley Conservation Act (S. 3310)—50,000 acres in South Dakota
Tennessee Wilderness Act (S. 3470)—20,000 acres near the Great Smoky Mountains National Park, Tennessee
While these bills have not yet been passed, other wilderness bills have resulted in real trails being closed to OHV enthusiasts. Some examples of areas where off-road recreation is no longer permitted are:
Canaan Mountain Sawmill Road, Utah: The road was built around the turn-of-the-last-century for access to a sawmill at the top of Canaan Mountain in Utah near the Arizona border. For decades, it has been a popular recreation route with spectacular vistas of the "Grand Staircase" and Arizona Strip. In 2009, Congress included the Canaan Mountain Wilderness, along with nearly 160 other measures in the "Omnibus Public Land Management Act." As a result, OHV access was then outlawed on nearly 2.2 million acres of new wilderness in nine states when the law took effect in March 2009.
Dickshooter Ridge Road, Idaho: About 17 miles of road on Dickshooter Ridge between Battle and Deep Creeks was closed when the Owyhee Canyonlands Wilderness was created in southwest Idaho as a result of the 2009 law. The road offered spectacular views of vertical walled gorges and vistas of the surrounding desert plateaus. The road was named after Dick Shooter, who established a homestead there and was the original route old timers used to travel from Silver City to Salt Lake and the Humboldt (Nevada) area.
Lonstine River Road, Oregon: The popular road south of Lonstine, Oregon, would be closed if the "Northern Rockies Ecosystem Protection Act" is passed by Congress. The legislation invents the term "Northern Rockies Bioregion" as the reason to outlaw any motorized activity on nearly 24 million acres of land in five States (Idaho, Montana, Oregon, Utah, Wyoming). Bill sponsors want to create the Eagle Cap Wilderness and close the road within the Wallowa-Whitman National Forest.
Each month Driving Force will feature members of the State Automotive Enthusiast Leadership Caucus. The SEMA-supported caucus is a bipartisan group of state lawmakers, more than 450 strong, whose common thread is a love and appreciation for automobiles.
Here are its newest members:
CALIFORNIA 
Assemblyman Curt Hagman
PENNSYLVANIA 
Representative Peter Daley
New Jersey New Car Exemption: SAN-supported legislation to extend the emissions inspection exemption to vehicles five model years old or newer was signed into law by Governor Chris Christie. Current law exempts vehicles that are four model years old or newer. New Jersey also already exempts historic (at least 25 years old) and collector (driven no more than 3,000 miles per year and insured for limited use) vehicles from emissions testing.
Louisiana Inspection Exemption: A SAN-supported bill to exempt antique vehicles 25 years old and older from the motor-vehicle inspection requirements was signed into law by Governor Bobby Jindal. Prior to the bill's enactment, only vehicles 40 years old and older were exempted from testing. The bill makes the inspection exemption consistent with current state law defining an antique vehicle as a vehicle that is 25 years old or older and used primarily for shows, parades, tours and other special uses and not for general transportation. Vehicles in Louisiana are subject to an annual vehicle inspection, including a safety-equipment inspection and for vehicles registered in selected parishes, an additional emissions inspection. The emissions inspection consists of a visual anti-tampering check and a gas-cap integrity check. Vehicles manufactured in 1995 and later are also subject to an on-board diagnostic (OBD-II) emissions check.
Canada Lead-Fuel Exemption for Competition Vehicles: Environment Canada issued a SAN-supported final rule to indefinitely extend an exemption allowing the use of leaded gasoline in competition motor vehicles. The exemption has been renewed several times since it was first established in 1996. The SAN had previously opposed efforts to permanently terminate the exemption and effectively ban racing vehicles using leaded fuel. The new rule recognizes the relationship between the Canadian and U.S. racing industries and adopts a consistent environmental approach to leaded fuel use. Environment Canada will conduct a five-year review and revisit the exemption issue if necessary based on science, technology and fuel replacement developments. Meanwhile, Environment Canada will work with the racing industry to encourage a voluntary reduction or phase-out of leaded racing fuel.
Don't Judge a Pony Car by Its Cover
2004 Ford Mustang GT
Owner: Dan Heagy
Aberdeen, Maryland
One of my favorite cars that my wife and I have owned was a '98 Mustang GT. Unfortunately, it was totaled in 2006 while my wife was driving it, by a woman who pulled in front of her at an intersection. Two and a half years, two knee operations for my wife and one insurance settlement later, we were ready to find a new Mustang to replace our '98!
My wife and I began our search for a replacement online and after looking for about a month we had narrowed it down from 1,500 to two that we really liked. We found our '04 at a dealership in New Jersey. It had only 23,000 miles, and we had been watching the price drop online for about a month, so we decided to make the trip to test drive it! After getting lost along the way, we finally made it to the dealership at 8:30 p.m., only 30 minutes before it closed. Once we got there, we immediately fell in love with the car as it was everything we wanted. It was in perfect shape, drove great and felt like a brand-new car. We did the deal and drove it home on the spot!
The real fun started, though, when I began the modifications. I have equipped it with the Ford Racing suspension kit, Ford Racing .373 gears, a BBK 78mm throttle body, a Mac Pro Chamber exhaust with SLP Loudmouth mufflers, CDC sequential taillights, a cold air intake and a four-point roll bar. The roll bar was a must because I took my Mustang to the track event for the 45th Mustang Anniversary in Alabama last April. My Mustang is fun at the track, and it's my daily driver!
Editors Note: Aside from just loving Mustangs, Dan is also the vice president of the 150-member-strong Mustang Club of Maryland.
Have your car or truck featured in a future issue of Driving Force. Submit your high-resolution photos online to
san@sema.org
.
PENNSYLVANIA
August 13–15, Bloomsburg Annual Rod & Custom Cruise-In
Bloomsburg Fairgrounds
Info: www.bloomhealth.net/car-show
All proceeds benefit the nonprofit Bloomsburg Hospital
ALASKA
August 14, Palmer
Hot Summer Nights
Sponsor: 49th State Street Rodders
Info: www.49thstatestreetrodders.com
CALIFORNIA
August 6, Yucaipa
Family Classic Car Cruise Night
Sponsor: Past Pleasures Car Club
Info: http://pastpleasurescarclub.com
August 12–15, Meadow Lake
Sierra Trek
Sponsor: California Association of 4WD Clubs Inc.
Info: www.cal4wheel.com
August 21, Crescent City
Cool Northern Nights on the Coast
Sponsor: Northern Knights Car Club
Info: www.northernknights.us
August 27–29, Pleasanton
24th West Coast Nationals
Sponsor: Good-Guys Rod & Custom Association
Info: www.good-guys.com
COLORADO
August 6–8, Denver
The Mile High Roundup
Sponsor: Cosworth Vega Owners Association
Info: jllromeo@msn.com or t.e.hutton@ comcast.net or www.cosworthvega.com
August 20–22, Morrison
Super Chevy Show at Bandimere Speedway
Sponsor: Super Chevy
Info: www.bandimere.com/events/day_detail. php?dayID=194&dTargetDate=08/01/2010
IDAHO
August 12–15, Boise
39th Pepsi Nightfire Nationals
Sponsor: NHRA Hot Rod Heritage Series
Info: www.firebirdonline.com
ILLINOIS
July 31–August 1, St. Charles
20th Annual All Pontiac Indian Uprising
Sponsor: Cruisin' Tigers GTO Club
Info: 630/541-6029 or www.cruisintigersgto.com
August 19–21, Moline, IL
AACA Central Division Fall Meet
Sponsor: AACA Mississippi Valley Region
Info: http://local.aaca.org/mvr
August 21, Tinley Park
60th Anniversary Celebration for the 1950 Oldsmobile 
Sponsor: Oldsmobile Club of America-Illinois Valley Oldsmobile Chapter
Info: http://is-is.facebook.com/group.php?gid=137709945240
INDIANA
August 15, Lafayette
3rd Annual Columbian Park Car Show
Sponsor: Lafayette Kroozers
Info: 765/296-8464 or www.lafayette.in.gov/parks/division.php?fDD=19-187
August 21, Elwood
Vintage Rollers Glass Festival Rod Run
Sponsor: Vintage Rollers
Info: http://vintagerollers.homestead.com
KENTUCKY
August 5–8, Louisville
41st Annual Street Rod Nationals Plus
Sponsor: National Street Rod Association
Info: http://nsra-usa.com/index.php/site/evsum/C2
MONTANA
August 20–21, Libby
Ignite the Nights
Sponsor: Igniters Car Club
Info: www.igniterscarclub.com/show2010.html
PENNSYLVANIA
August 1, Hershey
Tall Cedars Car Show at the AACA Museum
Sponsor: Tall Cedars of Lebanon, Harrisburg Forest #43
Info: www.aacamuseum.org/events/event.aspx?id=295
MASSACHUSETTS
August 15, Medway
19th Annual Car Show
Sponsor: Mass Cruisers
Info: www.masscruisers.com
MICHIGAN
August 21, Royal Oak
16th Annual Woodward Dream Cruise 
Info: www.woodwarddreamcruise.com
MONTANA
August 5–8, West Yellowstone
40th Yellowstone Rod Run
Info: http://yellowstonerodrun.com
NEW JERSEY
August 8, Metuchen
Project Graduation's 1st Annual Car Show
Sponsor: Metuchen High
Info: http://bencar.freeyellow.com/2010SHOWFlyer.pdf
NORTH CAROLINA
August 28, Hillsborough
4th Annual Racers Reunion & Car Show
Sponsor: Historic Speedway Group
Info: 919/604-2292 or www.historicspeedwaygroup.org
OHIO
August 6–8, Norwalk
Pontiac Nationals
Sponsor: Ames Performance
Info: www.pontiacnationals.com
August 13–15, Columbus
Mopar Nationals
Info: www.moparnats.org
August 20–22, Norwalk
9th Blue Suede Cruise
Sponsor: Good-Guys Rod & Custom Association
Info: www.good-guys.com
August 27–29, Dayton
Trans Am Nationals
Sponsor: Trans Am Club of America-Dayton, Ohio Chapter
Info: www.78ta.com/nats
OKLAHOMA
August 7, Vinita
Route 66 Summer Fest Car Show
Sponsor: Vinita Area Chamber of Commerce
Info: www.vinita.com/summerfest.html
OREGON
August 13–15, The Dalles
Cruise the Gorge Car Show
Sponsor: Mid Columbia Car Club
Info: www.midcolumbiacarclub.org
August 27–28, Winchester Bay
19th Annual Kool Coastal Nights
Sponsor: Kool Coastal Cruisers
Info: www.koolcoastalnights.com
SOUTH CAROLINA
August 7, Spartanburg
Elite Summer Nationals
Info: www.elitesummernationals.com
SOUTH DAKOTA
August 13–15, Pierre
21st Annual Pierre Street Masters Dam Run
Sponsor: Street Masters Car Club
Info: www.pierrestreetmasters.com/events_2010damrun.htm
TENNESSEE
August 28, Cleveland
Destination Anywhere Cruise-In
Sponsor: The MainStreet Cruisers
Info: 423/614-5638 or www.mainstreetcruisein.com
UTAH
August 11, Sandy City
Club 90 Cruise Night
Sponsor: Club 90
Info: www.club90slc.com
August 14, Wasatch
Stars of the Past
Sponsor: Wasatch Rods & Customs
Info: 801/781-0738 or 801/476-6908
August 15, Midvale
Kruisers for Kids: Charity Car Show
Sponsor: Shriners Hospitals for Children
Info: www.kruisersforkids.com
VIRGINIA
August 12–14, Blacksburg
AACA Southeastern National Fall Meet
Sponsor: AACA Roanoke Valley Region
Info: http://local.aaca.org/roanoke/ 2010%20meet.htm
August 13–15, Hampton
Annual Car, Truck & Motorcycle Show
Sponsor: Hampton Cup Regatta
Info: 757/851-5875 or resto33@aol.com or http://hamptoncupregatta.org
August 13–15, Virginia Beach
2010 MCA National
Sponsor: Southeastern Virginia Mustang Club
Info: 757/318-6437 or superstang2@cox.net or www.sevmc.org
WASHINGTON
August 13–15, Spokane
9th Great Northwest Nationals
Sponsor: Good-Guys Rod & Custom Association
Info: www.good-guys.com
WISCONSIN
August 15, Waukesha
Waukesha Old Car Club Annual Car Show
Info: www.waukeshaoldcarclub.org
August 21–22, Milwaukee
Milwaukee Masterpiece
Info: www.milwaukeemasterpiece.com
August 22, Kiel
29th Annual Kiel Car Show & Swap Meet
Sponsor: Custom Street Car Club Ltd.
Info: www.kielcarclub.com
WYOMING
August 7, Evanston
15th Annual Evanston Car Cruise Car Show
Sponsor: Evanston Car Cruise Car Club
Info: http://evanstoncarcruise.org
Early September 2010 Events
INDIANA
September 6, Cicero
Vintage Rollers Red Bridge Rod Run
Sponsor: Vintage Rollers Car Club
Info: http://vintagerollers.homestead.com
MISSOURI
September 4–5, Kansas City
Kansas City All British Car and Cycle Show
Sponsor: All British Car & Cycle Association of Kansas City
Info: www.kcallbritish.com
INDIANA
September 4, Hayden
Hayden's Auto Daze Gone By Festival and Car Show
Sponsor: Hayden Historical Museum
Info: 812-346-8212 or www.seidata.com/~haydenmu
ALBERTA, CANADA
August 21, Sylvan Lake Show & Shine
Sponsor: Sylvan Lake Customs & Classic 
Info: 403/887-3826
August 21, Calmar
Calmar Show & Shine
Sponsor: Calmar Custom Wheels Auto Club
Info: www.calmarcustomwheelsautoclub.com/show_shine.html or 780/387-4385