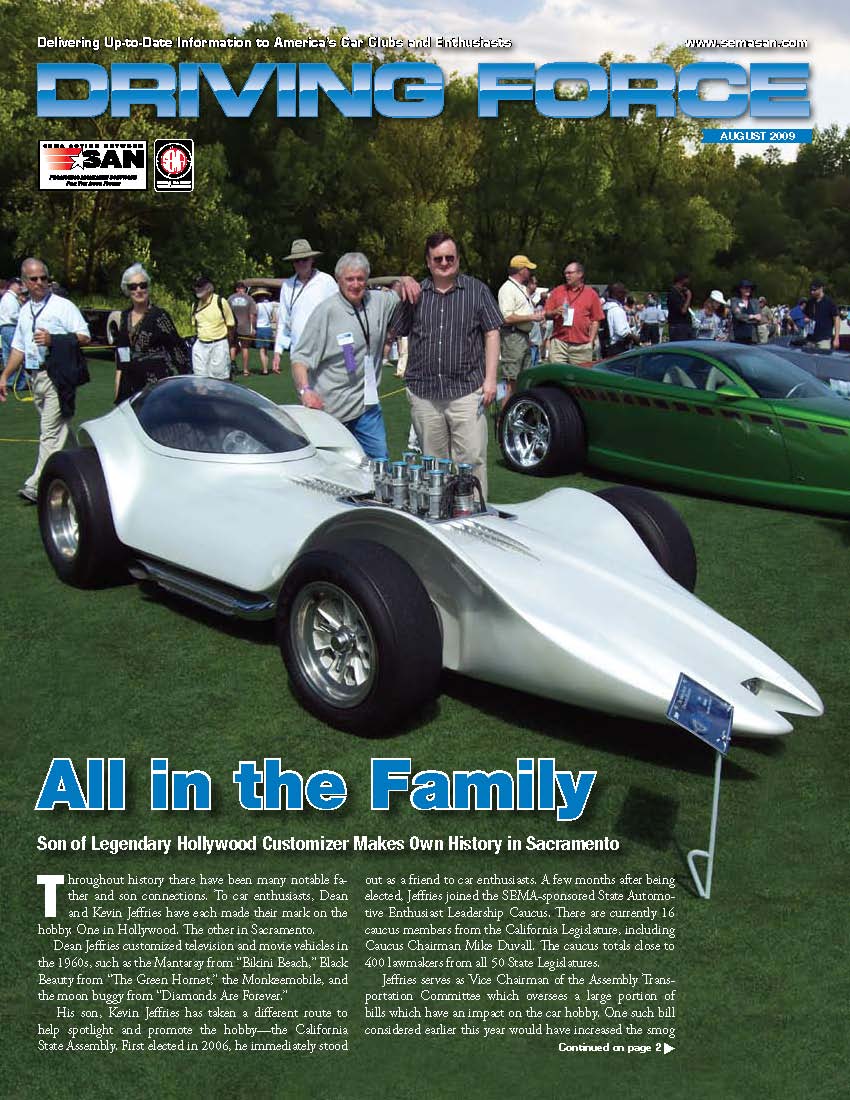 Click on image above to open the newsletter PDF.
Son of Legendary Hollywood Customizer Makes Own History in Sacramento
Throughout history there have been many notable father and son connections. To car enthusiasts, Dean and Kevin Jeffries have each made their mark on the hobby. One in Hollywood. The other in Sacramento. 
Dean Jeffries customized television and movie vehicles in the 1960s, such as the Mantaray from "Bikini Beach," Black Beauty from "The Green Hornet," the Monkeemobile, and the moon buggy from "Diamonds Are Forever."
His son, Kevin Jeffries has taken a different route to help spotlight and promote the hobby—the California State Assembly. First elected in 2006, he immediately stood out as a friend to car enthusiasts. A few months after being elected, Jeffries joined the SEMA-sponsored State Automotive Enthusiast Leadership Caucus. There are currently 16 caucus members from the California Legislature, including Caucus Chairman Mike Duvall. The caucus totals close to 400 lawmakers from all 50 State Legislatures.
Jeffries serves as Vice Chairman of the Assembly Transportation Committee which oversees a large portion of bills which have an impact on the car hobby. One such bill considered earlier this year would have increased the smog check requirements for cars more than 15 years old. Jeffries urged his colleagues to oppose the measure as it would have minimal impact on air quality at the expense of car collectors.
As demonstrated in the letter below, Jeffries voiced his opposition to the bill and pledged his continued support for hobbyists in the state.
"We continue to seek out lawmakers to participate in the State Automotive Enthusiast Leadership Caucus and to actively pursue pro-active legislative policies that work to the benefit of the auto hobby," said Steve McDonald, SEMA Vice President of Government Affairs. "Assemblyman Jeffries shares this common bond with his love and appreciation for the collector car community."
Fellow Automobile Enthusiasts,
You had contacted me earlier this year regarding your opposition to AB 859, which would have increased the smog check requirements for cars more than 15 years old, adding new costs to collectors, while accomplishing very little in improving our state's air quality.
I am pleased to inform you yesterday this bill was held on the "suspense file" in the Assembly Appropriations Committee, and is essentially dead for this year. This is truly a victory—but like a bad penny, bad ideas also return over and over again in Sacramento, so we must all continue to be vigilant in protecting our hobby.
In the meantime, I will continue to look out for the interests of automobile enthusiasts as vice-chair of the Assembly Transportation Committee, and I encourage you to contact me with issues of concern as they come up in Sacramento, and I am always open to suggestions on how the state's laws may be improved to make things easier for automobile collectors, customizers, and racers in California.
Thank you again for taking the time to contact my office,
Kevin Jeffries
Assemblyman, 66th District
California Greenhouse Gases: The U.S. Environmental Protection Agency (EPA) announced that it will grant a waiver to California to allow the state to regulate greenhouse gas emissions from cars and trucks. Until at least 2016, however, California will pursue the national approach adopted by the Obama Administration. The decision ends a seven-year battle by California to establish standards to limit emissions of carbon dioxide and other greenhouse gases. In 2007, the Bush Administration blocked implementation of the California CO2 rule which had been adopted by 13 other states. Since the federal standards will not begin until 2012, the waiver technically allows California and other states to enforce their own standards. More importantly, the waiver will permit California to pursue stricter standards after 2016.
California Tire Fuel Efficiency: California has issued a regulatory proposal to establish a tire fuel efficiency rating system. The regulation is based on a 2003 California law mandating a program to provide consumers with information about the fuel efficiency of replacement tires. The law contains a SAN provision exempting manufacturers of tires that have the same SKU, plant, and year, and have been produced or imported in annual units of less than 15,000. California regulators are proposing a program that would assign a "fuel efficient tire" ranking to the top 15 percent of tires with the lowest rolling resistance within their size and load class. All other tested tires would be ranked as "tires that are not fuel efficient." If implemented, the testing program would take effect in mid 2011. Manufacturers would also be required to report other tire information such as load index, federal Uniform Tire Quality Grading System rating and speed rating.
Connecticut Vehicle Noise: The SAN helped defeat legislation that would require motor vehicles and devices to be operated, constructed and adjusted to prevent unnecessary or unusual noise. The bill did not define what constituted unnecessary or unusual noise. The SAN also persuaded lawmakers not to pass legislation that sought to provide an incentive to localities to increase the number of citations issued for violation of vehicle noise regulations.
North Carolina Scrappage: SAN members persuaded North Carolina legislators not to consider legislation that would have implemented a state vehicle scrappage program for passenger vehicles that are at least 14-years old. Participants would have received around $1,000-$1,500 to scrap their car and purchase a current year vehicle under 10,000 pounds, or one from the previous three model years. All trade-in vehicles could have been destroyed, regardless of their historical value or collector interest. Had this effort been successful, hobbyists could have been denied the availability of vintage cars and parts for restoration projects.
Oregon Aftermarket Parts: The Oregon House and Senate approved an alternative to legislation that originally sought to prohibit the sale and distribution of aftermarket motor vehicle parts if alternatives are available that "decrease greenhouse gas emissions from motor vehicles." Under the alternative, negotiated between SEMA and the Oregon Department of Environmental Quality, the bill would only give the Department authority to adopt the present California certification process for aftermarket emissions-related parts, allowing parts manufacturers to meet one uniform standard, rather than a patchwork of multiple state standards. The amended legislation will also incorporate a California law that requires state regulators to develop a tire fuel-efficiency program for passenger car and light truck replacement tires. As in California, Oregon includes a SEMA-drafted provision to exempt limited production tires (15,000 or less annually), deep tread snow tires, limited-use spares, motorcycle tires and tires manufactured for use on off-road vehicles. The bill will now be transmitted to the governor for his signature and enactment into law.
Tennessee Antique Vehicles: Legislation to amend the state's current law defining antique motor vehicles to also permit use of these vehicles for "selling, testing the operation of or obtaining repairs" was signed into law by Governor Phil Bredesen. The bill had originally contained a SAN-supported provision to allow use for everyday general transportation. In addition to the new allowances, the Tennessee law continues to permit use of antique vehicles for club activities, exhibits, tours and for general transportation on Saturday and Sunday.
Hands On Learning
Instructors at the Fox Valley Technical College (FVTC) in Appleton, Wisconsin, decided to give a real hands on approach to understanding automotive technology. They built a 600 hp 1986 Firebird. 
While the car spent most of the last 7 years on a drag strip, the students decided to take on a great challenge by taking it to the Bonneville Salt Flats for a top speed run contest. With a 167-mph run under their belts, the students agreed to raise the bar again by driving all 1,200 miles of the 2009 Hot Rod Magazine Power Tour. They took this challenge one step further by deciding to operate solely on alternate energy; their main source being Ethanol alcohol at a concentration of 85% along with a blend of only 15% gasoline. 
In pushing the envelope even further, one advisor helped the students build and design a hydrogen generator which injects pure hydrogen into the engine air intake system at various prescribed periods of operation. Another advisor helped the students build and install solar panels beneath the rear hatch glass to help supplement the electrical needs required to operate the hydrogen generator.
"The classes at FVTC bring out a different perspective to the automotive world besides studying fundamental design and repair," said FVTC student Ryan Brerenton. "Our class agreed that a place to show off some of our ideas and skills would be to complete the Power Tour."
The car made it the entire route with the exception of breaking one valve operating rocker arm which disabled one cylinder. However, with a quick replacement part from Competition Cams the Firebird was back on the road. It completed the tour in Bristol, Tennessee, where the team from FVTC stayed an extra day to participate in a meet at the Thunder Valley Dragway. 
"While the college supports my efforts in the classroom, the students raised the funds to take the Firebird on the road," said lead instructor Dave Sarna. "They did it all on good old fashioned hard work and resourcefulness. I was very proud of them all."
Paid In Full
1969 Chevrolet Chevelle SS
Owner: Steve Rowe
Chicago, Illinois
My parents had a 1969 Chevelle, which just happens to be the year I was born. As I got older, I decided that I had to get one too. In 1996 I found one listed in the newspaper and bought it for a whopping $1,500. I had to borrow $500 from my then girlfriend and even signed an I.O.U to make it official. We'll get back to that story later.
I had the car towed to her house and it sat in the backyard with the parts search underway. It needed a grille, bumper, fenders and a motor. I found a guy who just happened to have all of the parts I needed. He even had a friend that could help install them.
When I pulled up to his friend's house, I noticed a 1970 Nova in mint condition. The guy told me that he did all the work. I thought I found my new best friend. For the next four months I spent every other day in his garage working on my car. Before the restoration, it had a 396 and a four-speed Muncie, a 12-bolt rearend with 3.73 gears, stock suspension and Rallye rims. Now after the transformation the Chevelle sports a race-prepped 502, which is lit by a MSD-6AL. Air is sucked in through a K&N Filter, swallowed by a Demon Carb, and sent packing via 3-inch Hooker headers through Dynomax mufflers.
By the way, that girlfriend and I have been happily married for 10 years now. I did take care of the I.O.U from all those years ago. She has a '72 Monte Carlo in the garage next to my SS.
Calling All Car Clubs!
Entry Forms Available October 1 for Annual Eagle One Golden Rule Awards
Eagle One has announced the availability of entry forms for its 17th Annual Golden Rule Awards. Car clubs entering will have an opportunity to win a $1,500 grand prize that will be donated to a charity of their choice.
Three other winners will receive a $500 cash contribution for a charity of their choice.  The grand prize will be awarded to the car club judged to have performed the most compassionate achievement during 2009. Winners will be selected in four regions—west, midwest, east and south—for conducting the most outstanding community service program in their area during 2009.
In addition to a total of $3,000 in cash donations from Eagle One and co-sponsor Valvoline, winners will receive a generous supply of premium appearance care products and motor oil for fund-raising purposes and a custom-designed trophy.
Starting October 1, the entry form will be available for download on www.eagleone.com or by calling 818/501-1445. The deadline for entries is December 31, 2009. Winners will be notified by February 10, 2010.
Eagle One is part of the Valvoline family of brands.
Alabama
August 16, Decatur
3rd Annual Car Show & Block Party
Sponsor: Decatur MOPARS
Information: http://decaturmopars.googlepages.com/ or 256/466-3443
California
August 6-9, Truckee
42nd Annual Sierra Trek
Sponsor: California Association of 4WD Clubs
Information: http://www.cal4wheel.com/index.php?option=com_content&view=article&id=52&Itemid=246 or 800/4x4-FUNN
August 8, Palo Alto
8th Annual Volvo Car Show
Sponsor: Golden Gate Chapter of the Volvo Club of America
Information: http://www.vcoa.org/events/2009-carlsen/index.php or 800/70-VOLVO
August 15, Crescent City
6th Annual Cool Northern Nights on the Coast
Sponsor: The Northern Knights Car Club
Information: http://www.northernknights.us/page8.php or 707/465-1166
August 22, Atascadero
20th Annual Atascadero Lake Car Show
Sponsor: Mid-State Cruizers
Information: http://www.midstatecruizers.org/carshow.html or 805/466-3853
August 21-23, Pleasanton
23rd West Coast Nationals
Information: http://good-guys.com/events/eventDetails.aspx?eventid=09-625 or 925/838-9876
August 22, El Segundo
12th Annual Main Street Car Show
Information: 310/524-2262 or 310/524-2215
August 29, Solvang
5th Annual Wheels 'N' Windmills
Information: http://wheelsnwindmills.com/index.html or 805/688-6112
Colorado
August 22, Brighton
41st Annual Mountain States Swap Meet
Sponsor: Old Car Council of Colorado
Information: http://www.oldcarcouncil.org/SwapMeet.html or 303/886-7923
Connecticut
August 2, East Hampton
43rd Annual Vintage Motorcar Meet
Sponsor: Belltown Antique Car Club
Information: http://belltownantiquecarclub.org/shows/summer%20show%20main.htm or 860/267-4617
August 16, Goshen
Litchfield Hills Historical Auto Club Show
Sponsor: Litchfield Hills Historical Auto Club
Information: 860/482-4500
August 30, Vernon
Chrysler Convention
Sponsor: DARTS
Information: http://www.chryslerconvention.com/index.html or 860/257-8434
Georgia
August 1, Macon
1st Annual Super Cruise-In
Sponsor: Middle Georgia Cruisers Car Club
Information: http://midgac.com/2009_super_cruise_flyer.pdf or 478/972-2021
Illinois
August 2, Lake In The Hills
Lake In The Hills Car, Truck and Motorcycle Show
Information: http://www.lithcarshow.com/ or 847/658-5676
August 22-23, Springfield
31st Annual Mustang & All Ford Show
Sponsor: Central Illinois Mustangers
Information: http://www.cimclub.com/annualshow.html or 217/525-7420
Indiana
August 8, Elkhart
26th Annual Mustang and Ford Car Show
Sponsor: Michiana Mustangs
Information: http://michianamustangs.com/carshow.html or 219/874-4488
Iowa
August 22, Amana
1st Annual Iowa Model A Day
Sponsor: Hawk A Region Model A Restorers Club
Information: http://hawkamodelaclub.org/images/stories/downloads/amana%20model%20a%20day.pdf or 319/622-3756
Kentucky
August 5-8, Louisville
40th Annual Street Rod Nationals
Sponsor: National Street Rod Association
Information: http://nsra-usa.com/index.php/site/evdet/96 or 901/452-4030
Maine
August 14-15, Hebron
37th Annual Downeast Street Rod Run
Sponsor: Downeast Streetrod Club
Information: http://downeaststreetrodclub.com or 207/786-4176
Maryland
August 8, Rockville
35th Annual All-GM Show
Sponsor: Metro Chapter Buick Club & Capital City Rockets
Information: http://local.aaca.org/chesapeake/AllGMFlyer09.htm or 240/686-0229
Massachusetts
August 2, Bourne
2009 Blast From the Past Car Show
Sponsor: Cape Cod Classics
Information: http://www.capecodclassics.org/2009blast.pdf
Michigan
August 9, Novi
21st Annual Mustang Memories Car Show and Swap Meet
Sponsor: Mustang Owners Club of Southeastern Michigan
Information: http://www.mocsem.com or 313/304-5244
Minnesota
August 2, Plymouth
23rd Annual Muscle Car Classic
Sponsor: Land of Lakes GTO Club
Information: http://lolgto.com/ or 651/649-4518
August 22, Staples
14th Annual Ride The Dream Car Show
Sponsor: Still Cruisin' Car Club
Information: http://stillcruisincarclub.com/car_show.htm or 218/296-1288
August 23, Minneapolis
All Italian Car and Motorcycle Show
Sponsor: Wheels of Italy
Information: www.wheelsofitaly.com or 612/385-3111
Missouri
August 1, Springfield
20th Anniversary GOMC All Ford Show
Sponsor: Greater Ozarks Mustang Club
Information: http://www.gomc.org/ or 417/883-2073
Montana
August 14-15, Libby
Ignite the Nites' Car Show
Sponsor: Igniters Car Club
Information: www.igniterscarclub.com or 406/293-6693
Nebraska
August 16, Columbus
All Ford and Mustang Car Show
Sponsor: Platte Valley Mustangs
Information: http://www.pvmustangs.net/ or 402/367-4019
Nevada
July 31- August 9, Reno
Hot August Nights
Information: http://www.hotaugustnights.net/ or 775/356-1956
New Hampshire
August 14-16, Moultonborough
2009 Granite State Nationals
Information: http://www.rightcoastcars.com/shows/ln/index.html or 603/253-4199
New Jersey
August 29, Mahwah
2009 GTOAA Eastern Regional Meet
Sponsor: Garden State GTO's
Information: http://www.garden-state-gtos.org/2009_regionals.htm
New York
August 4-8, Batavia
2009 Eastern Nashionals
Sponsor: Niagara Frontier Nash Car Club
Information: 716/699-5802 or 585/374-6473
Ohio
August 7-9, Columbus
29th Annual Mopar Nationals
Information: http://www.moparnats.org/index.htm or 313/278-2240
August 8, Pataskala
Volksfest! 19
Sponsor: Central Ohio Vintage Volkswagen Club
Information: http://www.covvc.org/ or 740/548-6522
August 28-30, Norwalk
8th Blue Suede Cruise
Information: http://good-guys.com/events/eventDetails.aspx?eventid=09-611 or 925/838-9876
Oregon
August 1, Prairie City
14th Annual Classic Car Show
Sponsor: Grant County Kruzers
Information: http://www.ortelco.net/~kruzers/ or 541/932-4214
Pennsylvania
August 6-8, Wampum
SAAC-34
Sponsor: Shelby American Automobile Club
Information: http://www.saac.com/index.php?option=com_content&task=view&id=174&Itemid=100
Texas
August 8-9, Fort Worth
20th Annual Yellow Rose Classic
Sponsor: North Texas Mustang Club
Information: http://www.yellowrosecarshow.com/ or 817/595-6900
August 7-9, Beaumont
Texas Style Hot Summer Nites
Information: http://www.txhotsummernites.com/ or 409/769-7599
Vermont
August 7-9, Stowe
52nd Annual Antique & Classic Car Meet
Sponsor: Vermont Automobile Enthusiasts
Information: http://www.vtauto.org/carshows.php or 802/279-0686
Virginia
August 15, Roanoke
2009 Car Show
Sponsor: Roanoke Valley Volkswagen Club
Information: http://www.rvvwc.com/2009%20VMT%20RVVWC%20Car%20Show.PDF 
August 28-30, Richmond
Richmond Nationals
Information: http://www.nsra-usa.com/media/regforms/2009/ENTRY_FORM_RICHMOND_2009.pdf or 901/452-4030
Washington
August 9, Puyallup
17th Annual All Ford & Mustang Roundup
Sponsor: Pierce County Mustang Club
Information: http://www.piercecountymustangclub.com/ or 253/686-2519
August 14-16, Spokane
8th Great Northwest Nationals
Information: http://good-guys.com/events/eventDetails.aspx?eventid=09-626 or 925/838-9876
West Virginia
August 21-23, Wheeling
17th Annual Car, Truck & Motorcycle Show
Sponsor: Ohio Valley Street Survivors
Information: 304/233-7714 or 304/639-1638
Wisconsin
August 2-3, Elkhorn
Summer Elkhorn Car Show and Swap Meet
Sponsor: Madison Classics
Information: http://www.madisonclassics.com/car-shows/summer-elkhorn.php or 608/244-8416
August 9, Waukesha
Waukesha Old Car Show
Sponsor: Waukesha Old Car Club
Information: http://www.waukeshaoldcarclub.org/ or 262/547-5212
August 9, Berlin
22nd Annual Berlin Car Show
Sponsor: Street Cruzers
Information: http://www.streetcruzers.org/streetcruzers/Car_Show.html or 920/361-0843
August 15, Union Grove
2nd Justice League of Car Clubs Car Show & Drags
Sponsor: Justice League Car Club
Information: http://www.bcsm.net/justiceleague/justiceLeague09b.pdf
Alberta, Canada
August 4-8, St. Albert
Rock'n August
Sponsor: St. Albert Cruisers
Information: http://www.rocknaugust.com or 780/996-4230
Manitoba, Canada
August 2, International Peace Garden
Great Plains International Jeepers Rendezvous
Sponsor: Westman Jeep Association
Information: http://westmanjeep.com
Ontario, Canada
August 15-16, New Hamburg
30th Annual Moparfest
Information: http://www.moparfest.com/ or 519/342-1284
August 21-23, Cobourg
Great North American Land Yacht Regatta
Sponsor: Lincoln Continental Owners Club
Information: 416/757-5647
Early September 2009 Events
Illinois
September 12-13, St. Charles
14th Annual Fierorama
Sponsor: Northern Illinois Fiero Enthusiasts
Information: http://www.fierofocus.com or 630/983-6434
Kansas
September 4-6, Kansas City
8th Mid-Western Nationals
Information: http://good-guys.com/events/eventDetails.aspx?eventid=09-624 or 925/838-9876
Massachusetts
September 5-6, Falmouth
Dream Cruise by the Sea
Sponsor: Falmouth Classic Car Club
Information: www.falmouthdreamcruise.com/ or 508/540-7426
Michigan
September 11-13, Kalamazoo
Street Rod Nationals North
Information: http://nsra-usa.com/index.php/site/evdet/141 or 901/452-4030
Texas
September 5, Big Spring
Early Cars
Sponsor: http://www.earlycar.com or 432/263-0693
Wisconsin
September 13, Ixonia
The President's Cup
Sponsor: Wisconsin Region of Antique Automobile Club of America
Information: http://local.aaca.org/wisconsin/ or 414/236-9961
Attention Car Clubs, Event Organizers and Enthusiasts!
Put SAN on Your Mailing List!
We'd like to know what's going on with SEMA Action Network clubs and enthusiasts across the country; what charity events you're involved in; when and where the rod runs, car shows, trail rides, rallies and tech meetings are held; and what legislative and regulatory issues concern club members and individual enthusiasts. 
One of the best ways to keep us abreast of what's going on and what's important to the vehicle hobbies nationwide is for us to receive your club newsletters and updates. Please consider placing SEMA on your mailing list. Send correspondence to: SEMA Action Network, 1317 F Street, N.W., Suite 500, Washington, D.C. 20004-1105. Or by e-mail at
san@sema.org
.