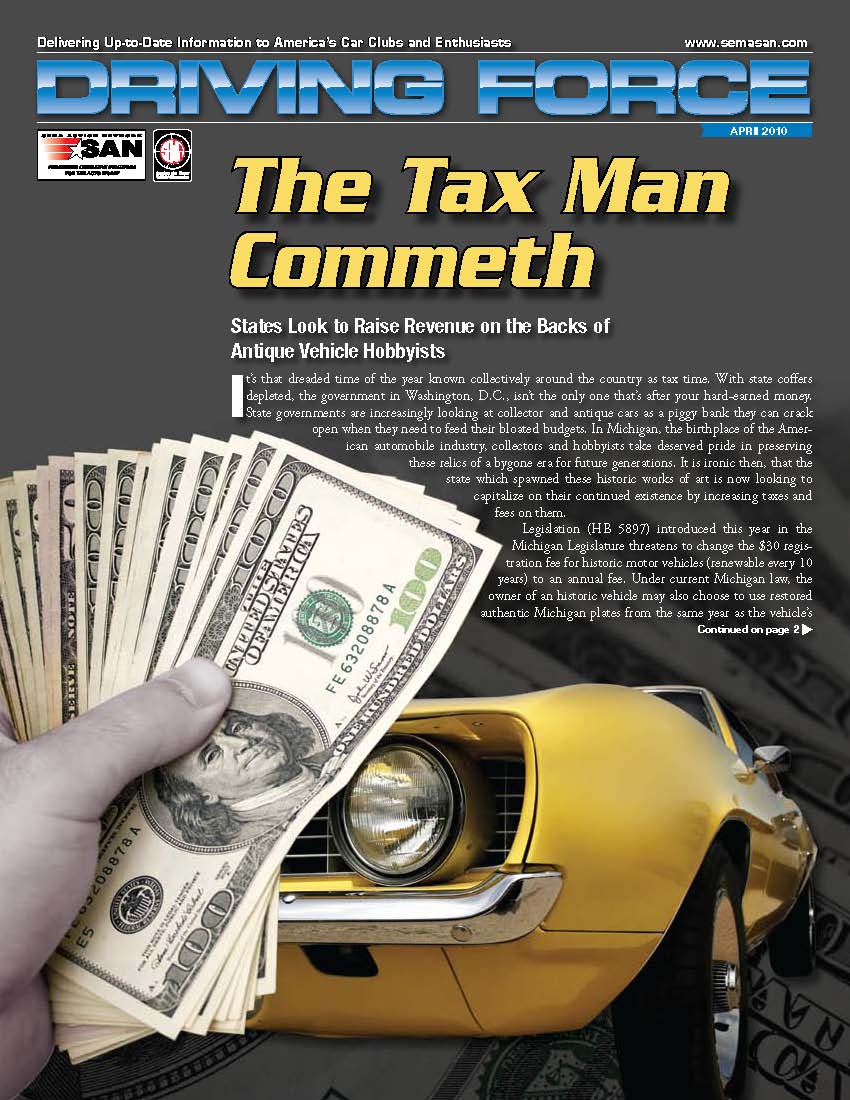 Click on image above to open the newsletter PDF.
States Look to Raise Revenue on the Backs of Antique Vehicle Hobbyists
It's that dreaded time of the year known collectively around the country as tax time. With state coffers depleted, the government in Washington, D.C., isn't the only one that's after your hard-earned money. State governments are increasingly looking at collector and antique cars as a piggy bank they can crack open when they need to feed their bloated budgets. In Michigan, the birthplace of the American automobile industry, collectors and hobbyists take deserved pride in preserving these relics of a bygone era for future generations. It is ironic then, that the state which spawned these historic works of art is now looking to capitalize on their continued existence by increasing taxes and fees on them.
Legislation (HB 5897) introduced this year in the Michigan Legislature threatens to change the $30 registration fee for historic motor vehicles (renewable every 10 years) to an annual fee. Under current Michigan law, the owner of an historic vehicle may also choose to use restored authentic Michigan plates from the same year as the vehicle's model year for a one-time fee of $35. The bill would increase that one-time fee as well, to an annual registration fee of $30. Under the bill, each of the registrations would come up for renewal every year on the vehicle owner's birthday. "Supporters of this bill are ignoring the fact that these older cars are infrequently driven; they are second or third vehicles deserving of reduced registration fees," said SAN Director Ethan Landesman. "On the vehicle registration fee alone, this policy represents a 1,000% fee increase over 10 years."
Other states have joined the parade as well. The SAN has tracked the introduction of a variety of new state bills which seek to raise taxes and fees, create vehicle registration surcharges and increase inspection fees to pay for new projects. States raising money isn't the only concern, though. There has also been an uptick in the number of bills introduced which would negatively impact the ability of enthusiasts to partake in the historic and classic vehicle hobby. The SAN has been actively fighting numerous anti-hobby inoperable vehicle bills that would limit your right to work on cars on private property, scrappage bills that would destroy classic cars and parts, and exhaust system bills that would make restorations dramatically more difficult. Fortunately, we also have some friends in government around the country who are active in supporting the hobby through legislation.
It is important to remain vigilant and informed so that together as a hobby we can continue to create victories over bad legislation that threatens our way of life. To stay up-to-date on all the legislation affecting the car hobby, visit www.SEMASAN.com frequently to stay informed, and protect your passion.
Each month Driving Force features members of the State Automotive Enthusiast Leadership Caucus. The SEMA-supported caucus is a bipartisan group of state lawmakers, nearly 400 strong, whose common thread is a love and appreciation for automobiles. Here are its newest members:
Arkansas 
Senator Shane Broadway
Representative Allen Kerr
Representative Barbara Nix
Florida 
Representative Ed Hooper
Indiana 
Senator Travis Holdman
Representative Bill Friend
Representative Nancy Michael
Iowa 
Representative Linda Upmeyer
Kansas
Senator Mike Petersen
Kentucky 
Representative Tim Couch
Representative Ted Edmonds
Representative Richard Henderson
Representative Ruth Ann Palumbo
Maine 
Representative Gary Knight
Representative Linda Sanborn
Maryland 
Delegate Wayne Norman
Mississippi 
Representative Scott DeLano
South Dakota
Representative Thomas Brunner
Virginia 
Delegate Ron Villanueva
Washington 
Senator Jim Honeyford
Representative Jan Angel 
Representative Tom Campbell
Representative Marcie Maxwell
Colorado Emissions Exemption: SAN-opposed legislation that sought to reset to '59 the latest model year at which a vehicle is excluded from the emissions testing process has been "postponed indefinitely" by the legislature. Currently, model-year vehicles '75 and older are exempted. Colorado's current emissions-test exemption recognizes the minimal impact of older cars on vehicle emissions and air quality. These older vehicles are generally well-maintained and infrequently driven, constitute a small portion of the overall vehicle population and are a poor source from which to look for emissions reduction.
Kansas Inoperable Vehicles: Support for a SAN-opposed bill that would allow cities to enforce "nuisance-abatement" procedures by notifying affected property owners by use of first-class mail instead of certified mail (with a return receipt) has been withdrawn. There will be no action on the bill this year. The Kansas jurisdiction behind the bill's introduction has decided to withdraw its support until there is another method to notify property owners of enforcement action. Nuisance-abatement laws are often used by cities to force removal of inoperable vehicles, including parts cars, stored on private property by car collectors. The SAN opposed the bill because without actual and verified notification, owners could risk removal of valuable collector cars and parts, especially when they are not at home to receive a first-class mailing.
Nebraska Abandoned Vehicles: Legislation that would have expanded the definition of "abandoned motor vehicle" to include vehicles that were left unattended for more than six hours on private property without valid plates, title or permit will not be considered in the 2010 legislative session. The bill also sought to include vehicles that are inoperable, partially dismantled, wrecked, junked or discarded. Under current law, a vehicle is not considered to be abandoned on private property until it is left unattended for more than seven days. Motor vehicles are defined as abandoned for the purpose of allowing state and local authorities to remove them from private property. Given the opposition raised by the SAN and the Nebraska vehicle hobbyist community, the bill sponsor will make a series of amendments to protect hobbyists before he reintroduces the legislation next year.
Ohio Street Rods/Custom Vehicles: After being postponed several times, SEMA-model legislation to create a vehicle registration and titling classification for street rods and custom vehicles and provide for special license plates for these vehicles was considered by the Ohio House Transportation Committee. The bill defines a street rod as an altered vehicle manufactured before 1949 and a custom as an altered vehicle at least 25 years old and manufactured after 1948. The bill allows kit cars and replica vehicles to be assigned a certificate of title bearing the same model-year designation that the body of the vehicle was constructed to resemble. 
Oklahoma Older Motor Vehicles: The SAN is supporting a bill in the Oklahoma Legislature to reduce the annual registration fee for vehicles 25 years old and older to $5. Under current law, these vehicles are assessed at a rate of $15 per year.
Utah Aftermarket Exhaust Systems: The SAN defeated a bill to ban the use of most aftermarket exhaust systems. Under a substitute bill, all vehicles would have been required to be equipped with an exhaust system that is "installed by the original manufacturer of the vehicle and is not modified; or meets specifications equivalent to the muffler installed by the original manufacturer of the vehicle and is not modified." Among other things, the measure ignored the fact that aftermarket exhaust systems are designed to make vehicles run more efficiently without increasing emissions; did not supply law enforcement with a clear standard to enforce, allowing them to make subjective judgments on whether or not a modified exhaust system is in violation; and would have made it difficult for hobbyists to replace factory exhaust systems with more durable, better-performing options.
Washington Scrappage: The SAN again helped turn back legislation in the Washington Legislature that would have implemented a vehicle scrappage program for passenger vehicles more than 15 years old. Given the outcry of the SAN and members of the Washington vehicle hobbyist community, the House Finance Committee chose not to consider the bill before the cut-off deadline. Under the bill, qualifying vehicles would have had to be registered for a 24-month period and in satisfactory operating condition. Replacement vehicles purchased under the plan would have been required to have an U.S. Environmental Protection Agency (EPA) highway gasoline mileage rating of at least 30 mpg. Participants in the program were to be granted a sales-tax exemption for the first $2,000 of tax paid on the purchase price. All trade-in vehicles would have been destroyed, regardless of their historical value or collector interest.
Washington Inoperable Vehicles: A version of SEMA-model legislation to prohibit cities or towns from enforcing an ordinance, development regulation, zoning regulation or administrative practice that prevents automobile collectors from pursuing their hobby did not receive committee consideration before the legislature's deadline. Under the bill, junked, wrecked or inoperable vehicles, including parts cars, stored on private property, would have required screening from public view, if required by local law. 
Tell the Forest Service to Keep Your Trails Open!
The U.S. Forest Service (USFS) is the steward and manager of more than 193 million acres of public lands included in the 155 national forests and 20 grasslands that make up the National Forest System. These vast areas are managed in accordance with the "land management planning rule," which among other things, has not changed since 1982. The plan needs to balance demands for multiple uses, from recreational access to forest restoration, timber harvesting, mining and wildlife protection. Previous attempts to update the planning rule were not used due to the complexity of the changes (2000) or were invalidated by a federal judge (2008).
The Forest Service is seeking to engage the public in the planning process. This presents both opportunity and danger for off-highway vehicle (OHV) enthusiasts because the environmental lobby is working hard to influence the rule to close off more and larger areas of public land to motorized recreation. On the other hand, it also gives OHV enthusiasts the ability to make their voices heard and help keep public lands open to responsible off-road recreation.
The Forest Service is now hosting a series of roundtable discussions in April to gather additional public feedback. Unless OHV enthusiasts take part and let the Forest Service know that this is a responsible, family-focused hobby that deserves access to public lands, these changes could negatively affect access to OHV recreation areas managed by the Forest Service.
Regional Round Tables
April 6, 2010–Pacific Northwest Region (Region 6), Portland, Oregon
April 6, 2010–Pacific Southwest Region (Region 5), Sacramento, California
April 8, 2010–Intermountain Region (Region 4), Salt Lake City, Utah
April 12, 2010–Rocky Mountain Region (Region 2), Lakewood, Colorado
April 13, 2010–Northern Region (Region 1), Missoula, Montana
April 13, 2010–Northern Region (Region 1), Billings, Montana
April 13, 2010–Northern Region (Region 1), Coeur d'Alene, Idaho
April 13, 2010–Alaska Region (Region 10), Juneau, Alaska
April 14, 2010–Rocky Mountain Region (Region 2), Cheyenne, Wyoming
April 16, 2010–Southern Region (Region 8), Atlanta, Georgia
April 21, 2010–Rocky Mountain Region (Region 2), Rapid City, South Dakota
April 28, 2010–Southwestern Region (Region 3), Albuquerque, New Mexico
April 28, 2010–Eastern Region (Region 9), Chicago, Illinois
Newly introduced legislation
Note: The following state bills are not laws. They were recently introduced and are currently under consideration by the respective state legislatures.
EMISSIONS
Connecticut HB 5461: Provides additional time for the repair and free re-inspection of a motor vehicle in the case of "economic hardship of the owner" when the vehicle has failed a smog check.
FEES
Rhode Island HB 7734: Imposes a $40 surcharge on passenger-car and light-truck registrations to fund highway maintenance and commuter rail operations, transportation services and for the maintenance and repair of local roads and streets.
INOPERABLE
Hawaii HR 73/HCR 132: Urges the U.S. Congress to pass another "Cash for Clunkers" program in its second session.
Missouri HB 2247: Requires that an officer who finds an abandoned-vehicle attempt to contact the registered owner to determine if the owner knows that the vehicle has been abandoned and inform them that if the vehicle is not retrieved that it will be towed.
Rhode Island SB 2393: Requires a salvage yard to obtain dismantler license plates for vehicles that they transport and prohibits the transporting of salvage vehicles by anyone other than a licensed salvage yard.
Alabama HB 619: Requires a public forum and joint resolution before a junkyard can be licensed to operate in a municipality; provides for a county to regulate junkyards in the police jurisdiction of the municipality after licensure.
INSURANCE
Massachusetts HB 884: 
Prohibits insurance companies from dictating where a policy holder can get their vehicle glass repaired; prohibits any act or practice designed to intimidate, threaten or coerce any person to use a particular vehicle glass repair shop.
LAND USE
Minnesota HB 3094/SB 2916: Allows for a snowmobile or ATV that is at least 25 years old to be registered under a one-time collector unlimited-use registration exemption provision; creates the Minnesota-Wisconsin Boundary Trail; allows the Commissioner of Natural Resources to acquire the lands known as Lake Vermillion Recreation Area and turn it into a state park.
LIGHTS
Ohio HB 204: Allows daytime running lights to satisfy the requirement of using headlights whenever precipitation necessitates the use of windshield wipers.
MISCELLANEOUS
Kentucky HB 470: Prohibits license plates and registration from transferring with the transfer of ownership of a vehicle.
Kentucky HB 565: Eliminates the requirement that copies of motor-vehicle title records be kept in microfilm format.
Michigan HB 5913: Requires that each passenger in a vehicle manufactured after January 1, 1965 wear a seat belt; current law only requires the operator and front-seat passenger to wear a seat belt.
Rhode Island HB 7664: Prohibits the sale of a motor vehicle equipped with lead wheel weights; prohibits the installation of lead wheel weights and requires lead wheel weights to be replaced with non-lead wheel weights during servicing.
TAXES
Minnesota SB 2872: Exempts from taxes parts and supplies, including paint, that are purchased and used by a vehicle repair or bodyshop.
Oklahoma HB 3024: Permits a tax credit for medium- and low-speed electric vehicles.
Washington SB 6712: Extends the expiring tax incentives for certain clean alternative- fuel vehicles.
TINTING
Florida SB 2380: Exempts from window sun-screening restrictions vehicles that are owned or leased by private investigative agencies that are used in homeland security functions, executive protection activities, undercover, covert or surveillance operations involving child abductions, convicted sex offenders, insurance fraud or missing persons or property or investigative activities in which evidence is being obtained for civil or criminal court proceedings.
WARRANTY
Florida HB 1379/SB 2618: Regulates service-agreement companies (companies that offer service agreements to consumers when their vehicle's warranty has run out); prohibits the companies from misrepresenting the term or extent of a vehicle's existing warranty.
Raucus Rambler
1969 AMC SC/Rambler
Owner: David Furlin
Michigan
When I started working at AMC in 1973 I met a coworker who wanted to sell his '69 SC/Rambler. I was pretty interested so I went to speak with him about it and ended up making arrangements to see the car. Wow! The car was quite a mess as it was parked in a chicken barn without a cover on it. The seller started it up for me, and I was surprised to hear that it had open headers! I was interested despite the mess and he lived out in the country, so we went for a little ride. He had used the SC for racing at a track, so it still had the racing slicks on it and was a wild ride. The price was right at $800, so I pulled the trigger on the purchase and it was mine!
I had the car for two days and then boom, the engine locked up. The next day I went to work and told the guy I had bought the car from what happened. He looked at me in disbelief, so we went back to my garage and tore down the engine to find that the camshaft had broken in half, fell into crank and snapped a connecting rod. He felt bad and returned $300 of the dollars that I had paid him. With that money, I picked up another 390ci engine, dropped it in the car and away we went.
Since then, the car has been painted twice, the carpet was replaced (but I kept the rest of the interior all original) and I rebuilt the engine last year with a roller cam, lifters, new rocker arms and forged pistons. After the rebuild, I had the car dyno'd, and it put out 322 hp to the rear wheels. The old SC is quite special to me since I've had it for so long and worked at the place that built it. Next winter I plan to give it a new paint job—the last one I hope.
Have your car or truck featured in a future issue of Driving Force.
The SAN has expanded to the social-networking medium! You can follow us on Twitter at 
www.twitter.com/semasan 
and join our Facebook group by searching for SEMA Action Network on Facebook.
The Facebook group will provide a great way for SAN members to get the latest news and information from the SAN and connect with other like-minded enthusiasts about current issues in the hobby. Get online and join today!
Car Clubs Honored for Outstanding Community Service
Four SAN Member Clubs Win the Annual Eagle One Award
Practicing the Golden Rule has won four SAN member car clubs the Eagle One Golden Rule Award for conducting the most outstanding community service program in their region during 2009. Clubs honored with the coveted award for providing exemplary support to community and charitable causes were:
Early Mustang Club of Colorado, Denver, Colorado–West
Central Nebraska Car Club, Kearny, Nebraska–Midwest
Lancaster County Corvette Club, Lancaster, Pennsylvania–East
Downshifters of Brooklyn, Palmetto, Florida–South
In recognition, Eagle One and associate sponsor Valvoline made cash donations to the favorite charities of each club, provided them with a generous supply of car-care products and motor oil for fundraising purposes and a custom plaque.
The Grand Prize winner for the most compassionate achievement was the Early Mustang Club of Colorado, which received $1,500. A $500 donation was made for each of the three other clubs. The Denver club donated $25,000 to the Freedom Alliance Scholarship Fund, which provides scholarships to children of servicemen who were killed or permanently disabled while serving our country.
"For the past 17 years, Eagle One has been proud to reward car clubs for the commendable work they do in their communities while actively engaged in the preservation of one of our country's greatest heritages, the automobile," said Rob McCarter, Eagle One brand manager.
ARIZONA
April 30–May 2, Tucson
36th Annual Rodder's Days
Sponsor: Tucson Street Rod Association
Information: 520/425-0251 or www.tucsonstreetrodassociation.com
CALIFORNIA
April 2, Yucaipa
Family Cruise Night
Sponsor: Past Pleasures Car Club of Yucaipa
Information: www.pastpleasurescarclub.com
April 9–11, Del Mar
10th Annual Goodguys Del Mar Nationals
Information: www.delmarnationals.com
April 9–11, Sonoma
2010 Vintage Volvo Challenge
Sponsor: IPD, Ackerman's Volvo Service & RSI
Information: alanb@alanberrydesign.com
April 11, Rancho Cucamonga
2nd Annual Chaffey College Car Show 
Sponsor: Chaffey College Car Club
Information: 310/512-3379 or Michael.keller@honeywell.com
April 24, Pomona
31st Annual A.H.A. Fun Under the Sun
Sponsor: The Association of Handcrafted Automobiles
Information: 951/780-9332 or www.replicarclub.com
CONNECTICUT
April 11, Stafford
25th Annual Ty-Rods All Automotive Swap Meet
Information: 860/684-2783
April 18, Wallingford
CT Street Rod Spring Dust-off/NSRA Day
Host: Connecticut Street Rod Association
Information: 203/742-0413 or www.csra.org
GEORGIA
April 10, Marietta
Swap Meet 2010
Sponsor: Georgia Street Rod Association
Information: www.gsra.com
IDAHO
April 3, Boise
16th Annual Firebird Swap Meet & Warm-up
Information: 208/938-8986 or race@firebirdonline.com
ILLINOIS
April 18, Elmhurst
27th Annual Car Show and Swap Meet
Sponsor: Northern Illinois Region WPC Club
Information: 630/721-0662
KENTUCKY
April 25, Louisville 
2010 NSRA Appreciation Day 
Sponsor: Okolona Street Rods and NSRA
Information: www.okolonastreetrods.com
MASSACHUSETTS
April 6, Reading
Club Meeting
Sponsor: Massachusetts Street Rod Association
Information: www.massstreetrods.com
April 18, Fitchburg
40th Annual Swap Meet and Car Show
Information: 781/272-1114 or V8fleemarket@yahoo.com
NEVADA
April 8–10, Laughlin 
23rd Annual Gambler Classic River Run
Sponsor: The Street Machines of Rochester
Information: www.gamblerclassicriverrun.com
NEW JERSEY
April 24, Heightstown
St. Anthony's Classic Car Show
Sponsor: The Slant Six Car Club
Information: 917/204-0294 or shineandshow@verizon.net
NEW YORK
April 9–11, Rochester 
Motor Mania
Sponsor: The Street Machines of Rochester
Information: 585/352-5377
NORTH CAROLINA
April 8–11, Charlotte
Spring Meet
Sponsor: Hornets Nest Region AACA
Information: www.charlotte-autofair.com
OKLAHOMA
April 9–11, Oklahoma City
NSRA Southwest Street Rod Nationals
Sponsor: NSRA
Information: www.nsra-usa.com
PENNSYLVANIA
April 21–25, Carlisle
Spring Carlisle Collector Flea Market/Corral/Auction
Information: 717/243-7855
RHODE ISLAND
April 24, Kingston
South Shore Street Rods Annual NSRA Inspection
Information: 774/444-3096
UTAH
April 10, Clearfield
Elmer's Auto Clinic 5th Annual Car Show
Information: 801/773-0270 or elmersautoclinic@hotmail.com
WISCONSIN
April 24–25, Jefferson
Spring Jefferson Show & Swap Meet
Sponsor: Madison Classics
Information: www.madisonclassics.com/car-shows/spring-jefferson.php
ALBERTA, CANADA
April 18, Calgary 
Nifty Fifty's Spring Thaw
Sponsor: Nifty Fifty's Ford Club
Information: 403/242-9088 or www.niftyfiftysfordclub.ca/pages/springthawcurrent.htm
April 31–May 1, Red Deer
Red Deer Swap Meet
Sponsor: Central Alberta Vintage Auto Club
Information: 403/556-7450 or swapmeetbarb@shaw.ca
Early May 2010 EVENTS
MAINE
May 2, Waldoboro
Cruisin' to Graduation Car & Motorcycle Show
Sponsor: Medomak Valley High School
Information: 207/542-0848 or eann@bbwire.com
Attention Car Clubs, Event Organizers and Enthusiasts!
Put SAN on Your Mailing List!
We'd like to know what's going on with SEMA Action Network clubs and enthusiasts across the country; what charity events you're in