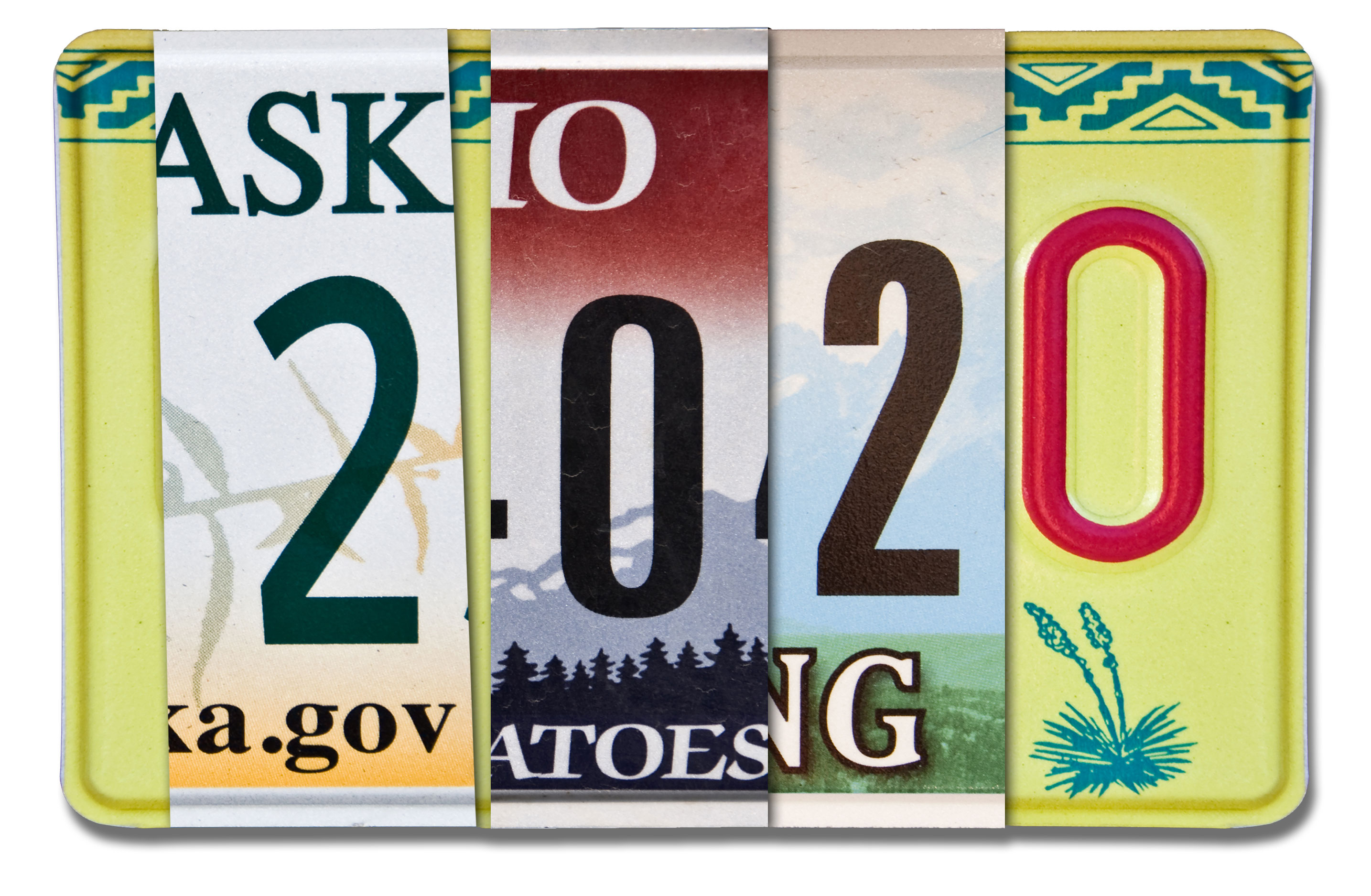 2020: The Year in Review
As dedicated automotive enthusiasts in the SEMA Action Network (SAN) know well, the way we enjoy our hobby is often impacted by the laws and regulations that govern our prized vehicles and their components. Staying informed of all relevant state and federal proposals is job one. Being aware allows mass advocating for pro-hobby positions to ensure the best possible outcome for fellow collectors and fans. In the course of the past year, many critical legislative/regulatory issues were addressed that impact our hobby's future. The following summary offers a recap.
FEDERAL UPDATE
RPM Act: The Recognizing the Protection of Motorsports (RPM) Act is being considered by the U.S. Congress. The bill (H.R. 5434; S. 2602) clarifies that the Clean Air Act allows motor vehicles to be converted into dedicated racecars and that it is legal to produce, sell and install race parts for those vehicles. Passage of the RPM Act will protect purchases beyond emissions-related parts, including racing tires, wheels, brakes, suspension equipment and rollcages since racers won't be installing those products if a car or motorcycle cannot be converted into a dedicated race vehicle. The bill has been subject to previous Congressional hearings, and SEMA is working with lawmakers to approve the legislation in the current Congress. To contact your lawmakers, visit SaveOurRacecars.com.
Replica Vehicle Law: A SAN-supported law enacted in 2015 will allow small auto manufacturers to sell completed replica cars. Those vehicles resemble cars manufactured at least 25 years ago. Companies will be able to produce up to 325 turnkey replica vehicles (per company) in the U.S. and 5,000 worldwide under a simplified regulatory system. Until now, the federal government's regulatory system did not differentiate between a company producing millions of vehicles and a business producing a few custom cars. In 2019, SEMA sued the National Highway Traffic Safety Administration (NHTSA) for failing to implement the program in 2016 as required under the law. The lawsuit helped spur NHTSA to issue a proposed rule in January and the industry is now awaiting issuance of a final rule that will allow car sales to commence. In 2019, the U.S. Environmental Protection Agency (EPA) and the California Air Resources Board (CARB) issued guidelines and regulations covering the engine packages to be installed in these replica vehicles.
Bonneville Salt Flats: The Utah Department of Natural Resources (DNR) and U.S. Bureau of Land Management (BLM) signed an agreement to create the "Restore Bonneville" program and dramatically increase the amount of salt currently being pumped onto the historic landmark. Bonneville's salt crust diminished over many decades after the BLM issued leases allowing salt to be transferred for potash mining. Salt thickness measurements are now in inches rather than feet. While mining adjacent to Bonneville historically contributed to the diminishment of the salt crust, it is also part of the restoration solution. Once potash is extracted from salt brine through a solar evaporation process, the remaining salt is a waste byproduct owned by the mine lease holder. The mine owner has been pumping salt since 1997, but infrastructure renovation and upgrades will increase the volume. As a result, the racing venue should gradually expand from its current 8-mile length, with a goal of reaching the original 13-mile length. SEMA, along with other organizations and companies comprising the Save the Salt Coalition, is working with state and federal officials to implement the 10-year program. The State of Utah and BLM have allocated $2 million to start the program and additional funds are being pursued for 2021.
Maintenance Backlog on Federal Lands: The SAN-supported Great American Outdoors Act (GAOA) was signed into law in August. The GAOA will dedicate $9.5 billion over the next five years to address the maintenance backlog on federal lands by creating a national parks and public land legacy restoration fund, enabling the National Park Service, the U.S. Forest Service and several other federal agencies to rebuild and improve trails, roads, docks, campgrounds and more. The bill will also appropriate $900 million annually to the Land and Water Conservation Fund for projects that help to protect natural areas, water resources, cultural heritage sites, and to provide recreation opportunities. The GAOA will benefit many SEMA members in the off-road market, in addition to companies selling wheels/tires, suspension, power and other equipment to help tow RVs and boats to the nation's parks and recreation areas.
AUTO ENTHUSIAST'S HOLIDAY
National Collector Vehicle Appreciation Day: The 11th annual Collector Car Appreciation Day (CCAD) took place on Friday, July 10, 2020. Both the U.S. Senate and the House of Representatives introduced resolutions (S. Res. 650/H. Res. 998) to focus attention on the vital role automotive restoration and collection plays in American society. Each resolution was sponsored by co-chairs of the SAN-supported Congressional Automotive Performance and Motorsports Caucus. Thousands of Americans gathered at car shows, cruise-ins, and other events to celebrate the nation's automotive heritage. Several participants organized virtual gatherings and online celebrations for the first time. Next year's celebration is set for July 9, 2021.
Several domestic and foreign jurisdictions recognized CCAD 2020. They include:
Louisiana: A bill was signed into law that every year will designate the Friday, Saturday and Sunday of the second weekend in July as Louisiana Collector Car Appreciation Weekend.
South Dakota: The South Dakota State Legislature issued a resolution commemorating Thursday, August 27, 2020 as CCAD in the state. This action was intended to coincide with the state's popular collector car shows.
West Virginia: The West Virginia Legislature passed a House Concurrent Resolution designating the second Friday in July as CCAD in the state.
Wisconsin: An Assembly Joint Resolution to annually designate the second Friday in July as Collector Vehicle Appreciation Day in the state was approved by the full Wisconsin Assembly.
Canada: Many of the provincial governments issue annual proclamations to officially declare CCAD and/or Automotive Heritage Month, held concurrently each July. This year included Alberta, British Columbia, Newfoundland and Labrador, Nova Scotia and New Brunswick.
STATE UPDATE
Maryland—Historic Vehicles: The Maryland House of Delegates withdrew SAN-opposed legislation that would have imposed an emissions inspection requirement on historic vehicles less than 40 years old. All historic vehicles are currently exempt. In Maryland, a historic vehicle is defined as being 20 years old or older and not substantially altered from the manufacturer's original design. However, this bill may be reintroduced in the 2021 session.
New Jersey—Vehicle Warranties: New Jersey Governor Phil Murphy signed into law SAN-supported legislation to require new car dealers to provide purchasers written notice that it is illegal for manufacturers or dealers to void a warranty or deny coverage because aftermarket or recycled parts were installed, or because someone other than the dealer performed service. The law took effect immediately.
Ohio—License Plates: SAN-supported legislation from 2019 allowing the display of only a single, rear-mounted license plate, went into effect on July 1, 2020. The state previously required both a front and rear plate. This new law is expected to save the state between $1.2 and $1.4 million per year.
Oklahoma—License Plates: The Oklahoma House of Representatives failed to pass SAN-opposed legislation that would have required front and rear license plates on all vehicles. Vehicles are currently required to display only a single, rear-mounted license plate. However, this bill may be reintroduced in the 2021 session.
Virginia—Motorsports: SAN-supported legislation in Virginia to create a motor vehicle racing heritage trail in order to promote tourism and economic development became law after the deadline for Governor Ralph Northam's signature or veto passed. The law convenes a group of stakeholders, including owners of historic NASCAR and other racing tracks, to design and implement the trail.
Virginia—Vehicle Modifications: Virginia Governor Ralph Northam signed into law SAN-supported legislation to change how certain traffic infractions are enforced, including suspected exhaust noise violations. Previously, the following traffic infractions were considered primary offenses: operating a motor vehicle without an exhaust system that prevents excessive or unusual levels of noise, absence of a light illuminating a license plate, and the application of certain sun-shading materials and window tinting films. Beginning March 1, 2021, police will no longer be able to stop motorists for such infractions but can add these citations if motorists are pulled over for other reasons.
Washington—Vehicle Registration: SAN-opposed legislation that would have significantly restricted eligibility of collector vehicles and horseless carriages failed to pass when the legislature adjourned for the year. Under existing law, a collector vehicle must be at least 30 years old, while a horseless carriage must be at least 40 years old. If passed, collector vehicles would have been required to be at least 40 years old, while horseless carriages would have been defined as being manufactured prior to 1916. The bill would also have restricted the issuance of year of manufacture plates and considerably increased registration fees. This bill may be reintroduced in the 2021 session.
West Virginia—Military Vehicles: West Virginia Governor Jim Justice signed into law a SAN-supported bill to allow antique military vehicles to display an alternate registration insignia as opposed to a traditional license plate. Antique vehicle plates are available for vehicles that are more than 25 years old and owned solely as collector's items. The law took effect on May 28th.
Wisconsin—Collector and Hobbyist Vehicles: SAN-opposed legislation in Wisconsin to restrict eligibility and raise fees for collector and hobbyist vehicle registrations failed to pass the Assembly. Currently, these vehicles must be more than 20 years old and are required to pay twice the registration fee as the type of vehicle being registered. If passed, the bill would have further limited each designation to vehicles 30 years old and older, expanded seasonal use restrictions, and increased the registration fees to three times the normal rate. In Wisconsin, a collector vehicle is defined as being at least 20 years old, preserved because of historical significance, and having had no body alterations. Vehicles eligible for hobbyist plates include street modifieds, replica vehicles, reconstructed vehicles, and homemade vehicles. This bill may be reintroduced in the 2021 session.
Legislative Alerts
NUTS & BOLTS OF ADVOCACY: LOBBYING BASICS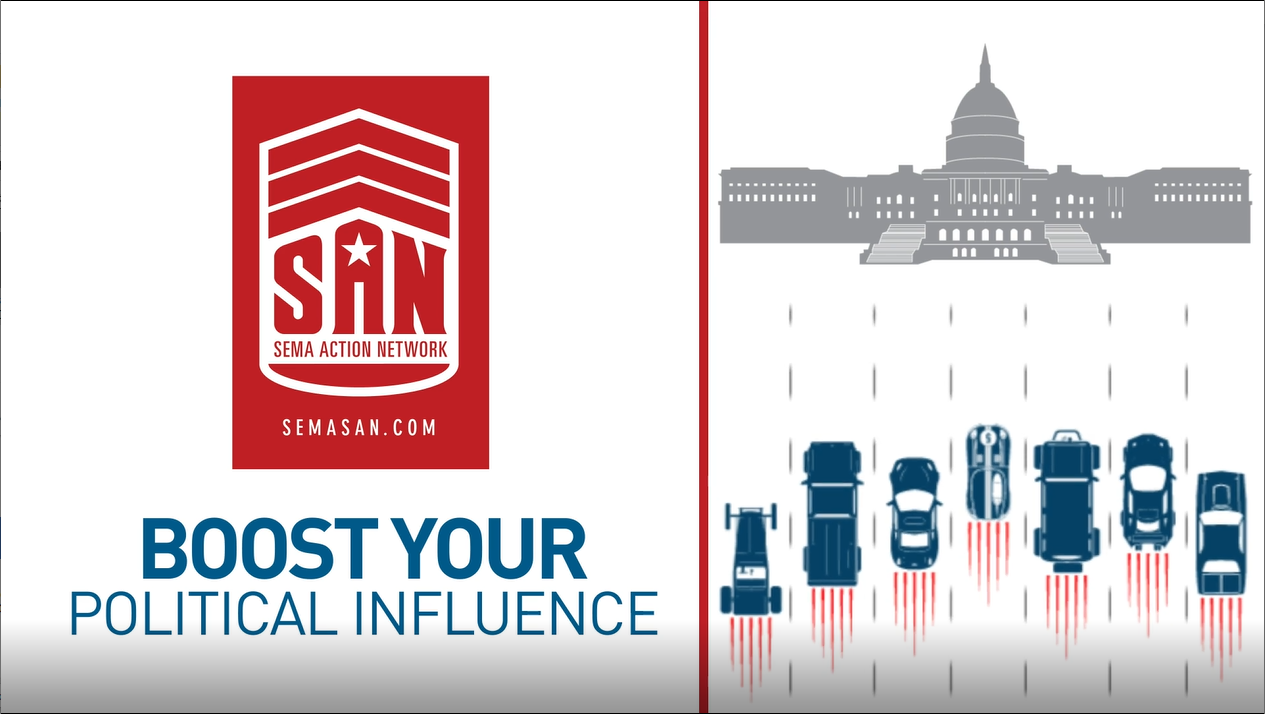 Want elected officials to work for you?  Boost your political influence using this digital lobbying guide from the SEMA Action Network (SAN).  Whether starting from scratch or seeking the next level, this short video series breaks down common misconceptions about influencing public policy.  Take advantage of this resource free of charge and share with others: 
PART 1: WHERE TO BEGIN?
SUBSCRIBE: Stay informed with updates from SEMA Action Network (SAN)
 
CONNECT: Like the SAN on social media
 
SHARE: Spread the word on social media about efforts impacting others
 
EMPOWER: See free tools on our website, such as state-by-state guides
 
ACTIVATE: Use the "action center" to send your officials an email or tweet
 
GROW: Encourage involvement—more voices mean greater influence
 
RELATE: Meet with your local legislator
Full details about this free resource: semaSAN.com/Lobby.
EDITION 192