◄ Back to Driving Force, Winter 2016
SAVE THE DATE
8th Annual Collector Car Appreciation Day to Be Celebrated July 14, 2017

Gary Brown of Gary's Classic Car Fridays in Buena Park, California, proudly showed a framed copy of the U.S Senate Resolution.
---
SAN announced that the next Collector Car Appreciation Day (CCAD) will be celebrated on July 14, 2017. The date will mark the eighth consecutive commemoration in what is now an annual event to raise awareness of the vital role automotive restoration and collection plays in American society.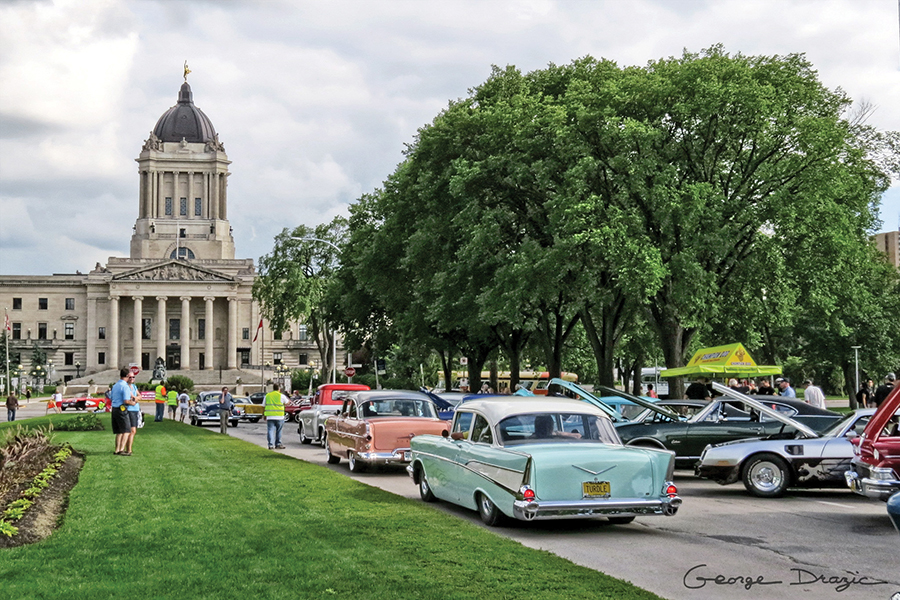 The Manitoba Association of Auto Clubs hosted their annual Collector Car Appreciation Day celebration at the Provincial Capital Legislative Building in Winnipeg. The display included more than 400 vehicles as well as featured speakers from Canadian government and business.
---
"The U.S. Senate first recognized Collector Car Appreciation Day in 2010 at our request and helped launch this annual event," said SEMA Vice President of Government Affairs Steve McDonald. "As we prepare for the eighth celebration of our nation's automotive heritage, enthusiasts and related businesses are already planning open houses, car cruises, club gatherings and educational events to commemorate the day."

The SAN will again maintain and publicize a list of scheduled events to commemorate our time-tested love affair with the automobile at www.semaSAN.com/CCAD.

Individuals, car clubs and business owners interested in publicizing events can also submit the details of their celebration on that page. For questions, contact SAN Director Colby Martin at 909-978-6721 or san@sema.org. If you are unable to celebrate on July 14, the SAN encourages events to be scheduled throughout the month of July 2017.
ENTHUSIASTS UNITED TO ADVANCE AUTOMOTIVE FREEDOMS
The future of our prized cars and trucks is being threatened! Add your voice to our growing U.S. and Canadian forces united to advance our automotive freedoms. SAN members defend the hobby by responding to timely e-mail updates on vehicle-related legislation and regulations. No fees. No SPAM. No obligations. Great strength comes with great numbers. Can we count on you to help preserve the classics of today and tomorrow?
GET INVOLVED TODAY: