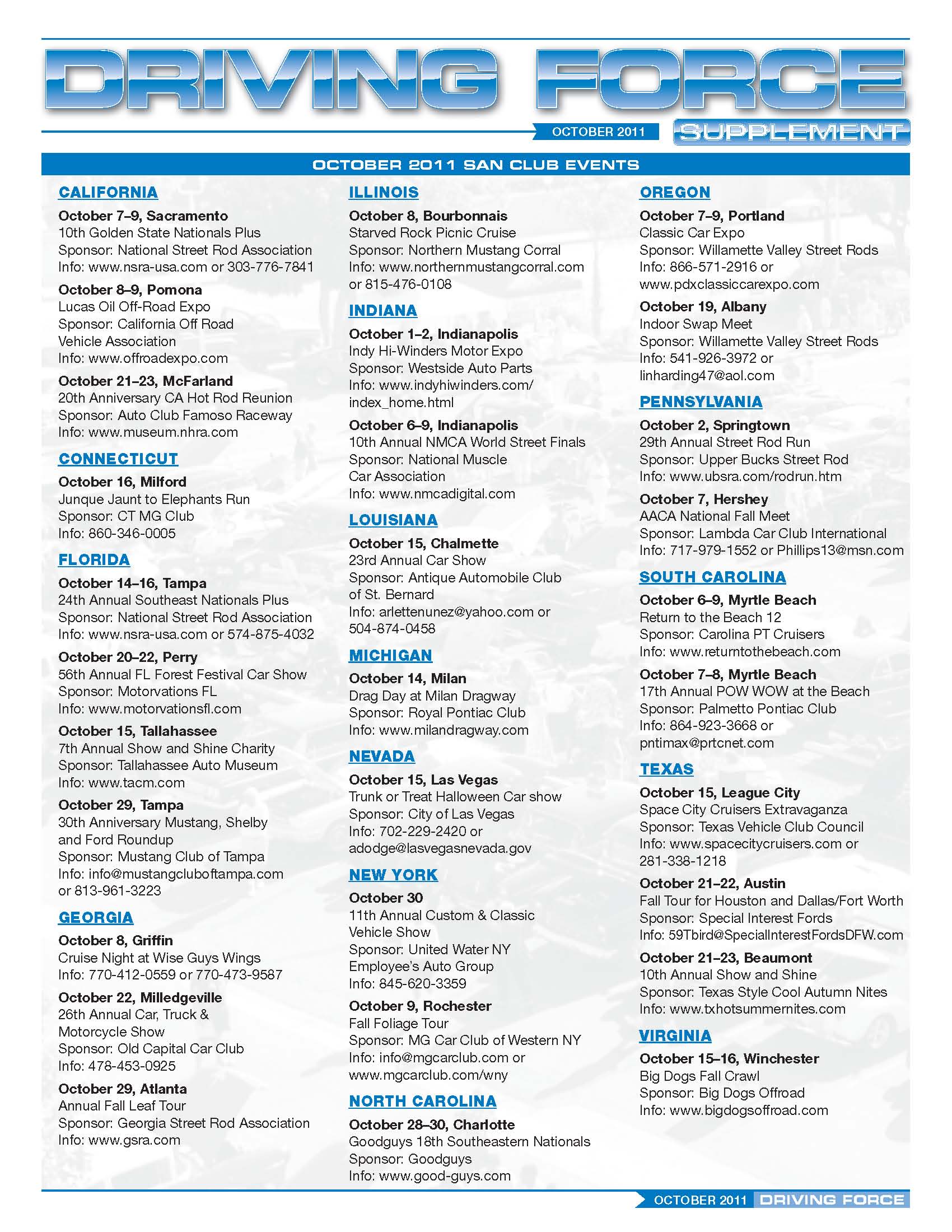 Click on image above to open the newsletter PDF.
October 2011
OCTOBER 2011 SAN CLUB EVENTS
CALIFORNIA
October 7–9, Sacramento
10th Golden State Nationals Plus
Sponsor: National Street Rod Association
Info: www.nsra-usa.com or 303-776-7841
October 8–9, Pomona
Lucas Oil Off-Road Expo
Sponsor: California Off Road Vehicle Association
Info: www.offroadexpo.com
October 21–23, McFarland
20th Anniversary CA Hot Rod Reunion
Sponsor: Auto Club Famoso Raceway
Info: www.museum.nhra.com
CONNECTICUT
October 16, Milford
Junque Jaunt to Elephants Run
Sponsor: CT MG Club
Info: 860-346-0005
FLORIDA
October 14–16, Tampa
24th Annual Southeast Nationals Plus
Sponsor: National Street Rod Association
Info: www.nsra-usa.com or 574-875-4032
October 20–22, Perry
56th Annual FL Forest Festival Car Show
Sponsor: Motorvations FL
Info: www.motorvationsfl.com
October 15, Tallahassee
7th Annual Show and Shine Charity
Sponsor: Tallahassee Auto Museum
Info: www.tacm.com
October 29, Tampa
30th Anniversary Mustang, Shelby and Ford Roundup
Sponsor: Mustang Club of Tampa
Info: info@mustangcluboftampa.com or 813-961-3223
GEORGIA
October 8, Griffin
Cruise Night at Wise Guys Wings
Info: 770-412-0559 or 770-473-9587
October 22, Milledgeville
26th Annual Car, Truck & Motorcycle Show
Sponsor: Old Capital Car Club
Info: 478-453-0925
October 29, Atlanta
Annual Fall Leaf Tour
Sponsor: Georgia Street Rod Association
Info: www.gsra.com
ILLINOIS
October 8, Bourbonnais
Starved Rock Picnic Cruise
Sponsor: Northern Mustang Corral
Info: www.northernmustangcorral.com or 815-476-0108
INDIANA
October 1–2, Indianapolis
Indy Hi-Winders Motor Expo
Sponsor: Westside Auto Parts
Info: www.indyhiwinders.com/index_home.html
October 6–9, Indianapolis
10th Annual NMCA World Street Finals
Sponsor: National Muscle Car Association
Info: www.nmcadigital.com
LOUISIANA
October 15, Chalmette
23rd Annual Car Show
Sponsor: Antique Automobile Club of St. Bernard
Info: arlettenunez@yahoo.com or 504-874-0458
MICHIGAN
October 14, Milan
Drag Day at Milan Dragway
Sponsor: Royal Pontiac Club
Info: www.milandragway.com
NEVADA
October 15, Las Vegas
Trunk or Treat Halloween Car show
Sponsor: City of Las Vegas
Info: 702-229-2420 or
adodge@lasvegasnevada.gov
NEW YORK
October 9, Rochester
Fall Foliage Tour
Sponsor: MG Car Club of Western NY
Info: info@mgcarclub.com or
www.mgcarclub.com/wny
October 30, West Nyack
11th Annual Custom & Classic Vehicle Show
Sponsor: United Water NY
Employee's Auto Group
Info: 845-620-3359
NORTH CAROLINA
October 28–30, Charlotte
Goodguys 18th Southeastern Nationals
Sponsor: Goodguys
Info: www.good-guys.com
OREGON
October 7–9, Portland
Classic Car Expo
Sponsor: Willamette Valley Street Rods
Info: 866-571-2916 or
www.pdxclassiccarexpo.com
October 19, Albany
Indoor Swap Meet
Sponsor: Willamette Valley Street Rods
Info: 541-926-3972 or linharding47@aol.com
PENNSYLVANIA
October 2, Springtown
29th Annual Street Rod Run
Sponsor: Upper Bucks Street Rod
Info: www.ubsra.com/rodrun.htm
October 7, Hershey
AACA National Fall Meet
Sponsor: Lambda Car Club International
Info: 717-979-1552 or Phillips13@msn.com
SOUTH CAROLINA
October 6–9, Myrtle Beach
Return to the Beach 12
Sponsor: Carolina PT Cruisers
Info: www.returntothebeach.com
October 7–8, Myrtle Beach
17th Annual POW WOW at the Beach
Sponsor: Palmetto Pontiac Club
Info: 864-923-3668 or
pntimax@prtcnet.com
TEXAS
October 15, League City
Space City Cruisers Extravaganza
Sponsor: Texas Vehicle Club Council
Info: www.spacecitycruisers.com or
281-338-1218
October 21–22, Austin
Fall Tour for Houston and Dallas/Fort Worth
Sponsor: Special Interest Fords
Info: 59Tbird@SpecialInterestFordsDFW.com
October 21–23, Beaumont
10th Annual Show and Shine
Sponsor: Texas Style Cool Autumn Nites
Info: www.txhotsummernites.com
VIRGINIA
October 15–16, Winchester
Big Dogs Fall Crawl
Sponsor: Big Dogs Offroad
Info: http://www.bigdogsoffroad.com/index.html
ENTHUSIASTS UNITED TO ADVANCE AUTOMOTIVE FREEDOMS
The future of our prized cars and trucks is being threatened! Add your voice to our growing U.S. and Canadian forces united to advance our automotive freedoms. SAN members defend the hobby by responding to timely e-mail updates on vehicle-related legislation and regulations. No fees. No SPAM. No obligations. Great strength comes with great numbers. Can we count on you to help preserve the classics of today and tomorrow?
GET INVOLVED TODAY: