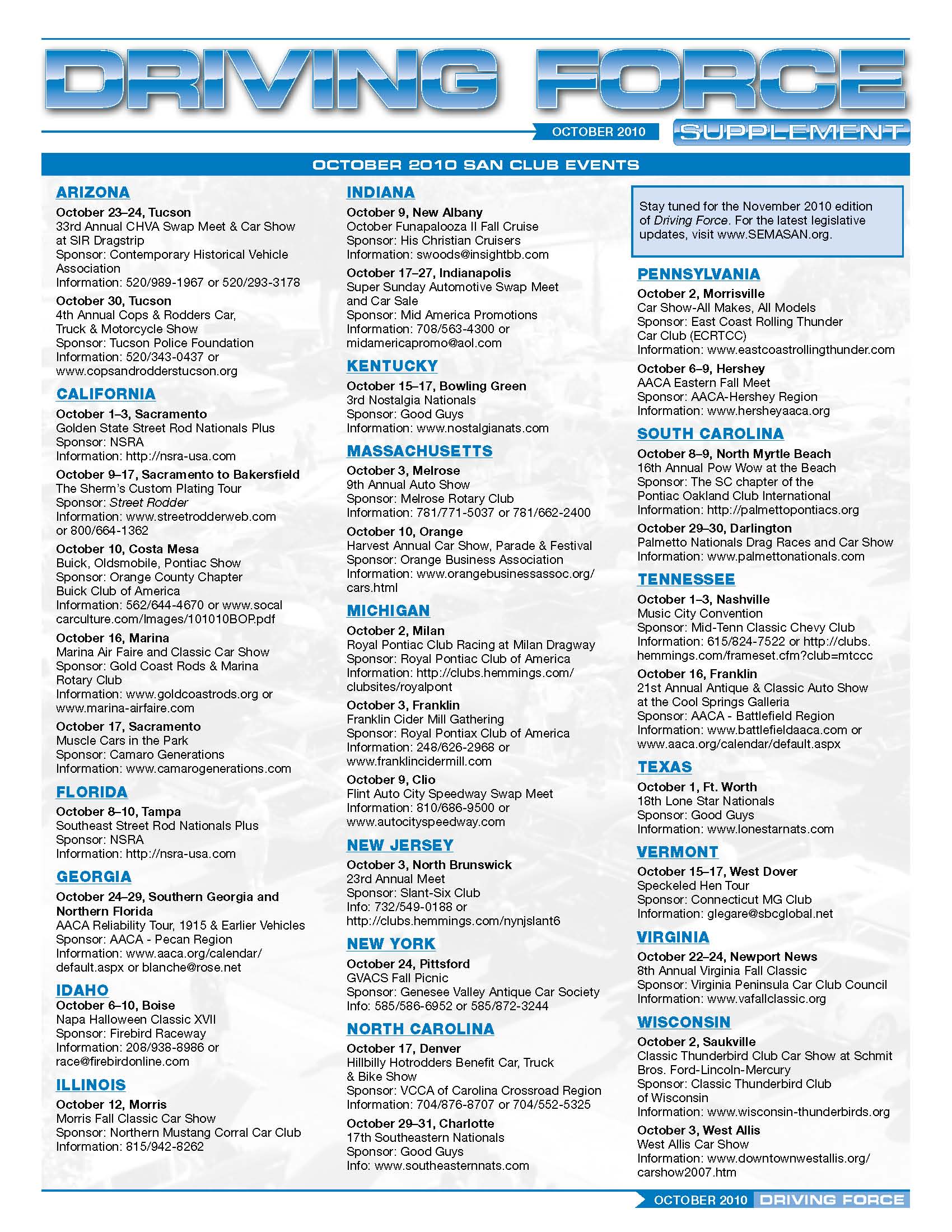 Click on image above to open the newsletter PDF.
October 2010
OCTOBER 2010 SAN CLUB EVENTS
ARIZONA
October 23–24, Tucson
33rd Annual CHVA Swap Meet & Car Show at SIR Dragstrip
Sponsor: Contemporary Historical Vehicle Association
Information: 520/989-1967 or 520/293-3178
October 30, Tucson
4th Annual Cops & Rodders Car, Truck & Motorcycle Show
Sponsor: Tucson Police Foundation
Information: 520/343-0437 or www.copsandrodderstucson.org
CALIFORNIA
October 1–3, Sacramento
Golden State Street Rod Nationals Plus
Sponsor: NSRA
Information: http://nsra-usa.com
October 9–17, Sacramento to Bakersfield
The Sherm's Custom Plating Tour
Sponsor: Street Rodder
Information: www.streetrodderweb.com or 800/664-1362
October 10, Costa Mesa
Buick, Oldsmobile, Pontiac Show
Sponsor: Orange County Chapter Buick Club of America
Information: 562/644-4670 or www.socalcarculture.com/Images/101010BOP.pdf
October 16, Marina
Marina Air Faire and Classic Car Show
Sponsor: Gold Coast Rods & Marina Rotary Club
Information: www.goldcoastrods.org or www.marina-airfaire.com
October 17, Sacramento
Muscle Cars in the Park
Sponsor: Camaro Generations
Information: www.camarogenerations.com
FLORIDA
October 8–10, Tampa
Southeast Street Rod Nationals Plus
Sponsor: NSRA
Information: http://nsra-usa.com
GEORGIA
October 24–29, Southern Georgia and Northern Florida
AACA Reliability Tour, 1915 & Earlier Vehicles
Sponsor: AACA - Pecan Region
Information: www.aaca.org/calendar/default.aspx or blanche@rose.net
IDAHO
October 6–10, Boise
Napa Halloween Classic XVII
Sponsor: Firebird Raceway
Information: 208/938-8986 or race@firebirdonline.com
ILLINOIS
October 12, Morris
Morris Fall Classic Car Show
Sponsor: Northern Mustang Corral Car Club
Information: 815/942-8262
INDIANA
October 9, New Albany
October Funapalooza II Fall Cruise
Sponsor: His Christian Cruisers
Information: swoods@insightbb.com
October 17–27, Indianapolis
Super Sunday Automotive Swap Meet and Car Sale
Sponsor: Mid America Promotions
Information: 708/563-4300 or midamericapromo@aol.com
KENTUCKY
October 15–17, Bowling Green
3rd Nostalgia Nationals
Sponsor: Good Guys
Information: www.nostalgianats.com
MASSACHUSETTS
October 3, Melrose
9th Annual Auto Show
Sponsor: Melrose Rotary Club
Information: 781/771-5037 or 781/662-2400
October 10, Orange
Harvest Annual Car Show, Parade & Festival
Sponsor: Orange Business Association
Information: www.orangebusinessassoc.org/cars.html
MICHIGAN
October 2, Milan
Royal Pontiac Club Racing at Milan Dragway
Sponsor: Royal Pontiac Club of America
Information: http://clubs.hemmings.com/clubsites/royalpont
October 3, Franklin
Franklin Cider Mill Gathering
Sponsor: Royal Pontiax Club of America
Information: 248/626-2968 or www.franklincidermill.com
October 9, Clio
Flint Auto City Speedway Swap Meet
Information: 810/686-9500 or www.autocityspeedway.com
NEW JERSEY
October 3, North Brunswick
23rd Annual Meet
Sponsor: Slant-Six Club
Info: 732/549-0188 or http://clubs.hemmings.com/nynjslant6
NEW YORK
October 24, Pittsford
GVACS Fall Picnic
Sponsor: Genesee Valley Antique Car Society
Info: 585/586-6952 or 585/872-3244
NORTH CAROLINA
October 17, Denver
Hillbilly Hotrodders Benefit Car, Truck & Bike Show
Sponsor: VCCA of Carolina Crossroad Region
Information: 704/876-8707 or 704/552-5325
October 29–31, Charlotte
17th Southeastern Nationals
Sponsor: Good Guys
Info: www.southeasternnats.com
PENNSYLVANIA
October 2, Morrisville
Car Show-All Makes, All Models
Sponsor: East Coast Rolling Thunder Car Club (ECRTCC)
Information: www.eastcoastrollingthunder.com
October 6–9, Hershey
AACA Eastern Fall Meet
Sponsor: AACA-Hershey Region
Information: www.hersheyaaca.org
SOUTH CAROLINA
October 8–9, North Myrtle Beach
16th Annual Pow Wow at the Beach
Sponsor: The SC chapter of the Pontiac Oakland Club International
Information: http://palmettopontiacs.org
October 29–30, Darlington
Palmetto Nationals Drag Races and Car Show
Information: www.palmettonationals.com
TENNESSEE
October 1–3, Nashville
Music City Convention
Sponsor: Mid-Tenn Classic Chevy Club
Information: 615/824-7522 or http://clubs.hemmings.com/frameset.cfm?club=mtccc
October 16, Franklin
21st Annual Antique & Classic Auto Show at the Cool Springs Galleria
Sponsor: AACA - Battlefield Region
Information: www.battlefieldaaca.com or www.aaca.org/calendar/default.aspx
TEXAS
October 1, Ft. Worth
18th Lone Star Nationals
Sponsor: Good Guys
Information: www.lonestarnats.com
VERMONT
October 15–17, West Dover
Speckeled Hen Tour
Sponsor: Connecticut MG Club
Information: glegare@sbcglobal.net
VIRGINIA
October 22–24, Newport News
8th Annual Virginia Fall Classic
Sponsor: Virginia Peninsula Car Club Council
Information: www.vafallclassic.org
WISCONSIN
October 2, Saukville
Classic Thunderbird Club Car Show at Schmit Bros. Ford-Lincoln-Mercury
Sponsor: Classic Thunderbird Club of Wisconsin
Information: www.wisconsin-thunderbirds.org
October 3, West Allis
West Allis Car Show
Information: www.downtownwestallis.org/carshow2007.htm
Stay tuned for the November 2010 edition of Driving Force. For the latest legislative updates, visit www.SEMASAN.com.
ENTHUSIASTS UNITED TO ADVANCE AUTOMOTIVE FREEDOMS
The future of our prized cars and trucks is being threatened! Add your voice to our growing U.S. and Canadian forces united to advance our automotive freedoms. SAN members defend the hobby by responding to timely e-mail updates on vehicle-related legislation and regulations. No fees. No SPAM. No obligations. Great strength comes with great numbers. Can we count on you to help preserve the classics of today and tomorrow?
GET INVOLVED TODAY: